May 18 show - encore presentation
Hollywood icons Red Skelton, Robert Wise and Irene Dunne
Note: This show may be pre-empted by WICR-FM's live coverage of the NCAA softball tournament. U Indy's Greyhounds have advanced to the Midwest Super Regional.
Aside from being icons of Hollywood with links to Indiana, what could three luminaries - comedian Red Skelton, acclaimed director Robert Wise (The Sound of Music and West Side Story) and 1930s and '40s movie star Irene Dunne - have in common?
All three are the subjects of biographies written by movie historian Wes Gehring, a film professor at Ball State University who joins Nelson in studio for one of the most popular shows in our Hoosier History Live! archives. (Its original air date was Oct. 6, 2012.)
Wes' most recent book is Robert Wise Shadowlands (Indiana Historical Society Press), a biography of the Academy Award-winning director who was born in Winchester and grew up in Connersville.
Not only do Wes and Nelson focus on the life and career of Robert Wise (1914-2005) during the show, they also explore the Hoosier roots and careers of Red Skelton, a native of Vincennes, and Irene Dunne, who grew up in Madison.
Wes delved into their lives in Red Skelton: The Mask Behind the Mask (IHS Press, 2008), which explores, as Wes puts it, the comedian's "hardscrabble beginnings with a shockingly dysfunctional family in southern Indiana" and Irene Dunne: First Lady of Hollywood (Scarecrow Press, 2003). It's a look at the versatile actress, who won critical acclaim for her roles in genres ranging from musicals like Show Boat (1936) to comedies (including The Awful Truth in 1937 with Cary Grant) and dramas such as I Remember Mama (1948).
Red Skelton (1913-1997) achieved major stardom in movies, TV, radio and on Broadway after getting his start in vaudeville shows and, before that, in burlesque. Irene Dunne (1898-1990) was nominated five times for an Academy Award but never won. She also served one term as a delegate to the United Nations.
Like Irene Dunne, Robert Wise was known for astonishing versatility. He directed movies ranging from the science fiction cult classic The Day the Earth Stood Still (1951) and the horror movie The Haunting (1963), which is set in a spooky New England mansion to the two musicals for which Wise won Oscars as Best Director, The Sound of Music (1965) and West Side Story (1961).
At Connersville High School, the auditorium has been renamed in Wise's honor. In his biography of the filmmaker, Wes quotes from columns (titled "Wise Crax") he wrote for the high school newspaper.
Note: Due to the encore presentation, there will be no History Mystery call-in or live Roadtripper report this week.
Essential assistance!
Thanks to new or renewal donors
Hoosier History Live! wishes to thank Jane "Janie" Hodge, Eunice Trotter, Jeff Smulyan, Stacia Gorge, Terri Gorney of Fort Wayne and Jinsie Bingham of Greencastle.
Remember that many of our listeners only listen online, outside of the WICR listening area. For more information, visit "Support us" on our website, where you can also "click to donate."
With so many substantive forms of media and journalism disappearing, our production group is determined to keep the show, newsletter and website going. We are a small, independently produced project, and the majority of funds received goes directly to support the individuals who are working on the project, as well as for the website, audio editing, enewsletter production and distribution, and other tech costs.
May 25 show
Historic baseball stadium into apartments
Apparently it will be the first time in the country that a baseball stadium will be converted into residences. The stadium is historic Bush Stadium in Indianapolis, which was the home ballpark of the Indianapolis Indians for nearly 65 years.
Now the West 16th Street stadium - which had been deteriorating dramatically since the minor-league team left and began playing home games at Victory Field in July 1996 - will be converted into apartments by John Watson of Core Redevelopment LLC. The Stadium Lofts project - featuring 138 apartments set to open Aug. 1 - has attracted such extensive national interest that the National Baseball Hall of Fame and Museum in Cooperstown, N.Y., has contacted John for a mini-exhibit about the stadium re-use.
A former board chairman of Indiana Landmarks and a veteran developer known for transforming historic structures into residences, John will be Nelson's studio guest. The previously uncertain fate of Bush Stadium, which was built in 1931 and initially known as Perry Stadium, was the focus of a Hoosier History Live! show in 2008, our first year on the air. At that point, the empty stadium was on Indiana Landmarks' list of 10 Most Endangered Places in the state.
In addition to the 138 apartments in the $14 million Stadium Lofts conversion project, John Watson plans to build 144 other apartments - to be known as Stadium Flats - just west of the historic ballpark. He also plans to build an office complex in centerfield of the historic stadium.
According to a recent article in the Indianapolis Business Journal, the Stadium Lofts design "retains the outer shell of the Art Deco building and includes the look of an actual baseball field in the courtyard" for residents of the apartments.
Once beloved, Bush Stadium was considered such an outstanding example of a vintage ballpark that Hollywood took notice and selected it as the setting for the movie Eight Men Out (1988). The movie focused on the notorious Black Sox cheating scandal in the 1919 World Series.
However, after the Indians moved to the newly built Victory Field in White River State Park, an attempt fizzled to make Bush the venue for midget auto racing. A long, slow slide downhill followed.
(Fun fact: Bush also was known as Victory Field for many years. During World War II, the stadium's name was switched from Perry to Victory Field. Then it was renamed again in honor of Owen Bush, a longtime manager of the Indians.)
In the 1980s and '90s, our guest John Watson, in partnership with developer Carl Van Rooy, redeveloped several historic buildings in downtown Indy into condos or apartments. They included the Real Silk Factory, which opened in the 1920s and manufactured women's silk hose, then parachutes during World War II.
Party pics!
Lots of smiles at our 5-year anniversary fest
Some nice coverage of our five-year anniversary soiree came from Cathy Kightlinger of the Indianapolis Star, who gave the party a nice writeup:
"When Nelson Price talks history, people listen. That was apparent Thursday when his show, Hoosier History Live!, celebrated its fifth anniversary with a soiree of the state's notables and fans of the show. The event included a few trivia questions (something the Saturday show, which airs at noon on WICR-FM (88.7) is known for) and lots of shoulder rubbing."
Special thanks to Bill Holmes, who took all of the photos below.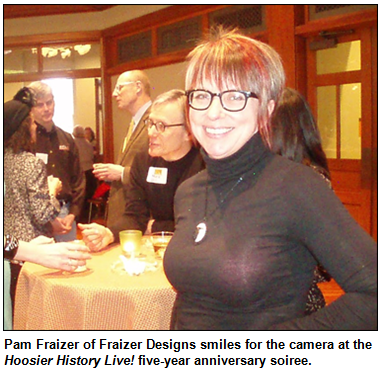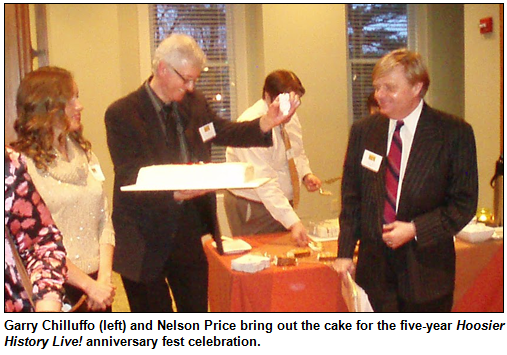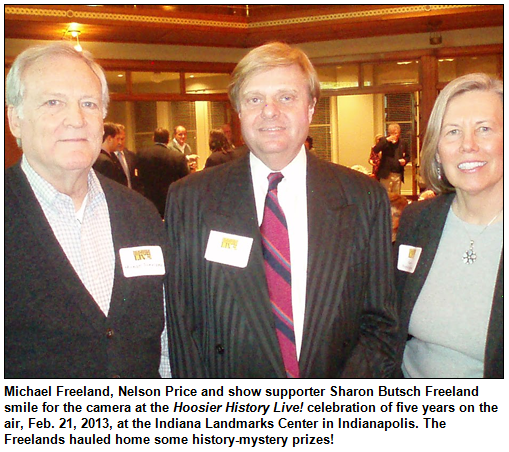 Extra thanks to Bill Holmes (who has done photography for five years), Emily Barker, Jeanne Blake, Garry Chilluffo of Chilluffo Media, Mark Szobody, Suzanne Stanis, Hoaglin to Go, Lockerbie Pub, Pam Mitchell (who made the cake), Lorraine Vavul (who made the elegant donation box), Richard Sullivan of Monomedia, Pam Fraizer of Fraizer Designs, Molly Head, Nelson Price, Charlotte Carmichael, Kathy Riester, Mary Kummings, Barbara Goddard, and Lynn Herold.
We thank the following new individual donors to Hoosier History Live! Paul J. Fouts, Jr., Rita Kohn, Margaret Sabens, Richard Vonnegut Jr., Margaret Smith, Sharon Butsch Freeland, Don Gorney, Alice Roettger, Maureen Dunlap, Peggy Hollingsworth, Monica Thompson-Deal, Clarke Kahlo, Janet Gilray, Barry Glazer, and Bruce and Julie Buchanan.
We thank those whom we count on to keep Hoosier History Live! on the air, on the web and in your in-box! If you'd like to know how to support us, visit our website at Hoosier History Live!
We look forward to being around for next year's sixth anniversary - and on into the future with our ever-growing body of history journalism!
Thanks to Antique Helper, corporate sponsor for the Hoosier History Live! fifth-anniversary party!
Thanks!
Financial support for Hoosier History Live!
Hoosier History Live! is an independently produced program put together by a consortium of Central Indiana writers, historians, web and audio tech people, artists and marketers.
While many journalists and pundits bemoan the demise of newspapers and original media content, those of us who work on Hoosier History Live! have decided to just go ahead and create a great enewsletter and a great show each week. We are not whiners; we are doers! Won't you support us?
Thanks to 2012 donors Pat Garrett Rooney, David Meek, certain proud parents, Jinsie Bingham, Ryan Zumbahlen, Paul J. Fouts Jr., Peggy Sabens, Carol Faenzi, Theresa and David Berghoff, David Willkie, In Memory of Michael Fenwick, Gretchen Wolfram, Margaret Smith, Dana Waddell and Clay Collins, Sharon Butsch Freeland, Karla Katterhenry, In Memory of Katherine J. Simpson, Rosalind Wolen, Wanda Y. Fortune, and Stacia Gorge.
Did you know that you can specify where your funds go with your donation? If you wish to "perma-archive" a specific show on our website for later listening, for example, let us know!
Are you aware of a foundation that might be interested in supporting us? Let us know!
We are set up for sponsorship, and for tax-deductible donations for individuals and grants through Indiana Humanities.
We are committed to continuing the Hoosier History Live! "voice" in a world of media Goliaths. "As museums and educational institutions scramble to make their offerings more interactive, more entertaining and more 'relevant' to today's digitally obsessed consumers, Hoosier History Live! seems to have mastered that formula," says one of our listeners.
As always, visit the "Support the show" page to learn more!
Shows, we got shows
We have more than 200 Hoosier History Live! radio shows completed, as a matter of fact. And we need to get show audio onto the website, which we are doing by and by, but we sure could use some sponsorship assistance as we edit and publish audio for each archived show. Take a look at the list below and check out all the opportunities for sponsoring a slice of original Hoosier History Live! content on the Web.
No one else is doing anything quite like what we're doing. We are the nation's only live call-in radio program about history. We offer a permanent and growing archive of quality content, available for sponsorship opportunities.
If you are interested in becoming a sponsor of Hoosier History Live!, click here or call Molly Head at (317) 927-9101 for more info.
What people are saying about Hoosier History Live!
"As museums and educational institutions scramble to make their offerings more interactive, more entertaining and more 'relevant' to today's digitally obsessed consumers, Hoosier History Live! seems to have mastered that formula."
Glynis Worley, rural Bartholomew County listener
"Hoosier History Live! is a perfect place to consider and reconsider history ... not just what happened in the past, but what it may mean in the present. Nelson Price is the perfect host: enthusiastic, curious and knowledgeable. Tune in to Hoosier History Live! and be prepared to be surprised."
James Still, playwright in residence, Indiana Repertory Theatre
"Hoosier History Live! is a fantastic opportunity for people to not only learn about history, but also become a part of the conversation. Much like our mission, the telling of Indiana's stories, Nelson and his guests wonderfully connect people to the past!"
John Herbst
President and CEO, Indiana Historical Society
"The links on the Friday Hoosier History Live! enewsletter are a great way to learn more about history, and from a variety of sources."
Jill Ditmire
Omni Media Specialist
"Distilling life experience into stories is an art. Telling stories of life experience for Hoosiers past and present will shape the lives of young people and enrich the lives of all in our state. Mr. Nelson Price brings alive the life experience of notable Hoosiers in Hoosier History Live!"
David T. Wong, Ph.D., President
DT Wong Consulting, LLC
Former Lilly research scientist who developed Prozac
"Nelson Price, more than anyone I know, infuses joy into the pursuit of history. And that joy rings out loud and clear on the radio show, Hoosier History Live!"
Marsh Davis
President, Indiana Landmarks
"No, I haven't heard of another call-in talk radio show about history. Our airwaves are now full of the worst vitriol! Give me the phone number for the show. I want to call in!"
Ken Burns, speaking at a preview of his film "The War" at Indianapolis Hebrew Congregation, April 18, 2007