May 23 show
Ernie Pyle and John Bartlow Martin, journalists
One of the most acclaimed war correspondents of the 20th century was killed 70 years ago. Another journalist became the dominant writer for the popular "big slick" magazines of the 1940s and '50s.
Both Ernie Pyle, a native of the tiny town of Dana in far western Indiana, and John Bartlow Martin, who grew up in Indianapolis, also wrote about Hoosiers.
During our show about the lives and careers of these two iconic journalists, Hoosier History Live will focus on what they wrote about their home state.
Particularly in the case of Martin (1915-87), it wasn't always flattering.
Nelson will be joined in studio by two authors of books about the journalists:
Owen Johnson of Bloomington, an IU associate professor emeritus who spoke last month at a ceremony commemorating the 70th anniversary of Pyle's death. The ceremony was in Honolulu, where Pyle's remains were taken after he was assassinated by a Japanese sniper during the final days of WW II. Next winter, IU Press will publish a book, At Home with Ernie Pyle, that Owen edited; it will include all of Pyle's columns about Indiana and Hoosiers.
And Ray Boomhower of the Indiana Historical Society. He's the author of a new biography, John Bartlow Martin: A Voice for the Underdog (IU Press). Ray, a frequent guest on Hoosier History Live, has written several other books, including The Soldier's Friend: A Life of Ernie Pyle (IHS Press, 2006) and Robert F. Kennedy and the 1968 Indiana Primary (IU Press, 2008).
After his career as a magazine writer, Martin became a speechwriter and close adviser to Democratic politicians, including Bobby Kennedy.
Pyle, a Pulitzer Prize winner, rotated among the various branches of the military during WWII, shivered in foxholes and joined U.S. troops fighting in North Africa, Europe and the Pacific. He had attended IU, where he was editor of the campus newspaper, but he dropped out before graduating to work at a newspaper in LaPorte.
Martin, who endured what he described as an unhappy childhood, attended DePauw University and was expelled after wild behavior. Eventually, he returned to earn his diploma and went on to be a star writer for the Saturday Evening Post, Life, Harper's, Look and other magazines.
Martin's books included Indiana: An Interpretation (1947), which, according to Ray's biography, some conservative bookstores in the Hoosier state refused to sell.
Pyle, on the other hand, almost always enjoyed huge, popular success with his writing. His columns were appearing in 400 daily newspapers and 300 weeklies when he was killed. He was portrayed by Burgess Meredith in the movie The Story of G.I. Joe (1945).
The only child of sharecroppers, Pyle was born near Dana, where the Ernie Pyle World War II Museum celebrates his achievements. During our show, Owen Johnson will share insights about Pyle's days at IU, where he was a manager of the football team and crusaded to get smoking permitted on campus.
Owen also will discuss Pyle's attendance at the Indianapolis 500 and his various return visits to his home state after he became famous. Before World War II, Pyle was a roving, human-interest columnist for the Scripps-Howard newspaper syndicate.
Often filing stories as "The Hoosier Vagabond," he reported everywhere from Chesapeake Bay in Maryland to Good News Bay in Alaska.
As for John Bartlow Martin: He grew up in a hard-scrabble neighborhood on the near eastside of Indianapolis and graduated from Tech High School. For much of his magazine-writing career, he was based out of the Chicago area. Martin gained national attention for his expose about a coal mining explosion and often wrote about historic murders. He also wrote an investigative series about the Teamsters and the labor union's powerful leader, Jimmy Hoffa, a native of Brazil. Ind.
Martin is credited with helping coin the phrase "vast wasteland" in the early 1960s to describe TV. In addition to helping Bobby Kennedy, Martin wrote speeches for public figures such as Newton Minow (who used the "wasteland" phrase in a famous speech) and Adlai Stevenson.
Learn more:
History Mystery
Another Indiana-born journalist became famous during more than 50 years that she was based in Paris.
The journalist, who was born into a prominent Indianapolis family in 1892, wrote columns, profiles and vignettes that were published in The New Yorker magazine and often packaged as "Letters From Paris."
Her profile subjects included Pablo Picasso and Charles de Gaulle; during the 1930s, she also wrote dispatches about Hitler's rise to power. Her friends included Ernest Hemingway, F. Scott Fitzgerald and Dorothy Parker.
The journalist, who seldom returned to Indianapolis, died in 1978. Her colorful life and career were the focus of a Hoosier History Live show in 2009.
Question: Who was she?
The call-in phone number is (317) 788-3314, and please do not try to win the prize if you have won any prize from WICR during the past two months. Please do not call in to the show until Nelson has posed the question on the air. The prize pack is a gift certificate to Rick's Cafe Boatyard and two passes to the President Harrison Presidential Site, courtesy of Visit Indy.
Roadtrip: Middlebury in northern Indiana
Guest Roadtripper and food and travel writer Jane Ammeson suggests a Roadtrip to the small town of Middlebury in northern Indiana.
"If you want to experience genuine Midwestern Americana," Jane tells us, "this is it."
Pastoral scenes of Amish life and fields of gold line the Pumpkinvine Nature Trail. And the Essenhaus Restaurant features a classic car cruise-in each Thursday night from May through September.
Quilt gardens throughout Amish County can be seen by taking the 90-mile Heritage Trail Driving Tour that winds through all of Amish County in northern Indiana. The tour includes a free audio driving tour that can be downloaded to your cell phone.
Another well-known attraction in Middlebury is the Krider "World's Fair" Garden, on Bristol Street by the Greenway Park. It is a community park, open every day from sunup to sundown. The town long was home to a thriving mail-order business, Krider Nurseries, which brought home much of an elaborate display at Chicago's 1933 Century of Progress exhibition - including the giant mushroom in the park.
Jam-packed!
Book-launch events draw plenty of interest
With the launch of The Quiet Hero, A Life of Ryan White, author Nelson Price, the host of Hoosier History Live, is making a string of public appearances to promote the book.
The big book-launch event on April 1 at the Indiana Historical Society was a great success, with a full house of history fans there to buy books and get them signed by Nelson, along with Jeanne White-Ginder and Olympic diver Greg Louganis, who drew inspiration from Ryan White.
Hoosier History Live salutes our host for his continuing success as an author!
In the news:
Buy the book:
May 30 show
Roadside motels: bygone Americana
Remember the motels, cabin courts and other lodging spots that were so familiar on pre-interstate highways?
Many bit the dust long ago, but Hoosier History Live will explore their heyday - as well as their decline - just as many folks hit the road for vacations. During our show, we even will explore still-familiar chains such as Holiday Inn. But our focus will be on the bygone style and architecture familiar to motorists from the 1940s through the '70s, rather than the type operated by the international conglomerate today.
Our studio guests will include Jeff Kamm, who recently shared insights about former roadside Holiday Inns in the Indy metro area in an article for Historic Indianapolis.
Jeff, a graduate of Purdue's hospitality and tourism management program, worked for 10 years managing various hotels in the Indy area; today, he is the operations manager for the International Center.
Jeff and Nelson will be joined by Joan Hostetler, founding director of the Indiana Album, who also collaborated with Nelson on the visual history book Indianapolis Then and Now and related projects; aspects of our heritage that Joan has extensively researched include roadside architecture.
Certainly the design of many roadside motels and hotels was distinctive, such as the orange and blue appearance associated with Howard Johnson Motor Lodge chain. According to our guest Jeff Kamm, the first Howard Johnson Motor Lodge opened in 1954 in Savannah, Ga.
About 30 years before that, towns during the 1920s began establishing free "auto camps" as Americans took to the roads with the boom in car ownership, Jeff notes.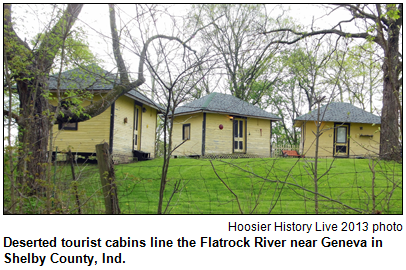 Prior to - and sometimes simultaneously with - the evolution of the roadside motel came lodging spots that consisted of cabins for overnight guests clustered around a check-in office. They were known as tourist cabins or cabin courts.
According to Jeff's research, by 1956 about 500 roadside motels were scattered across Indiana. Along U.S. 40 across Indiana that year, there were 120 of the motels.
Jeff's track record in the hospitality industry includes managing properties in the Marriott and Radisson families of hotels.
The first Holiday Inn in the Indy area opened in 1960 "across from the main gate of the area's biggest attraction, the Indianapolis Motor Speedway," Jeff writes in his historicindianapolis.com article. The Holiday Inn in Speedway featured the neon green sign that became such a common site across Indiana and the rest of the country.
His article notes that the oversized neon signs and some other once-standard features of Holiday Inns have vanished as the chain evolved.
"Drivers may recently have noticed a pile of rubble on U.S. 31 immediately south of the I-465 interchange," Jeff writes. "This is the last reminder of the Holiday Inn in the Circle City in its traditional incarnation."
In recent years, many former roadside motels across Indiana - particularly those that were locally owned - have been converted into apartments or lodging spots with extended-stay occupancies.
Learn more:
Thanks!
Underwriting the project
We are not staff members of any organization; rather, we are a small, independent production group trying to keep Hoosier History Live on the air, on the web and in your inbox. Your gift goes primarily to support those individuals who are working so hard on the project, as well as to help defray the costs of maintaining our website, our email marketing software and our audio editing costs.
If you believe in supporting local artists, writers, historians and performers, look no further!
It takes only seconds to help us out. Just click the yellow "Donate" button, above. Or, if you prefer the paper method, you may make out a check to "Hoosier History Live" and mail it to Hoosier History Live, P.O. Box 44393, Indianapolis, IN 46244-0393.
We also try to maintain some of those old-fashioned journalism principles about trying to keep editorial content separate from financial contributions.
For questions about becoming an underwriting sponsor (the underwriter level includes logos on our website and newsletter and spoken credits in the live show), contact our producer, Molly Head, at molly@hoosierhistorylive.org, or (317) 927-9101, or Garry Chilluffo, our media+development director, at gchill@hoosierhistorylive.org.
Also, the Irvington Library Listening Group continues to meet on a regular basis from noon to 1 p.m. on Saturdays to listen to and discuss the live show. If you think you would enjoy listening with fellow history lovers, just stop by the library at 5626 E. Washington St. in Indianapolis and ask for the listening group.
If you are interested in forming your own listening group, all you need is a relatively quiet room with comfortable chairs and either a radio or an online listening device. A weekly listening group is an easy way to get "regulars" into your organization or place of business.
The Central Library in Indianapolis is willing to provide a space for a listening group if someone would volunteer to host the group. For more info, contact producer Molly Head.
A note of support
'We hope to see it broadcast far and wide'
A particularly nice letter of support came in some time ago from authors James Alexander Thom and Dark Rain Thom. We like to re-read it from time to time!
To Whom it May Concern:

Last Spring, my wife and I were interviewed by Nelson Price on his Hoosier History radio program, as authors of frontier and Native American history books. Mr. Price's program was so well prepared and conducted that we feel it should be made available to students and general audiences as widely as possible. His program is well-researched, all questions pertinent to the chosen theme, and moves along briskly. Listeners called in with questions and comments that were intelligent and relevant, a sign of an avid audience.

As historical writers, we try to overcome the public's indifference to history, to bring alive in any way we can the important lessons of the past, and are enthusiastic about programs and writings that make those lessons interesting. The Hoosier History Live program does that so well that we hope to see it broadcast far and wide over this historically significant State of Indiana. It is an excellent program, worthy of extensive distribution and strong support.

James Alexander Thom & Dark Rain Thom, authors
Bloomington, Indiana
July 14, 2011
Shows, we got shows
We have more than 200 Hoosier History Live! radio shows completed, as a matter of fact. And we need to get show audio onto the website, which we are doing by and by, but we sure could use some sponsorship assistance as we edit and publish audio for each archived show. Take a look at the list below and check out all the opportunities for sponsoring a slice of original Hoosier History Live! content on the Web.
No one else is doing anything quite like what we're doing. We are the nation's only live call-in radio program about history. We offer a permanent and growing archive of quality content, available for sponsorship opportunities.
If you are interested in becoming a sponsor of Hoosier History Live!, click here or call Molly Head at (317) 927-9101 for more info.
What people are saying about Hoosier History Live!
"Hoosier History Live is a fun and interesting way to learn about the heart and soul of Indiana. No boring classes or books here! The production team does an outstanding job."
Judy O'Bannon, civic leader and public broadcasting producer
"The folks at Hoosier History Live! are able to find great stories and the people to tell them - people and stories that you seldom hear on the national air."
Dr. James H. Madison, author and IU history professor
"As museums and educational institutions scramble to make their offerings more interactive, more entertaining and more 'relevant' to today's digitally obsessed consumers, Hoosier History Live! seems to have mastered that formula."
Glynis Worley, rural Bartholomew County listener
"Hoosier History Live! is a perfect place to consider and reconsider history ... not just what happened in the past, but what it may mean in the present. Nelson Price is the perfect host: enthusiastic, curious and knowledgeable. Tune in to Hoosier History Live! and be prepared to be surprised."
James Still, playwright in residence, Indiana Repertory Theatre
"Hoosier History Live! is a fantastic opportunity for people to not only learn about history, but also become a part of the conversation. Much like our mission, the telling of Indiana's stories, Nelson and his guests wonderfully connect people to the past!"
John Herbst
President and CEO, Indiana Historical Society
"The links on the Friday Hoosier History Live! enewsletter are a great way to learn more about history, and from a variety of sources."
Jill Ditmire
Omni Media Specialist
"Distilling life experience into stories is an art. Telling stories of life experience for Hoosiers past and present will shape the lives of young people and enrich the lives of all in our state. Mr. Nelson Price brings alive the life experience of notable Hoosiers in Hoosier History Live!"
David T. Wong, Ph.D., President
DT Wong Consulting, LLC
Former Lilly research scientist who developed Prozac
"Nelson Price, more than anyone I know, infuses joy into the pursuit of history. And that joy rings out loud and clear on the radio show, Hoosier History Live!"
Marsh Davis
President, Indiana Landmarks
"No, I haven't heard of another call-in talk radio show about history. Our airwaves are now full of the worst vitriol! Give me the phone number for the show. I want to call in!"
Ken Burns, speaking at a preview of his film "The War" at Indianapolis Hebrew Congregation, April 18, 2007