Success!
Sixth-anniversary soiree featured notables, much fun
Our six-years-on-the-air anniversary party on Thursday, Feb. 27, featured several notable attendees, including former Indianapolis Mayor William Hudnut and Emmis Communications CEO Jeff Smulyan, both of whom spoke to an attentive and sizable crowd. The event, at the Indiana Landmarks building in downtown Indianapolis, was a chance for show supporters, staff and on-air guests to mingle and share in a common fondness for history. We will share photos shortly!
March 1 show
Madam Walker: her life, business and theater building
As we welcome Women's History Month following our salute to Black History Month, Hoosier History Live! will explore various aspects of a pioneer entrepreneur, philanthropist and visionary whose life truly became iconic.
We have the best possible guest for our show about Madam Walker, the daughter of slaves who probably became the country's first self-made African-American woman millionaire. We also will explore the Indianapolis landmark, the Madam Walker Theatre Center, that is among her legacies in her adopted hometown.
Nelson's guest will be Madam Walker's great-great granddaughter and biographer, A'Lelia Bundles, who grew up in the Hoosier capital, graduated from North Central High School and Harvard, then became an Emmy Award-wining TV producer. She currently is based in the Washington D.C. area.
A former ABC News executive, A'Lelia wrote a critically acclaimed biography of her legendary ancestor, On Her Own Ground: The Life and Times of Madam C.J. Walker (Scribner, 2001).
Now A'Lelia is the author of a new book. Madam Walker Theatre Center: An Indianapolis Treasure (Arcadia Publishing) explores the construction and evolution of - as well as the social history associated with - the block-long flatiron structure built on Indiana Avenue in the 1920s and listed on the National Register of Historic Places.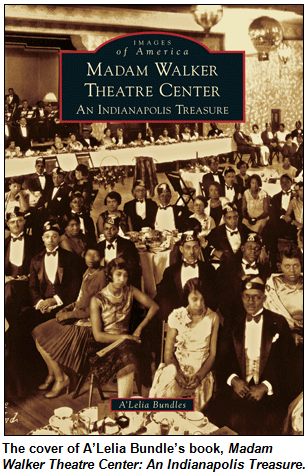 Madam Walker (1867-1919) did not live to see the opening of the building designed as the new corporate headquarters of her Madam C.J. Walker Manufacturing Co., which produced hair-care products sold internationally. But Madam Walker had the vision for the landmark building with a stage that, for more than 85 years, has been a venue for African-American performers such as Motown great Smokey Robinson and opera star Angela Brown, an Indy native.
When the Walker building had a grand opening in 1927, it included, in addition to the corporate offices, a movie theater, beauty salon, ballroom and a café called the Coffee Pot that was promoted with a distinctive coffee-pot-shaped sign on the exterior.
Madam Walker had been born as Sarah Breedlove on a cotton plantation in Louisiana. By age 7, she was an orphan. She married during her teen years, had a daughter and, by age 20, was a widow. She found work as a laundress but in the 1890s suffered a severe scalp disease that, as A'Lelia notes in her new book, "was causing her to go bald."
From those inauspicious beginnings, Madam Walker created shampoos, ointments and other hair-care products that became enormously popular.
The company she founded eventually employed and trained thousands of women. In 1910, she moved its headquarters to Indianapolis for several reasons, including the city's "Crossroads of America" reputation as a railroad hub that enabled efficient shipping across the country for her products.
While patronizing a downtown Indy theater in 1914, Madam Walker was startled when she was told tickets for blacks had increased sharply higher than admission for whites. She promptly instructed her attorney to sue the theater.
"Legend has it," A'Lelia writes in her new book, "that she also vowed that day to build her own movie theater."
The book includes dozens of vintage photos of the building that, since a major restoration in 1988, has been a cultural arts center. Its theater, designed in an African art deco style, not only is the venue for jazz, blues and gospel concerts, it has been the setting for performances by the Vienna Boys Choir.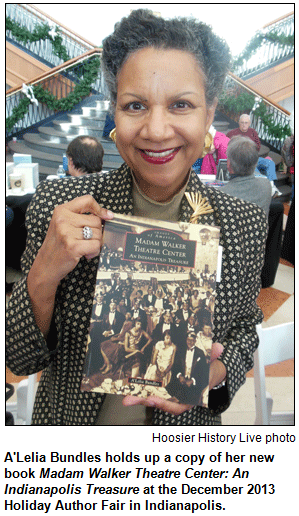 In addition to being a pioneer African-American business leader, Madam Walker was a staunch advocate for women. The "on her own ground" reference in the title of A'Lelia's biography refers to a response that Madam Walker gave in 1912 when she was denied a request to be included on the program at the National Negro Business League convention:
"I am a woman who came from the cotton fields of the South. I was promoted from there to the washtub. Then I was promoted to the cook kitchen, and from there I promoted myself into the business of manufacturing hair goods. ... I have built my own factory on my own ground."
With her success in business, Madam Walker became an arts patron and a major philanthropist, helping fund the Senate Avenue YMCA in Indianapolis and other organizations.
In addition to vintage photos of the Walker Theatre, A'Lelia's new book includes photos of Madam Walker's Indianapolis home (which has been demolished), ads for her hair care products and a photo of her final residence in New York, a mansion just a few miles from the estate of John D. Rockefeller.
A'Lelia currently is working on a book about her namesake, Madam Walker's daughter A'Lelia Walker, who was based in New York and helped influence the Harlem Renaissance of the 1920s.
History Mystery
In March of 1982, two Hoosier women founded a business that they named in honor of one of their mothers. Although their company started modestly in the basement of one of the co-founders, it has become an international success.
Still based in the Indiana city where it began, the company makes products used by millions of women every year. The two co-founders also have become major philanthropists, establishing a foundation for breast cancer research that has been a major donor to the Indiana University School of Medicine.
Question: Name the business and the Indiana city where it is headquartered.
The call-in number is (317) 788-3314. Please do not call into the show until you hear Nelson pose the question on the air, and please do not try to win the prize if you have won any other prize on WICR during the last two months.
The prize is a gift certificate to O'Reilly's Pub and Restaurant in downtown Indianapolis, as well as a pair of tickets to the Benjamin Harrison Presidential Site.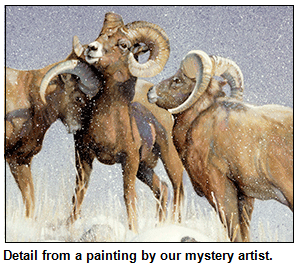 By request, we are publishing the answer to the Feb. 22 show History Mystery for readers who did not get a chance to hear the show. The question: Among the famous Hoosiers included in Indiana Legends, one of the books by our host Nelson Price, is a contemporary artist who has been in the news this month. She has announced plans to sell her gallery, which has been located in a former Methodist church built in the 1860s. She intends to open a new gallery in New York City, although she plans to keep her central Indiana home and studio, where she paints on the upper floor of a horse barn. Who is the artist?
Answer: NANCY NOEL.
The artist, who was born of French heritage in Indianapolis in 1945, announced this month that she plans to sell The Sanctuary, her gallery on Main Street in Zionsville. The Sanctuary, which also includes a restaurant, is in a renovated historic building, a Free Methodist Church built in the 1860s.
In her announcement, Nancy Noel reported that she plans to open a New York City gallery, although she intends to keep her home and studio that are located on a rolling, 45-acre farm near Zionsville.
Roadtripper: Buffalo Trace in southern Indiana
Guest Roadtripper Andrea Neal tell us that bison hooves paved Indiana's first road, known as the Buffalo Trace. Long before Indiana became a state, American bison moved from the salt licks of Kentucky headed toward the grasslands of the Illinois prairie. In Indiana, the bison entered at the Falls of the Ohio and headed west through what later become Vincennes.
Very few remnants of their trail remain, but if you look closely you can still see sections of the Buffalo Trace. Andrea tell us that you can hike it too!
Thanks!
Underwriting the project
Hoosier History Live! welcomes new or renewal contributors Jim Fadely, Peter Gross, Dana Waddell and Clay Collins, Pat Garrett Rooney, Turner Woodard, Danny and Sofia Lopez, Theresa and Dave Berghoff, Margaret Drew, Joe Vuskovich, and Gary BraVard in memory of Sunny Brewer.
We are not staff members of any organization; rather, we are a small independent production group trying to keep Hoosier History Live! on the air, on the web, and in your inbox. Your gift goes primarily to support those individuals who are working so hard on the project, as well as to help defray the costs of maintaining our website, our email marketing software, and our audio editing costs. If you believe in supporting local artists, writers and performers, look no further!
It only takes seconds to help us out. Just go to our website and click the yellow "Donate" button. Or, if you prefer the paper method, you may make out a check to "Hoosier History Live" and mail it to Hoosier History Live, P.O. Box 44393, Indianapolis, IN 46244-0393. We will list you on our website, unless you wish to remain anonymous. You also may memorialize a loved one if you wish; just make a note with either your online contribution or on your paper check.
We also try to maintain some of those old-fashioned journalism principles about trying to keep editorial content separate from financial contributions.
For questions about becoming an underwriting sponsor (the underwriter level includes logos on our website and newsletter and spoken credits in the live show), contact our producer, Molly Head, at molly@hoosierhistorylive.org, or (317) 927-9101. If you have any questions at all about how we are organized, please feel free to talk to our producer.
Also, the Irvington Library Listening Group continues to meet on a regular basis from noon to 1 p.m. on Saturdays to listen to and discuss the live show. If you think you would enjoy listening with fellow history lovers, just stop by the library at 5626 E. Washington St. in Indianapolis and ask for the listening group.
By the way, it's easy to form your own listening group; all you need is a relatively quiet room with comfortable chairs and either a radio or an online listening device to pick up the show from the live Web stream on Saturdays. We do have listeners all over the country. A weekly listening group is an easy way to get "regulars" into your organization or place of business.
March 8 show
Bobby Plump on Milan's triumph, 60 years later
Can you think of any moment in Hoosier history that has become better known around the world than a buzzer-beating "last shot" in March 1954?
The basketball player who led underdog Milan High School to the championship in Indiana's state tournament in 1954 - a victory that inspired the movie Hoosiers - will join Nelson in studio to share insights (and separate facts from folklore and myths) as we mark the 60th anniversary of the "Milan Miracle."
Although Bobby Plump has been a public figure ever since his shot went in the basket at Hinkle Fieldhouse, he and his Milan teammates have been reaping even greater attention in recent weeks because of the big anniversary. Former Gov. Mitch Daniels and Hoosiers screenwriter Angelo Pizzoattended a ceremony at which a ramp at Hinkle was named in Plump's honor. And the 1954 Milan state champion teammates were honored last Sunday during a basketball game at Butler University, home of the fieldhouse. (As most longtime Indiana basketball fans know, Bobby went on to play for Butler after graduating from Milan High.)
Amid the hoopla, Bobby somehow found time to phone in to Hoosier History Live! during our recent show about the history of Attucks High School so he could comment about Oscar Robertson and other outstanding players from the days when Indiana had an all-inclusive, single-class tournament.
Speaking of phoning in: With our all call-in format, this show will be an ideal opportunity for you to call and ask Bobby Plump, who is now 77, any question that has been intriguing you about the 1954 season that culminated with his game-winning shot. Thanks to that shot, Milan defeated Muncie Central High School 32-30 and made "Hoosier Hysteria" history.
Please keep in mind that Angelo Pizzo always has maintained - and Bobby frequently says - that the only aspect of the fictional Hoosiers (1986) that is lifted directly from the Milan story is "the last 18 seconds." (In other words, Bobby's last shot.) The relationship between Bobby and his real-life coach, Marvin Wood, for example, apparently was far different than the one between Jimmy Chitwood, the fictional star player in Hoosiers, and the coach played by Gene Hackman. Click here to watch video of Gene Hackman's inspirational locker room speech.
For those who need a refresher: In 1954, the year "David slew Goliath" in Indiana, Milan High School in Ripley County was one of the smallest schools in the state, with about 160 students and a class of 27 seniors. Those seniors included Bobby Plump, who actually grew up in nearby Pierceville, a town smaller than Milan - so small, in fact, it didn't have a high school.
That's why, just before the buzzer sounded at the 1954 state tournament, Bobby's last shot - which Nelson describes in his book Indiana Legends as "a stunning, 15-foot jump shot he scored against seemingly invincible Muncie Central" - instantly became iconic.
After being named Indiana's "Mr. Basketball" of 1954, Bobby played hoops as a Bulldog for legendary coach Tony Hinkle at Butler. Then he played for industrial and amateur teams before become an Indianapolis-based businessman and entrepreneur.
In the 1990s, Bobby crusaded against the creation of the multi-class state basketball tournament. His restaurant Plump's Last Shot in Broad Ripple displays vintage photos and memorabilia of the "Milan Miracle."
A nice note of support
'We hope to see it broadcast far and wide'
A particularly nice letter of support came in some time ago from authors James Alexander Thom and Dark Rain Thom. We like to re-read it from time to time!
To Whom it May Concern:

Last Spring, my wife and I were interviewed by Nelson Price on his Hoosier History radio program, as authors of frontier and Native American history books. Mr. Price's program was so well prepared and conducted that we feel it should be made available to students and general audiences as widely as possible. His program is well-researched, all questions pertinent to the chosen theme, and moves along briskly. Listeners called in with questions and comments that were intelligent and relevant, a sign of an avid audience.

As historical writers, we try to overcome the public's indifference to history, to bring alive in any way we can the important lessons of the past, and are enthusiastic about programs and writings that make those lessons interesting. The Hoosier History Live program does that so well that we hope to see it broadcast far and wide over this historically significant State of Indiana. It is an excellent program, worthy of extensive distribution and strong support.

James Alexander Thom & Dark Rain Thom, authors
Bloomington, Indiana
July 14, 2011
Shows, we got shows
We have more than 200 Hoosier History Live! radio shows completed, as a matter of fact. And we need to get show audio onto the website, which we are doing by and by, but we sure could use some sponsorship assistance as we edit and publish audio for each archived show. Take a look at the list below and check out all the opportunities for sponsoring a slice of original Hoosier History Live! content on the Web.
No one else is doing anything quite like what we're doing. We are the nation's only live call-in radio program about history. We offer a permanent and growing archive of quality content, available for sponsorship opportunities.
If you are interested in becoming a sponsor of Hoosier History Live!, click here or call Molly Head at (317) 927-9101 for more info.
What people are saying about Hoosier History Live!
"As museums and educational institutions scramble to make their offerings more interactive, more entertaining and more 'relevant' to today's digitally obsessed consumers, Hoosier History Live! seems to have mastered that formula."
Glynis Worley, rural Bartholomew County listener
"Hoosier History Live! is a perfect place to consider and reconsider history ... not just what happened in the past, but what it may mean in the present. Nelson Price is the perfect host: enthusiastic, curious and knowledgeable. Tune in to Hoosier History Live! and be prepared to be surprised."
James Still, playwright in residence, Indiana Repertory Theatre
"Hoosier History Live! is a fantastic opportunity for people to not only learn about history, but also become a part of the conversation. Much like our mission, the telling of Indiana's stories, Nelson and his guests wonderfully connect people to the past!"
John Herbst
President and CEO, Indiana Historical Society
"The links on the Friday Hoosier History Live! enewsletter are a great way to learn more about history, and from a variety of sources."
Jill Ditmire
Omni Media Specialist
"Distilling life experience into stories is an art. Telling stories of life experience for Hoosiers past and present will shape the lives of young people and enrich the lives of all in our state. Mr. Nelson Price brings alive the life experience of notable Hoosiers in Hoosier History Live!"
David T. Wong, Ph.D., President
DT Wong Consulting, LLC
Former Lilly research scientist who developed Prozac
"Nelson Price, more than anyone I know, infuses joy into the pursuit of history. And that joy rings out loud and clear on the radio show, Hoosier History Live!"
Marsh Davis
President, Indiana Landmarks
"No, I haven't heard of another call-in talk radio show about history. Our airwaves are now full of the worst vitriol! Give me the phone number for the show. I want to call in!"
Ken Burns, speaking at a preview of his film "The War" at Indianapolis Hebrew Congregation, April 18, 2007