Sept. 20 show
History of TV in Indy
With the headlines about a major switch in network affiliations of TV stations in Indy, what better opportunity to spotlight the history of TV in the Hoosier capital?
As Hoosier History Live will explore with two broadcast veterans in Indiana as Nelson's guests, the shuffling of network affiliations has happened previously, although not often.
As of Jan. 1, CBS will end its affiliation of 58 years with Channel 8/WISH and switch its programming to Channel 4/WTTV.
David L. Smith, who began his TV career in 1951 (with WTTV) during the dawn of television in the Hoosier state, will join Nelson in studio. His long list of credits include working in management for 20 years at WISH and hosting a popular series, When Movies Were Movies, that aired for 10 years beginning in 1971.
His books include Indianapolis Television (Arcadia Publishing, 2012), which explores the evolution of TV in the Hoosier capital and highlights a parade of personalities whose careers were linked to various TV stations in Indy.
They include David Letterman (a weatherman during the 1970s), the troubled former Hollywood actress Frances Farmer (who was the host of an afternoon movie show during the 1960s) and Channel 4 children's TV personalities Janie Hodge and Cowboy Bob.
Another well-known name who got her start in Indy TV was hired by a former Channel 8 news director who will join Nelson and David Smith on the show. Jane Pauley was hired in 1972 by Lee Giles, whose long, award-winning career as a news director at WISH was preceded by on-air posts in the news department, including anchor and Statehouse reporter.
Both of our guests were working in the Indy TV market during the late 1970s when two stations switched network affiliations. Channel 13/WTHR-TV (formerly WLWI) had been affiliated with ABC-TV; Channel 6/WRTV had been an NBC affiliate. The two stations switched networks as part of a power play.
The maneuvering so enraged the then-general manager of Channel 13 that he resorted to a late-night, on-air act of frustration that Dave Smith will describe during our show.
He also recounts the incident in his Indianapolis Television book, which traces the beginnings of experimentation with the medium in the Hoosier capital during the late 1930s. (A ham radio operator who was studying electrical engineering at Purdue may have been the first to broadcast a TV image in Indiana, the book reports.)
Some history facts:
On Memorial Day weekend in 1949, a TV station in Indianapolis went on the air for the first time. The inaugural-day programs on Channel 6, then WFBM-TV, included a live broadcast of the Indianapolis 500.
Some accounts indicate 2,000 television sets were tuned in to that 500-Mile Race.
Channel 4/WTTV founder Sarkes Tarzian, who had immigrated from a Turkish region of Armenia, was based in Bloomington, where he had become an engineer for RCA. According to Indianapolis Television, the result during the early years of TV meant that for a while, "Bloomington had the distinction of being the smallest city in the world with its own television station."
Several of the initial staff members at Channel 4 were Indiana University students, according to our guest Dave Smith's book Indianapolis Television. After being hired at the TV station in 1951, he did on-air work and also produced, directed, edited film and served as a cameraman.
In addition to Dave's later, long stint at Channel 8, which included serving as program and production manager, he was a telecommunications professor at Ball State University. His other books include Hoosiers in Hollywood (Indiana Historical Society Press, 2006) and a biography of movie star Clifton Webb, an Indianapolis native.
Both of our guests, Dave Smith and Lee Giles, have been presidents of the Indiana Broadcast Pioneers and have been inducted into its hall of fame. Lee Giles also has been inducted into the Indiana Journalism Hall of Fame; his 40-year career at WISH-TV included 35 years as news director, a remarkably long tenure in a post that typically turns over every few years.
WISH-TV was not always a CBS affiliate. During the 1950s, it had carried NBC programming before switching to CBS. The upcoming switch of CBS to WTTV, which has been an independent station, means that Channel 4 will begin carrying the network's popular programs - as well as many Indianapolis Colts games - in 2015.
By the way, several well-known news anchors and personalities in the Indy TV market have been studio guests on Hoosier History Live! since our debut in January 2008. They include retired Channel 8 news anchor Mike Ahern (he was a guest on show in October 2009 about the legendary House of Blue Lights) and Barbara Boyd, who, at Channel 6, became the first African-American woman in Indiana to anchor a news broadcast. Dave Smith's book mentions the attention she drew as a consumer reporter when Barbara reported about her own mastectomy from her hospital bed.
Learn more:
Roadtrip: Decatur Sculpture Walk
Guest Roadtripper Terri Gorney of Fort Wayne, who also volunteers at several conservation organizations, including ACRES, DNR and Limberlost, suggests that we visit the small Adams County town of Decatur in northeast Indiana for its third annual Sculpture Walk.
Decatur is the birthplace and boyhood home of David Smith, one of the most well-known sculptors of the 20th century. You can also see the work of artist Greg Mendez, also a native of Decatur and inspired by David Smith. Here's a town that is proud of its artists!
This year there are 17 outdoor sculptures and six in downtown businesses, as well as permanent private sculptures.
While in Decatur, you can visit Storybook Park, established in 2013 next to the Adams Public Library. It was designed by another Decatur native, landscape designer Nick Girod. There is also a beautiful Peace Memorial on the courthouse lawn. Enjoy an ice cream at the Ice Cream Depot or lunch or dinner at Marko's on Second Street, Back 40 Junction, or the Galley.
History Mystery
One of the longest-serving weathercasters in Indianapolis TV history was a viewer favorite on WISH-TV/Channel 8 from the late 1950s (when he was hired as an announcer) until his retirement in 1991.
During the brutal Blizzard of 1978, he was a nearly round-the-clock presence on Channel 8 as he provided Central Indiana residents with constant updates about the historic winter storm. His trademarks included horn-rimmed eyeglasses and a weather van with his name emblazoned on it. In the 1950s, before joining WISH-TV, he was an announcer and host on Channel 4/WTTV.
Question:Who was the longtime Channel 8 weatherman?
The call-in number is (317) 788-3314. Please do not call in to the show until Nelson has posed the question on the air, and please do not call if you have won a prize from any WICR program during the last two months.
The prize pack is a gift certificate to the Tin Roof, a live music joint in downtown Indianapolis, and two passes to the Eiteljorg Museum, courtesy of Visit Indy, and four passes to the Indiana Experience at the Indiana History Center, courtesy of the Indiana Historical Society.
Thanks!
Underwriting the project
Hoosier History Live welcomes new or renewal contributors Sue and Craig Thomson, Teresa Baer, Jane Hodge, Paul and Billie Fouts, Steve Barnett, Joe Young, Howard Creveling, Eunice Trotter, Dana Waddell and Clay Collins, Lorraine and Richard Vavul, Linda Gugin of Evansville, Marion Wolen, Jim and Marjorie Kienle, Tom Castaldi, Stacia Gorge, David Willkie, Kevin Murray, Jeff Swiatek, Dixie Richardson, Sharon Butsch Freeland and several anonymous contributors.
We are not staff members of any organization; rather, we are a small, independent production group trying to keep Hoosier History Live on the air, on the web, and in your inbox. Your gift goes primarily to support those individuals who are working so hard on the project, as well as to help defray the costs of maintaining our website, our email marketing software and our audio editing costs.
If you believe in supporting local artists, writers, historians and performers, look no further!
It takes only seconds to help us out. Just go to our website and click the yellow "Donate" button. Or, if you prefer the paper method, you may make out a check to "Hoosier History Live" and mail it to Hoosier History Live, P.O. Box 44393, Indianapolis, IN 46244-0393. We will list you on our website, unless you wish to remain anonymous. You also may memorialize a loved one if you wish; just make a note with either your online contribution or on your paper check. Thanks!

We also try to maintain some of those old-fashioned journalism principles about trying to keep editorial content separate from financial contributions.
For questions about becoming an underwriting sponsor (the underwriter level includes logos on our website and newsletter and spoken credits in the live show), contact our producer, Molly Head, at molly@hoosierhistorylive.org, or (317) 927-9101. If you have any questions at all about how we are organized, please feel free to talk to our producer.
Also, the Irvington Library Listening Group continues to meet on a regular basis from noon to 1 p.m. on Saturdays to listen to and discuss the live show. If you think you would enjoy listening with fellow history lovers, just stop by the library at 5626 E. Washington St. in Indianapolis and ask for the listening group.
By the way, it's easy to form your own listening group; all you need is a relatively quiet room with comfortable chairs and either a radio or an online listening device to pick up the show from the live Web stream on Saturdays. We do have listeners all over the country. A weekly listening group is an easy way to get "regulars" into your organization or place of business.
Sept. 27 show
World War I and Indiana
The 100th anniversary of the outbreak of World War I is prompting analysis and reflection about the "war to end all wars."
During the horrific conflict that broke out in 1914 (although the United States did not enter the war until 1917), about 1,420 Hoosiers were killed in combat, according to some accounts. Thousands more were injured, suffered from shell shock or had their lives significantly altered in other ways.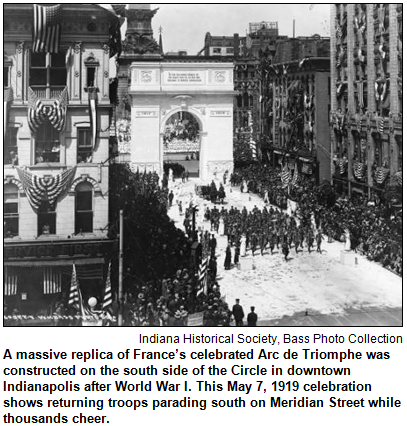 Knox County Superior Court Judge Jim Osborne of Vincennes will join Nelson in studio to share insights about the war that often is depicted with scenes involving foxholes, gas masks and doughboys.
Judge Osborne, a former high school history teacher, is the founder and curator of the Indiana Military Museumin Vincennes, which has had special events commemorating World War I's centennial. In June, volunteers in Vincennes dug trenches on the museum's property so young Hoosiers could see how the war was fought; re-enactors portrayed Allied and German soldiers. The museum also has exhibited a restored French Renault hospital field truck from 1914.
The war's end in November 1918 was celebrated for months afterward. To welcome home Indiana's returning soldiers, thousands of people flocked to downtown Indy on May 7, 1919 for a celebration that featured a massive replica of the Arc de Triomphe (victory arch) in Paris.
According to the Indianapolis Star, the victory arch spanned the width of the Meridian Street entrance to Monument Circle.
Our guest Judge Osborne is an avid military collector and historian. He established the non-profit Indiana Military Museum in 1982 as a way to enhance education of U.S. military history and preserve significant artifacts.
None of the 4.7 million U.S. veterans of World War I remain alive. The U.S. death toll was more than 116,500.
Even before the United States entered the war, America suffered casualties. In 1915, the British ocean liner Lusitania was attacked by Germany; its sinking killed nearly 1,200 passengers, including 128 Americans.
Hoosiers who served in World War I included future Republican presidential candidate Wendell Willkie, a native of Elwood. Willkie was in the U.S. Armyin France as the war wound down. Indiana-born composer Cole Porter claimed to have served in the French Foreign Legion, but his biographers have disputed that. Tony Hulman, the future owner of the Indianapolis Motor Speedway, was a teenager who served with the ambulance corps of the American Red Cross during the war.
Another show online!
Show on grocers now available for listening
From family grocers to supermarkets. This show, originally aired on July 19, 2014, is now available for downloading and listening thanks to the generous support of Bruce and Julie Buchanan.
Remember, friends, we at Hoosier History Live are more like a small family corner grocery than anything else!
Independents make great radio. And a big thanks to creative collaborators Richard Sullivan, Nelson Price and Molly Head, who put together this newsletter each and every week.
Nelson in print
These 5 famous Hoosiers reinvented themselves
Just in time for Labor Day, host Nelson Price has penned another piece for The Indianapolis Star about historic - and current-day - prominent Hoosiers who began new chapters in their work lives after initially taking a different direction entirely.
A nice note of support
'We hope to see it broadcast far and wide'
A particularly nice letter of support came in some time ago from authors James Alexander Thom and Dark Rain Thom. We like to re-read it from time to time!
To Whom it May Concern:

Last Spring, my wife and I were interviewed by Nelson Price on his Hoosier History radio program, as authors of frontier and Native American history books. Mr. Price's program was so well prepared and conducted that we feel it should be made available to students and general audiences as widely as possible. His program is well-researched, all questions pertinent to the chosen theme, and moves along briskly. Listeners called in with questions and comments that were intelligent and relevant, a sign of an avid audience.

As historical writers, we try to overcome the public's indifference to history, to bring alive in any way we can the important lessons of the past, and are enthusiastic about programs and writings that make those lessons interesting. The Hoosier History Live program does that so well that we hope to see it broadcast far and wide over this historically significant State of Indiana. It is an excellent program, worthy of extensive distribution and strong support.

James Alexander Thom & Dark Rain Thom, authors
Bloomington, Indiana
July 14, 2011
Shows, we got shows
We have more than 200 Hoosier History Live! radio shows completed, as a matter of fact. And we need to get show audio onto the website, which we are doing by and by, but we sure could use some sponsorship assistance as we edit and publish audio for each archived show. Take a look at the list below and check out all the opportunities for sponsoring a slice of original Hoosier History Live! content on the Web.
No one else is doing anything quite like what we're doing. We are the nation's only live call-in radio program about history. We offer a permanent and growing archive of quality content, available for sponsorship opportunities.
If you are interested in becoming a sponsor of Hoosier History Live!, click here or call Molly Head at (317) 927-9101 for more info.
What people are saying about Hoosier History Live!
"The folks at Hoosier History Live! are able to find great stories and the people to tell them - people and stories that you seldom hear on the national air."
Dr. James H. Madison, author and IU history professor
"As museums and educational institutions scramble to make their offerings more interactive, more entertaining and more 'relevant' to today's digitally obsessed consumers, Hoosier History Live! seems to have mastered that formula."
Glynis Worley, rural Bartholomew County listener
"Hoosier History Live! is a perfect place to consider and reconsider history ... not just what happened in the past, but what it may mean in the present. Nelson Price is the perfect host: enthusiastic, curious and knowledgeable. Tune in to Hoosier History Live! and be prepared to be surprised."
James Still, playwright in residence, Indiana Repertory Theatre
"Hoosier History Live! is a fantastic opportunity for people to not only learn about history, but also become a part of the conversation. Much like our mission, the telling of Indiana's stories, Nelson and his guests wonderfully connect people to the past!"
John Herbst
President and CEO, Indiana Historical Society
"The links on the Friday Hoosier History Live! enewsletter are a great way to learn more about history, and from a variety of sources."
Jill Ditmire
Omni Media Specialist
"Distilling life experience into stories is an art. Telling stories of life experience for Hoosiers past and present will shape the lives of young people and enrich the lives of all in our state. Mr. Nelson Price brings alive the life experience of notable Hoosiers in Hoosier History Live!"
David T. Wong, Ph.D., President
DT Wong Consulting, LLC
Former Lilly research scientist who developed Prozac
"Nelson Price, more than anyone I know, infuses joy into the pursuit of history. And that joy rings out loud and clear on the radio show, Hoosier History Live!"
Marsh Davis
President, Indiana Landmarks
"No, I haven't heard of another call-in talk radio show about history. Our airwaves are now full of the worst vitriol! Give me the phone number for the show. I want to call in!"
Ken Burns, speaking at a preview of his film "The War" at Indianapolis Hebrew Congregation, April 18, 2007