Dec. 14 show
Indiana during the Ice Age, when mastodons roamed
We will delve into the deepest era of Hoosier history - and the coldest.
To explore the Ice Age, including the landscape of - as well as plant and animal life (including mastodons) once found in - the part of Earth that eventually became Indiana, Nelson will be joined in studio by two experts from the Indiana State Museum.
His guests will be Ron Richards, senior research curator of paleobiology, and Ron's colleague Damon Lowe, chief curator of science and technology. They have been the key figures in putting together the blockbuster exhibit Ice Age Giants: The Mystery of Mammoths and Mastodons that opened in November at the State Museum.
According to Ron, mastodon bones have been discovered in most of Indiana's 92 counties.
The exhibit features actual skeletons, skulls and casts of Ice Age animals, as well as fossils. The Indiana State Museum contends its collection of Ice Age bones is the largest in the Midwest. Some of the bones belonged to a mastodon that was discovered on a farm near Fort Wayne and has been named "Fred."
According to our experts, a frigid climate more than 80,000 years ago forced an expansion of the Arctic ice sheets. The largest sheet covered much of North America, including the future state of Indiana.
As described by the State Museum, mastodons like Fred were "shorter, stockier cousins" of mammoths, which also roamed prehistoric Indiana about 13,000 years ago. Mammoths were not as plentiful here as mastodons, though.
"Like modern elephants, mastodons could live 60 years or more, but few made it to retirement (age)," according to an article in Indianapolis Monthly magazine's November issue.
In conjunction with the Ice Age Giants exhibit at the State Museum, the nearby IMAX Theater is showing a movie, Titans of the Ice Age, that depicts the era in 3D. It's an age described as inhabited by "saber-toothed cats, giant sloths, dire wolves and woolly mammoths."
A skeleton of a dire wolf, a type of wolf that co-existed with mammoths and mastodons in Indiana, is displayed at the State Museum.
The museum has been involved in what's known as "bone recovery" of prehistoric remains since the late 1970s. The first major excavation site was near Bass Lake in Starke County.
Since then, significant excavations have occurred near Hebron in northwest Indiana and near the city of Plymouth. Mastodon bones also have been found in a bed of the White River in southern Indiana. The average excavation takes two weeks and a crew of about 10 staff members from the State Museum and volunteers.
The skeleton of Fred, the mastodon, is about 9 feet tall and 250 feet long. His skull alone weighs 250 pounds.
Some other Ice Age history nuggets:
Our guest Ron Richards was involved in the discovery of the nearly complete skeleton of a peccary, a pig-like animal that existed in Indiana during ancient times. The peccary skeleton was unearthed in Crawford County.
In addition to differing in their size, mammoths and mastodons had different types of tusks. The taller, slimmer mammoths had tusks that were much more curved, projecting downward "like a walrus," according to the State Museum. Mastodons' tusks tended to project straight forward.
Ice Age Giants: The Mystery of Mammoths and Mastodons exhibit will continue at the State Museum until Aug. 17.
Thanks!
Underwriting the project
Hoosier History Live welcomes new contributors Turner Woodard, Danny and Sofia Lopez, Gary BraVard in memory of Sunny Brewer, and James and Elizabeth Worley of Columbus, Ind.
For questions about becoming a contributor, or underwriting sponsor (the underwriter level includes logos on our website and enewsletter and spoken credits in the live show), you also may now contact Gary BraVard, marketing director, at gary@hoosierhistorylive.org, or (317) 902-7900, as well as Producer Molly Head at molly@hoosierhistorylive.org, (317) 927-9101.
We certainly need financial support to continue our excellent work; you can help to defray the costs of maintaining our website, our email marketing software, our editing costs, etc. It's also easy just to click on the yellow "Donate" button on our website. Simply put, if you like us, support us!
Also, the Irvington Library Listening Group continues to meet on a regular basis from noon to 1 p.m. on Saturdays to listen to and discuss the live show. If you think you would enjoy listening with fellow history lovers, just stop by the library at 5626 E. Washington St. in Indianapolis and ask for the listening group.
By the way, it's easy to form your own listening group; all you need is a relatively quiet room with comfortable chairs and either a radio or an online listening device to pick up the show from the live Web stream on Saturdays. We do have listeners all over the country. If you need any advice on how to get started, please contact molly@hoosierhistorylive.org. A weekly listening group is an easy way to get "regulars" into your organization or place of business, and it is a relatively low-cost programming idea.
Dec. 21 show
Victorian-era and ethnic holiday traditions
Buckle up for a time-traveling sleigh ride with Hoosier History Live! as we explore holiday traditions of earlier eras - as well as yule-season and new-year customs brought to this country by various ethnic heritage groups.
Did your family or ancestors ever set out a pair of shoes for St. Nick? That footwear-shuffling Christmas season tradition was an Eastern European custom.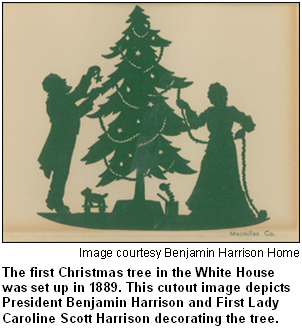 Ever wonder about the evolution of holiday greeting cards and what they would have been like during the Victorian era? An immigrant from an ethnic heritage group started the mass printing in America of holiday cards during the 1870s. (You will have to tune in to learn details.)
To share insights about ethnic immigration holiday traditions - cherished, bygone or transformed in various ways - Nelson will be joined in studio by a diverse group of guests. They also will share insights about folk traditions associated with the holidays during the Victorian and Edwardian eras stretching from the mid-1800s through the early 1900s.
Nelson's guests will include:
Nancy Grant, a journalist, photographer and speaker based in Louisville, Ky. During her career, Nancy has written about a wide range of topics, including the history behind some of the most popular Christmas traditions. Her book Christmas in America (1991) described the evolution of greeting cards, holiday trees decorated with lights and other traditions.
And Olga Imperial Keegan of Indianapolis, whose parents immigrated from the Philippines. A past president of the Association of International Women, Olga is a real estate agent and mother of four. She also has been a volunteer host for the International Center of Indianapolis.
Fun fact: As regular listeners of Hoosier History Live! - or visitors to the Benjamin Harrison Presidential Site - may recall, the only American president elected from the Hoosier state has a yule-season claim to fame.
Benjamin Harrison (who served from 1888 to 1892) and First Lady Caroline Scott Harrison became the very first First Family to have a decorated Christmas tree in the White House.
We explored this aspect of their heritage during a holiday season show in 2011 with Jennifer Capps, curator of the presidential site. During the show, Jennifer noted that President Harrison, who had a beard and a slightly stocky frame, portrayed Santa on at least one occasion.
Shows, we got shows
We have more than 200 Hoosier History Live! radio shows completed, as a matter of fact. And we need to get show audio onto the website, which we are doing by and by, but we sure could use some sponsorship assistance as we edit and publish audio for each archived show. Take a look at the list below and check out all the opportunities for sponsoring a slice of original Hoosier History Live! content on the Web.
No one else is doing anything quite like what we're doing. We are the nation's only live call-in radio program about history. We offer a permanent and growing archive of quality content, available for sponsorship opportunities.
If you are interested in becoming a sponsor of Hoosier History Live!, click here or call Molly Head at (317) 927-9101 for more info.
What people are saying about Hoosier History Live!
"As museums and educational institutions scramble to make their offerings more interactive, more entertaining and more 'relevant' to today's digitally obsessed consumers, Hoosier History Live! seems to have mastered that formula."
Glynis Worley, rural Bartholomew County listener
"Hoosier History Live! is a perfect place to consider and reconsider history ... not just what happened in the past, but what it may mean in the present. Nelson Price is the perfect host: enthusiastic, curious and knowledgeable. Tune in to Hoosier History Live! and be prepared to be surprised."
James Still, playwright in residence, Indiana Repertory Theatre
"Hoosier History Live! is a fantastic opportunity for people to not only learn about history, but also become a part of the conversation. Much like our mission, the telling of Indiana's stories, Nelson and his guests wonderfully connect people to the past!"
John Herbst
President and CEO, Indiana Historical Society
"The links on the Friday Hoosier History Live! enewsletter are a great way to learn more about history, and from a variety of sources."
Jill Ditmire
Omni Media Specialist
"Distilling life experience into stories is an art. Telling stories of life experience for Hoosiers past and present will shape the lives of young people and enrich the lives of all in our state. Mr. Nelson Price brings alive the life experience of notable Hoosiers in Hoosier History Live!"
David T. Wong, Ph.D., President
DT Wong Consulting, LLC
Former Lilly research scientist who developed Prozac
"Nelson Price, more than anyone I know, infuses joy into the pursuit of history. And that joy rings out loud and clear on the radio show, Hoosier History Live!"
Marsh Davis
President, Indiana Landmarks
"No, I haven't heard of another call-in talk radio show about history. Our airwaves are now full of the worst vitriol! Give me the phone number for the show. I want to call in!"
Ken Burns, speaking at a preview of his film "The War" at Indianapolis Hebrew Congregation, April 18, 2007