Hoosiers who competed in early Indy 500s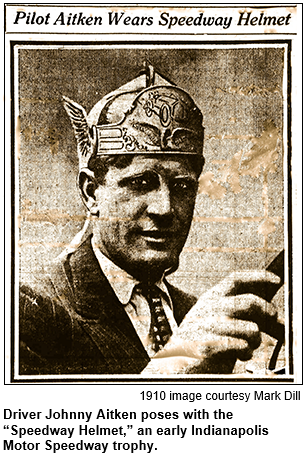 (April 30, 2016) - After 22-year-old native Hoosier Joe Dawson won the Indianapolis 500 in 1912, he hurried from the Indianapolis Motor Speedway to his family's home at 2828 N. Illinois St. to hug his mom.
Charlie Merz, the son of an Indianapolis police officer, survived horrific accidents early in his racing career to complete the final lap of the Indy 500 in 1913 - with his car on fire. He died in 1952 and is buried in Crown Hill Cemetery.
In 1919, the Indy 500 was won by popular Howdy Wilcox, a pioneer race driver born in Crawfordsville. His son Howard S. Wilcox, also known as Howdy, founded the Little 500 bicycle race at Indiana University in the early 1950s.
As the countdown continues to the 100th running of the Indy 500, Hoosier History Live explores the colorful lives and careers of these and other early race drivers who had deep connections to Indiana.
Our guest is Indy native and lifelong racing enthusiast Mark Dill, the creator of firstsuperspeedway.com, an extensive website about auto racing, including the sport's pre-1920 history.
Mark, who is based in Cary, N.C., has worked in marketing and public relations for various high-tech companies; he also previously worked for the Indianapolis Motor Speedway and, when he was an Indiana University student, as news director of Indianapolis Raceway Park. Mark and his wife, Esther, own Mark Dill Enterprises Inc., which helps market the rapidly growing sport of vintage auto racing.
Speaking of vintage: Many Hoosiers know a bit about Ray Harroun, a Pennsylvania native who won the inaugural Indy 500 in 1911 with a Marmon car made in Indianapolis.
That race has been the focus of Hoosier History Live shows, including some with Speedway historian extraordinaire Donald Davidson. Most recently, Donald was Nelson's studio guest on April 4, 2015 for a program that explored the impact of track announcer Tom Carnegie and popular driver Jimmy Clark, the "Flying Scot" who won the Indy 500 in 1965.
For this show, we explore some Hoosiers whose legacies are not as well remembered by the general public today - as well as others such as Wilcox and Barney Oldfield, an Ohio native who, as our guest Mark Dill puts it, was "embraced by Indiana like a native son." A confidant of Speedway founder Carl Fisher, Oldfield (1878-1946) was a racing pioneer and showman who even starred in silent movies.
Although Harroun won the inaugural Indy 500 in 1911, the first lap was led by driver Johnny Aitken, an Indianapolis native whose life and racing achievements Mark will discuss during our show. (According to Donald Davidson's Official History of the Indianapolis 500 with co-author Rick Shaffer, Aitken stayed in front for the first four laps of the 1911 race.)
Mark also shares insights about Joe Dawson, the winner of the second Indy 500 who went home to hug his fretful mother, an anecdote celebrated in local newspapers in 1912. Described as a "simple, modest man," Dawson (at age 22 years and 10 months) remained the youngest Indy 500 winner for several decades.
According to Mark's research, Dawson lived with his parents in a house with "the 1912 version of a man cave" that featured college football and baseball pennants.
Other early Indy 500s drivers we will explore include "Farmer" Bill Endicott, whose nickname, Mark says, derived from his ownership of a farm near Crawfordsville.
In addition to his firstsuperspeedway.com website, Mark oversees a Facebook page on the same subjects.
Earlier in his career, Mark was vice president of Nortel and, in that capacity, worked with former Indy 500 driver Scott Goodyear on sponsorships. Mark also is a regular guest and commentator about racing for radio and TV and has been active in the SportsCar Vintage Racing Association.
Before the inaugural Indy 500 in 1911, there were several other auto races at the Speedway after the track opened in 1909.
Some of these races were won by a talented young driver, Tommy Kincaid, who had been born in Indianapolis; he drove for the Indianapolis-based National Motor Vehicle Company race team owned by Arthur Newby. Our guest Mark Dill will share insights about Kincaid, even though he never raced in the Indy 500; that's because he was killed at age 23 at the Speedway in 1910 while testing his car. (If Tommy Kincaid had been alive in 1912, Mark suspects that he - rather than Joe Dawson, who hugged him mom after the victory - might have driven the winning car, which also was owned by National.)
Barney Oldfield, who even starred in a Broadway musical, generally is considered to have been the first American auto racing celebrity. According to the website of the Henry Ford Archive of Innovation, Oldfield "helped to democratize not only racing entertainment, but also the automobile in general, as the vehicles moved out of the carriage houses and into backyard sheds."
The website also notes that Oldfield "flouted the conventions of his time, both on and off the track. He was notorious for his post-race celebrations, womanizing and bar fights."
Charlie Merz, who finished the 1913 race with his car on fire, later became a successful businessman, engineer and chief steward of the Indy 500. According to a description of the 1913 Indy 500 on Mark's website, Merz's car burst into flames just before the final lap. Instead of stopping, he "forged ahead for the final lap ... with the riding mechanic swatting the flames with his jacket."
Learn more:
Roadtrip: Running events highlight Indy historic landmarks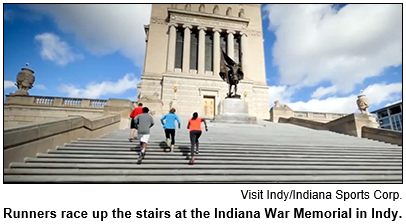 Guest Roadtripper and Indy-based history writer and enthusiast Jeff Kamm tells us that Saturday, April 30 is a first for Indianapolis. A new running event, the Indy Ultimate, will see runners compete through a course that features obstacles in our shimmering sports venues, as well as traversing some of our historic landmarks, such as the Soldiers and Sailors Monument and the Indiana War Memorial.
You can kick a field goal at Lucas Oil Stadium, take a shot at a basket at Bankers Life Fieldhouse, and run up, around and down the Indiana War Memorial steps as fast as you can.
This new event is just another of the several that have popped up in recent years. The running events owe this legacy to the 500 Festival Mini Marathon which will be run for the 39th time this coming weekend.
The half marathon, originally intended to be a bicycle race, was created by city leaders in 1977 at the insistence of Tony Hulman as a grand way to kick off the monthlong celebration of the Indianapolis 500. It has grown to be one of the largest running events in the nation and features some 35,000 participants from around the world looking to cross the yard of bricks at the historic Indianapolis Motor Speedway, which will celebrate the 100th running of the Greatest Spectacle in Racing on May 28th.
Oh, and yes, Jeff is a runner.
History Mystery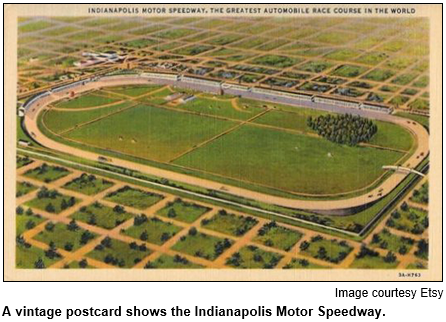 In 1909, two years before the first Indianapolis 500, the Indianapolis Motor Speedway opened.
The first competition at the racetrack did not involve cars. Carl Fisher, the flamboyant founder of the Speedway, not only organized the first race in June 1909, he was among the competitors in it.
Question: What was raced?
Hint: Not only did the race, a national competition, not involve any kind of car, it also did not involve motorcycles.
The prize pack includes a Family 4-Pack to Conner Prairie Interactive History Park, including four tickets to the 1859 Balloon Voyage, and two tickets to the Indianapolis Motor Speedway Track Tour, courtesy of Visit Indy.
In the news
Nelson's Ryan White book receives award
Hoosier History Live host Nelson Price's book The Quiet Hero: A Life of Ryan White (2015, Indiana Historical Society Press) has received one of the highest national honors in independent publishing. The Quiet Hero is a gold medalist in the Independent Book Publishers Association's 2016 Benjamin Franklin Book Awards.
The book, which explores the courage Hoosier Ryan White and his mother Jeanne displayed after learning the 13-year-old boy was diagnosed with AIDS, took home gold in the Teen Nonfiction category. Ryan was diagnosed in 1985 after receiving contaminated blood-based products used to treat his hemophilia. He died in 1990 at the age of 18.
"Ryan became the 'face' of young people with AIDS in the country because he was such an effective communicator, whether speaking to an assembly of thousands of attendees, a national TV audience or just one-on-one with a peer," said author Nelson Price. "He taught tolerance during an era of panic when tolerance was desperately needed."
Ryan's mother, Jeanne White-Ginder, who now lives in Florida, was a guest on Hoosier History Live on July 25, 2015.
According to the Indiana Historical Society, The Quiet Hero: A Life of Ryan White was one of nearly 1,400 entries from across the publishing industry that were submitted to the 2016 awards program for consideration. The finalists were narrowed down to one gold medalist from each of the 54 categories.
May 7 show - encore presentation
Postcards from Indiana
Here's a dispatch to send far and wide: Beginning in the late 1800s and early 1900s, almost every small town in Indiana had its own postcard.
So did landmark buildings and institutions. Not just hotels, spas, restaurants and drug stores, but sanitariums, prisons and asylums, as well.
Also during that era, one of the country's most popular postcard artists was based in Indianapolis, as Nelson and his guests discuss during this show, which originally was broadcast Aug. 15, 2015.
"In the century before Twitter, text messaging and Snapchat, people who wanted to send a short and concise message simply picked up a postcard at the newsstand or drugstore and dropped it in the mail," notes Indianapolis attorney Libby Cierzniak in an article for historicindianapolis.com. Libby, a partner at Faegre Baker & Daniels, collects vintage photos, postcards, advertising and other memorabilia about the Hoosier capital.
During our show, she shares insights about Cobb X. Shinn, an Indy-based artist of the early 1900s who designed nationally distribute postcards. Although her research indicates Shinn was creating more than 400 different designs annually by 1912, he specialized in postcards that depicted frogs dressed in formal attire.
In addition to Libby, Nelson's guests are two members of the Indianapolis Postcard Club:
Glory June Greiff, a public historian and author who uses Indiana postcards (Glory estimates that she owns more than 2,000) for her research about Indiana state parks, outdoor sculptures, roads and roadside attractions.
And Dr. Chuck Hazelrigg, a dentist and pharmacist who collects vintage Indiana postcards of small towns, drug stores, sanitariums, asylums and even prisons.
According to the Smithsonian Institution, the postcard era began in the early 1870s with the debut of government-produced, pre-stamped postal cards. (During earlier eras, so-called "mailed cards" were sent by some people who wrote notes on them.)
In Libby's article, she notes that the popularity of postcards boomed to such an extent that, by 1912, the U.S. Postal Service was processing an average of 8 million postcards daily.
Shinn, who was born in 1887 and studied at what was then called the John Herron Art Institute, designed thousands of the postcards. Many of his designs, according to Libby, appeared in a series of four to 16 cards that were sold as sets. They included a "Tin Lizzy" series that featured the Model T Ford. Shinn's small studio was at the corner of Ohio and Alabama streets.
Lavish buildings in Indiana that were promoted with postcards included the two world-famous resort hotels in southwestern Indiana, the French Lick Springs Hotel and the West Baden Springs Hotel. Some postcards were devoted exclusively to promoting the mineral waters available at the hotels, including Pluto water sold at French Lick.
Learn more:
Thanks!
Underwriting the project
We are not staff members of any organization; rather, we are a small, independent production group trying to keep Hoosier History Live on the air, on the web and in your inbox. Your gift goes primarily to support those individuals who are working so hard on the project, as well as to help defray the costs of maintaining our website, our email marketing software and our audio editing costs.
If you believe in supporting local artists, writers, historians and performers, look no further!
It takes only seconds to help us out. Just click the yellow "Donate" button, above. Or, if you prefer the paper method, you may make out a check to "Hoosier History Live" and mail it to Hoosier History Live, P.O. Box 44393, Indianapolis, IN 46244-0393.
We also try to maintain some of those old-fashioned journalism principles about trying to keep editorial content separate from financial contributions.
For questions about becoming an underwriting sponsor (the underwriter level includes logos on our website and newsletter and spoken credits in the live show), contact our producer, Molly Head, at molly@hoosierhistorylive.org, or (317) 927-9101, or Garry Chilluffo, our media+development director, at gchill@hoosierhistorylive.org.
Also, the Irvington Library Listening Group continues to meet on a regular basis from noon to 1 p.m. on Saturdays to listen to and discuss the live show. If you think you would enjoy listening with fellow history lovers, just stop by the library at 5626 E. Washington St. in Indianapolis and ask for the listening group.
If you are interested in forming your own listening group, all you need is a relatively quiet room with comfortable chairs and either a radio or an online listening device. A weekly listening group is an easy way to get "regulars" into your organization or place of business.
The Central Library in Indianapolis is willing to provide a space for a listening group if someone would volunteer to host the group. For more info, contact producer Molly Head.
Celebration!
8-year soiree on Feb. 25 was historical fun
Photos continue to roll in from the Feb. 25 Hoosier History Live party to celebrate our 8 years on the air. This week's featured image is of Indianapolis Mayor Joe Hogsett with the four fine young musicians of the Herron String Quartet who provided such lovely music in the entry hall at Indiana Landmarks Center as the event got under way.
If you have a good photo that you would allow us to use for publication in our e-newsletter and website, please consider emailing it to us at news@hoosierhistorylive.org. Do include the name that is to receive credit.
Thanks again to corporate supporters Indiana Landmarks and Jacquie's Gourmet Catering, as well as event sponsor Core Redevelopment.
Thanks also to individual contributors Anne Laker, Jim and Marjorie Kienle, Dennis Arbuckle, Joe Young, Kathleen Angelone, J. Scott Keller, Jennifer Q. Smith of AvantGarb, Georgia Cravey and Jim Lingenfelter, Barbara and Michael Homoya, Margaret Smith, Peggy Hollingsworth, Lorraine Vavul, Rita Kohn and William McNiece.
Presenters included CEO of Indiana Landmarks Marsh Davis, Indianapolis Mayor Joe Hogsett, WICR program director Henri Pensis and Indiana Bicentennial Commission Executive Director Perry Hammock, as well as host Nelson Price and producer Molly Head of Hoosier History Live.
Catering was provided by Jacquie's Gourmet Catering, and entertainment was provided by Shirley Judkins, Herron High School String Quartet and Janet Gilray of Voices in Time. Thanks to corporate supporters Indiana Landmarks and Core Redevelopment.
As a nod to the many Indiana ethnic heritage shows produced by Hoosier History Live over the years, guests were invited to dress to portray their ethnic heritage. A shout-out to the Scots, Greeks, and Germans in attendance! And thanks to Jan Wahls for portraying May Wright Sewall.
Your encouragement and participation, on all fronts and in myriad ways, are what keep us going - on the air, in your in-box and on the web. Thanks!
Volunteers needed
Calendar itemkeeper, listening-group host opportunities
Would you be interested in placing the Hoosier History Live show topic and dates and times and ways to listen on the Bicentennial calendar and various other free community calendars across the state? This is rather detailed online weekly public relations work, but it would help get the word out about our show. If interested, please email molly@hoosierhistorylive.org, and please include your phone number.
Would you be interesting in hosting or facilitating a listening group at Central Library in Indianapolis each week? You would be responsible for being there each week during the live show and making sure a listening device is available. And generally facilitating the discussion. If interested, please email molly@hoosierhistorylive.org, and please include your phone number.
A note of support
'We hope to see it broadcast far and wide'
A particularly nice letter of support came in some time ago from authors James Alexander Thom and Dark Rain Thom. We like to re-read it from time to time!
To Whom it May Concern:

Last Spring, my wife and I were interviewed by Nelson Price on his Hoosier History radio program, as authors of frontier and Native American history books. Mr. Price's program was so well prepared and conducted that we feel it should be made available to students and general audiences as widely as possible. His program is well-researched, all questions pertinent to the chosen theme, and moves along briskly. Listeners called in with questions and comments that were intelligent and relevant, a sign of an avid audience.

As historical writers, we try to overcome the public's indifference to history, to bring alive in any way we can the important lessons of the past, and are enthusiastic about programs and writings that make those lessons interesting. The Hoosier History Live program does that so well that we hope to see it broadcast far and wide over this historically significant State of Indiana. It is an excellent program, worthy of extensive distribution and strong support.

James Alexander Thom & Dark Rain Thom, authors
Bloomington, Indiana
July 14, 2011
Shows, we got shows
We have more than 200 Hoosier History Live! radio shows completed, as a matter of fact. And we need to get show audio onto the website, which we are doing by and by, but we sure could use some sponsorship assistance as we edit and publish audio for each archived show. Take a look at the list below and check out all the opportunities for sponsoring a slice of original Hoosier History Live! content on the Web.
No one else is doing anything quite like what we're doing. We are the nation's only live call-in radio program about history. We offer a permanent and growing archive of quality content, available for sponsorship opportunities.
If you are interested in becoming a sponsor of Hoosier History Live!, click here or call Molly Head at (317) 927-9101 for more info.
What people are saying about Hoosier History Live!
"Hoosier History Live is a fun and interesting way to learn about the heart and soul of Indiana. No boring classes or books here! The production team does an outstanding job."
Judy O'Bannon, civic leader and public broadcasting producer
"The folks at Hoosier History Live! are able to find great stories and the people to tell them - people and stories that you seldom hear on the national air."
Dr. James H. Madison, author and IU history professor
"As museums and educational institutions scramble to make their offerings more interactive, more entertaining and more 'relevant' to today's digitally obsessed consumers, Hoosier History Live! seems to have mastered that formula."
Glynis Worley, rural Bartholomew County listener
"Hoosier History Live! is a perfect place to consider and reconsider history ... not just what happened in the past, but what it may mean in the present. Nelson Price is the perfect host: enthusiastic, curious and knowledgeable. Tune in to Hoosier History Live! and be prepared to be surprised."
James Still, playwright in residence, Indiana Repertory Theatre
"Hoosier History Live! is a fantastic opportunity for people to not only learn about history, but also become a part of the conversation. Much like our mission, the telling of Indiana's stories, Nelson and his guests wonderfully connect people to the past!"
John Herbst
President and CEO, Indiana Historical Society
"The links on the Friday Hoosier History Live! enewsletter are a great way to learn more about history, and from a variety of sources."
Jill Ditmire
Omni Media Specialist
"Distilling life experience into stories is an art. Telling stories of life experience for Hoosiers past and present will shape the lives of young people and enrich the lives of all in our state. Mr. Nelson Price brings alive the life experience of notable Hoosiers in Hoosier History Live!"
David T. Wong, Ph.D., President
DT Wong Consulting, LLC
Former Lilly research scientist who developed Prozac
"Nelson Price, more than anyone I know, infuses joy into the pursuit of history. And that joy rings out loud and clear on the radio show, Hoosier History Live!"
Marsh Davis
President, Indiana Landmarks
"No, I haven't heard of another call-in talk radio show about history. Our airwaves are now full of the worst vitriol! Give me the phone number for the show. I want to call in!"
Ken Burns, speaking at a preview of his film "The War" at Indianapolis Hebrew Congregation, April 18, 2007