March 28 show - encore presentation
Interurbans: Their rise and fall across Indiana
With mass transit proposals continually in the headlines, consider this:
Interurbans were intercity electric railways popular 100 years ago - and, believe it or not, the Hoosier state had one of the most extensive systems in the entire country.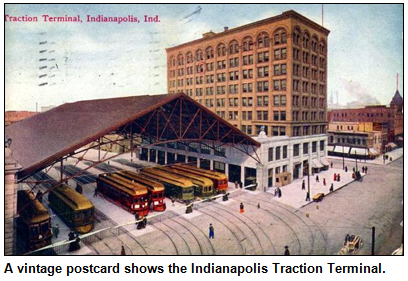 It's the focus of this encore broadcast of one of the most popular shows in our Hoosier History Live archives; the original air date was Sept. 28, 2013.
Interurban lines connected small towns with most of Indiana's big cities, and the cities with each other. Lines radiated from Indianapolis to Fort Wayne, Louisville, Lafayette, Peru, Terre Haute and Richmond (and six other routes). These interurbans then connected with others, reaching Chicago, Toledo, Columbus and even farther. A separate hub centered on Evansville.
To explore the rise and fall of the interurban system, Nelson is joined in studio by two experts:
Nathan Bilger, the planning director for the town of Whiteland in Johnson County. Nathan grew up in Columbia City, lives in Greenfield and has extensively researched interurban and railroad lines throughout Indiana. He maintains a website about Indiana railroading.
Craig Berndt of Fort Wayne, the author of The Toledo and Chicago Railway Company (2007), a book about one of the interurban lines that served travelers in northeastern Indiana, including residents of towns in his home turf of DeKalb County.
The first interurban line in Indiana opened in 1898, from Anderson to Alexandria. The first interurban to Indy opened on New Year's Day in 1900 and brought passengers from Franklin and Greenwood to the Hoosier capital.
Today, the only remaining passenger interurban in the state - and one of the few left in the country - is the popular South Shore line that links South Bend with Chicago.
The bygone Traction Terminal in downtown Indianapolis, which opened in 1904, was easily the nation's largest interurban station. A nine-story building with a train shed, the Traction Terminal was demolished in 1972. The final interurban departed from Indianapolis in September 1941, bound for Seymour.
According to Electric Railroads of Indiana (Hoosier Heritage Press, 1980) by Jerry Marlette, a total of 111 interurban companies had operated more than 3,000 cars in the Hoosier state during the interurban era. Only Ohio had more miles of interurban lines than Indiana's 2,100 miles under wire.
Of Indiana's 92 counties, 68 were served by at least one interurban line. In addition to the massive Traction Terminal in downtown Indy, Muncie was known for its impressive interurban station.
Vestiges of the interurbans do still remain. In southern Marion County, the contemporary names of some streets - Stop 11 Road, for example - date to their heritage as stops on an interurban line.
"Learn more" videos; click to watch and listen:
Roadtrip: Feast of the Hunters' Moon
Guest Roadtripper Joan Hostetler of Heritage Photo Services reports on the annual Feast of the Hunters' Moon, which takes place Oct. 3-4 at Historic Fort Ouiatenon Park near West Lafayette, Ind. The annual festival is a re-creation of the annual fall gathering of the French fur traders and Native Americans that took place at the fort in the mid 1700s. Joan says it's a great place to experience the sounds, smells and sights of this era.
Period re-enactors from Indiana and elsewhere participate in this event, attended by thousands, which includes everything from battle re-enactments to musical performances to dozens of booths with goods that are similar to items available during this historic period.
April 1 panel discussion
Host Nelson Price is here, there and everywhere this week
With the upcoming launch of Nelson Price's Quiet Hero, A Life of Ryan White, author Nelson Price, the host of Hoosier History Live, will be interviewed by WFYI's All Things Considered host Jill Ditmire on Monday, March 30, at 5:50 p.m., over the air at 90.1 FM or at WFYI Online.
The book launch is set for Wednesday, April 1, beginning at 6 p.m. at the Indiana Historical Society. The reception is open to the public but requires an RSVP to Kimberly Rohl at krohl@indianahistory.org.
If you don't make it to the book launch, you also can see Nelson with Ryan's mother, Jeanne White-Ginder, on Thursday, April 2, at a book signing at Bookmamas in the historic Irvington neighborhood of Indianapolis. Nelson and Jeanne will sign copies at bookstore at 9 S. Johnson Ave. from 5:30 to 7:30 pm. No RSVP is needed for the Bookmamas event, which is open to the public.
April 4 show
Donald Davidson on Clark, Carnegie and more
Fifty years ago, the Indianapolis 500 was won by one of the most popular drivers in history.
In fact, legendary broadcaster Tom Carnegie once confided to our host Nelson that Scotland native Jimmy Clark, who was killed during a race three years after his triumph in 1965 at the Indianapolis Motor Speedway, was one of his two favorite drivers.
To share insights about Clark, Carnegie and other aspects of the Speedway's colorful history, a "walking encyclopedia" will be our guest. Speedway historian Donald Davidson will join Nelson in studio.
A native of England who became obsessed with the Speedway as a boy overseas, Donald showed up at the race track in 1964 and instantly wowed Hoosiers with the depth of his 500 Mile Race trivia. In addition to Donald's arrival in 1964, Jimmy Clark (who had captured Rookie of the Year honors the previous year) was the leader at one point during the 500, although the race ultimately was won by A.J. Foyt.
Also during the 1964 race, another popular driver, Eddie Sachs, was killed during a horrific seven-car accident. Sachs, by the way, was the other driver whom Tom Carnegie identified to Nelson as his all-time favorite.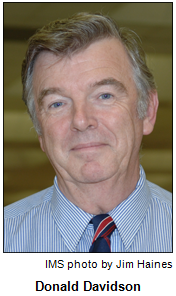 "He was a showman, just like me," Carnegie (referring to Sachs) told Nelson, whose profile of the "Voice of the 500" is the cover story of the current issue of Traces of Indiana and Midwestern History, the magazine published by the Indiana Historical Society.
Our guest Donald Davidson is quoted throughout the article about Carnegie, who died in February 2011. Beginning with his first gig as the track announcer for the Indy 500 in 1946, Carnegie, Nelson writes, "went on to announce an astonishing 61 Indianapolis 500s, 12 Brickyard 400 races and six U.S. Grand prix competitions, achieving a broadcasting version of a track record that probably will never be equaled."
Donald Davidson is equally treasured as a Speedway institution. He was a Hoosier History Live guest in March 2011 for a show about the 100th anniversary of the Indianapolis 500, which made its debut in 1911.
Any show with this Speedway historian extraordinaire is an ideal opportunity for listeners to call and ask their most burning questions about racing history and folklore at (317) 788-3314.
Learn more:
Thanks!
Underwriting the project
We are not staff members of any organization; rather, we are a small, independent production group trying to keep Hoosier History Live on the air, on the web and in your inbox. Your gift goes primarily to support those individuals who are working so hard on the project, as well as to help defray the costs of maintaining our website, our email marketing software and our audio editing costs.
If you believe in supporting local artists, writers, historians and performers, look no further!
It takes only seconds to help us out. Just click the yellow "Donate" button, above. Or, if you prefer the paper method, you may make out a check to "Hoosier History Live" and mail it to Hoosier History Live, P.O. Box 44393, Indianapolis, IN 46244-0393.
We also try to maintain some of those old-fashioned journalism principles about trying to keep editorial content separate from financial contributions.
For questions about becoming an underwriting sponsor (the underwriter level includes logos on our website and newsletter and spoken credits in the live show), contact our producer, Molly Head, at molly@hoosierhistorylive.org, or (317) 927-9101, or Garry Chilluffo, our media+development director, at gchill@hoosierhistorylive.org.
Also, the Irvington Library Listening Group continues to meet on a regular basis from noon to 1 p.m. on Saturdays to listen to and discuss the live show. If you think you would enjoy listening with fellow history lovers, just stop by the library at 5626 E. Washington St. in Indianapolis and ask for the listening group.
If you are interested in forming your own listening group, all you need is a relatively quiet room with comfortable chairs and either a radio or an online listening device. A weekly listening group is an easy way to get "regulars" into your organization or place of business.
The Central Library in Indianapolis is willing to provide a space for a listening group if someone would volunteer to host the group. For more info, contact producer Molly Head.
Our ever-expanding archive
Underwriters make more Hoosier History Live podcasts available for listening
Thanks to the Riley Old Home Society for sponsoring the podcast of James Whitcomb Riley: before he was famous. Hoosier History Live also thanks Bonnie and Jim Carter for sponsoring Historic women's groups, which they dedicated to the memory of longtime Indianapolis Woman's Club members Eunice Roper Carter and Leah Porter Carter, and for sponsoring World War I and Indiana, which they dedicated to the honor of Fred N. Ropkey.
You can hear these podcasts on the upper-left column of our home page on our website, and also on our "Listen" page.
A nice comment
Janie reads us 'cover-to-cover'
"I read the entire Hoosier History Live e-newsletter each week, cover to cover," says Jane "Janie" Hodge, an Indianapolis educator and former WTTV Channel 4 children's TV personality. "Or, as it is online, I should say top to bottom! I look forward to receiving it."
Who makes the enewsletter? The trio of Nelson Price, Richard Sullivan and Molly Head combine their talents and create it each week. In a world of seemingly increasing mediocrity in media, these three individuals seem to enjoy doing things well.
A note of support
'We hope to see it broadcast far and wide'
A particularly nice letter of support came in some time ago from authors James Alexander Thom and Dark Rain Thom. We like to re-read it from time to time!
To Whom it May Concern:

Last Spring, my wife and I were interviewed by Nelson Price on his Hoosier History radio program, as authors of frontier and Native American history books. Mr. Price's program was so well prepared and conducted that we feel it should be made available to students and general audiences as widely as possible. His program is well-researched, all questions pertinent to the chosen theme, and moves along briskly. Listeners called in with questions and comments that were intelligent and relevant, a sign of an avid audience.

As historical writers, we try to overcome the public's indifference to history, to bring alive in any way we can the important lessons of the past, and are enthusiastic about programs and writings that make those lessons interesting. The Hoosier History Live program does that so well that we hope to see it broadcast far and wide over this historically significant State of Indiana. It is an excellent program, worthy of extensive distribution and strong support.

James Alexander Thom & Dark Rain Thom, authors
Bloomington, Indiana
July 14, 2011
Shows, we got shows
We have more than 200 Hoosier History Live! radio shows completed, as a matter of fact. And we need to get show audio onto the website, which we are doing by and by, but we sure could use some sponsorship assistance as we edit and publish audio for each archived show. Take a look at the list below and check out all the opportunities for sponsoring a slice of original Hoosier History Live! content on the Web.
No one else is doing anything quite like what we're doing. We are the nation's only live call-in radio program about history. We offer a permanent and growing archive of quality content, available for sponsorship opportunities.
If you are interested in becoming a sponsor of Hoosier History Live!, click here or call Molly Head at (317) 927-9101 for more info.
What people are saying about Hoosier History Live!
"Hoosier History Live is a fun and interesting way to learn about the heart and soul of Indiana. No boring classes or books here! The production team does an outstanding job."
Judy O'Bannon, civic leader and public broadcasting producer
"The folks at Hoosier History Live! are able to find great stories and the people to tell them - people and stories that you seldom hear on the national air."
Dr. James H. Madison, author and IU history professor
"As museums and educational institutions scramble to make their offerings more interactive, more entertaining and more 'relevant' to today's digitally obsessed consumers, Hoosier History Live! seems to have mastered that formula."
Glynis Worley, rural Bartholomew County listener
"Hoosier History Live! is a perfect place to consider and reconsider history ... not just what happened in the past, but what it may mean in the present. Nelson Price is the perfect host: enthusiastic, curious and knowledgeable. Tune in to Hoosier History Live! and be prepared to be surprised."
James Still, playwright in residence, Indiana Repertory Theatre
"Hoosier History Live! is a fantastic opportunity for people to not only learn about history, but also become a part of the conversation. Much like our mission, the telling of Indiana's stories, Nelson and his guests wonderfully connect people to the past!"
John Herbst
President and CEO, Indiana Historical Society
"The links on the Friday Hoosier History Live! enewsletter are a great way to learn more about history, and from a variety of sources."
Jill Ditmire
Omni Media Specialist
"Distilling life experience into stories is an art. Telling stories of life experience for Hoosiers past and present will shape the lives of young people and enrich the lives of all in our state. Mr. Nelson Price brings alive the life experience of notable Hoosiers in Hoosier History Live!"
David T. Wong, Ph.D., President
DT Wong Consulting, LLC
Former Lilly research scientist who developed Prozac
"Nelson Price, more than anyone I know, infuses joy into the pursuit of history. And that joy rings out loud and clear on the radio show, Hoosier History Live!"
Marsh Davis
President, Indiana Landmarks
"No, I haven't heard of another call-in talk radio show about history. Our airwaves are now full of the worst vitriol! Give me the phone number for the show. I want to call in!"
Ken Burns, speaking at a preview of his film "The War" at Indianapolis Hebrew Congregation, April 18, 2007