Dec. 13 show
Johnny Wooden: Hoosier hoops icon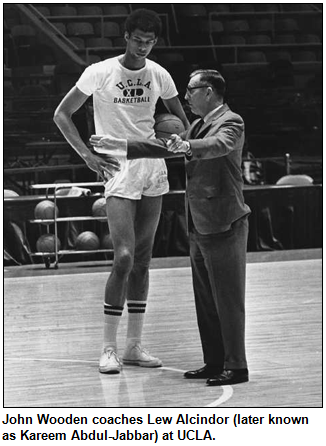 How often are two statues erected in honor of the same person in one year?
That's what happened in 2012 with the legacy of Martinsville native Johnny Wooden, often cited as the best college basketball coach in history.
The first statue of Wooden (who died in 2010 just a few months before his 100th birthday) is a bronze sculpture near Bankers Life Fieldhouse in downtown Indy. The other is outside Pauley Pavilion at UCLA, where Wooden coached the Bruins to 10 NCAA championships in 12 years, one of the most astounding dynasties in all of sports.
Far beyond sports, Wooden became known as a motivator and folk philosopher because of his "Pyramid of Success," used as a blueprint by thousands of Americans.
Before all of that, Wooden was an outstanding basketball player at Martinsville High School and at Purdue University. In fact, he became the first person named to the Naismith Memorial Basketball Hall of Fame as both a player and a coach.
To explore the life and impact of this remarkable Hoosier, Nelson will be joined in studio by three guests:
Barbara Olenyik Morrow, the author of a new book, Hardwood Glory: A Life of John Wooden (Indiana Historical Society Press) that explores his Hoosier roots.
Jim Powers, a retired coach in South Bend who, as a star player during the 1940s, was coached both in high school (South Bend Central High School) and college (Indiana State University) by Wooden. Coach Powers, who is 89, has been inducted into the Indiana Basketball Hall of Fame.
And Mark Montieth, a former sportswriter for The Indianapolis Star who hosts "One on One," a popular radio show featuring sports legends, on 1070/107.5 WFNI.
"The respect his former players had for him was unprecedented, in my opinion," Mark says about Wooden, whom he interviewed. In addition to hosting his radio show, Mark writes for pacers.com.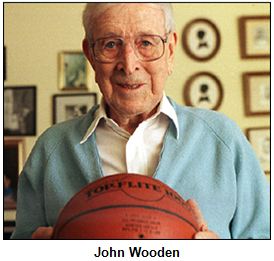 Our guest Barb Morrow, who is based in the northeastern Indiana town of Auburn, has interviewed Wooden's daughter, in addition to former players and others who knew the Hoosier icon.
In her book, she explores how Wooden's long life intersected with those of other famous Hoosiers - from John Dillinger to former IU coach Branch McCracken - as well as the social history that unfolded during his era.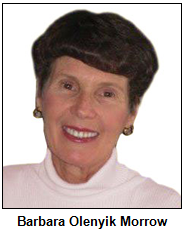 For example, she explores Wooden's progressive views on race relations, including his decision in 1948 while coaching at Indiana State (then known as Indiana State Teachers College) to play Clarence Walker, an African-American from East Chicago, in a post-season tournament. She calls that "a history-making move that paved the way for other blacks to play in national tournaments."
During our show, we also will clarify some misconceptions about Wooden's life, as well as explore little-known or often-overlooked episodes. Regarding the latter, our guest Mark Montieth points out that Wooden's pro career as a player often has been neglected in discussions of his life. After graduating from Purdue, Wooden played for the first truly pro team in Indianapolis, the Kautskys, during the 1930s.
Our guest Jim Powers, who says, "I am so proud to have been one of his 'boys'," cites as a favorite saying associated with his mentor: "Make each day your masterpiece."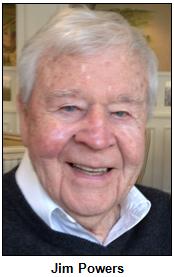 A sampling of other homespun wisdom Wooden passed along to the world included: "Make friendship a fine art" and "Build a shelter against a rainy day."
Wooden credited those nuggets to a seven-point creed that his father wrote on a crisp white card that Wooden carried in his wallet daily.
In turn, his "Pyramid of Success" features "bricks" at the base of the pyramid such as "Industriousness" and "Enthusiasm"; they are topped by "Faith" and "Patience," among other qualities.
The future motivational icon grew up in a Morgan County farmhouse without electricity or indoor plumbing. During his high school years, his father quit farming because of financial pressures.
From those humble beginnings, John Wooden went on to coach UCLA not only to 10 championships, but to a history-making winning streak that lasted 88 games. The streak ended in 1974, one year before Wooden's retirement as coach.
His roster of players during his UCLA heyday included future pro superstars Lew Alcindor (who later became Kareem Abdul-Jabbar) and Bill Walton, who clashed with Wooden over the length of his hair - but who always respected the coach and expressed appreciation in later years for what he taught on and off the basketball court.
Among those in subsequent generations who say they were influenced by Wooden's techniques is the native Hoosier now serving as UCLA's coach. Steve Alford, the former New Castle and IU star player, has written the foreword to Hardwood Glory.
Learn more:
History Mystery
Hoosiers who played for Coach Johnny Wooden's championship teams at UCLA included a South Bend native who later became a popular TV actor. Born in South Bend in 1946, he was an outstanding player at South Bend Central High School, where he was coached by our guest Jim Powers.
From 1966 to 1968, he played for Wooden at UCLA, where his teammates included Lew Alcindor (later known as Kareem Abdul-Jabbar). During the years he played for UCLA, the Bruins won two NCAA national championships.
As a TV actor, the South Bend native is best remembered for his role as a police officer in a critically acclaimed TV series during the 1980s. He was nominated for an Emmy Award for his role in the program; it was known for intertwined story lines, some of which continued over several episodes, then unusual for a TV series.
Question: Who is the basketball star-turned-TV actor from South Bend?
The prize pack includes a signed copy of the book the book Hardwood Glory: A Life of John Wooden, courtesy of author Barb Olenyik Morrow, and four passes to the NCAA Hall of Champions and four passes to the Indiana History Center, courtesy of Visit Indy.
Roadtrip: Big high school gym contest in Indiana
Guest Roadtripper Suzanne Stanis of Indiana Landmarks suggests a trip to Martinsville in Morgan County to see what was billed in 1924 as "The Biggest Gym in the World."
With more than 5,000 seats, the gym could handle the entire population of Martinsville, which numbered 4,895 in 1920 - with room to spare.
The Artesians' enormous home went on to be dwarfed by other gyms, including the 9,000-plus-seat New Castle Field House and the 8,000-plus-seat Anderson Wigwam, but the Martinsville shrine to Hoosier Hysteria remains.
Today the Glenn Curtis Memorial Gym, named in honor of the Martinsville High School coach who brought home three state basketball championships, is part of West Middle School.
This & that
Some opportunities to help the program
Hoosier History Live is seeking a volunteer or volunteers to facilitate a listening group each Saturday at Central Library in downtown Indianapolis. The listening group will listen to the live show each week at Central Library, Saturdays from noon to 1 p.m. Central Library will provide the space and promote the group, but a Hoosier History Live fan needs to commit to chair the group at least through the end of March.
This means showing up beforehand to set up your laptop or other listening device, and facilitating a discussion (best no more than half an hour) after the show.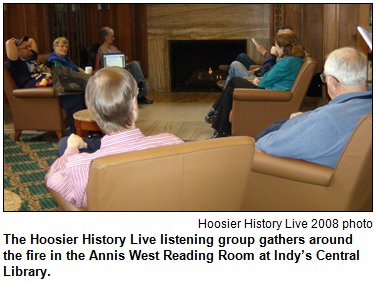 This is a fun, warm and cozy wintertime activity, and you get to share a cup of coffee with fellow history lovers! If you are interested, contact producer Molly at molly@hoosierhistorylive.org or (317) 927-9101.
The Irvington Library Listening Group continues to meet on a regular basis from noon to 1 p.m. on Saturdays. If the eastside of Indy is a better location for you, just stop by the library at 5626 E. Washington St. and ask for the listening group.

"Success is peace of mind, which is a direct result of self-satisfaction in knowing you made the effort to become the best that you are capable of becoming." - John Wooden
"All of us who work on Hoosier History Live seem to strive for the kind of success that John Wooden talks about," says producer Molly Head. "I think we are driven to create a great enewsletter and show each week. Maybe that's a problem, because we wind up looking like we are much better off than we really are."
If you would like to support us financially, just go to our website and click the yellow "Donate" button on the upper left side of our home page. Or if you prefer the paper method, you can make out a check to "Hoosier History Live" and mail it to us at P.O. Box 44393, Indianapolis, IN 46244-0393.
If you are an organization or business that would like to sponsor the show (that means your logo and link on our enewsletter and website, and live credits spoken in the show), contact Garry Chilluffo, our media + development director, at gchill@hoosierhistorylive.org, or Molly Head, producer, at molly@hoosierhistorylive.org.
We need your help!
Dec. 20 show
Families and children: evolution of outreach
In Indiana today, you won't find places called the "Home for Friendless Women" or agencies known as "benevolent societies."
Those were some of the ways, though, that outreach was handled with families, children and other Hoosiers in need more than a century ago. During the Civil War, some early social service organizations focused on helping widows and children of soldiers, whose deaths often left their families destitute.
To explore the evolution of outreach to Hoosiers in need, Nelson will be joined in studio by guests from organizations whose heritage stretches back more than 100 years. Their names have changed - sometimes several times - as their approach to outreach has evolved.
Families First, a nonprofit that is generally considered to be the oldest social service agency in the state, traces its founding to Thanksgiving Day in 1835. That's when a group of early Indianapolis movers and shakers, including attorney/banker Calvin Fletcher and civic leader James Blake, met to share ideas about helping families who were poverty-stricken because of a lack of jobs at the city's earliest factories and mills.
The civic leaders established the Indianapolis Benevolent Society, which, following various names changes in the nearly 180 years since then, is now known as Families First.
Our guests will include Edie Olson, the current president and CEO of the Families First, an agency that now offers services ranging from family counseling to domestic-violence treatment and parent-education classes.
She will share insights about the evolution of social outreach in central Indiana. So will Tina Cloer, president and CEO of the Children's Bureau.
It began in 1851 as the Widows and Orphans Friends' Society, spinning off from the Benevolent Society.
In 1880, according to a history of the Children's Bureau, "Across the state 700 children (were) living in county 'poor asylums,' a situation that many recognize as totally unacceptable." To help, the organization had founded an orphanage, now long closed.
Today, the Children's Bureau offers a range of services, including an adoption recruitment program for families involved in the state's foster-care system.
Thanks!
Underwriting the project
Hoosier History Live welcomes new or renewal contributors Sue and Craig Thomson, Teresa Baer, Jane Hodge, Paul and Billie Fouts, Steve Barnett, Joe Young, Howard Creveling, Eunice Trotter, Dana Waddell and Clay Collins, Lorraine and Richard Vavul, Linda Gugin of Evansville, Marion Wolen, Jim and Marjorie Kienle, Tom Castaldi, Stacia Gorge, David Willkie, Kevin Murray, Jeff Swiatek, Dixie Richardson, Sharon Butsch Freeland and several anonymous contributors.
We are not staff members of any organization; rather, we are a small, independent production group trying to keep Hoosier History Live on the air, on the web, and in your inbox. Your gift goes primarily to support those individuals who are working so hard on the project, as well as to help defray the costs of maintaining our website, our email marketing software and our audio editing costs.
If you believe in supporting local artists, writers, historians and performers, look no further!
It takes only seconds to help us out. Just go to our website and click the yellow "Donate" button. Or, if you prefer the paper method, you may make out a check to "Hoosier History Live" and mail it to Hoosier History Live, P.O. Box 44393, Indianapolis, IN 46244-0393. We will list you on our website, unless you wish to remain anonymous. You also may memorialize a loved one if you wish; just make a note with either your online contribution or on your paper check. Thanks!

We also try to maintain some of those old-fashioned journalism principles about trying to keep editorial content separate from financial contributions.
For questions about becoming an underwriting sponsor (the underwriter level includes logos on our website and newsletter and spoken credits in the live show), contact our producer, Molly Head, at molly@hoosierhistorylive.org, or (317) 927-9101. If you have any questions at all about how we are organized, please feel free to talk to our producer.
Also, the Irvington Library Listening Group continues to meet on a regular basis from noon to 1 p.m. on Saturdays to listen to and discuss the live show. If you think you would enjoy listening with fellow history lovers, just stop by the library at 5626 E. Washington St. in Indianapolis and ask for the listening group.
By the way, it's easy to form your own listening group; all you need is a relatively quiet room with comfortable chairs and either a radio or an online listening device to pick up the show from the live Web stream on Saturdays. We do have listeners all over the country. A weekly listening group is an easy way to get "regulars" into your organization or place of business.
A nice comment
Janie reads us 'cover-to-cover'
"I read the entire Hoosier History Live e-newsletter each week, cover to cover," says Jane "Janie" Hodge, an Indianapolis educator and former WTTV Channel 4 children's TV personality. "Or, as it is online, I should say top to bottom! I look forward to receiving it."
Who makes the enewsletter? The trio of Nelson Price, Richard Sullivan and Molly Head combine their talents and create it each week. In a world of seemingly increasing mediocrity in media, these three individuals seem to enjoy doing things well.
A note of support
'We hope to see it broadcast far and wide'
A particularly nice letter of support came in some time ago from authors James Alexander Thom and Dark Rain Thom. We like to re-read it from time to time!
To Whom it May Concern:

Last Spring, my wife and I were interviewed by Nelson Price on his Hoosier History radio program, as authors of frontier and Native American history books. Mr. Price's program was so well prepared and conducted that we feel it should be made available to students and general audiences as widely as possible. His program is well-researched, all questions pertinent to the chosen theme, and moves along briskly. Listeners called in with questions and comments that were intelligent and relevant, a sign of an avid audience.

As historical writers, we try to overcome the public's indifference to history, to bring alive in any way we can the important lessons of the past, and are enthusiastic about programs and writings that make those lessons interesting. The Hoosier History Live program does that so well that we hope to see it broadcast far and wide over this historically significant State of Indiana. It is an excellent program, worthy of extensive distribution and strong support.

James Alexander Thom & Dark Rain Thom, authors
Bloomington, Indiana
July 14, 2011
Shows, we got shows
We have more than 200 Hoosier History Live! radio shows completed, as a matter of fact. And we need to get show audio onto the website, which we are doing by and by, but we sure could use some sponsorship assistance as we edit and publish audio for each archived show. Take a look at the list below and check out all the opportunities for sponsoring a slice of original Hoosier History Live! content on the Web.
No one else is doing anything quite like what we're doing. We are the nation's only live call-in radio program about history. We offer a permanent and growing archive of quality content, available for sponsorship opportunities.
If you are interested in becoming a sponsor of Hoosier History Live!, click here or call Molly Head at (317) 927-9101 for more info.
What people are saying about Hoosier History Live!
"Hoosier History Live is a fun and interesting way to learn about the heart and soul of Indiana. No boring classes or books here! The production team does an outstanding job."
Judy O'Bannon, civic leader and public broadcasting producer
"The folks at Hoosier History Live! are able to find great stories and the people to tell them - people and stories that you seldom hear on the national air."
Dr. James H. Madison, author and IU history professor
"As museums and educational institutions scramble to make their offerings more interactive, more entertaining and more 'relevant' to today's digitally obsessed consumers, Hoosier History Live! seems to have mastered that formula."
Glynis Worley, rural Bartholomew County listener
"Hoosier History Live! is a perfect place to consider and reconsider history ... not just what happened in the past, but what it may mean in the present. Nelson Price is the perfect host: enthusiastic, curious and knowledgeable. Tune in to Hoosier History Live! and be prepared to be surprised."
James Still, playwright in residence, Indiana Repertory Theatre
"Hoosier History Live! is a fantastic opportunity for people to not only learn about history, but also become a part of the conversation. Much like our mission, the telling of Indiana's stories, Nelson and his guests wonderfully connect people to the past!"
John Herbst
President and CEO, Indiana Historical Society
"The links on the Friday Hoosier History Live! enewsletter are a great way to learn more about history, and from a variety of sources."
Jill Ditmire
Omni Media Specialist
"Distilling life experience into stories is an art. Telling stories of life experience for Hoosiers past and present will shape the lives of young people and enrich the lives of all in our state. Mr. Nelson Price brings alive the life experience of notable Hoosiers in Hoosier History Live!"
David T. Wong, Ph.D., President
DT Wong Consulting, LLC
Former Lilly research scientist who developed Prozac
"Nelson Price, more than anyone I know, infuses joy into the pursuit of history. And that joy rings out loud and clear on the radio show, Hoosier History Live!"
Marsh Davis
President, Indiana Landmarks
"No, I haven't heard of another call-in talk radio show about history. Our airwaves are now full of the worst vitriol! Give me the phone number for the show. I want to call in!"
Ken Burns, speaking at a preview of his film "The War" at Indianapolis Hebrew Congregation, April 18, 2007