10 years on the air!
Join us March 1 for our anniversary soiree!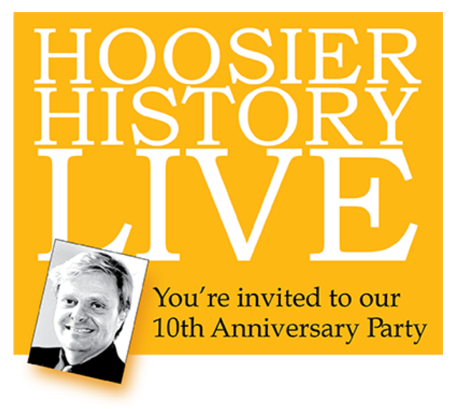 Can you believe it? Hoosier History Live has been on the air 10 years.
To celebrate, we are throwing another of our famous anniversary parties!
Featured events at the party will include live "History Mystery" quizzes by host Nelson Price, with fabulous prizes. We are particularly looking forward to brief remarks by Indianapolis mayor Joe Hogsett. And you never know what other notables will be on hand to share remarks and good cheer with our history-loving crowd, which includes listeners, readers and of course many of our distinguished on-air guests.
Delicious catered cuisine and cash bar will be provided by MBP Distinctive Catering. Let's celebrate together: RSVP today!
Jan. 20, 2018
Indy wife of Treasure Island's Robert Louis Stevenson
Unlikely as it may seem, Scottish novelist, poet and essayist Robert Louis Stevenson - author of such classics as Treasure Island (1883) - married an Indianapolis native.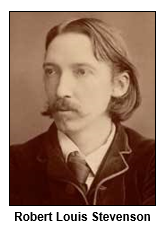 Fanny Vandegrift was more than 10 years older than Stevenson. Born in 1840 to a prosperous family during the early years of the Hoosier capital, she had left an unfaithful first husband (whom she later divorced) when she met Stevenson at a dinner party in Paris during the 1870s.
Stevenson, the author of The Strange Case of Dr. Jekyll and Mr. Hyde (1886), wrote most of his best-known works after he met Fanny Vandegrift; some historians even regard her as his muse.
Indianapolis historian Sharon Butsch Freeland, who has researched and written about Fanny Vandegrift's colorful life, will be Nelson's studio guest.
Fanny's father, a prosperous lumber dealer in Indianapolis, was a close friend of Rev. Henry Ward Beecher, the preacher at Second Presbyterian Church during the 1840s. (Beecher, the brother of Uncle Tom's Cabin novelist Harriet Beecher Stowe, eventually moved to New York and became one of the best-known clergymen in America.) In fact, Beecher baptized young Fanny in the White River.
According to Sharon's research, the Vandegrifts initially lived in a red brick home across from Monument Circle, then known as Governor's Circle. At the time, Second Presbyterian was adjacent to the house; since the late 1950s, the church has been in the 7700 block of North Meridian Street.
Also unearthed by Sharon: the Vandegrifts owned a farm in Hendricks County, the farmhouse of which still stands. Fanny stayed with her parents at the farmhouse during a rocky period with her first husband, Sam Osbourne, who lived in Nevada and California, where he patronized saloons and brothels, according to historians.
In the 1870s, Fanny and the couple's three children moved to Europe. She eventually enrolled as an art student at an academy in Paris, where she met Robert Louis Stevenson, who was in frail health. When they married in 1880, she had just turned 40 and he was 29. The couple honeymooned in California, where they decided to live during the first years of their marriage.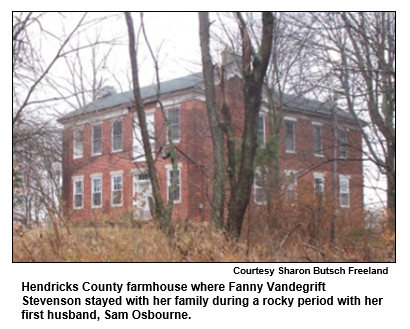 Although the marriage initially upset Stevenson's family in Scotland, Sharon writes that they were won over after the novelist took Fanny to Edinburgh to meet them. "Fanny's father-in-law was so impressed with her literary judgment that he made his son promise never to publish anything without Fanny's approval."
In 1880, the Stevensons moved to Samoa in search of a climate that would provide relief for his respiratory problems. Robert Louis Stevenson died on his village estate in Samoa in 1894 at age 44. Fanny lived until 1914 and is buried next to Stevenson on Mount Vaea, which overlooks the Samoan capital of Apia and its harbor.
Some history facts:
Our guest Sharon Butsch Freeland has served as a guide for Robert Louis Stevenson devotees visiting from out of state who want to see sites associated with Fanny. They have included California relatives of Sam Osbourne, Fanny's first husband.
Fanny was just 17 years old when she married Osbourne, who then was working as the secretary to Indiana's governor, according to Sharon's research.
Before settling in Samoa, the Stevensons "traveled constantly for nearly a decade," Sharon writes. "They spent time in health resorts in England, Scotland, France, the United States and Hawaii."
According to an article in the spring 2007 issue of Traces, the Indiana Historical Society's magazine, Robert Louis Stevenson and Fanny served an "American-style Thanksgiving dinner" in Samoa a few weeks before he died. During the feast, Stevenson raised his glass and proposed a toast to his Hoosier wife. He said she had been "all in all to me."
History Mystery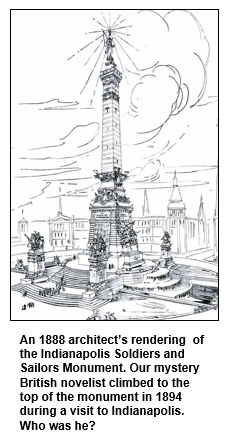 In 1894, an internationally famous British novelist - not Robert Louis Stevenson - visited Indianapolis during a lecture tour. The British novelist met with Hoosier poet James Whitcomb Riley and climbed to the top of the Soldiers and Sailors Monument during his stay in the Hoosier capital.
In 1994, on the 100th anniversary of the novelist's visit, a plaque was installed at Union Station, where he disembarked from his train.
Question: Who was the British novelist?
Hint: He created a fictional character who continues to enjoy widespread popularity in modern times. A major motion picture released in 2009 is the most recent of scores of movies featuring the character,
The call-in number is (317) 788-3314. Please do not call in to the show until you hear Nelson pose the question on the air, and please do not try to win if you have won any other prize on WICR during the last two months. You must be willing to give your first name to our engineer, you must answer the question correctly on the air and you must be willing to give your mailing address to our engineer, so we can mail the prize pack to you. The prize is two passes to the Indiana History Center, courtesy of the Indiana Historical Society, and two passes to GlowGolf, courtesy of GlowGold.
Roadtrip: Hindostan whetstone grave markers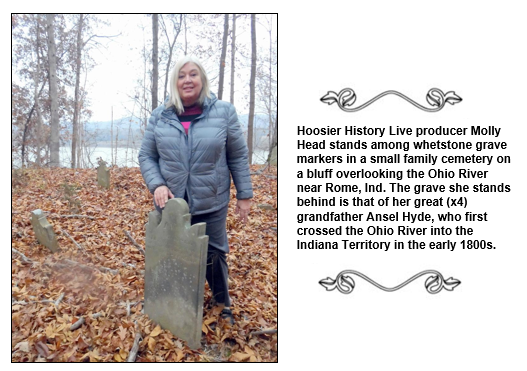 Jeannie Regan-Dinius of the Indiana Department of Natural Resources, Division of Historic Preservation, suggests a Roadtrip to seek out pioneer-era tombstones made from Hindostan whetstone. Whetstone grave markers were among the first commercial gravestones used in Indiana; they are made of sedimentary stone quarried from ancient river beds in southwestern Indiana. The term "whetstone" can be traced to the practice of using these flat, smooth stones to sharpen tools.
Whetstone grave markers were seen as an improvement over their wooden or fieldstone predecessors and were widely employed in Indiana in the first four decades of the 19th century. However, production peaked during the 1840s and began to decline due to competition from white marble grave markers that could be transported from distant quarries via the growing regional railroad system. The Indiana limestone industry also began to produce and market commercial gravestones around this time, as well.
Whetstone grave markers are among the oldest preserved graves in the southern part of the state, and they're not hard to spot in old cemeteries. They usually have a specific tombstone shape (see photo above), and their color is often tan, buff or light brown and streaked with rust (in contrast to the white or off-white of marble or limestone). The inscriptions on whetstone grave markers are usually still legible because the stone's relative softeness allowed for a deep carve; unfortunately, due to the layered nature of the stone, the grave markers are also prone to splitting and flaking away over time.
More than 1,400 whetstone headstones have been identified in cemeteries throughout southern Indiana and southeastern Illinois near the Wabash River. Jeannie tells us that we might find some of these treasures in Greenlawn Cemetery in Vincennes, which is the oldest established cemetery in the state, or in Rose Hill in Bloomington.
Learn more:
Seeking History Mystery on-air giveaways
Do you work for a business or organization that could use a marketing boost? Contributing prizes for our weekly History Mystery on-air giveaway can be a great way to spur interest among the educated, affluent listeners of Hoosier History Live. In exchange for your prize contribution, you get a linked reference to your organization in the History Mystery section of our website and weekly email newsletter, as well as a mention by Nelson on the live show.
If you are interested in contributing prizes, contact molly@hoosierhistorylive.org for more details. The prize or voucher must be something that can be mailed in a regular business-size envelope and must also arrive in advance to our office before being offered in our newsletter. Or, arrangements can be made for the prizes to be picked up. Tickets to dated performances are great, but must be offered well in advance.

Jan. 27, 2018 - Upcoming
From the scrap heap of history: the Jewish salvage industry in Indiana
The American dream takes many forms. For many Jewish Hoosiers during the early to middle years of the 20th century, it took the form of the family-owned scrap yard, independently operated and passed down from one generation to the next.
For many of these families, the road from impoverished immigrant to wealth and social prominence was paved with the detritus of an industrial economy: Crushed automobile frames. Mangled copper wiring. Smashed aluminum cans. All were to be melted down and turned into raw materials that fed the booming American economy during the second half of the 20th century.
This week's Hoosier History Live show will explore the prominent role of scrap metal recycling among Jewish families in Indiana. Guest host Mick Armbruster will be joined in studio by three guests, each with a unique perspective on the history of the Jewish salvage industry in Indiana:
Trent Pendley, amateur historian, retired fine jeweler and fifth-generation Hoosier. He is past president of the Indiana Jewish Historical Society and lives in Furnessville in the Indiana Dunes. Trent was a previous guest on Hoosier History Live for a show on Jewish immigration to Indiana. He also wrote the historical novel Toys in the Closet, which is set in a beach home among the Indiana Dunes.
Marty Kroot of Indianapolis, former owner of K&F Industries salvage business. Marty began working in his family's scrap yard as a teenager and honed his skills over five decades in salvage.
Joan Wolf of Indianapolis, philanthropist and board member of the Indiana Jewish Historical Society. Inspired by her sister-in-law's work on a book on the Jewish history of Madison, Ind., Joan initiated and coordinated the compilation of Bonds as Strong as Steel: A History of Indiana Scrap Metal Dealers and their Families.
Before a wave of consolidation changed the industry in the late 1990s, almost 90 percent of American scrap yards were owned by Jewish families, a statistic that seems to hold true for Indiana as well. Why did so many prominent scrap businesses in Indiana and the Midwest carry Jewish family names? What was it about salvage that attracted Jewish entrepreneurs and encouraged them to build thriving businesses in this field?
To answer these questions, we'll dig into aspects of American history that include a strong Jewish contingent among fur trappers and traders in the Midwest during Colonial and Pioneer eras. Later, Jewish peddlers helped settle the frontier territories. Historians have called Jewish peddlers "foot soldiers in the far-reaching revolution" that brought manufactured consumer goods to far-flung residents of the American frontier.
Coming from a tradition of entrepreneurship in the Old Country, Jewish immigrants often were well-suited for the role of peddler in their new homeland, and low start-up costs made the profession accessible to even the poorest among them. In some cases, anti-Semitism played a role in shaping the economic destiny of Jews during the frontier era and early Hoosier statehood; as Trent will explain, Jews were forbidden from owning property in some areas of Indiana, making the nomadic life of the peddler one of their few options for engaging in trade.
The same economic and historical forces that made peddling a common career choice among Jewish immigrants to America applied to the scrapping trade as well. Rather than sell goods to customers, the scrappers purchased the rags, metal, and animal hides consumers cast off, but that still had value as raw materials. As the businesses of the early horse-and-wagon scrappers grew, they evolved into the scrap yards that eventually became a major force in the U.S. industrial economy.
Guests Marty Kroot and Joan Wolf both grew up in Jewish families that owned salvage businesses. We'll hear some of their early memories of the family junk yard, including Marty's experience learning the trade while still a teenager. He cut his salvage teeth at the Alex Cohen's Sons Inc. scrap yard on the southside of Indianapolis, which his father, the late Sam Kroot, purchased in 1949. Joan will explain the important philanthropic role played by many Jewish scrap business families in Indiana.
Marty also will share his perspective on how the salvage business has evolved over the years, from predominantly family-owned companies to the huge global conglomerates that dominate the industry today.
A note of support
'We hope to see it broadcast far and wide'
A particularly nice letter of support came in some time ago from authors James Alexander Thom and Dark Rain Thom. We like to re-read it from time to time!
To Whom it May Concern:

Last Spring, my wife and I were interviewed by Nelson Price on his Hoosier History radio program, as authors of frontier and Native American history books. Mr. Price's program was so well prepared and conducted that we feel it should be made available to students and general audiences as widely as possible. His program is well-researched, all questions pertinent to the chosen theme, and moves along briskly. Listeners called in with questions and comments that were intelligent and relevant, a sign of an avid audience.

As historical writers, we try to overcome the public's indifference to history, to bring alive in any way we can the important lessons of the past, and are enthusiastic about programs and writings that make those lessons interesting. The Hoosier History Live program does that so well that we hope to see it broadcast far and wide over this historically significant State of Indiana. It is an excellent program, worthy of extensive distribution and strong support.

James Alexander Thom & Dark Rain Thom, authors
Bloomington, Indiana
July 14, 2011
Shows, we got shows
We have more than 470 Hoosier History Live radio shows completed, as a matter of fact. We certainly welcome underwriting support to get more of our show audio online. Let's help support the hardworking Hoosiers who do the writing and editing for Hoosier History Live!
No one else is doing anything quite like what we're doing. We are the nation's only live call-in radio program about history. We offer a permanent and growing archive of quality content, available for sponsorship opportunities.
If you are interested in becoming a sponsor of Hoosier History Live, click here or call Molly Head at (317) 927-9101 for more info.
What people are saying about Hoosier History Live
"Hoosier History Live does more to promote Indiana history than does any single source."
Andrea Neal, Indianapolis author and educator
"Hoosier History Live is a fun and interesting way to learn about the heart and soul of Indiana. No boring classes or books here! The production team does an outstanding job."
Judy O'Bannon, civic leader and public broadcasting producer
"The folks at Hoosier History Live are able to find great stories and the people to tell them - people and stories that you seldom hear on the national air."
Dr. James H. Madison, author and Indiana University history professor
"As museums and educational institutions scramble to make their offerings more interactive, more entertaining and more 'relevant' to today's digitally obsessed consumers, Hoosier History Live seems to have mastered that formula."
Glynis Worley, rural Bartholomew County listener
"Hoosier History Live is a perfect place to consider and reconsider history ... not just what happened in the past, but what it may mean in the present. Nelson Price is the perfect host: enthusiastic, curious and knowledgeable. Tune in to Hoosier History Live and be prepared to be surprised."
James Still, playwright in residence, Indiana Repertory Theatre
"Hoosier History Live is a fantastic opportunity for people to not only learn about history, but also become a part of the conversation. Much like our mission, the telling of Indiana's stories, Nelson and his guests wonderfully connect people to the past!"
John Herbst
President and CEO, Indiana Historical Society
"The links on the Friday Hoosier History Live enewsletter are a great way to learn more about history, and from a variety of sources."
Jill Ditmire
Omni Media Specialist
"Distilling life experience into stories is an art. Telling stories of life experience for Hoosiers past and present will shape the lives of young people and enrich the lives of all in our state. Mr. Nelson Price brings alive the life experience of notable Hoosiers in Hoosier History Live."
David T. Wong, Ph.D., President
DT Wong Consulting, LLC
Former Lilly research scientist who developed Prozac
"Nelson Price, more than anyone I know, infuses joy into the pursuit of history. And that joy rings out loud and clear on the radio show, Hoosier History Live."
Marsh Davis
President, Indiana Landmarks
"No, I haven't heard of another call-in talk radio show about history. Our airwaves are now full of the worst vitriol! Give me the phone number for the show. I want to call in!"
Ken Burns, speaking at a preview of his film "The War" at Indianapolis Hebrew Congregation, April 18, 2007