November 18, 2017
The Titanic and Hoosiers: encore presentation
This week, Hoosier History Live features an encore presentation of a compelling show from 2010, The Titanic and Hoosiers. Did you know that there were 14 passengers with Indiana connections on the doomed Titanic, which struck an iceberg in the North Atlantic and sank in 1912?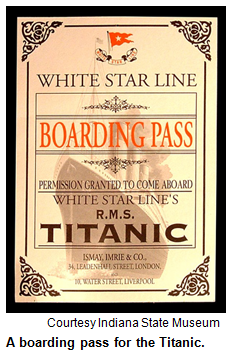 Some of the Hoosiers survived, while others were among the more than 1,500 passengers and crew members who perished.
Exploring a variety of aspects of the tragedy that has captivated the world since the British passenger liner sank on its maiden voyage, Nelson is joined in studio by Indianapolis resident Craig Ware, whose lifelong interest in the Titanic culminated with meeting the final living survivor - and then corresponding with her. That passenger was Millvina Dean, the youngest passenger on board, who died at age 97 in England in 2009.
A member of the Titanic Historical Society years before the ship was discovered at the bottom of the North Atlantic in 1985, Craig has amassed a trove of information about the massive liner that was built for luxury and convenience, not speed. In the years since its sinking, the Titanic has become a symbol of the overconfidence and opulence of the Edwardian era.
Nelson and Craig are joined in studio by Katherine Gould, associate curator of cultural history at the Indiana State Museum, where "Titanic: The Artifact Exhibition" was on display during the original 2010 broadcast of this show. The exhibit featured about 240 artifacts salvaged from the wreck site at the bottom of the North Atlantic.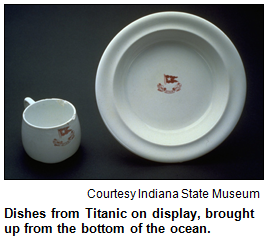 The Hoosier Titanic survivors include an Irish housekeeper, Ellen Mary Toomey, who had immigrated to Indianapolis but then returned to her homeland to visit relatives. Those who did not survive the sinking include a Hammond resident who had traveled to Sweden to visit her parents. She perished, as did her 2-year-old daughter, who had been born in Hammond.
Myths and folklore abound about the sinking. They include allegations that distress signals were ignored, that third-class passengers deliberately were kept below deck and that the ship's cargo included cases of dragon blood, a bright-red tree resin that has been used for centuries in varnishes, medicines, and dyes.
Nelson and his guests separate fact from myth as they delve into a tragedy that for generations has fascinated social historians, analysts of mass panic and those intrigued by what happened to - and aboard - the ship. Their numbers are legion, particularly since the release of the blockbuster movie Titanic (1997) starring Leonardo DiCaprio and Kate Winslet. Their co-star Gloria Stuart passed away in 2010 at the age of 100.
Some Titanic-related tidbits:
Both Nelson and Craig have, separately, met acclaimed oceanographer Robert Ballard, the scientist who headed the expedition that discovered the Titanic wreck site.
At the Indiana State Museum exhibit in 2010, visitors could touch a chunk of ice set at 28 degrees (the water temperature when the Titanic sank). Artifacts on display included a wall sconce from a first-class lounge, china etched with the logo of the White Star Line, a man's bowler hat and perfume being carried in the cargo by a manufacturer.
The ship's cargo included a rare copy of Omar Khayyam's Rubaiyat set in gold and inlaid with 1,500 precious gems; it has never been recovered.
The Titanic's maiden voyage was to be the last voyage for its 62-year-old captain, who had planned to retire. Instead, Captain Edward John Smith was among the victims of the tragedy.
To explore further, Craig suggests the websites Robert Ballard Titanic and Titanic Historical Society.

Roadtrip: Cole Porter Room at the Indiana History Center
Guest Roadtripper Amy Lamb of the Indiana Historical Society invites us to step into the 1940s in the Cole Porter Room, a permanent exhibit at the Indiana History Center at 450 W. Ohio St. in downtown Indianapolis. The room is designed to evoke the style of New York's famed Waldorf-Astoria Hotel.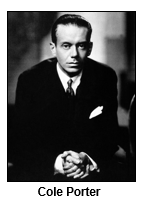 Once inside, you'll be immersed in the 1940s cabaret-style setting featuring a digital grand player piano and photographs that span Porter's life, social circle and travels. An elegantly-dressed singer will serenade you with Porter standards, and you can even sing along if you want to!
Alas, the Cole Porter Room's similarities to an elegant 1940s cabaret lounge do not include libations; no Champagne cocktails or zombies are in the offing.
Cole Porter (1891-1964) was born in Peru, Ind. and composed such classics of the American Songbook as "Night and Day," "Anything Goes" and "I Get a Kick Out of You." Of the many Broadway musicals he composed over the course of his lengthy career, his most famous is Kiss Me Kate, a reworking of Shakespeare's Taming of the Shrew.
November 25, 2017 - upcoming
Early era of the Indiana Pacers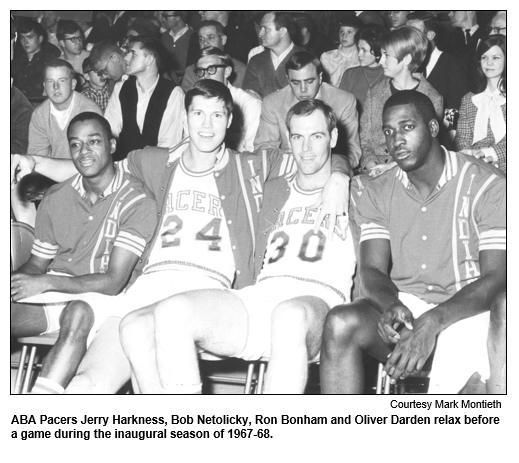 Fifty years ago, the Indiana Pacers played their debut game against the Kentucky Colonels in the Coliseum at the State Fairgrounds in Indianapolis. The new team was part of an upstart professional league, the colorful American Basketball Association (ABA), and before any of the players had even scored a point, much civic, social and sports history already had been made.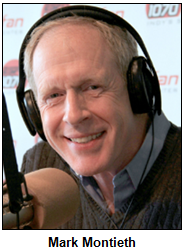 Two previous pro basketball teams based in Indianapolis had died. One of them, the Indianapolis Olympians, went down in scandal.

Efforts at putting together the Pacers team had met a variety of challenges. Unsuccessful attempts had been made to woo household names in Indiana - including former high school basketball sensations Oscar Robertson and identical twins Tom and Dick Van Arsdale - to be part of the Pacers organization. And some of the African-American players who had been signed to the team encountered challenges finding housing in the Hoosier capital due to the racial discrimination that was unfortunately common at the time.

To explore the rich history of the early era of the Pacers, Nelson will be joined in studio by veteran sports journalist Mark Montieth, who, as a boy growing up in Indy, listened to the debut Pacers game on the radio. Mark is the author of a new book, Reborn: The Pacers and the Return of Pro Basketball to Indianapolis (Cardinal Publishing Group).

In the early 1960s, Mark writes, the Hoosier capital was growing, "yet it had no national sports identity beyond the Indianapolis 500."

Civic and business leaders wanted to change that. The result was a team that won three national championships in the ABA, which eventually merged with the National Basketball Association (NBA). As a sportswriter at The Indianapolis Star, Mark Montieth covered the Pacers for 12 of the team's NBA seasons.

Early games in the ABA often were raucous, and fighting among the players was common. Several of the early Pacers were regarded as wild characters, including fan favorites Bob Netolicky and Mel Daniels.

The starting salaries of early Pacers players? According to Reborn, one aspiring Pacer signed a contract for $10,000, with the possibility of a $2,000 bonus.

A note of support
'We hope to see it broadcast far and wide'
A particularly nice letter of support came in some time ago from authors James Alexander Thom and Dark Rain Thom. We like to re-read it from time to time!
To Whom it May Concern:

Last Spring, my wife and I were interviewed by Nelson Price on his Hoosier History radio program, as authors of frontier and Native American history books. Mr. Price's program was so well prepared and conducted that we feel it should be made available to students and general audiences as widely as possible. His program is well-researched, all questions pertinent to the chosen theme, and moves along briskly. Listeners called in with questions and comments that were intelligent and relevant, a sign of an avid audience.

As historical writers, we try to overcome the public's indifference to history, to bring alive in any way we can the important lessons of the past, and are enthusiastic about programs and writings that make those lessons interesting. The Hoosier History Live program does that so well that we hope to see it broadcast far and wide over this historically significant State of Indiana. It is an excellent program, worthy of extensive distribution and strong support.

James Alexander Thom & Dark Rain Thom, authors
Bloomington, Indiana
July 14, 2011
Shows, we got shows
We have more than 470 Hoosier History Live radio shows completed, as a matter of fact. We certainly welcome underwriting support to get more of our show audio online. Let's help support the hardworking Hoosiers who do the writing and editing for Hoosier History Live!
No one else is doing anything quite like what we're doing. We are the nation's only live call-in radio program about history. We offer a permanent and growing archive of quality content, available for sponsorship opportunities.
If you are interested in becoming a sponsor of Hoosier History Live, click here or call Molly Head at (317) 927-9101 for more info.
What people are saying about Hoosier History Live
"Hoosier History Live does more to promote Indiana history than does any single source."
Andrea Neal, Indianapolis author and educator
"Hoosier History Live is a fun and interesting way to learn about the heart and soul of Indiana. No boring classes or books here! The production team does an outstanding job."
Judy O'Bannon, civic leader and public broadcasting producer
"The folks at Hoosier History Live are able to find great stories and the people to tell them - people and stories that you seldom hear on the national air."
Dr. James H. Madison, author and Indiana University history professor
"As museums and educational institutions scramble to make their offerings more interactive, more entertaining and more 'relevant' to today's digitally obsessed consumers, Hoosier History Live seems to have mastered that formula."
Glynis Worley, rural Bartholomew County listener
"Hoosier History Live is a perfect place to consider and reconsider history ... not just what happened in the past, but what it may mean in the present. Nelson Price is the perfect host: enthusiastic, curious and knowledgeable. Tune in to Hoosier History Live and be prepared to be surprised."
James Still, playwright in residence, Indiana Repertory Theatre
"Hoosier History Live is a fantastic opportunity for people to not only learn about history, but also become a part of the conversation. Much like our mission, the telling of Indiana's stories, Nelson and his guests wonderfully connect people to the past!"
John Herbst
President and CEO, Indiana Historical Society
"The links on the Friday Hoosier History Live enewsletter are a great way to learn more about history, and from a variety of sources."
Jill Ditmire
Omni Media Specialist
"Distilling life experience into stories is an art. Telling stories of life experience for Hoosiers past and present will shape the lives of young people and enrich the lives of all in our state. Mr. Nelson Price brings alive the life experience of notable Hoosiers in Hoosier History Live."
David T. Wong, Ph.D., President
DT Wong Consulting, LLC
Former Lilly research scientist who developed Prozac
"Nelson Price, more than anyone I know, infuses joy into the pursuit of history. And that joy rings out loud and clear on the radio show, Hoosier History Live."
Marsh Davis
President, Indiana Landmarks
"No, I haven't heard of another call-in talk radio show about history. Our airwaves are now full of the worst vitriol! Give me the phone number for the show. I want to call in!"
Ken Burns, speaking at a preview of his film "The War" at Indianapolis Hebrew Congregation, April 18, 2007