December 10, 2022
Ask Nelson – and Charles Braun, too
Like clockwork every yuletide season, the town of Santa Claus in far-southwestern Indiana is in the national spotlight. Ever wonder about the history of the town in Spencer County that claims it has the only post office in the world with the Santa Claus name?
Our host, Nelson Price, will share insights about that during one of our periodic call-in shows. And it so happens that Nelson's co-host, our WICR-FM colleague Charles Braun, has visited the Santa Claus Museum & Village, which is located within the town.
In between phone calls from listeners, who are invited to call with questions about any aspect of Indiana's heritage, Nelson and Charles will interview each other about Santa Claus, Ind., and other topics. A distinguished attorney, Charles is the host of "Legally Speaking", which airs at 11 a.m. on WICR and is the longest-running call-in legal advice show in the country.
Our show will kick off with the town of Santa Claus, Ind., which receives nearly 35,000 letters from children around the world that are answered by community volunteers (known as "elves", of course). Nelson will share insights gleaned when Hoosier History Live focused on the town's history during a program in 2018.
The village area, a tourist destination, includes the town's original post office, a historic church built in 1889 and a towering statue of Santa Claus that's 22 feet tall. Fun history fact: When the town of Santa Claus was platted in 1846, it initially was called Santa Fe.
During this show, Charles will discuss the origins of the names of other Indiana towns, including a small city at the opposite end of the state: Plymouth in far-northern Indiana. He also will discuss the origins of various township names in Indiana.
Primarily, though, this show will provide an opportunity for listeners to call Nelson and Charles with any questions or comments about our Indiana heritage. The WICR-FM (88.7) studio number to call is 317-788-3314.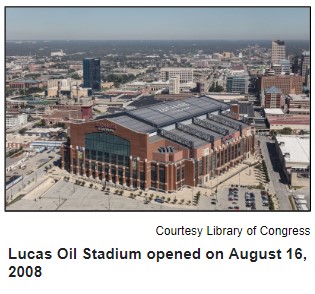 Between the listener phone calls, Nelson will talk about the history of the site of Lucas Oil Stadium, home of the Indianapolis Colts. The site on the west end of downtown came up during a recent show about Arabs in Indianapolis because, in the 1890s and early 1900s, it was known for a Syrian colony. Nelson will discuss what came next: By the 1920s, ethnic neighborhoods had been replaced by warehouses served by railroad spurs.
They included a massive Tripp Warehouse featured in Indianapolis Then and Now, a visual history book that Nelson co-wrote with Joan Hostetler. Terre Haute Brewing Company also had a warehouse near the future Lucas Oil Stadium site. So did the Henry Coburn Warehouse Co.; its sprawling building housed the Crescent Paper Co., which sold wrapping paper as well as printing paper. This area is next to the Wholesale District that once had more than 300 wholesale businesses.
Also during our show, Charles Braun, who is a native of Fort Wayne, will discuss one of his hometown's renowned institutions, the Allen County Public Library. Its Genealogy Center is the largest public genealogy department in North America; only the family history resources at a private institution's library in Salt Lake City are larger.
Speaking of family histories: Following the recent death of county music legend Loretta Lynn, Nelson will discuss her younger sister, Grammy Award-winning singer Crystal Gayle, and why she considers Wabash, Ind., her hometown. Nelson has interviewed Crystal Gayle several times; she was the youngest of eight siblings in a family that, when Loretta Lynn was born in 1932, lived in a cabin in Kentucky. Their father, a coal miner, died as a result of black lung disease.
For listeners with questions or comments about these topics or any other aspect of Indiana's heritage, this show provides a special opportunity. Typically, phone calls are limited to the final 20 minutes of our show. This time, we will have open phone lines throughout the entire program for callers to pose questions to Nelson and Charles.
Roadtrip: Ouabache State Park in northern Indiana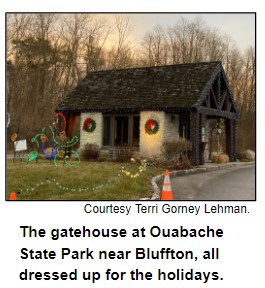 Guest Roadtripper Terri Gorney Lehman of Ft. Wayne suggests a visit to Ouabache State Park (pronounced O-bah-chee) which is located along the Wabash River in the northern part of the state near Bluffton. Originally operated as Wells County State Forest and Game Preserve in the early 1930s, the park was once considered the "Greatest Wildlife Laboratory in the United States" for its raising of pheasant, quail, raccoon, and rabbit. Through the efforts of the CCC (Civilian Conservation Corps) and the WPA (Works Progress Administration), the area was developed for wildlife management, forestry demonstration, and recreation.
The park's Kunkel Lake offers excellent fishing. During the summer months, a naturalist will provide information about the natural wonders of the park. A lodge recreation building is ideal for special gatherings and is now available all year.
The CCC Camp No. 1592 is also part of Ouabache's history. The park's fire tower was built in the 1930s and is only one of two of the CCC towers that still exist in northern Indiana. Nationally 3,470 fire towers were built by the CCC. During the holiday season you can drive through the Wonderland of Lights, a festive holiday light display featuring synchronized lights to music at the fire tower. Entrance fee is $5 per vehicle. Terri and her husband Randy Lehman volunteer with the Friends of Ouabache, a group that has raised funds for restoration of the park's CCC worker statue, fire tower, landscaping, and also hosts the Indiana Master Naturalist Jr. program every June and the Wonderland of Lights the month of December.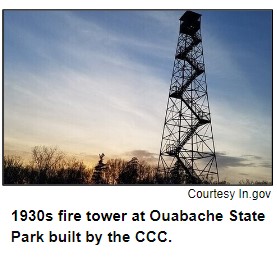 Nelson featured speaker at St. Margaret's Guild holiday luncheon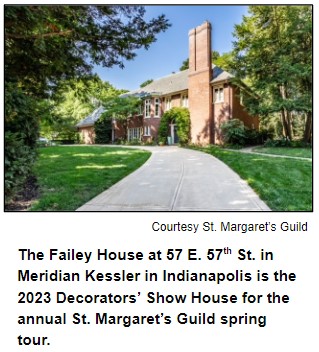 This year the St. Margaret's Hospital Guild has selected the Failey House in Meridian Kessler in Indianapolis to be the featured historic home on its spring Decorators' Show House and Gardens tour. The home was owned by the Failey family for 84 years and was designed Willard C. Osler. Touring the historic house will help St. Margaret's Guild with its goal of raising $1 million dollars for Eskenazi Health's Behavioral Health Academy.
Hoosier History Live host and historian Nelson Price, also the author of "Indiana Legends", will be the featured speaker at the St. Margaret's Guild holiday luncheon on Dec. 9 at the Woodstock Club. Nelson will be speaking about historic women from Indiana, as well as about contemporary notables he has interviewed.
Who can you see in this "Hoosier History Live Photo Album" . . .
Swipe through these photos gleaned from the last fourteen years of Hoosier History Live production!
And would you believe that radio technology has completely changed tech wise since we first went on the air in 2008 at WICR? Can you find Bobby Plump, Chris Gahl, Connie Zeigler, Tom Ridley, Bonnie Britton, Tiffany Benedict Browne, Eunice Trotter, David Baker, Lefty Huntzinger, Keira Amstutz, Cowboy Bob, Janie of "Popeye and Janie", K.P. Singh, Pam Fraizer, and Dark Rain Thom? The voices of so many Hoosiers blended together over the years to make Hoosier History Live such a unique archive.
And thanks to Richard Sullivan of Monomedia for creating this group of images.

Who We Are
Hoosier History Live is an independent production group. We raise our own money and we control our content. We make our own editorial decisions, much like a newspaper. Our goal is to deliver an interesting and compelling show, newsletter, and show podcast to you every week. Regardless of the challenges.
You can always visit the yellow contribution button here, which we believe supports the quality journalism that Hoosier History Live offers.
What people are saying about Hoosier History Live
From a Hoosier who knows her books...
"Fills a niche for the lover of Indiana history."
- Kathleen Madinger Angelone, retired bookstore owner
Another Hoosier History Live endorsement from a Hoosier in California ...
"Hoosier History Live is a bright spot in my media constellation. I also frequently forward your weekly enewsletters to friends around the globe. I may now be a Californian, but my Hoosier interest is endless. The podcasts and streaming are good tools. By all means, persevere!"
- Tom Cochrun, former news anchor, WTHR-TV Channel 13 Indianapolis
"... a compelling and engaging project..."
"Molly Head and Nelson Price are Indiana-based visionaries who have created a compelling and engaging media project with Hoosier History Live. Podcasts, website, enewsletter, and live call-in radio show; it's all there!"
- Keira Amstutz, President and CEO, Indiana Humanities
"...'Live' - and 'Lively' as well..."
"Hoosier History really is 'Live' - and 'Lively' as well. The program brings to new audiences the delight and wisdom that comes with knowing more of our past and our connections as Hoosiers."
- James H. Madison, Emeritus History Professor, Indiana University
"...always a great show"
"Hoosier History Live is always a great show. We did a small sponsorship as a gesture of support, and I didn't think a little history show would have much impact. But many people mentioned to me that they had heard our credit on the radio."
- G.B. Landrigan, Realtor, Certified Residential Specialist
"... an intelligent, well-researched program..."
"I've loved listening to Hoosier History Live during the pandemic as an intelligent, well-researched program to escape the news for an hour."


-Lee Little, JD, MLS, Research Librarian, Indiana University
"...a great way to represent what I do..."
"I have thoroughly enjoyed my experiences with Nelson Price and the Hoosier History Live team. I feel being on the show was a great way to represent what I do with motorsports history. I am particularly excited by the show's new distribution through a podcast and making it accessible live through the Web."
-Mark Dill, owner, FirstSuperSpeedway.com



"...great value to sponsors..."
"Hoosier History Live has amassed a vast library of content over the years, both with the show audio and newsletter material. I believe that the Hoosier History Live content has great value to sponsors and advertisers via widespread online distribution. Nowhere else do you find the fresh new material each week, the depth of stories, the richness of detail, and the long-term consistency."
- John McDonald, CEO, ClearObject in Fishers, Indiana, Inc. Magazine's fastest-growing IT company in Indiana for 2014, 2015, 2016 and 2017.
"I love the podcasts..."
"I love the podcasts! I work on Saturdays and cannot always hear the live broadcasts. Sometimes I also like to listen a second time."


- Terri Gorney, Fort Wayne listener
"...does more to promote Indiana history..."
"Hoosier History Live does more to promote Indiana history than does any single source."
- Andrea Neal, Indianapolis author and educator
"...infuses joy into the pursuit of history..."
"Nelson Price, more than anyone I know, infuses joy into the pursuit of history. And that joy rings out loud and clear on the radio show, Hoosier History Live."
- Marsh Davis, President, Indiana Landmarks
"...enthusiastic, curious and knowledgeable..."
"Hoosier History Live is a perfect place to consider and reconsider history ... not just what happened in the past, but what it may mean in the present. Nelson Price is the perfect host: enthusiastic, curious and knowledgeable. Tune in to Hoosier History Live and be prepared to be surprised."
- James Still, playwright in residence, Indiana Repertory Theatre
"...a great way to learn more about history..."
"The links on the Friday Hoosier History Live enewsletter are a great way to learn more about history, and from a variety of sources."
- Jill Ditmire, Omni Media Specialist
"...I want to call in!

..

"No, I haven't heard of another call-in talk radio show about history. Our airwaves are now full of the worst vitriol! Give me the phone number for the show. I want to call in!"

- Ken Burns, speaking at a preview of his film "The War" at Indianapolis Hebrew Congregation, April 18, 2007
"...interactive, more entertaining and more 'relevant'..."
"As museums and educational institutions scramble to make their offerings more interactive, more entertaining and more 'relevant', Hoosier History Live seems to have mastered that formula."
- Glynis Worley, rural Bartholomew County listener
Podcast Listening 101: The Basics
We still broadcast live every Saturday on WICR 88.7, but more and more of our listeners are getting their Hoosier History Live shows by podcast, and it's easier than ever!

It's really this simple: If you have a smartphone, go to the Google search engine, click on the microphone button, and say "Hoosier History Live podcasts." Or if you don't use the microphone, type in the words "Hoosier History Live podcasts" at the Google search bar.You'll immediately get a list of recent shows to choose from. Click on one of them and let the listening begin!

If you have a preferred podcast provider like Apple Podcasts or Stitcher, you can use their search function to call up Hoosier History Live as well. When you see our yellow Hoosier History Live logo, just click on the episode you want to listen to.

And don't forget to share! You can post links to our podcast on your social media page or send them by email or text.