Listen to Hoosier History Live! at 11:30 a.m. each Saturday on WICR 88.7 FM. You also can listen online at the WICR website during the broadcast. And, beginning Feb. 6 you will be able to join a listening group at Bookmama's in Irvington to listen to, and discuss, the Saturday show.
Jan. 30 show
Abe Lincoln blockbuster preview
We don't stretch historic truths, particularly if "Honest Abe" is involved. So it's no overstatement to predict an upcoming unveiling of the Lincoln treasures newly acquired by the Indiana State Museum – paired with a traveling display of Lincoln artifacts from the Library of Congress – will be the blockbuster exhibit of 2010 in the Hoosier state. On top of all that, "sister" institutions across Indiana are lending rare Lincoln artifacts to the state museum.
Where else are you going to see the Bible on which President Lincoln (and, just last year, Barack Obama) took the oath of office? Our guest will be the Hoosier expert who has been immersed in all things Lincoln ever since the announcement that the $20 million collection of the now-closed Lincoln Museum in Fort Wayne would remain in the Hoosier state, where Lincoln lived from ages 7 to 21. Dale Ogden, chief curator of cultural history at the state museum, has been burning the midnight oil to set up the exhibit called With Charity for All: The Lincoln Financial Foundation Collection, which opens Feb. 12 along with the Library of Congress' traveling exhibit.
Dale will share folklore about – and guide us through – the trove, which includes a handwritten copy of Lincoln's second inaugural address that "the Great Emancipator" delivered in March 1865, the last portrait Lincoln sat for and rare signed copies of the Emancipation Proclamation. Dale and his crew even have arranged for famous Hoosiers, ranging from NASCAR driver Tony Stewart and WNBA star Tamika Catchings to astronaut David Wolf, to cut videos for a Lincoln trivia kiosk.
Some other gems that will be displayed:
Dale's visit to Hoosier History Live! comes on the heels of the announcement that $7 million has been raised in just six months to care for the state museum's large collection of Lincoln artifacts. Part of the collection from the former Lincoln Museum in Fort Wayne will be housed at the Allen County Public Library.
The state museum and the library became the recipients of the collection after officials of Philadelphia-based Lincoln Financial Corporation, which had been headquartered in Fort Wayne, announced in spring 2008 that they would end their support of the Lincoln Museum. (The museum had been started decades ago by a top executive of Lincoln Financial, then known as Lincoln Life, who amassed a vast collection of artifacts.) The decision to close the museum, as Dale notes, "put into play a collection of historic proportions."
After nine months during which experts worried that the artifacts might be dispersed to private collectors across the country – and during which the Smithsonian in Washington D.C. and other esteemed institutions expressed interest in acquiring them – the resolution was announced last December that the collection would remain in Indiana. That's when Dale began burning the midnight oil – as well as traveling to D.C. to view the historic Bible ("It took my breath away," he says) and other artifacts at the Library of Congress. The display of the Library of Congress artifacts is being titled With Malice Toward None at the state museum.
There's info about With Charity for All and With Malice Toward None, which will be a timed-ticket exhibit, at www.indianamuseum.org.
History Mystery question
Lincoln speech at Indianapolis hotel
In February 1861, President-elect Abraham Lincoln traveled through Indianapolis en route from Illinois to Washington D.C. for his inauguration. During his stay in the Hoosier capital, the president-elect delivered a speech that made national news.
Lincoln made the speech to thousands of Hoosiers from the balcony of a hotel in downtown Indianapolis. The hotel, located on the corner of Washington and Illinois streets, was demolished in 1901.
Question: Name the historic hotel.
The call-in number for the correct answer is (317) 788-3314, and the prize is a gift certificate to the Chancellor's Restaurant at the University Place Conference Center, part of the Devour Downtown showcase of food and drink.
Roadtripper
Devour Downtown Winterfest features dozens of restaurants
Roadtripper Chris Gahl of the ICVA will give us a complete report about Devour Downtown Winterfest, running now through Feb. 6. More than 40 downtown restaurants will be offering three-course meals for $30; visit their website for complete details.
Your friends in Hoosierdom,
Nelson Price, host and creative director
Molly Armstrong Head, producer, (317) 927-9101
Richard Sullivan, tech and web director
Garry Chilluffo, online editor
Please tell our sponsors that you appreciate their support:
Antique Helper, Historic Landmarks Foundation of Indiana, Lucas Oil and Story Inn.
Acknowledgments to Scott Keller Fine Art and Antiques Appraisals, Print Resources, Indianapolis Marion County Public Library, Monomedia Inc., Indiana Humanities Council, Indianapolis Convention & Visitors Association, WICR-FM, Fraizer Designs, Drew Pastorek, and many other individuals and organizations. We are an independently produced program and are self-supporting through sponsorships and through individual tax-deductible contributions through the Indiana Humanities Council. Visit our website to learn more.
You are invited!
Soiree on Feb. 5 celebrates two years on the air
We at Hoosier History Live! are delighted to invite you to our 2nd anniversary party. Please do stop by for birthday cake and cupcakes, History Mystery questions with prizes, and a demo of our new website with an ever-growing audio library.
After 6 p.m. you'll also have the chance to meet and greet the artists from the Hoosier Salon, who will be exhibiting downstairs in the Morris-Butler House. All a part of First Friday, of course!
We thank Historic Landmarks Foundation of Indiana for hosting.
And do please RSVP to info@historiclandmarks.org.
Feb. 6 show:
Terre Haute in the 1920s
With our rotating series about town histories, we typically don't focus exclusively on a single decade. This show will be an exception because Nelson's guest – Tom Roznowski, a musician and radio personality – has spent years researching a new book with an unusual format that's as much a social history of American life in the 1920s as it is a close-up look at Terre Haute.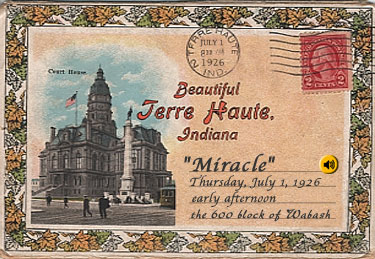 Written in the form of an old-fashioned city directory – and using Terre Haute's 1927 Polk Directory as a starting point – An American Hometown: Terre Haute, Indiana 1927 (Indiana University Press) examines the city on the Wabash River that in 1927 had 400 grocery stores, three daily newspapers, speakeasies, cigar stores and a self-sufficiency that meant, as Tom puts it, more than 40 percent of the food consumed came from area farms.
He also notes most music was heard live, with four theaters in Terre Haute maintaining house orchestras in 1927, upright pianos in most living rooms, and radio sets just beginning to "pre-empt" entertainment. Through vignettes of individual residents' stories – ranging from a local teacher and a fashion editor to a boxer, a chicken plucker and an inn keep – his book also depicts disturbing aspects of Terre Haute life in 1927. Those include the segregation of blacks into a neighborhood derisively called "Baghdad" and the disdain for destitute residents of an institution known as the County Poor Farm in an era before Social Security and worker's comp.
Although Tom is based in Bloomington, where he hosts a radio show on WFIU-FM, he long ago began immersing himself in Terre Haute of the 1920s, an era when the country was, as he puts it, "completing the transition of a rural nation into an urbanized one." Many of the social changes are reflected in the vignettes captured in his book.
Visit our website!
Our newly revamped website is chock-full of Hoosier history, including details of past and upcoming Hoosier History Live! shows. We are gradually adding a richer audio section with full-length shows for your listening pleasure. Recently added:
Old National Road - U.S. 40 - With guest James Glass, Aug. 1, 2009.
Indianapolis Motor Speedway founder Carl Fisher's colorful life - With public historian Glory-June Greiff, May 16, 2009.
Winter survival skills of pioneers and Native Americans - With guest Jim Willaert of Conner Prairie, Jan. 10, 2009.
A town under water: Elkinsville - With long-ago Elkinsville residents Forrest, Carol, Connie and Brenda Lucas, June 7, 2008.
© 2010 Hoosier History Live! All rights reserved.