Listen to Hoosier History Live! at 11:30 a.m. each Saturday on WICR 88.7 FM. You also can listen online at the WICR website during the broadcast or you can join our new listening group at Bookmama's in Irvington to listen to, and discuss, the Saturday show.
March 20 show
Indiana's only First Lady
As Hoosier History Live! salutes Women's History Month, we will explore the life of Caroline Scott Harrison, the wife of President Benjamin Harrison and, so far, the only Hoosier to have served as First Lady.
Although many accounts focus on Mrs. Harrison's gentle nature and tragic illness – she died of tuberculosis in the White House in 1892, throwing the country (and her adopted hometown of Indianapolis) into deep mourning – Mrs. Harrison initiated many accomplishments and often stood firmly on principle, sometimes on issues particularly appropriate for exploration during Women's History Month.
When the influential Johns Hopkins Medical School asked Mrs. Harrison, as First Lady, to help raise funds, she agreed, with major conditions: She demanded that the medical center begin admitting women students, and do so in the same way men were being admitted. Mrs. Harrison also founded the Daughters of the American Revolution and served as its first president general. An Indianapolis chapter of the DAR is named for her.
Nelson will be joined in studio by Jennifer Capps, curator of the President Benjamin Harrison Home. Like her husband, Mrs. Harrison was born in Ohio (in 1832) and became a civic leader after moving to Indianapolis. Talented in the creative arts, she painted with watercolors, played the piano and grew orchids. Along with her husband, Mrs. Harrison became an active member of First Presbyterian Church and taught singing to children in the congregation.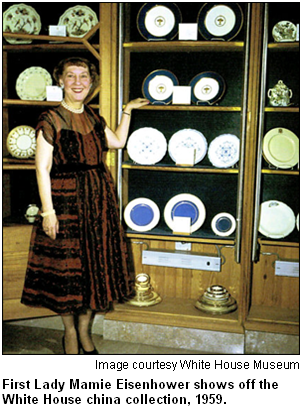 At the White House, Mrs. Harrison started the china collection that continues to this day. (A stunning, nearly life-sized portrait painting of Mrs. Harrison hangs today near the China Room in the White House as a tribute to her.) She is credited with initiating many improvements to the White House. Mrs. Harrison was convinced it had fallen into neglect; she also knew that the Harrisons' two grown children, grandchildren and her elderly father would be living there with the president and First Lady. Fun fact: The Harrisons apparently were indulgent grandparents. They allowed their grandchildren to keep a rambunctious pet goat named "Whiskers." The goat boarded at the White House horse stables ("Whiskers" posed no threat to presidential decorum; he did not roam around the Oval Office!), but his presence did annoy the groundskeeper.
More significantly, several "firsts" resulted from Mrs. Harrison's vow to improve the White House.
The Harrisons were the first family to live in the White House with electricity, beginning in 1890. They also were the first family to have a decorated Christmas tree on the premises. (Previous generations typically adorned their holiday trees only with candles.)
As Mrs. Harrison began losing her battle with tuberculosis in 1892, her husband announced he would not take to the campaign trail so he could stay by her side. His opponent, Grover Cleveland, responded by sharply curtailing his campaigning as well. Among the Americans who wrote letters of support and sympathy to the ailing First Lady was a young Helen Keller. (Regular listeners will recall the Helen Keller letter as the subject of a recent History Mystery question.) Mrs. Harrison's death occurred two weeks before her husband lost his bid for re-election. Thousands of Indianapolis residents watched her funeral procession to Crown Hill Cemetery.
Roadtripper
It must be spring! Roadtripper Chris Gahl of the ICVA returns to tell us about the opening of the 2010 outdoor season at Conner Prairie on Saturday, March 27.
New this season will be "Grandparents Day," happening each Wednesday — special programming for grandparents and grandchildren. Also, each Thursday will feature "Taste the Past," where you can sample authentic foods from Indiana's Prairietown residents.
Opening Weekend on March 27 and 28 will also feature an "ask the doctor" dialogue between a present-day physician and Prairietown's Dr. Campbell, comparing common medical issues and diseases of 1836 to those of the present day.
And weather permitting, Conner Prairie's 1859 Balloon Voyage will open for its second season on Opening Weekend. So, get outdoors and head to Conner Prairie!
History Mystery question
This question is a hold-over from last week, when no one called in with the correct answer. So we have added another hint!
This town lies along the Big Blue River in Indiana, and the popular hymn Bringing in the Sheaves was written there in 1874 by evangelical preacher and composer Knowles Shaw (1834-1878).
The town's state-of-the-art Thompson Mill had a water-funneled turbine in its basement, as opposed to a mill wheel, and provided all of the flour for the Union Army during the Civil War.
More recently, this town's Main Cross Street was the original location of contemporary business The Best Chocolate in Town, owned by Elizabeth Garber, who now has a retail location on Massachusetts Avenue in downtown Indianapolis.
Question: What is the name of the town? The call-in number for the correct answer is (317) 788-3314, and the prize is a gift certificate to The Best Chocolate in Town, courtesy of The Best Chocolate in Town.
Your friends in Hoosierdom,
Nelson Price, host and creative director
Molly Head, producer, (317) 927-9101
Richard Sullivan, tech and web director
Garry Chilluffo, online editor
Please tell our sponsors that you appreciate their support:
Antique Helper, Dream Home Company Realtors, Lucas Oil, Indiana Authors Award and Story Inn.
Acknowledgments to Scott Keller Fine Art and Antiques Appraisals, Print Resources, Indianapolis Marion County Public Library, Monomedia, Indiana Humanities Council, Indianapolis Convention & Visitors Association, WICR-FM, Fraizer Designs, Drew Pastorek and many other individuals and organizations. We are an independently produced program and are self-supporting through sponsorships and through individual tax-deductible contributions through the Indiana Humanities Council. Visit our website to learn more.
March 27 show
Brown County history
Has any Hoosier not marveled at the scenic beauty of the southern Indiana county that includes the Hoosier National Forest, the charming towns of Nashville and Story, colonies of artists and a mountain (or at least a Hoosier hill) of other attractions? With at long last the arrival of spring, Hoosier History Live! will explore Brown County in all its wonder.
Nelson will be joined in studio by the co-authors of a new book about the county's rich history. Titled (naturally) Brown County, the visual history book is part of the Arcadia Books "Images of America" series. The co-authors are attorney Rick Hofstetter, owner of the historic Story Inn (regular listeners will recall that Rick joined Nelson, his longtime friend, for a show awhile back about Story's compelling history) and Jane Ammeson, a travel writer who has put together several other books about southern Indiana.
Jane and Rick will guide us through the heritage of a once-isolated county that, as they put it, attracted generations of photographers, painters and potters, as well as a mix of lifelong locals including "hardworking 'hill' people sometimes just eking out a living." The story of Brown County involves everything and everyone from Abe Martin, the cartoon character who attracted a huge national fan base in the early 1900s, and renowned artist T.C. Steele to covered bridges, ice cream parlors and bed-and-breakfasts. Join us for a show that's sure to be a Hoosier treat.
We appreciate your support
Thanks so much for listening to - and reading about - Hoosier History Live! If you are interested in becoming a sponsor of Hoosier History Live!, email or call Molly Head at (317) 927-9101 for more info.
© 2010 Hoosier History Live! All rights reserved.