As part of our switch to the new .ORG domain, in December (next week!) we will begin sending this newsletter from a new email address: news@hoosierhistorylive.org. To ensure you keep receiving this newsletter, please add news@hoosierhistorylive.org to your list of safe senders!
You can listen to Hoosier History Live! live on the air each Saturday, or listen online at the WICR website during the broadcast. Or join our listening group at Bookmama's in Irvington to listen to, and discuss, the Saturday show. We invite you to visit our website!
Nov. 27 show
Rare movies with Indiana connections
Identifying the Hoosier links of some movies - such as Hoosiers (1986), Breaking Away (1979) and Rudy (1993) - is a breeze. Yet dozens of much more obscure films, both silent movies and talkies, also have major connections to Indiana because of their topics, settings, cast or directors. Some of these movies are in danger of becoming "lost."
Nelson will be joined in studio by Indianapolis-based film historian and collector Eric Grayson, who has discovered the only surviving print of Freckles (1935), which was based on a best-selling book by Hoosier naturalist Gene Stratton-Porter. Eric's vast collection of rare 16mm and 35mm films - which he shows at events across the state - includes other movie versions of Stratton-Porter's bestsellers, such as A Girl of the Limberlost (1934) and Laddie (1940).
By the way, we will be exploring the life of photographer-author Stratton-Porter, who founded scenic Limberlost cabins in Geneva and Rome City in northeast Indiana, on next week's show. For details, see the preview (below) for our Dec. 4 show.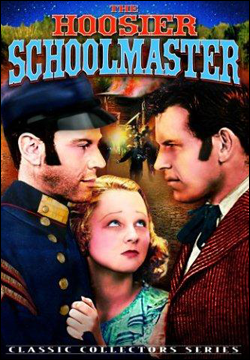 Other highlights of our show about rare movies will include:
With the release this year of the movie Secretariat, shouldn't we pay heed to a movie about, arguably, an even greater Indiana-born racehorse? Well, Eric Grayson owns (and hosts screenings of) The Great Dan Patch (1949), a biography of the fabled harness racing horse born in Oxford, Ind. In the late 1800s and early 1900s, Dan Patch became a sensation at racetracks across the country because of his amazing speed and stamina. The barn where he was foaled in 1896 remains standing in Oxford, which hosts a Dan Patch Festival every September.
Eric also will share insights about The Hoosier Schoolmaster (1935), a movie based on a best-selling novel by Vevay native Edward Eggleston. He created the storyline from the experiences of his brother, who had been a school teacher in 19th-century Indiana. By the way, the movie version of The Hoosier Schoolmaster has another Indiana connection. The cast included Otis Harlan, a character actor from Martinsville.
Eric and Nelson also will explore silent films starring Fort Wayne native Carole Lombard. The glamorous star, who married Clark Gable, is far better known for her popular sound movies made in the 1930s and early '40s. But Eric owns rare prints of Lombard's earliest movies, silents such as Smith's Pony (1927) and Run, Girl, Run (1928). Lombard died at age 33 in an airplane crash after a record-breaking series of World War II bond rallies in Indianapolis.
To top it off, Eric will explain how even a movie as recent as Going All the Way (1997) - which was filmed in Indianapolis and based on Dan Wakefield's bestselling novel - is in danger of becoming lost. Going All the Way, which is set in the 1950s, starred a young Ben Affleck, who had not yet become a household name when he came to Indy for the filming.
Drawing on his vast library of rare film-related material, Eric has done presentations in places ranging from Kansas and New York to Finland. He also contends that the "best gems" among rare films are found, as he puts it, "in dumpsters and dilapidated theaters."
By the way, you can also view Eric's Dr. Film, which he calls his "film history project for the digital age," at www.drfilm.net.
History Mystery question
She was born in 1890 and grew up in rural Shelby County. Her father, a minister, objected to acting. She attended Franklin College for a year but eventually began touring in vaudeville and stock companies. That resulted in Broadway roles. By the time she began making an impact in Hollywood, she already was middle-aged.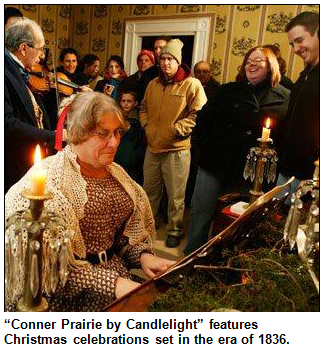 The native Hoosier had supporting roles in several major movies from the 1930s through the 1950s. But she is best remembered for a series of lower-budget movies in which she played a leading role.

Question: Name the movie actress.
To win the prize, you must call in with the correct answer during the live show. The call-in number is (317) 788-3314, and the prize is a pair of tickets to Conner Prairie by Candlelight, where you can travel back in time to Dec. 24, 1836, and visit all of your favorite Prairietown families preparing for Christmas. These tickets are courtesy of the Indianapolis Convention and Visitors Association.
Roadtripper
Chris Gahl of the ICVA will call in with a surprise Roadtrip!
Your team on the Hoosier History Live! e-project,
Nelson Price, host and creative director
Molly Head, producer, (317) 927-9101
Chris Gahl, Roadtripper
Richard Sullivan, webmaster and tech director
Pam Fraizer, graphic designer
Garry Chilluffo, creative consultant
Please tell our sponsors that you appreciate their support: The Fadely Trust, Indiana Historical Society, Lucas Oil, Indiana Authors Award and Story Inn.
Acknowledgments to Print Resources, Indianapolis Marion County Public Library, Monomedia, Indiana Humanities Council, Indianapolis Convention & Visitors Association, WICR-FM, Fraizer Designs, Chelsea Niccum and many other individuals and organizations. We are an independently produced program and are self-supporting through organizational sponsorships, grants and through individual tax-deductible contributions through the Indiana Humanities Council. Visit our website to learn how you can support us financially.
Dec. 4 show
Gene Stratton-Porter, Diana of the Dunes, farm cooking and barns
For the third year, Hoosier History Live! will broadcast from a remote (non-studio) location: the Eugene and Marilyn Glick Indiana History Center, which will bustle and abound with captivating interviewees, as more than 70 authors with ties to Indiana gather for the 8th Annual Holiday Author Fair.
Nelson will be doing round-robin chats with fellow authors who have a range of Hoosier expertise. Our show will feature Barbara Olenyik Morrow of Auburn, Ind., who has written a new biography for young readers of legendary naturalist Gene Stratton-Porter. The book, Nature's Storyteller: The Life of Gene Stratton-Porter (Indiana Historical Society Press), explores the colorful life of the photographer and author of classics such as A Girl of the Limberlost.
Also joining us will be Janet Edwards, the author of Diana of the Dunes: The True Story of Alice Gray (The History Press). Janet lives in St. Louis but says she has spent every summer of her life as a "Dunebug" in northwest Indiana, where she was told the mysterious story of Alice Gray, a Chicago heiress in 1915. She fled wealth and social expectations for a solitary life in a fisherman's shack amid the sand hills, where she became a figure of folklore known as Diana of the Dunes.
Nelson also will be interviewing Philip Potempa, a popular food and celebrity columnist for The Times of Northwest Indiana newspaper. Phil is the author of Further from the Farm: Family Recipes and Memories of a Lifetime (Pediment Press), his latest collection of food-related vignettes and recipes with a special emphasis on heirloom menu favorites from Hoosier farm families.
And the show will feature Mauri Williamson, who wrote the preface for Indiana Barns (Indiana University Press), a photo book featuring rustic barns "tucked among bucolic fields from Valparaiso to Vincennes." The images are drawn from the portfolio of photographer Marsha Williamson Mohr, who collaborated on the project with Duncan Campbell, an associate professor of architecture. Among rural Hoosiers, Mauri is well known as the retired, longtime executive secretary of the Purdue Agricultural Alumni Association and as manager of the Pioneer Museum at the Indiana State Fair.
© 2010 Hoosier History Live! All rights reserved.