You can listen to Hoosier History Live! live on the air each Saturday, or listen online at the WICR website during the broadcast. Or join our listening group at Bookmama's in Irvington to listen to, and discuss, the Saturday show. We invite you to visit our website!
Join us Feb. 17 as we celebrate three years on the air!
Can you believe it? Hoosier History Live! has been on the air for three years! We are proud to have become a unique asset to the state of Indiana, producing original content every week that is then added to our growing online archive. Thanks to all who have listened, clicked, browsed and supported the show!
We plan to be around quite awhile longer, contributing to Indiana's culture and offering a well-reported take on our state's rich and varied history.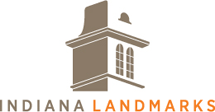 Come join in the festivities as we celebrate three years on the air at the Morris-Butler House, 1204 N. Park Ave. in Indianapolis, on Thursday, Feb. 17 from 5 to 8 p.m.
You can click here to RSVP, or send an email to molly@hoosierhistorylive.org.
Thanks to our hosts, Indiana Landmarks.
Stop by anytime during the event. We will be delighted to see you!
Jan. 22 show
He's visited every Indiana town on the map
John Bower is an award-winning, Bloomington-based photographer with a rare distinction. He has visited, as he puts it, "every city and town on the map of Indiana."
As a result, John has a silo-high stack of anecdotes and stories about towns he never had heard of until he visited, such as Merom in Sullivan County, where he says there's "an amazing spiral staircase in an attic" and West Terre Haute, where he discovered an abandoned brick and tile factory.
During one of his trips to Alexandria, he photographed a factory where rock wool, a precursor of fiberglass, was invented and manufactured.
"While our society values the newest, the costliest and the flashiest, I'm motivated to rediscover that which has been ignored, forgotten, or cast aside," John says. "By using the inherent drama of black-and-white photography, I'm able to capture the essence - the élan vital - of these subjects."
John, who owns Studio Indiana with his artist wife Lynn, estimates he has traveled 90,000 miles to visit every city and town (a total of 2,099 localities) on the Indiana Highway Map.
His seven photo books include Lingering Spirit (2003), which he calls "a tribute to Indiana's fading, forlorn and forgotten places"; After the Harvest (2007), which features images of Indiana's historic grain elevators and feed mills, and his newest, The Common Good (2010), which looks at schools, churches, post offices and other buildings established for the common good.
His new book includes photos of the former main post office in Gary, a once-grand, now-abandoned Art Deco structure built in the 1930s. Also in Gary, he photographed City Methodist Church, which was built in 1925 for a "staggering" $650,000.
"With a towering belfry, large auditorium, multiple classrooms, inspiring leaded-glass windows, huge limestone columns and oak-paneled sanctuary, it was a landmark all of Gary must have been proud of," according to The Common Good. After a devastating fire and rampant vandalism, the historic church now is a symbol of "decaying glory" with dangerous debris, a leaky roof and roosting pigeons.
John explains his motivation this way: "I've come to believe that each rusted vehicle, each battered machine, each deserted building (especially a school or church) is an integral part of our collective past."
In the town of Hovey, he photographed a shuttered hardware store that once had been a popular tavern. When he explores the state's back roads, John says, he is fascinated by hand-made objects ("an oak balustrade, a marble cemetery statue, a forged iron gate") and by abandoned homes that may not have been inhabited for 50 years, yet "there are still clothes hanging in the closets."
He estimates more than 20 percent of the buildings in his first photo book no longer exist since its 2003 publication. His other books include Guardians of the Soul (2004), which features photos of cemetery sculpture across Indiana.
John and Lynn, who writes most of the text, met as teachers more than 35 years ago in Kendallville. After school, they would climb into the car and take off down a route they'd never traveled before.
History Mystery question
A photo company founded more than 100 years ago became renowned for documenting downtown Indianapolis. In the early 1900s, the company's photographers took hundreds of pictures of street scenes, buildings and other landmarks. Particularly in its early years, the company specialized in commercial and industrial photography. The company remains in business today, but its historic photo collection is owned by the Indiana Historical Society.
Question: Name the photo company.
To win the prize, you must call in with the correct answer during the live show. The call-in number is (317) 788-3314, and the prize is a DVD of the documentary
Movers & Stakers, Stories Along the Indiana National Road, courtesy its producer/director, Nancy Carlson of Ball State University.
Roadtripper: Chopin & champagne
Chris Gahl of the ICVA suggests that we take the Roadtrip to "Chopin & Champagne" on Sunday, Jan. 30 at Mo's ... A Place for Steaks in downtown Indianapolis.
Enjoy an evening of champagne and elegant music presented the by American Pianists Association and be entertained by classical musicians as you are guided by a Champagne connoisseur through a selection of champagnes and food pairings. Doors open at 4 p.m., and music and champagne tastings begin at 4:30 p.m., followed by a piano performance by the 1983 American Pianists Association Classical Fellow, Michael Lewin.
Every two years, the American Pianists Association, headquartered in Indianapolis, produces either the Classical or Jazz Fellowship Awards. These seven-month-long competitions feature young American world-class pianists ages 18-30.
Your team on the Hoosier History Live! e-project,
Nelson Price, host and creative director
Molly Head, producer, (317) 927-9101
Chris Gahl, Roadtripper
Richard Sullivan, webmaster and tech director
Pam Fraizer, graphic designer
Garry Chilluffo, creative consultant
Please tell our sponsors that you appreciate their support: Nestle Inn, Yats restaurants, Indiana Historical Society, Lucas Oil and Story Inn.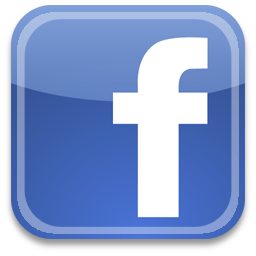 Acknowledgments to Print Resources, Indianapolis Marion County Public Library, Monomedia, Indiana Humanities Council, Indianapolis Convention & Visitors Association, WICR-FM, Fraizer Designs, Chelsea Niccum and many other individuals and organizations. We are an independently produced program and are self-supporting through organizational sponsorships, grants and through individual tax-deductible contributions through the Indiana Humanities Council. Visit our website to learn how you can support us financially.
Jan. 29 show
Judy O'Bannon on historic preservation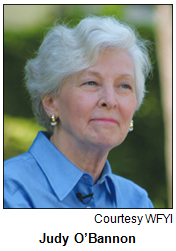 For decades, Indiana's former First Lady Judy O'Bannon has been well-known for her advocacy of preserving historic landmarks and buildings. What sparked this passion? Mrs. O'Bannon, who was named a Living Legend by the Indiana Historical Society in 2004, will join Nelson in studio to answer that question.
She also will share insights about a range of history and preservation-related issues, as well as Judy O'Bannon's Foreign Exchange, her periodic series on WFYI-TV/Channel 20 that takes Hoosier viewers to intriguing international sites. (Mrs. O'Bannon recently returned from a trip to Romania. Before that last year, she traveled down the Amazon River.)
She's also putting together a documentary about the restoration of the historic Central Avenue United Methodist Church as the new headquarters of Indiana Landmarks, where Mrs. O'Bannon has been a longtime board member. (She's currently secretary emerita of Landmarks' board as well as a trustee of the National Trust for Historic Preservation.)
Many listeners will recall that before her late husband Frank O'Bannon served as Indiana's governor from 1997 to 2003, the O'Bannons lived in a historic home in the Old Northside neighborhood during his years as lieutenant governor.
After growing up on the Northside and graduating from Shortridge High School and Indiana University (where she was Phi Beta Kappa), Judy O'Bannon became the first woman to attend the Louisville Presbyterian Seminary. Nelson plans to ask her about that seminary experience as well as a trove of preservation topics. Mrs. O'Bannon's civic activities also have included involvement with the Indiana Main Street Council and the Indiana State Museum, where she served as a board member.
© 2011 Hoosier History Live! All rights reserved.