You can listen to Hoosier History Live! live on the air each Saturday, or listen online at the WICR website during the broadcast. We invite you to visit our website!
Feb. 5 show
Jazz history in Indy with Chuck Workman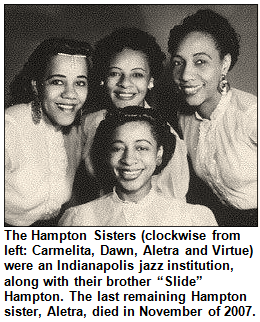 To explore jazz heritage in the Hoosier capital - including the heyday of Indiana Avenue nightspots as Hoosier History Live! salutes Black History Month - who could be a better guest than a native son who lived through the fabled era and is renowned for talking and writing about local jazz, then and now?
We didn't need to search far to find this inductee into the Indianapolis Jazz Hall of Fame. Among his gigs as a multi-media connoisseur, Chuck Workman is the popular host of two shows on WICR-FM, Saturday Evening Jazz with Chuck Workman and Sunday Morning Jazz with Chuck Workman.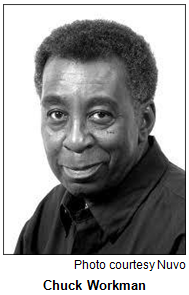 He also has been writing a Nuvo column about the Indy jazz scene for 18 years, almost since the inception of the newsweekly.
A true broadcasting pioneer, Chuck became the state's first African-American TV sports director, at WTTV/Channel 4 inn the 1970s. His accomplishments (which include organizing and promoting jazz concerts) are abundant, and Chuck will join Nelson in studio to share insights about how they all began and the history he has witnessed.
He grew up in Lockefield Gardens and attended Cathedral High School (Class of '50) during the era when it was all-male, located downtown and when only about seven fellow students there were black. As a teenager, Chuck began patronizing the legendary clubs along Indiana Avenue and got to know the jazz greats associated with the scene, including the late Wes Montgomery and composer-musician-educator David Baker, who shared his own Indiana Avenue experiences with Hoosier History Live! listeners shortly after our debut three years ago.
"Indiana Avenue was a city within a city, a culture within a culture," Chuck says.
When Indiana Black Expo honored Chuck last summer, Nuvo called its jazz columnist - who also has been a TV sportscaster as well as a music director and host with various Indy radio stations - "the hardest-working man in showbiz, and other bizzes as well." Who won't be intrigued by this inexhaustible jazz enthusiast's riffs on history?
History Mystery question
A ragtime piano player in Indianapolis during the early 1900s mentored a teenager who grew up to be a legendary composer.
Even though young Hoagy Carmichael was white and most people had segregated social lives during the era, he was drawn to the ragtime and "hot jazz" rhythms of African-American musicians.
The ragtime piano player showed young Hoagy how to improvise on the keyboard and taught him complex rhythms. The black musician's piano, on which Hoagy enhanced his talent, today is at the Eugene and Marilyn Glick Indiana History Center.
Question: Name the African-American ragtime musician who mentored young Hoagy Carmichael in Indianapolis.
To win the prize, you must call in with the correct answer during the live show. The call-in number is (317) 788-3314, and the prize is a gift certificate to Harry & Izzy's, courtesy of the ICVA.
Roadtripper: Hamilton County Marketplace
Warmer weather may still be a few months away, but Roadtripper Chris Gahl of the ICVA suggests we visit the Hamilton County Winter Marketplace to check out the artists and craftsmen who sell their unique products during the summer and fall at art fairs, festivals and outdoor markets across the state.
Stop by the Hamilton County 4-H Fairgrounds from 9 a.m. until 4 p.m. on Saturday, Feb. 5. This showcase of more than 90 Indiana vendors offers the jewelry, art, food and crafts that we see at our favorite local festivals and fairs during warmer months.
Admission is $1, and children under 12 are admitted free. If you can't make this Saturday, you still have one more marketplace date this season on Saturday, March 12.
Our Feb. 17 soiree celebrates three years on the air!
Can you believe it? Hoosier History Live! has been on the air for three years!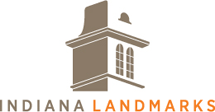 Come join in the festivities as we celebrate three years on the air at the Morris-Butler House, 1204 N. Park Ave. in Indianapolis, on Thursday, Feb. 17 from 5 to 8 p.m.
You can click here to RSVP, or send an email to molly@hoosierhistorylive.org.
Thanks to our hosts, Indiana Landmarks.
Stop by anytime during the event. We will be delighted to see you!
Your team on the Hoosier History Live! e-project,
Nelson Price, host and creative director
Molly Head, producer, (317) 927-9101
Chris Gahl, Roadtripper
Richard Sullivan, webmaster and tech director
Pam Fraizer, graphic designer
Garry Chilluffo, creative consultant
Please tell our sponsors that you appreciate their support: Broad Ripple Brewpub, Nestle Inn, Yats restaurants, Indiana Historical Society, Lucas Oil and Story Inn.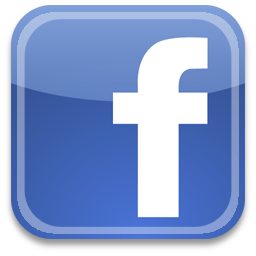 Acknowledgments to Print Resources, Indianapolis Marion County Public Library, Monomedia, Indiana Humanities Council, Indianapolis Convention & Visitors Association, WICR-FM, Fraizer Designs, Chelsea Niccum and many other individuals and organizations. We are an independently produced program and are self-supporting through organizational sponsorships, grants and through individual tax-deductible contributions through the Indiana Humanities Council. Visit our website to learn how you can support us financially.
Feb. 12 show
Songs of our ancestors as they journeyed here
They came here via the Ohio River, the Old National Road or the Cumberland Gap. As the early settlers rowed, walked and rode to Indiana, they often sang. Janet Gilray, an Indianapolis-based musician and teacher, researched the folk tunes of pioneers - and now has developed creative ways to teach American history to children by using the lyrics of the songs.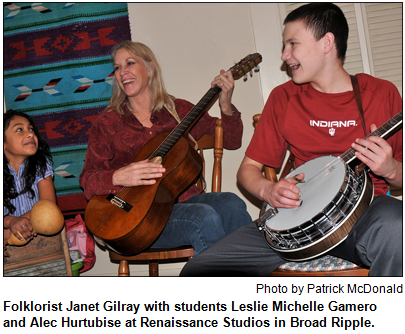 Janet - who sings, plays the guitar and has performed early American folk music at festivals across the state - will join Nelson in studio along with two Hoosier children (probably a 14-year-old banjo player and an 11-year-old vocalist) who have performed with her and learned about history in the process. As a special treat, they plan to perform excerpts from an early folk song titled A Hoosier That's True, as well as Across the Wide Missouri (Oh, Shenandoah).
Janet is a former sixth-grade teacher at Holy Cross Catholic School in Indianapolis, where her students included many Hispanic children from immigrant families; she also has taught children of migrant farm workers in California, experiences that propelled her to explore creative ways to teach American history.
Her new book, Janet Gilray's Voices in Time (for more info, visit www.voicesintime.org) features lesson plans about history derived from folk songs as well as a companion music CD of the tunes cherished by pioneers. History, she says, is "embedded" in folk music.
"Songs are a reflection of ancestral thought and emotion, and also describe the environments of those living during the time," she writes in Voices in Time. "Song may be the most ancient form of transferring culture and lessons from one time period to another."
© 2011 Hoosier History Live! All rights reserved.