You can listen to Hoosier History Live! live on the air each Saturday, or listen online at the WICR website during the broadcast on any computer with speakers, anywhere, or on a smartphone. We invite you to visit our website!
July 30 show
City hall 'museum' in Indy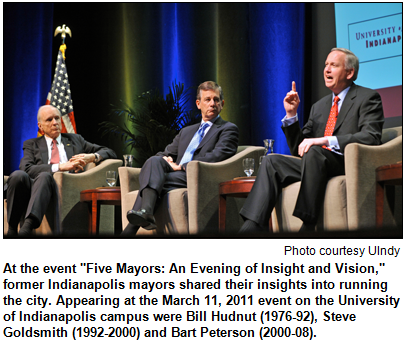 City hall "museum" may overstate it a bit.
But the University of Indianapolis is planning to preserve "the Indianapolis story" - that is, the unfolding of the city's modern history, including the creation of Unigov, the arrival of the Indianapolis Colts and the development of Circle Centre Mall - by creating an archive for papers and artifacts from a parade of mayors stretching back more than 30 years.
A trio of distinguished guests, including UIndy president Beverley Pitts, will join Nelson in studio to share details about the Institute for Civic Leadership and Mayoral Archives under way on campus.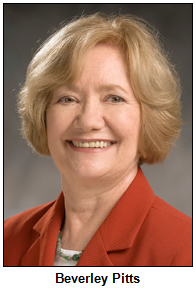 The archives are an ever-evolving collection of documents, speeches, audiotapes and photos from mayors, including Richard Lugar, William Hudnut, Stephen Goldsmith and Bart Peterson. The collection currently consists of more than 450 boxes stored at Krannert Memorial Library.
"Clearly this historical treasure trove should not merely be safeguarded, but also must be made accessible to the researchers, students and rising community leaders - in Indianapolis and elsewhere - who can put the lessons to use," Michael O'Connor, former chief deputy mayor in the Bart Peterson administration, wrote in a recent column in The Indianapolis Star.
By "lessons," Mike, who long has been identified as Peterson's closest advisor, was referring to the city's transformation from a sleepy Hoosier capital nicknamed "Naptown" to a metro area known for its rejuvenated downtown and an array of other changes since the late 1960s.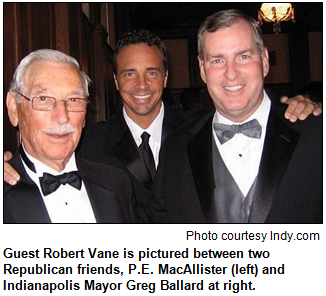 A Democrat, Mike is now director of state government affairs for Eli Lilly & Co., where he again works with his longtime boss Peterson, now a Lilly executive; he will join Nelson and Dr. Pitts in studio.
So will Robert Vane, a Republican and former deputy chief of staff/communications director for Mayor Greg Ballard. Emphasizing the bipartisan nature of the "museum" or archives - as well as other mayoral initiatives at UIndy - Mayor Ballard participated last spring in a historic "community conversation" on campus with Lugar, Hudnut, Goldsmith and Peterson.
Former staffers for the one-time mayors, including Mike O'Connor and Anne Shane, mayoral chief of staff in the Goldsmith administration, serve on a steering committee to raise funds for the Institute for Civic Leadership & Mayoral Archives. According to UIndy, the $7.5 million capital campaign is designed to fund several initiatives, including cataloguing and digitizing the trove of archives in storage.
The involvement of the University of Indianapolis with former mayors stretches back at least to Lugar. Indiana's senior U.S. senator briefly taught at UIndy after serving two terms as mayor (1968-1976) and overseeing the creation of Unigov, which merged many aspects of Marion County and city governments.
The UIndy campus also is the setting for the Lugar Center for Tomorrow's Leaders. Since 1977, Lugar has invited high school juniors from across Indiana to participate in a symposium for future leaders.
Dr. Pitts was named UIndy's president in July 2005, but her Indiana roots extend much further back. Before coming to UIndy, she served as provost and vice president for academic affairs at Ball State University; she even served as acting president of Ball State in 2004.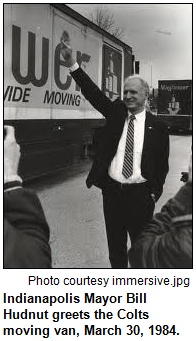 An accomplished journalist, she once was a writer and communications director for the National Football League (NFL) Players Association in Washington D.C.
Speaking of pro football, the luring of the city's first NFL team in 1984 - a dramatic development that created an enormous impact, with the Colts moving to the then-Hoosier Dome under the cover of darkness - is among the episodes discussed in the trove of archival material from former mayors.
The Colts' arrival occurred during Hudnut's record-breaking four terms. Hudnut occupied the top city office - located on the 25th floor of the City-County Building - from 1976 to 1992.
Other insights:
There's much common ground - including a shared love of the Irvington neighborhood - with our two partisan guests. Mike O'Connor, former Marion County Democratic Party chairman, and Robert Vane, who once was communications director for the Indiana Republican Party, both have strong ties to the historic Eastside neighborhood. Although Mike grew up in Greenfield (where he was a classmate and friendly rival of Dave Arland, future press secretary for Hudnut), Mike has lived with his wife, Anne, and two daughters in an Irvington home for many years. Robert, an alum of Howe High School, grew up in Irvington.
After leaving the Ballard administration last November, Robert started Veteran Strategies Inc, a strategic communications and consulting firm. A military veteran, Robert was public affairs officers for the Army from 1987 to 1990 at White Sands Missile Range in New Mexico.
Peterson currently serves on UIndy's board of trustees. Lugar, Hudnut and Goldsmith are former board members.
Roadtrip: Lost River in southern Indiana
Chris Gahl of the ICVA suggests we head south to the Lost River in Washington and Orange counties in southern Indiana. The Lost River starts out as a normal river and suddenly becomes "lost" by gurgling underground and making its secret course beneath the surface for about eight miles before rising to the surface again. Sinkholes are also in abundance near the unusual river.
The Hoosier Chapter of the Sierra Club says that the Lost River is one of the most complex hydrological systems in the world.
This Roadtrip was recommended by Hoosier History Live! listener Daina Chamness. The Lost River Conservation Association believes that "Indiana's Lost River Karst Aquifer System" must be viewed in the context of the total river system to be fully appreciated. It offers free tours open to the public, and the tours are done in your own car. For more information about the tours, click here.
History Mystery
A distinctive item of apparel frequently worn by Indianapolis Mayor William Hudnut during the notorious Blizzard of 1978 became locally famous. Amid the blizzard that's generally considered the worst in Indianapolis history, Mayor Hudnut wore the item of apparel while riding with the city's snow plows, appearing on TV news and guiding the Hoosier capital through what he later called "the most important political event of my life."
Note: Hoosier History Live! aired a show about the Blizzard of 1978 on Jan. 19, 2008, with guests Craig Widener of the Red Cross and Peggy Rode, who started to go into labor during the blizzard. This was our historic second show, and three and a half years later we are still "making history!"
Question: Name the distinctive clothing item associated with Mayor Hudnut during the Blizzard of 1978.
To win the prize, you must call in with the correct answer during the live show. Please do not call if you have won a prize from any WICR show during the last two months. The call-in number is (317) 788-3314, and please do not call until you hear Nelson pose the question on the air.
The prize is an overnight stay at the University Place Conference Center and Hotel in downtown Indy at 850 W. Michigan St., as well as two tickets to the nearby Indianapolis Zoo. These prizes are courtesy of the ICVA.
Your Hoosier History Live! team,
Nelson Price, host and creative director
Molly Head, producer, (317) 927-9101
Chris Gahl, Roadtripper
Richard Sullivan, webmaster and tech director
Pam Fraizer, graphic designer
Garry Chilluffo, creative consultant
Michele Goodrich, Jed Duvall, grant consultants
Please tell our sponsors that you appreciate their support: Aesop's Tables, Broad Ripple Brewpub, Indiana Historical Society, Lucas Oil and Story Inn.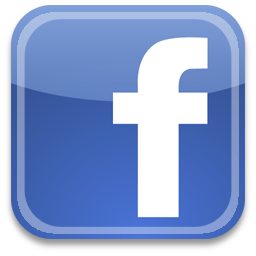 Acknowledgments to Print Resources, Indianapolis Marion County Public Library, Monomedia, Indiana Humanities, Indianapolis Convention & Visitors Association, WICR-FM, Fraizer Designs, Heritage Photo and Research Services, Derrick Lowhorn, Samantha Stratton and many other individuals and organizations. We are an independently produced program and are self-supporting through organizational sponsorships, grants and through individual tax-deductible contributions through the Indiana Humanities Council. Visit our website to learn how you can support us financially.
Aug. 6 show
Cowboy Bob: pioneers of children's TV in Indy, Part 2
In May, Hoosier History Live! focused on the hosts of two daily TV shows who became icons to thousands of Baby Boomer and Gen X children across central Indiana and beyond. Janie Woods Hodge, known on the air as simply "Janie" during her spectacular run on WTTV-Channel 4, joined Nelson in studio. So did civic leader Pat Garrett Rooney, who was the host of Kindergarten College on Channel 13 (then an ABC affiliate) during the mid-1960s.
Despite their incalculable impact - Janie's show, initially called Popeye and Janie, then just Janie, was syndicated to TV markets from Illinois to West Virginia - our earlier guests weren't the only icons of children's TV to have been based in Indy.
Another icon even made an album of Christmas songs with Janie that's been re-mastered and still is available as a CD. He also sang campfire songs, shared safety and exercise tips, had a dog sidekick named Tumbleweed and rode a horse named Skye. Of course, we're talking about Bob Glaze, far better known as Cowboy Bob to thousands of Hoosier fans of his series - initially called Chuckwagon Theater, then Cowboy Bob's Corral - which aired on WTTV from 1969 to 1989.
To join Nelson in studio as we follow up our earlier show about children's TV history, Cowboy Bob will briefly bid farewell to his beloved abode, which is about as close as a Hoosier can get to a ranch: Bob and his wife Gail, an airline pilot, live in a sprawling, rustic house on six acres in Morgan County. (Tumbleweed, who died in 1983, is buried on the property.)
Those who enjoyed WFYI-TV's recent Indy in the '60s documentary - which featured interviews with Cowboy Bob, Janie and Nelson - are in for a treat. So are all listeners curious about the TV personalities who shaped generations of young Hoosiers.
© 2011 Hoosier History Live! All rights reserved.