You can listen to Hoosier History Live! live on the air each Saturday, or listen online at the WICR website during the broadcast on any computer with speakers, anywhere, or on a smartphone. We invite you to visit our website!
Aug. 6 show
Cowboy Bob: pioneers of children's TV in Indy, Part 2
In May, Hoosier History Live! focused on the hosts of two daily TV shows who became icons to thousands of Baby Boomer and Gen X children across central Indiana and beyond. Janie Woods Hodge, known on the air as simply "Janie" during her spectacular run on WTTV-Channel 4, joined Nelson in studio. So did civic leader Pat Garrett Rooney, who was the host of Kindergarten College on Channel 13 (then an ABC affiliate) during the mid-1960s.
Despite their incalculable impact - Janie's show, initially called Popeye and Janie, then just Janie, was syndicated to TV markets from Illinois to West Virginia - our earlier guests weren't the only icons of children's TV to have been based in Indy.
Another icon even made an album of Christmas songs with Janie that has been re-mastered and is available as a CD. He also sang campfire songs, shared safety and exercise tips, had a dog sidekick named Tumbleweed and rode a horse named Skye.
Of course, we're talking about Bob Glaze, far better known as Cowboy Bob to thousands of Hoosier fans of his series - initially called Chuckwagon Theatre, then Cowboy Bob's Corral - which aired on WTTV from 1969 to the late 1980s.
To join Nelson in studio as we follow up our earlier show about children's TV history, Cowboy Bob will briefly bid farewell to his beloved abode, which is about as close as a Hoosier can get to a ranch: Bob and his wife, Gail, a pilot for United Airlines, live in a sprawling, rustic house on more than six acres in Morgan County near Martinsville. (Tumbleweed, who died in 1983, is buried on the property.)
A lifelong fitness enthusiast and music lover, Cowboy Bob was born in 1942 and is a proud grad of Culver Military Academy (class of 1960) in northern Indiana. In fact, his current endeavors include being the key organizer (or wrangler?) of the Culver Club of the Indianapolis Rowing Team, a group of Culver alums and their friends who train at Eagle Creek Reservoir. Cowboy Bob and Gail also are avid scuba divers.
During the early 1960s - before his big break in TV, which he credits to Janie - Bob gained attention for his singing and toured with the Chad Mitchell Trio as a warm-up act.
He started at WTTV as a camera operator in 1966, eventually joining Janie on-camera in commercials. Initially seen only in silhouette, Bob sang a jingle with her that touted a soft drink; in fact, his on-air handle was "Mountain Dew Bob" before the cowboy gig came his way by happy accident. (Nelson will ask him to share details during the show.)
In addition to Tumbleweed and Skye, Cowboy Bob's shows featured a puppet named Sourdough the Singing Biscuit.
A hit on the nostalgia circuit now, Cowboy Bob and Janie often appear in parades and at festivals across Indiana. Songs that Cowboy Bob recorded several years ago during the Parke County Covered Bridge Festival - along with an assortment of other tunes, including original recordings he made as an Indiana University student in the early 1960s - are featured on a CD titled Bridges. For more info about it, the Christmas album and other Cowboy Bob memorabilia, including boot-shaped mugs, visit cowboybobscorral.com.
Suffice it to say that anecdotes abound from Cowboy Bob's long run as a children's TV icon. During our show, he's planning to share, for instance, an incident involving a buffalo at the Indiana State Fair that unfolded on live TV.
Some fun facts:
During his stint with the Chad Mitchell Trio early in his career, Bob nearly became a permanent member of the singing group. He was edged out by none other than John Denver.
Bob's sister, Tammy Glaze, was Miss Indiana of 1960. She went on to compete in the Miss America pageant.
Tumbleweed the dog was named as a result of a contest from TV viewers. A beloved tan-and-black German shepherd mix, Tumbleweed achieved a bit of notoriety for chewing a hole in Cinderella's gown during a Chuckwagon Theatre episode.
Those who enjoyed WFYI-TV's recent Indy in the '60s documentary - which featured interviews with Cowboy Bob, Janie and Nelson - are in for a treat. So are all listeners curious about the TV personalities who shaped generations of young Hoosiers.
Watch videos of Cowboy Bob here:
Roadtrip: Rawhide Ranch in Brown County
Chris Gahl of the ICVA suggests that you visit a western-style dude ranch located in the hills of southern Brown County: the Rawhide Ranch! It's a place where Cowboy Bob could ease right into the saddle.
The Rawhide Ranch is located on State Road 135 south of Nashville, just before you get to the picturesque village of Story. The ranch offers public horseback rides seven days a week, every hour on the hour, between 10 a.m. and 4 p.m. You also can stay overnight in one of the 11 motel rooms over the barn. Happy trails!
History Mystery
In addition to Cowboy Bob and Janie, WTTV-Channel 4's lineup of popular personalities during the 1960s and '70s included horror film host Sammy Terry.
His show, originally called "Shock Theater" and then "Nightmare Theater," became a camp classic for thousands of Hoosier viewers.
During most shows, ghoulish Sammy Terry (whose real name was Bob Carter) would emerge from a coffin. Then he often bantered with a sidekick, a spider who sometimes seemed to float. Other times, the spider dangled from a string.
Question: What was the name of the spider sidekick on Sammy Terry's show?
To win the prize, you must call in with the correct answer during the live show. Please do not call if you have won a prize from any WICR show during the last two months. The call-in number is (317) 788-3314, and please do not call until you hear Nelson pose the question on the air.
The prize is two tickets to Conner Prairie, courtesy of the ICVA, as well as two tickets to the Indy Fringe Festival, Aug. 19-28, courtesy IndyFringe.
Your Hoosier History Live! team,
Nelson Price, host and creative director
Molly Head, producer, (317) 927-9101
Chris Gahl, Roadtripper
Richard Sullivan, webmaster and tech director
Pam Fraizer, graphic designer
Garry Chilluffo, creative consultant
Michele Goodrich, Jed Duvall, grant consultants
Please tell our sponsors that you appreciate their support: Aesop's Tables, Broad Ripple Brewpub, Indiana Historical Society, Lucas Oil and Story Inn.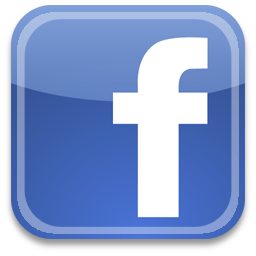 Acknowledgments to Print Resources, Indianapolis Marion County Public Library, Monomedia, Indiana Humanities, Indianapolis Convention & Visitors Association, WICR-FM, Fraizer Designs, Heritage Photo and Research Services, Derrick Lowhorn, Samantha Stratton and many other individuals and organizations. We are an independently produced program and are self-supporting through organizational sponsorships, grants and through individual tax-deductible contributions through the Indiana Humanities Council. Visit our website to learn how you can support us financially.
Aug. 13 show
Political cartoon heritage with Gary Varvel
Whether creating visual commentary about tragedies such as the 9/11 terrorist attacks (the 10th anniversary of which is a month away) or creating mythical characters such as Brown County's cracker-barrel philosopher Abe Martin and whimsical Raggedy Ann, Hoosier political cartoonists have been at the epicenter.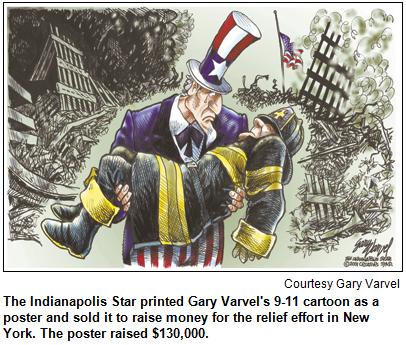 By the way, did you know that other iconic images created by political cartoonists (albeit non-Hoosiers) include Uncle Sam and Santa Claus?
To explore the rich heritage of political cartooning, including images that range from lighthearted to poignant to controversial, Nelson will be joined in studio by Gary Varvel, the award-winning political cartoonist for The Indianapolis Star.
Gary, whose work is syndicated to more than 100 newspapers through Creators Syndicate, has created dozens of images that have made readers' blood boil, provoked them to laugh or inspired them to think. But probably his best-known cartoon was drawn in reaction to the terrorist attacks on Sept. 11, 2001. A depiction of a weeping Uncle Sam holding a limp firefighter while the smoldering skyline of New York City crumbles in the background, the cartoon resulted in requests for copies from thousands of readers.
Born in 1957, Gary grew up in Danville. He joined the former Indianapolis News in the late 1970s, then became Indianapolis Star political cartoonist in 1994, replacing Pulitzer Prize-winning cartoonist Charlie Werner.
Gary plans to share insights about the cartoons of Werner (who last April was inducted posthumously into the Indiana Journalism Hall of Fame), along with insights about his own work, which recently has included a compelling "eye-for-an-eye" image when Osama bin Laden was killed.
Nelson and Gary also will explore the impact of Abe Martin, the fictional character (sample quip: "You can take a voter to the polls, but you can't make him think") created in 1904 by Indianapolis News cartoonist Frank McKinney "Kin" Hubbard (1868-1930). His homespun wisdom became enormously popular across the country.
As for Raggedy Ann: The book series and dolls were created by former Indianapolis Star cartoonist Johnny Gruelle (1880-1938), who grew up near the Lockerbie neighborhood in Indianapolis. Names and traits of his famous creation were inspired by blending two of his favorite James Whitcomb Riley poems: "The Raggedy Man" and "Little Orphant Annie."
© 2011 Hoosier History Live! All rights reserved.