You can listen to Hoosier History Live! live on the air each Saturday, or listen online at the WICR website during the broadcast on any computer with speakers, anywhere, or on a smartphone. We invite you to visit our website!
Sept. 3 show
Sept. 11 tragedy and Hoosier rescuers
Most Americans never will forget where they were on 9-11-01 and how their lives have changed since the terrorist attacks 10 years ago. Sixty-two professional rescuers from Indiana and their 12-member support crew have firsthand insights about the tragedy because they searched for survivors on Ground Zero in the aftermath that left the Twin Towers in New York City as still-smoldering ruins when they arrived.
Indiana Task Force One, one of 28 elite rescue teams across the country designed to quickly assemble and respond to catastrophes, consisted of Hoosier firefighters, emergency medical technicians, engineers, search-dog handlers and other highly trained specialists. Nelson's studio guests will be two Hoosiers who were at Ground Zero with the rescuers.
Tom Spalding, then the public safety reporter for The Indianapolis Star, filed daily dispatches as he accompanied the Indiana task force for "up-close and personal" looks at their overwhelming mission.
Anne McCurdy managed what Tom has described as the "most popular component" of the task force: the search-and-rescue dogs. In addition to being the training director and manager of the K-9 unit for Indiana Task Force One, Anne is manager of research for Methodist Hospital/IU Health in Indianapolis.
"The air was smoky from still-smoldering underground fires, but it was no longer 'snowing' - the term I'd come up with to describe the floating bits of ash," Tom wrote in a subsequent account in Traces of Indiana and Midwestern History, the Indiana Historical Society's magazine.
He arrived with a night-shift crew (the rescue work was continuing 24-7 at that point) in gear that included a helmet, mask, goggles and steel-toed boots.
In addition to Anne, who lives in Fountaintown, Indiana Task Force One members on the scene included dog handlers from South Bend, Newburgh and Lebanon, as well as firefighters from Pike, Washington, Warren and Decatur townships in Indianapolis. Some barely escaped being burned alive when a 50-foot wall of fire shot up during an underground search.
Many listeners will recall that Indiana Task Force One rescuers were greeted by a cheering crowd of 3,000 on Monument Circle when they returned after their 10-day assignment.
Some of the Indiana Task Force One members had been among the first "boots on the ground" from across the country at Ground Zero after the twin suicide hijackings of airplanes that crashed into the World Trade Center's 110-story towers.
Not only does this month mark the 10th anniversary of the attacks, it is the 20th anniversary of the formation of Indiana Task Force One. In September 1991, the Indiana force was designated by the federal government as one of the first teams set up to respond to catastrophic events.
Later this month in downtown Indianapolis, a permanent memorial to the 9-11 victims will be dedicated. Topped by a 450-pound bronze eagle sculpted by an Indianapolis firefighter, the memorial will include engraved granite tablets flanked by steel beams from the World Trade Center. The memorial, which will be dedicated on Sept. 11, will be at 421 W. Ohio St., overlooking the downtown canal.
When Indiana Task Force One responded to the 9-11 tragedy, it was the team's first mission in two years.
Anne McCurdy participated in the task force's first deployment, a mission to Lafayette in 1994 in response to a tornado that struck a trailer park. She also has been deployed to hurricanes Floyd, Isabel, Katrina and Rita. Her search-and-rescue dog, Mercedes, is certified at the highest level by the Federal Emergency Management Agency (FEMA).
As the task force of Hoosiers searched for survivors at Ground Zero, some members, including a Pike Township firefighter, were burned during flare-ups in the underground ruins. In his Traces article, Tom described how other Hoosier firefighters could have been "burned alive" during the search. They survived because they found a protective air pocket in which to hide.
When Tom accompanied a night shift to Ground Zero four days after the tragedy, the team encountered, as he puts it, "two unrecognizable skyscrapers that were coated with an eerie, bland, tan-and-gray dust."
Amid the rubble, Tom noticed remnants of office cubicles adorned with photos that depicted smiling people with their arms around each other.
Search-and-rescue dogs, including those overseen by Anne, are trained to climb atop debris that is, as Tom put it, "unstable and hot" as the K-9 units hunt for survivors.
Video footage of the rescue work by Indiana Task Force One has been used to train firefighters across the state, according to Tom's article.
"In the subsequent year, I thought the (Hoosier) task force members would become celebrities, but they did not," Tom added. "They simply returned to the old jobs they had left."
Earlier this year, Tom left The Star to become a public relations executive in Indy. He has stayed in regular contact with many of the task force members, including Anne. She is the editor of DogTalk, the unofficial newsletter for FEMA dog handlers.
In New York City, the National September 11 Memorial and Museum will open Sept. 12 on the site of the World Trade Center. The memorial will include one-acre reflecting pools in the footprints of the leveled towers, as well as bronze panels inscribed with the names of victims.
Roadtrip: National Road Heritage Site in Cambridge City
Chris Gahl of the ICVA suggests we head east from Indianapolis along the Old National Road, U.S. 40 (or, well, you can take the interstate) to the grand opening of the National Road Heritage Site in Cambridge City at Indiana Landmarks' 1841 Huddleston Farmhouse.
The grand opening at the site will be Saturday, Sept. 10 with a free open house from 10 a.m. to 4 p.m., and in conjunction with the Cambridge City Canal Days festival.
The Huddleston Farmhouse has been closed for two years in preparation for the new exhibits, which tell the 200-year story of the National Road from its start in Cumberland, Md., in 1806 through Indiana in mid-1820s, to its end in Vandalia, Ill. Visitors will be able to hear from a covered-wagon traveler about the conditions on the road, the food they ate and where they found lodging. More information at www.indianalandmarks.org.
History Mystery
The Soldiers and Sailors Monument in downtown Indianapolis was built to honor Hoosiers lost in the Civil War, although for many it has come to symbolize people from Indiana who have sacrificed in all wars. Since the monument's dedication in 1902, it has been topped by a bronze sculpture known as Victory, or Miss Indiana.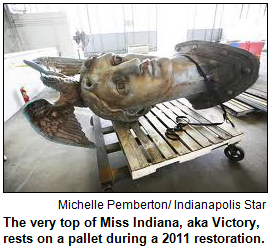 The sculpture, which holds a torch and a sword, has been down for repairs since April, but she was recently returned for public display on Monument Circle. Victory is scheduled to be hoisted to her usual position atop the monument on Sept. 6 (Tuesday), where she has always faced a certain direction.
Question: Has Victory faced north, south, east or west? And what is the symbolic reason it faces that direction?
To win the prize, you must call in with the correct answer during the live show. Please do not call if you have won a prize from any WICR show during the last two months. The call-in number is (317) 788-3314, and please do not call until you hear Nelson pose the question on the air.
The prize is an overnight stay at the Hyatt Regency downtown Indianapolis, as well as a gift certificate to Wheel Fun Rentals down along the canal. The prizes are courtesy of the ICVA.
Your Hoosier History Live! team,
Nelson Price, host and creative director
Molly Head, producer, (317) 927-9101
Chris Gahl, Roadtripper
Richard Sullivan, webmaster and tech director
Pam Fraizer, graphic designer
Garry Chilluffo, creative consultant
Michele Goodrich, Jed Duvall, grant consultants
Please tell our sponsors that you appreciate their support: Aesop's Tables, Broad Ripple Brewpub, Indiana Historical Society, Lucas Oil, Story Inn and Yats restaurants.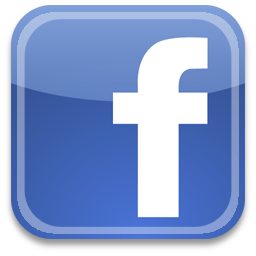 Acknowledgments to Print Resources, Indianapolis Marion County Public Library, Monomedia, Indiana Humanities, Indianapolis Convention & Visitors Association, WICR-FM, Fraizer Designs, Heritage Photo and Research Services, Derrick Lowhorn, Samantha Stratton and many other individuals and organizations. We are an independently produced program and are self-supporting through organizational sponsorships, grants and through individual tax-deductible contributions through the Indiana Humanities Council. Visit our website to learn how you can support us financially.
News about the project
Hoosier History Live! has new 'mystery volunteer'
Who is it? Well, it's a mystery, but this individual will be taking on some significant tasks in order to lead us to success. Don't you wish your organization had a "mystery volunteer"?
Meanwhile, do remember that our project is self-supporting and relies on sponsorship dollars and contributions. Thanks to Ryan Zumbahlen, Kathy Andry and Maureen Dunlap "In Memory of Mary Jane Lincoln."
You can memorialize your loved one with a contribution to Hoosier History Live! No, your loved one's name will not be carved in stone, but better yet, as long as we are going and the Internet is going, that person's name will be on our website.
While many newspapers, magazines and broadcasting projects continue to shrink or disappear, Hoosier History Live! creates rich new content each week, both on the radio airwaves and on our weekly e-newsletter and website.
Help to preserve that content and help to fund our Internet distribution project. You can learn more by visiting "Support the show" on our website.
Sept. 10 show
Butler basketball heritage
At the thrilling climax of the 2009-10 basketball season, Butler University became the smallest school in 40 years to reach the NCAA championship game. Last April, the Butler Bulldogs did it again. With the country captivated by the underdog teams guided by a values-based approach known as "the Butler Way," how many folks recall that during the 1970s and '80s, the Butler basketball program was, as David Woods puts it, in a "sorry state"?
The Bulldogs were on the ropes even though their rich tradition dated to the 1920s, when legendary coach Tony Hinkle took command.
In 1928, the arena now known as Hinkle Fieldhouse opened with the largest seating capacity of any basketball arena in the country.
Now a National Historic Landmark, the fieldhouse is talked about, in David's words, "with a reverence associated with places of worship." (At the end of the 1928-29 season, the Bulldogs' first in their fieldhouse, Butler was named national champion.)
So why did the once-glorious basketball program hit the skids, before rebounding in such spectacular style? David, the acclaimed Butler basketball reporter for The Indianapolis Star, will join Nelson in studio to explore that question and many others.
David is the author of two books that have described the ups and downs of Butler basketball and analyzed its spectacular resurgence: Underdawgs (Scribner, 2010) and The Butler Way (Blue River Press, 2009).
Key figures range from Tony Hinkle, who is credited during the late 1950s with suggesting orange as the ideal color for basketballs (before that, they were muddy brown) to clean-cut Brad Stevens, the current coach, who was just 33 years old during the first of his team's back-to-back appearances in the NCAA championship game.
© 2011 Hoosier History Live! All rights reserved.