You can listen to Hoosier History Live! live on the air each Saturday, or listen online at the WICR website during the broadcast on any computer with speakers, anywhere, or on a smartphone. We invite you to visit our website!
Sept. 24 show
Catholic Youth Organization heritage
Summer camps, movie nights, sports competitions, hobby shows and science fairs. All have figured in the lives of thousands of Hoosier teenagers and children since the late 1930s because of the Catholic Youth Organization (CYO), which will be the focus of our show just before a related national gathering in Indy.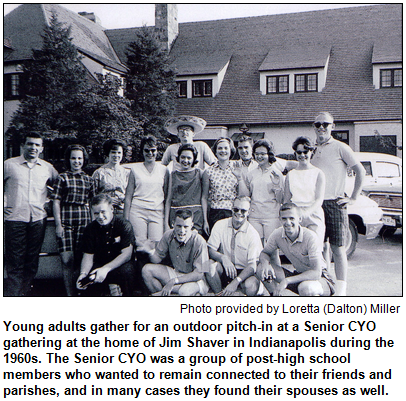 According to a new book, The CYO in Indianapolis & Central Indiana (The History Press), the first CYO event in the Hoosier capital was a dance in 1939 at Cathedral High School (then located downtown on North Meridian Street) that drew more than 1,000 teenagers from every parish in the city.
"The movement exploded locally in the 1950s and '60s with numerous activities," reports Julie Young, the book's author, who will join Nelson in studio to explore the heritage and impact of the CYO across Indiana.
Nelson also will be joined by Ed Tinder, executive director of the CYO in the Archdiocese of Indianapolis.
And our show will be the ideal opportunity for you to phone in to share anecdotes, memories and insights about the CYO in your lives or in the lives of your friends and family members.
Launched in Chicago as a way to offer spiritual, social, athletic and cultural programming for young people, the CYO immediately created a major impact in Indiana. Some youths even met their future spouses at the array of events, according to Julie's book.
She credits the late Cardinal John Ritter (namesake of Ritter High School on the westside) with bringing the CYO to the Indianapolis area.
"Before Facebook, MySpace and Twitter gave everyone the chance to connect and update one another with life-altering news, young people had to congregate in order to catch up," she writes. For young people who were Catholic, the CYO provided the opportunities, which ranged from movie nights in parish basements to dances and sports.
The first CYO football championship in the Indianapolis archdiocese was a game in 1939 between undefeated teams representing the Little Flower and St. Catherine parishes. The game, which Julie calls "the Super Bowl of CYO match-ups," drew nearly 10,000 spectators to Christian Park on the eastside.
In 1959, the CYO established girls track competitions and girls softball leagues in the Indy metro area.
Hobby show competitions flourished almost from the beginning. In her book, Julie describes her first CYO experience as a 9-year-old. She made an apple pie for a hobby show - and was astounded when she won first place. Her baking hobby triumphed over baseball card and coin collections of other parish youngsters.
Today, some CYO members are the fourth generation of their families to be involved. For many years, several chapters also flourished of Senior CYO, which provided faith-based social opportunities for people in their late teens and 20s.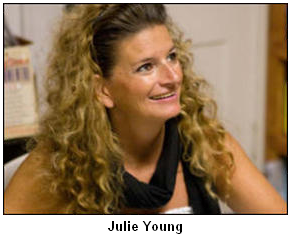 In Indy during the 1960s, the Eastside Senior CYO was particularly active, offering card parties, picnics, bowling, potluck suppers and pickup games of volleyball.
In 1946, the CYO opened a summer camp in Brown County. Called Rancho Framasa, it has become known as "the Ranch" to scores of Catholic youth. They continue to visit today for, as Julie puts it, "adventures in the great outdoors." Teachers also bring students to "the Ranch" for nature studies.
Julie's book describes how the amphitheater at the Ranch was built by the National Guard unit of a former camper. Determined to "give back" to the camp he cherished as a boy, he offered to have his unit construct the facility at Rancho Framasa.
A second, more rugged, CYO camp, Camp Christina, also was established in Brown County. According to Julie's book, Camp Christina became a refuge in the early 1960s for Cuban girls attending Ladywood Academy (later merged with Cathedral); their families had escaped the Castro regime in their homeland. Camp Christina closed in the early 1990s to curb the expenses of operating two camps under the CYO banner.
Some related facts:
The patron saint of the CYO is St. John Bosco (1815-1888) of Italy. He opened a school for "youth of the streets" in Turin.
More than 20,000 people are expected Nov. 17-19 to attend the National Catholic Youth Conference at the Indiana Convention Center. The conference is titled "Called to Glory."
Julie has visited Hoosier History Live! in connection with some of her other books. They include A Belief in Providence: A Life of Saint Theodora Guerin (Indiana Historical Society Press) and Eastside Indianapolis: A Brief History (The History Press).
Roadtrip: Stream Cliff Herb Farm in Jennings County
Chris Gahl of the ICVA suggests we head to southern Jennings County to visit Indiana's oldest herb farm, the Stream Cliff Herb Farm near Commiskey. The farm is owned by Betty and Gerald Manning and has been in the family for more than 100 years. It sits near a small "cliff" on Graham Creek and has the distinction of having been visited by Morgan's Raiders during the Civil War.
The farm now consists of four shops filled with handmade traditional crafts and garden related items, a tea room and an extensive offering of herbs and flowers. Check the farm's website for hours and location, or call (812) 346-5859.
While in Jennings County you also can visit the historic town of Vernon, as well as the Selmier State Forest. Jennings County was the setting for Jessamyn West's book, The Friendly Persuasion.
"Jennings County offers great leaf peeping without the crowds," says our Roadtripper.
History Mystery
The History Mystery is a carry-over from last week's show, when there wasn't a correct answer. The question concerns a top Indianapolis civic leader for the first half of the 20th century who lived in Irvington.
In 1880, when Butler University was located in the neighborhood, he was president of his senior class. Five years later, at age 25, he became the youngest person ever elected to Butler's board of trustees. As a business leader, he had a 77-year career at the Indianapolis News newspaper, working his way up from reporter to editor to top executive. In Irvington, he served as the president of civic and school boards. He died in 1958.
Question: Name the civic and business leader.
Hints: He was not John Atherton, Booth Tarkington or George Clowes; they were incorrect guesses from listeners last week.
To win the prize, you must call in with the correct answer during the live show. Please do not call if you have won a prize from any WICR show during the last two months. The call-in number is (317) 788-3314, and please do not call until you hear Nelson pose the question on the air.
The prize is a gift certificate for dinner for two at the Mystery Café at the Milano Inn in downtown Indianapolis, the nation's original murder mystery theater. For all of your October spookery! This prize is courtesy of the ICVA.
Your Hoosier History Live! team,
Nelson Price, host and creative director
Molly Head, producer, (317) 927-9101
Chris Gahl, Roadtripper
Richard Sullivan, webmaster and tech director
Pam Fraizer, graphic designer
Garry Chilluffo, creative consultant
Michele Goodrich, Jed Duvall, grant consultants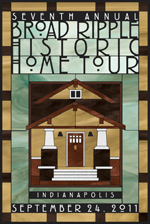 Please tell our sponsors that you appreciate their support: Antique Helper, Broad Ripple Brewpub, Broad Ripple Historic Home Tour, Indiana Historical Society, Lucas Oil, Story Inn and Yats restaurants.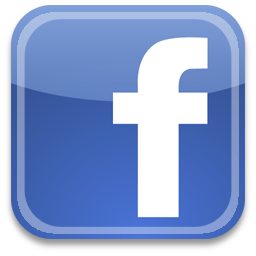 Acknowledgments to Print Resources, Indianapolis Marion County Public Library, Monomedia, Indiana Humanities, Indianapolis Convention & Visitors Association, WICR-FM, Fraizer Designs, Heritage Photo and Research Services, Derrick Lowhorn, Samantha Stratton and many other individuals and organizations. We are an independently produced program and are self-supporting through organizational sponsorships, grants and through individual tax-deductible contributions through the Indiana Humanities Council. Visit our website to learn how you can support us financially.
Live in the studio!


Oct. 1 show
The real-life Little Orphant Annie
"The goblins will git you - if you don't watch out!"
So goes the ominous warning from a fictional, orphaned storyteller in one of the most famous children's poems written by James Whitcomb Riley, the Hoosier who became nationally known for his verse.
Historians have long identified a real Hoosier as the inspiration for "Little Orphant Annie," but her life has been shrouded in mystery and folklore.
In 1862, young Mary Alice Smith was taken in as a boarder at the Greenfield home of the future poet and his parents. Mary Alice probably was 12 years old, about the same age as Jim Riley (1849-1916). Was she orphaned and brought by her uncle to the Rileys to help with the housework? Did she then proceed to tell frightening tales about goblins and other creatures to Jim and his siblings?
To share insights and new information about the mysterious boarder - who later in life married and became Mary Alice Gray - Nelson will be joined in studio by historian Brigette Jones, a docent at the James Whitcomb Riley Old Home & Museum in Greenfield, and writer-historian Al Hunter, a popular columnist for the Eastside Voice weekly newspaper in Indianapolis.
Brigette lives in rural Greenfield, is working on a biography of Mary Alice Smith and reports she has uncovered information that clarifies or corrects long-established folklore.
Al, who conducts walking tours in communities along the Old National Road (including Greenfield and Irvington), has written columns about Mary Alice's life.
"She made such a deep impression on Riley that he never forgot her," writes Elizabeth Van Allen in her biography James Whitcomb Riley: A Life (IU Press).
It's been unclear, however, whether the "Hoosier poet" and his muse ever re-met as adults - and at what point Mary Alice, who became a farm wife in the Hancock County town of Philadelphia, realized she was the inspiration for the famous "Orphant Annie."
Riley wrote another poem about her, titled "Where is Mary Alice Smith?" in which he depicts the little orphan girl falling in love with a soldier boy who was killed, and dying of grief. In truth, Mary Alice went to work in a tavern on the National Road in the town of Philadelphia, where she met her husband, John Wesley Gray. Their marriage produced seven children.
Our show will come just before the Riley Festival, one of the largest crafts festivals in Indiana. The 42nd annual Riley Festival, which includes a parade, a breakfast, decorated pumpkin shows and many other events, will be Oct. 6-9 in Greenfield.
© 2011 Hoosier History Live! All rights reserved.