You can listen to Hoosier History Live! live on the air each Saturday, or listen online at the WICR website during the broadcast on any computer with speakers, anywhere, or on a smartphone. We invite you to visit our website!
Feb. 25 show
Murder of heiress Marjorie Jackson in 1977
Nearly 35 years later, it's still considered the largest cash burglary of a home in American history. Burglars stole more than $3.8 million - and left at least $5 million behind - in a sensational crime that included the murder of Marjorie Jackson, an eccentric widow in Indianapolis who had inherited a grocery-chain fortune.
Reclusive and deeply distrustful of banks (about a year before Mrs. Jackson's murder in 1977, a bank vice president had embezzled about $700,000 from her), she stashed cash in vacuum cleaner bags, closets, toolboxes and drawers in her home on Spring Mill Road. Mrs. Jackson, 66, also placed gifts, cookies, pies and cake around her house with notes indicating they were gifts to God.
These and other astonishing aspects of a series of crimes involving the Jackson family are recounted in a new book written by Pulitzer Prize winner Dick Cady, a former investigative reporter and city editor for The Indianapolis Star.
In Scavengers: A True Story of Money, Madness and Murder, Dick begins with the fatal shooting in 1931 of Mrs. Jackson's father-in-law, who founded the Standard Grocery chain. Her father-in-law, Lafayette Andrew Jackson, also distrusted banks. He was shot during a robbery at Standard headquarters in downtown Indianapolis.
Dick will join Nelson in studio to discuss the series of crimes against the Jackson family that culminated when Mrs. Jackson's body was discovered in a smoldering fire that culprits had set in an attempt to cover up the murder and robbery.
The culprits then made a trail of mistakes Dick calls "inept," including paying cash - with stacks of $100 bills - for flashy new cars. Some of the cash also was buried in an Arizona desert.
In withdrawing her fortune from banks, Mrs. Jackson had taken her cash away in grocery sacks and suitcases. Attempts to "freeze" her account were unsuccessful because Mrs. Jackson was able to convince judges that, although she may have been eccentric, she was capable of handling her own money.
Another complication: About a year before Mrs. Jackson's death, authorities were unable to prosecute intruders who absconded from her house with $800,000 in cash as well as jewelry. The case collapsed because Mrs. Jackson refused to file charges against the perpetrators. She also refused police protection.
To describe details and share insights about a series of crimes that remain among the most notorious in Indianapolis history, Dick Cady has drawn on interviews, trial testimony, transcripts and official records. Scavengers opens with the fatal shooting of Lafayette Andrew Jackson in 1931, which elevated Mrs. Jackson's future husband, Chester, to head of the Standard Grocery chain.
Chester Jackson met his future wife, who came from a hardscrabble background, when she was working at a Murphy's five-and-dime store in downtown Indy. According to Scavengers, he later referred to her as his "million-dollar baby from the five-and-ten cent store."
Hoosiers who associate Mrs. Jackson with the intense religious practices of her later years (she was known for spending hours daily in prayer and reading scripture) may be surprised to learn that, according to Scavengers, she was a mistress to Chester Jackson (who was married when he met her) for more than 20 years. The two even lived together for several years before he finally divorced his first wife and married Marjorie.
They bought the house in the 6400 block of Spring Mill Road in 1954. Chester Jackson died in 1970. Then Mrs. Jackson erected a wire privacy fence around the property. Convinced the end of the world was near and suspicious of banks, she began withdrawing her fortune and hiding it around the house.
History Mystery
Before reclusive heiress Marjorie Jackson moved to the house on Spring Mill Road where she was murdered, she lived in the Woodruff Place neighborhood of Indianapolis during the 1940s.
Several decades earlier, the historic Woodruff Place neighborhood had been the boyhood home of another eccentric Hoosier millionaire who primarily is remembered in connection with another residence. This Hoosier moved from Woodruff Place into an isolated house on the far-Northeastside that became the source of perhaps the biggest urban legend in Indianapolis history. For several generations, thousands of high school and college students made a ritual, particularly during Halloween season, of trespassing around his property at the house.
Question: Name both the eccentric Hoosier and his isolated house.
To win the prize, you must call in with the correct answer during the live show and be willing to be placed on the air. Please do not call if you have won a prize from any WICR show during the last two months. The call-in number is (317) 788-3314, and please do not call until you hear Nelson pose the question on the air.
The prize is a voucher for two tickets to the Indianapolis Symphony Orchestra for the Lilly Classical Series, the Symphony Hits powered by Lilly, or the Printing Partners Pops Series. This prize is courtesy of the ICVA.
The Roadtripper returns!
With the NFL Scouting Combine under way at Lucas Oil Stadium, our intrepid Roadtripper, Chris Gahl of the ICVA, will return live on the air with insights about the recent big event at the stadium. Well, that big event before "that other" big event - the Hoosier History Live! fourth anniversary party on Feb. 16! It's hard to get any sleep in this town!
Your Hoosier History Live! team,
Nelson Price, host and creative director
Molly Head, producer, (317) 927-9101
Chris Gahl, Roadtripper
Richard Sullivan, webmaster and tech director
Pam Fraizer, graphic designer
Garry Chilluffo, creative consultant
Michele Goodrich, Jed Duvall, grant consultants
Joan Hostetler, photo historian
Dana Waddell, volunteer-at-large
Please tell our sponsors that you appreciate their support: Aesop's Tables, Indiana Historical Society, Indiana Authors Award, Lucas Oil and Story Inn.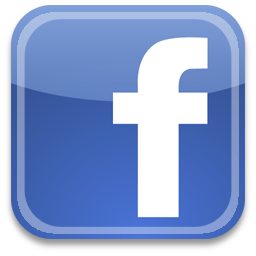 Acknowledgments to Print Resources, Indianapolis Marion County Public Library, Monomedia, Indiana Humanities, Indianapolis Convention & Visitors Association, WICR-FM, Fraizer Designs, Heritage Photo and Research Services, Derrick Lowhorn, Samantha Stratton and many other individuals and organizations. We are an independently produced program and are self-supporting through organizational sponsorships, grants and through individual tax-deductible contributions through the Indiana Humanities Council. Visit our website to learn how you can support us financially.
Fourth-anniversary celebration
An eclectic mix of 150 at soiree celebrate Hoosier History Live!
More photos coming soon!
"I can't remember the last time I attended a party with such a terrifically eclectic group of people," said Billie Scott, longtime Indianapolis public relations exec.
About 150 people crowded into the historic Morris-Butler house on the evening of Feb. 16. The fourth-anniversary party for Hoosier History Live! was graciously hosted for the fourth year in a row by Indiana Landmarks.
"We've gotten so crowded, it looks like we'll have to move the party next year to the Cook Theater!" said Indiana Landmarks CEO Marsh Davis.
Jo Ellen Meyers Sharp, the Hoosier Gardener, commented: "It was nice catching up at the party with Nelson Price, Molly Head, Richard Sullivan, Marsh Davis, Suzanne Stanis, Dick Cady, Eunice Trotter and many others at the 4th anniversary celebration of Hoosier History Live, a fab show on WICR-FM (88.7)."
Some of the party guests included:
Mayor Greg Ballard of Indianapolis.
Judy O'Bannon, former Indiana first lady.
Mayor Wayne Seybold of Marion, former Olympic figure skater.
Dan Wakefield, novelist-screenwriter.
TV personality Cowboy Bob (Bob Glaze).
TV personality Janie (Janie Hodge) of "Popeye and Janie" fame.
Barbara Boyd, former WRTV/Channel 6 anchor.
Reid Duffy, former WRTV/Channel 6 restaurant reviewer.
Jim Lingenfelter, architect and president of the Indianapolis-Marion County Public Library Board.
Dick Cady, Pulitzer-winning investigative reporter.
Lawrence "Bo" Connor, former managing editor of The Indianapolis Star.
Ralph Taylor, past president of the Indiana Basketball Hall of Fame board (and former outstanding Washington High School basketball player).
Pat Garrett Rooney, civic leader.
Phyllis Geeslin, director of the Benjamin Harrison Presidential Site.
Jeff Miller, Indianapolis City-County Councilman.
Steve Campbell, former deputy mayor of Indianapolis.
Stephen Smith, Rhodes Scholar, retired partner, Barnes & Thornburg.
Chris Worden, district director, Office of Congressman Andre Carson.
Bill Briscoe, historian, Kurt Vonnegut Memorial Library.
The party was made possible not only by our friends at Indiana Landmarks, but also a host of other show supporters, including Pam Fraizer, Richard Sullivan, Bill Holmes, Garry Chilluffo, Michele Goodrich, Dana Waddell, Emily Kelso Barker and Jed Duvall. The birthday cake was personally provided by Maureen Dunlap, pastry chef at Divvy in Carmel. Shirley Judkins of "The Real Thing" provided piano accompaniment in the historic home's parlor.
The party invitation went out electronically to all of the subscribers to the Hoosier History Live! e-newsletter, so ... always be sure to check your inbox!
March 3 show
Union Station history in Indy
For the first time in American history, competing railway lines came together in a single central train depot, the country's first "union" station. It happened in Indianapolis in 1853, six years after the first railroad reached the Hoosier capital.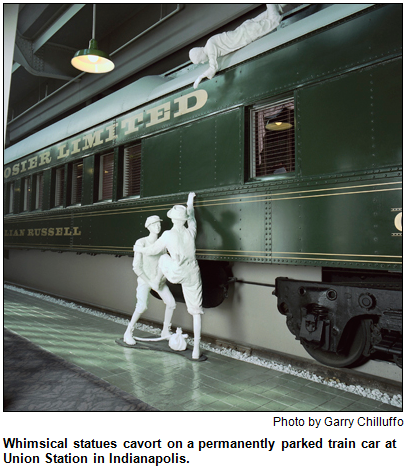 The opening of Union Depot helped account for explosive growth in Indy and the city's longtime "Crossroads of America" nickname.
In the 1880s, the initial depot was replaced by a nearby, majestic Union Station designed in Romanesque Revival architectural style with elegant Rookwood tiles in its interior and a 185-foot clock tower that became a city landmark.
To discuss the history of the station listed on the National Register of Historic Places - as well as the impact of the railroads on Indy - Nelson will be joined in studio by architectural photographer Garry Chilluffo of Chilluffo Photography, who often is a commentator on tours of the station; Garry also is the corporate photographer for Crowne Plaza Union Station.
Today the historic train shed houses a Crowne Plaza luxury hotel, and the restored grand hall is a ballroom, with rooms in the former concourse serving as convention meeting rooms. (Hotel guests may stay in historic Pullman cars that have been converted to suites and named after famous people who traveled through the train station, such as Winston Churchill, Cole Porter and Amelia Earhart.)
According to Indianapolis Union Station (2000, Guild Press of Indiana) by Jim Hetherington, more than 200 trains passed through the station daily by 1910.
Rail travel peaked in the 1920s, then began to decline with the widespread popularity of cars, but World War II resulted in a booming revival at Union Station in part because of restrictions on gasoline and the mass movements of American servicemen. Next came another, steeper decline in train travel.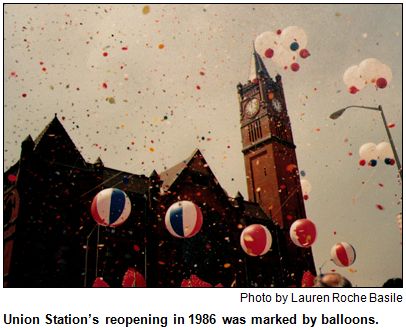 In 1986, a $48 million restoration and redevelopment of Union Station into a festival marketplace proved unsuccessful, but the National Register designation protects the magnificent structure from demolition. Its interior includes a bronze plaque in the head house that pays tribute to the initial Union Depot, as well as more than two dozen "Ghost People," white fiberglass sculptures representing the thousands of passengers who traveled through Union Station in its heyday.
Fun facts:
Garry, who enjoys shooting restoration photography of Indiana landmarks, collaborated with Nelson and photo historian Joan Hostetler on the Indianapolis Then and Now (2004, Thunder Bay Press) visual history book. It features a photo of "Santa Colossal," a 51-foot high Styrofoam replica of Santa Claus that "spoke" yuletide greetings to thousands of passengers at the terminal during the late 1940s. ("Santa" was so popular that postcards with his image were handed out at Union Station for years afterward.)
In 1864, a teenager named Thomas Edison worked at Union Station as a telegraph operator. He was fired from his job in part for devoting too much time to his inventions, as we learned in a Hoosier History Live! show last May about Edison's connections to Indiana with playwright Hank Fincken, who often portrays the inventor.
© 2012 Hoosier History Live! All rights reserved.