We invite you to visit our website!
March 10 show - web-only encore presentation
James Alexander Thom and Dark Rain on historical fiction
Note: The Hoosier History Live! broadcast for March 10 has been pre-empted by WICR for UIndy basketball NCAA tournament coverage, so we are offering the program in its entirety as a podcast on the Hoosier History Live! website and enewsletter. Thanks to Jed Duvall and Richard Sullivan for quick work in making this podcast possible.
Acclaimed far and wide for the depth of his historic research - his novels have sold more than 2 million copies around the world - James Alexander Thom is the best-known author currently living on Indiana soil.
This legendary Hoosier, a nature lover who lives in a 19th-century log cabin that he moved and reconstructed himself on a ridge near a forest in Owen County, prefers to be called "Jim." He joins Nelson in studio.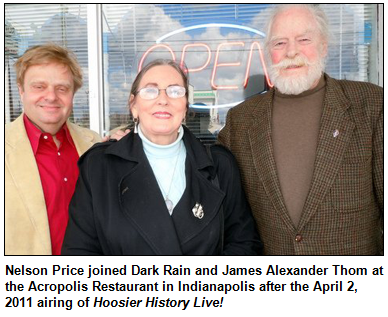 So does Jim's wife, Dark Rain Thom, a Shawnee elder, tribal historian and fellow author.
This will be an encore broadcast of their visit, which is one of the most popular shows in our Hoosier History Live! archives. Its original air date was April 2, 2011.
James Alexander Thom's novels have included Follow the River, which hit the New York Times bestseller list in 1981, and Panther in the Sky (1989), which focuses on the great Shawnee leader Tecumseh.
During our show, he shares insights and challenges about writing historical fiction. The Indiana Magazine of History calls him a "master of the form" in a review of Jim's newest book, The Art and Craft of Writing Historical Fiction (Writer's Digest Books).
Dark Rain, who served on the Lewis and Clark Bicentennial Planning Council, and Jim also are the co-authors of Warrior Woman (2004), a novelistic portrait of a real-life, female Shawnee leader of the 1770s.
Drawing on their historical research, the Thoms describe the Shawnee "warrior woman," whose name was Nonhelema, as articulate, "imposing at more than six feet tall" and desirous of peace.
Compelled to fight when her tribe's homes were threatened by thousands of Virginians, she rode into battle "covered in war paint." She ultimately ended up, as the Thoms put it, "estranged from her own people - and betrayed by her white adversaries."
During this memorable show, Nelson talks to the husband-and-wife team about myths concerning the Shawnee, as well as their historic home.
A native of Owen County, Jim did much of the salvage and reconstruction work himself on the cabin, reassembling it log by log, using material from the 1800s, and sleeping in a tent during the process. (During that stretch, he wrote at night by kerosene light.) The westward view from his secluded cabin - a panorama of a valley - is said to be nearly identical to the view 200 years ago.
His bestseller Follow the River is a fictional account of the true story of a white woman captured by the Shawnee in 1755 and her eventual escape, which took her 1,000 miles.
Jim's other bestsellers have included Long Knife (1979), about the exploits of George Rogers Clark during the Revolutionary War, and Sign-Talker (2000), which focuses on a French-Shawnee scout who provided invaluable assistance to Lewis and Clark.
After Jim and Dark Rain met a Shawnee encampment in Ohio, the couple married in 1990. Before co-writing Warrior Woman with her husband, Dark Rain was the author of Kohkumthena's Grandchildren (1994), a history of the Shawnee.
Fun fact: The artwork for her book's cover is an illustration of a Shawnee elder and a grandchild created by James Alexander Thom.
In addition to his creative and literary talents, Jim is known for going to great lengths to recreate the noises, smells and other sensations of the historic settings and experiences depicted in his books. According to several accounts, Jim fasted for so long while doing the research for Long Knife - he wanted to accurately and precisely describe the experience - that he nearly starved to death. For other book projects, Jim has waded through icy streams during winter.
In The Art and Craft of Writing Historical Fiction, he explains that he finds doing the research "as exciting and fascinating as doing the writing."
He has tracked down letters, journals, census reports and vintage newspapers, in addition to immersing himself in the sensory experiences of his characters.
His non-fiction books include The Spirit of the Place (1995), a celebration of Indiana's hill country that pairs Jim's descriptive prose with sweeping photos by acclaimed Indiana photographer Darryl Jones.
The Indianapolis Star lauded Jim's text as "spare, yet evocative."
"I'm so glad that I grew up with the sense that the past isn't 'back there'," Jim told Nuvo newsweekly in 2009. "History isn't 'back there.' We're still in it. It's a river. Everything that goes into it affects everything else, and we're creating more of it."
Not only are the Thoms' admirers legion, we can't resist noting that Jim won the inaugural Indiana Authors Award in 2009 (watch video here) given by the Indianapolis-Marion County Public Library Foundation.
Because this is an encore show, we won't have call-in opportunities from listeners or our History Mystery question. Those features will return next week, though, with a new live Hoosier History Live! show.
Roadtripper and History Mystery will return next week
As this is an encore presentation, there will be no Roadtrip or History Mystery reports during this week's webcast.
Irvington Library listening group continues to meet weekly
The Hoosier History Live! Irvington Library listening group continues to meet weekly on Saturdays at 11:15 a.m. in Story Theater at the library, 5625 E.Washington St. in Indianapolis. All are welcome, and no reservation is required.
The group's discussion leader is Mike Hylton, public services associate, a self-described history enthusiast. Mike reports that the discussion often goes on for nearly an hour after the show's broadcast, so bring a coffee in and join a conversation that is not online but with real humans!
We also invite you to join the conversation on the Hoosier History Live Facebook page.
Your Hoosier History Live! team,
Nelson Price, host and creative director
Molly Head, producer, (317) 927-9101
Chris Gahl, Roadtripper
Richard Sullivan, webmaster and tech director
Pam Fraizer, graphic designer
Garry Chilluffo, creative consultant
Michele Goodrich, Jed Duvall, grant consultants
Joan Hostetler, photo historian
Dana Waddell, volunteer-at-large
Please tell our sponsors that you appreciate their support: Aesop's Tables, Indiana Historical Society, Indiana Authors Award, Lucas Oil and Story Inn.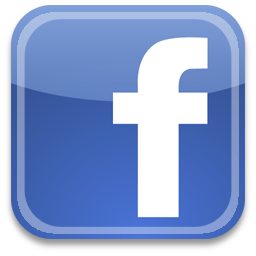 Acknowledgments to Print Resources, Indianapolis Public Library, Monomedia, Indiana Humanities, Indianapolis Convention & Visitors Association, WICR-FM, Fraizer Designs, Heritage Photo and Research Services and many other individuals and organizations. We are an independently produced program and are self-supporting through organizational sponsorships, grants and through individual tax-deductible contributions through the Indiana Humanities. Visit our website to learn how you can support us financially.
March 17 show
Ask Nelson
Every so often, we like to turn the tables and invite you to interview our host, author/historian Nelson Price. So this show will be an all call-in opportunity to question Nelson, who calls himself a "garbage can of useless Hoosier trivia."
He can be stumped, so instead of that as a goal, the point is to draw him out about Indiana-related topics. Because Nelson has devoted his career to interviewing famous Hoosiers and exploring the state's heritage, including Indianapolis city history, he loves to share anecdotes and insights.
Hoosier History Live! will open the phone lines so listeners can call the WICR-FM studio - the number is (317) 788-3314 - and ask questions of Nelson, who has interviewed famous Hoosiers ranging from astronauts, TV stars, musicians and politicians to artists, novelists and sports figures.
He also has researched historic figures such as Little Turtle (did you know children in Miami villages during the 1700s played a game similar to today's lacrosse?), entrepreneur Madam Walker and bank robber John Dillinger.
As a commentator on motor coach tours across the state, Nelson has shared insights about scenic New Harmony, the site of two failed attempts at Utopian living; the North Meridian Street mansions in Indianapolis (fun fact: in addition to novelist Booth Tarkington, some unlikely notables lived in the historic homes, including future pro wrestler Dick the Bruiser), and, in Winchester, the makers of sugar cream pie, Indiana's official state pie.
He welcomes questions about any of these places and people, as well as about the historic French Lick and West Baden hotels, Culver Military Academy on Lake Maxinkuckee (the second-largest natural lake in Indiana) or the Studebaker Brothers family and business sites in South Bend. All have been the destinations of tours with Nelson aboard as a commentator.
Nelson's books include Indiana Legends: Famous Hoosiers from Johnny Appleseed to David Letterman (Hawthorne Publishing) and Indianapolis Then and Now (Thunder Bay Press), a visual history of the Hoosier capital that features historic and contemporary images of about 70 sites.
They include Monument Circle (do you know what was on the site at the Circle City's center before the Soldiers and Sailors Monument was built?), historic homes in Woodruff Place and the bygone Riverside Amusement Park. He researched the history of those sites for his Indianapolis Then and Now book.
© 2012 Hoosier History Live! All rights reserved.