You can listen to Hoosier History Live! live on the air each Saturday, or listen online at the WICR website during the broadcast on any computer with speakers, anywhere, or on a smartphone. We invite you to visit our website!
March 17 show
Ask Nelson
We're back live on the air this week! Every so often, we like to turn the tables and invite you to interview our host, author/historian Nelson Price. So this show will be an all call-in opportunity to question Nelson, who calls himself a "garbage can of useless Hoosier trivia."
He can be stumped, so instead of that as a goal, the point is to draw him out about Indiana-related topics. Because Nelson has devoted his career to interviewing famous Hoosiers and exploring the state's heritage, including Indianapolis city history, he loves to share anecdotes and insights.
Hoosier History Live! will open the phone lines so listeners can call the WICR-FM studio - the number is (317) 788-3314 - and ask questions of Nelson, who has interviewed famous Hoosiers ranging from astronauts, TV stars, musicians and politicians to artists, novelists and sports figures.
He also has researched historic figures such as Little Turtle (did you know children in Miami villages during the 1700s played a game similar to today's lacrosse?), entrepreneur Madam Walker and bank robber John Dillinger.
As a commentator on motor coach tours across the state, Nelson has shared insights about scenic New Harmony, the site of two failed attempts at utopian living; the North Meridian Street mansions in Indianapolis (fun fact: in addition to novelist Booth Tarkington, some unlikely notables lived in the historic homes, including future pro wrestler Dick the Bruiser), and, in Winchester, the makers of sugar cream pie, Indiana's official state pie.
He welcomes questions about any of these places and people, as well as about the historic French Lick and West Baden hotels, Culver Military Academy on Lake Maxinkuckee (the second-largest natural lake in Indiana) or the Studebaker Brothers family and business sites in South Bend. All have been the destinations of tours with Nelson aboard as a commentator.
Nelson's books include Indiana Legends: Famous Hoosiers from Johnny Appleseed to David Letterman (Hawthorne Publishing) and Indianapolis Then and Now (Thunder Bay Press), a visual history of the Hoosier capital that features historic and contemporary images of about 70 sites.
They include Monument Circle (do you know what was on the site at the Circle City's center before the Soldiers and Sailors Monument was built?), historic homes in Woodruff Place and the bygone Riverside Amusement Park. He researched the history of those sites for his Indianapolis Then and Now book.
Some also have been the topics of Hoosier History Live! shows. So just like our listeners, Nelson has picked up insights from our parade of distinguished guests; he welcomes questions about them.
Some fun facts that may inspire questions:
Garfield, the comic strip about the cantankerous cat drawn by Indiana native Jim Davis, is featured in more newspapers around the world than any other comic. Readers from Tokyo to Madrid chuckle at Garfield's quips. But affable Jim Davis, who grew up on a farm near Fairmount and lives today in a wooded retreat near Muncie, wasn't always successful. During interviews with Nelson over the years, Jim Davis has described his first cartoon character, which was a huge flop. Phone in and ask for details about this unappealing character, which, like Garfield, was a member of the animal kingdom.
Among the vehicles exhibited at the Studebaker National Museum is the carriage that transported President Abraham Lincoln and his wife, Mary Todd Lincoln, to Ford's Theatre on the evening of his assassination in 1865. The carriage was made by Studebaker, which was founded by five brothers who are profiled in Nelson's books about famous Hoosiers. One of the brothers, Johnny (J.M.) Studebaker, had an intriguing connection to the California "Gold Rush" of 1849. Call in and ask for details.
Nelson never interviewed James Whitcomb Riley (the Hoosier poet died in 1916), but he did talk many times with the last surviving person to have known him. Beginning when Agnes Search Bridgford was 92 years old, Nelson interviewed her over a period of several years before her death. He also has interviewed friends of legendary jazz guitarist Wes Montgomery and cousins of composer Cole Porter. Questions or insights about any are welcome from our wonderful listeners.
History Mystery
A famous Hoosier novelist recently was a studio guest on Hoosier History Live! The novelist - who also has written screenplays and worked as a journalist - is among the 160 notables profiled in host Nelson Price's book Indiana Legends: Famous Hoosiers from Johnny Appleseed to David Letterman.
Although the author-screenwriter grew up in Indianapolis, he or she primarily has lived as an adult in cities such as New York, Boston and Miami. However, this famous Hoosier recently returned to Indy to live.
Question: Name the famous Hoosier.
To win the prize, you must call in with the correct answer during the live show and be willing to be placed on the air. Please do not call if you have won a prize from any WICR show during the last two months. The call-in number is (317) 788-3314, and please do not call until you hear Nelson pose the question on the air.
This week's prize is one night at the Wyndham Indianapolis West hotel (near the airport), courtesy of the ICVA.
Roadtrip: Desperate housewives from 1925
Roadtripper Chris Gahl of the ICVA will first have a few questions for Nelson on our "Ask Nelson" show, followed by a suggestion that we travel to the year 1925 for the Noel Coward farce Fallen Angels, now in downtown Indianapolis at the Indiana Repertory Theatre.
When their husbands go out of town for a golf outing, two wives who also are close friends are surprised by postcards from a mysterious Frenchman who happens to be an ex-lover and boyfriend to them both. Can the virtues of married life stand firm against the lure of lost romance?
Be sure to check out this fun and frothy farce at the IRT, now through April 15 on the Upperstage. Tickets are $25 to $52; prices vary based on day and time. Box-office phone number is (317) 635-5252.
Fun fact: Tallulah Bankhead starred in the original London production.
Your Hoosier History Live! team,
Nelson Price, host and creative director
Molly Head, producer, (317) 927-9101
Chris Gahl, Roadtripper
Richard Sullivan, webmaster and tech director
Pam Fraizer, graphic designer
Garry Chilluffo, creative consultant
Michele Goodrich, Jed Duvall, grant consultants
Joan Hostetler, photo historian
Dana Waddell, volunteer-at-large
Please tell our sponsors that you appreciate their support: Aesop's Tables, Indiana Historical Society, Indiana Authors Award, Lucas Oil and Story Inn.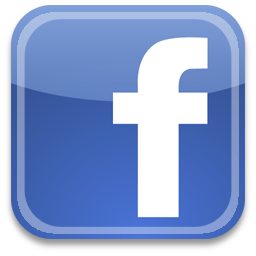 Acknowledgments to Print Resources, Indianapolis Marion County Public Library, Monomedia, Indiana Humanities, Indianapolis Convention & Visitors Association, WICR-FM, Fraizer Designs, Heritage Photo and Research Services, Derrick Lowhorn, Samantha Stratton and many other individuals and organizations. We are an independently produced program and are self-supporting through organizational sponsorships, grants and through individual tax-deductible contributions through the Indiana Humanities Council. Visit our website to learn how you can support us financially.
March 24 show
Palm Sunday tornado outbreak of 1965
"The day started out warm and sunny, but became increasingly hot and humid, not at all like a typical day in April," Dennis Keyser recalls. The hot, humid weather on Palm Sunday was particularly atypical in far-northern Indiana. That's where 10-year-old Dennis, a native of Bremen, lived with his family in 1965.
His boyhood experiences on April 11, 1965, changed his life - and set Dennis on his career path. Today, after studying atmospheric sciences at Purdue University and then earning a master's in meteorology with a focus on severe weather dynamics and forecasting, he lives in Silver Springs, Md., and works in a highly specialized field of troubleshooting and formatting related to weather data from satellites, radar and aircraft.
He was a passenger in his family's car on Palm Sunday 1965 when the hot, humid weather suddenly became eerie.
"As we approached LaPorte, we noticed the sky to the south and west began to take on a green color. I had never seen this before," he recalls.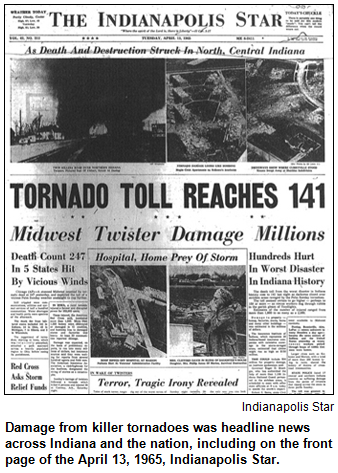 After a harrowing car ride - during which a radio announcer proclaimed - ""Bulletin: Tornado west of Bremen!" - Dennis and his family made it home. En route, he witnessed a portion of the tragic impact of the Palm Sunday tornado outbreak.
"I could not sleep that night," Dennis recalls. "Ambulances were coming into Bremen Hospital one block from my house all night long."
Devastating tornadoes struck northern Indiana communities, including LaPaz, Lakeville and Wyatt (the first F-4 tornado alone, whose aftermath Dennis witnessed from the family car, killed 10 people and injured 180) as well as Goshen and Dunlap, a small community hit by two separate tornadoes.
Dennis will be Nelson's guest to share insights about the tragic tornado outbreak on Palm Sunday of 1965, which became an unforgettable day for so many Hoosiers.
Even three days later, Dennis had an unforgettable experience: He saw his first U.S. president. Dennis' dad took him to South Bend to witness the arrival of Lyndon Johnson, who toured the devastation in northern Indiana.
As a meteorologist now, Dennis works for the National Centers for Environmental Protection's Environmental Modeling Center in Camp Springs, Md.
Our guest also recommends this blog, which features reports by eyewitnesses to the Palm Sunday storms.
© 2012 Hoosier History Live! All rights reserved.