You can listen to Hoosier History Live! live on the air each Saturday, or listen online at the WICR website during the broadcast on any computer with speakers, anywhere, or on a smartphone. We invite you to visit our website!
March 31 show
Indiana's remarkable suffragist
Among the distinguished Hoosiers honored with the first 10 pillars unveiled earlier this month along Georgia Street in downtown Indy, many of the notables remain household names. They include Madam Walker, Tecumseh and Abraham Lincoln, who spent his youth in Indiana.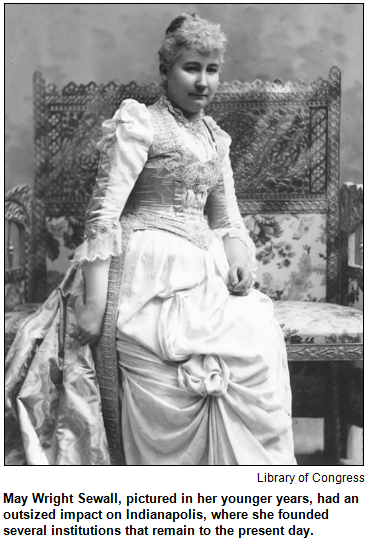 Who, though, was May Wright Sewall?
The dedication of her pillar - and Women's History Month - are ideal opportunities to explore the colorful life of this once nationally famous leader of the women's suffrage movement who also had a huge impact on her adopted hometown in the arts, culture and education.
Among an array of accomplishments, some of which were regarded as radical during her heyday, May Wright Sewall (1844-1920) launched a private school that revolutionized the education of girls in the Hoosier capital. She also became known as the leader of "half a million women" because of her influential work to organize women across the country - and even overseas, after trips to the Netherlands and other European countries.
Sadly, although Mrs. Sewall worked tirelessly for voting rights for women all of her life, she never got to cast a ballot in a presidential election. Her death in 1920 came just months before U.S. women got to vote for president for the first time.
To explore the life of this remarkable civic leader, who helped start groups that evolved into the Indianapolis Museum of Art as well as an into various non-profits that continue to this day, Nelson will be joined in studio by two experts.
They are Ray Boomhower, author of But I Do Clamor: May Wright Sewall, A Life, and Jan Wahls, past president of the Indianapolis Propylaeum Club, which was founded by Mrs. Sewall during an era when a club both for women and managed by women was considered radical.
Jan, who often portrays Mrs. Sewall as a re-enactor in vintage costume, also is a member of the Contemporary Club, yet another civic organization founded by May that continues to this day.
Consider this: When Mrs. Sewall launched the Indianapolis Classical School for Girls in the1880s, she shocked Hoosiers by insisting on a gymnasium. (In that era, physical education was almost unheard of for girls and women - who should not be seen sweating, according to prevailing social attitudes.)
Also at Mrs. Sewall's insistence, her students were taught Latin, Greek and world literature as part of a curriculum just as rigorous as that offered at a school for boys founded by her husband, Theodore Sewall. Before May Wright Sewall, education for most girls in Indy ended after some instruction in running a home.
"She served as an invaluable ally to such national suffrage leaders as Susan B. Anthony and Elizabeth Cady Stanton, and (she) gave the women's movement an international focus," Ray Boomhower writes in his biography.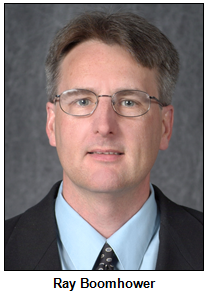 It's one of several books about notable Hoosiers written by Ray, who also is editor of Traces of Indiana and Midwestern History, the popular magazine published by the Indiana Historical Society.
Like our guests Ray and Jan, our host Nelson also has ties to May Wright Sewall. Nelson is on the board of the Indianapolis Propylaeum Historic Foundation and serves as the emcee historian for the foundation's annual May Wright Sewall Award banquet. The award honors women civic leaders as well as community volunteers in education, the arts and cultural life, all endeavors in which Mrs. Sewall influenced the Hoosier capital.
In addition to founding the Art Association of Indianapolis, the predecessor to the museum of art, she founded the International Council of Women (and served two terms as its president), plus traveled overseas as a peace activist.
"My country is the world," Mrs. Sewall once said. "My countrymen are all mankind."
And aside from starting the Propylaeum and the Contemporary Club in her adopted hometown of Indy, she also began organizations such as the Indianapolis Women's Club. Sometimes Mrs. Sewall and other Hoosier women met in secret to plan strategies for obtaining the vote. (Many women feared rebukes from their husbands or friends if they shared the real purpose of the meetings. Mrs. Sewall, though, always enjoyed the support of her husband in her activism.)
At the turn of the last century, May Wright Sewall was considered to be one of Indy's most prominent residents, along with her close friends, novelist Booth Tarkington and poet James Whitcomb Riley. She wasn't a native Hoosier, though. Born in Wisconsin, May was a gifted child who was said to have been reading classic literature as a 7-year-old.
After a career as an educator everywhere from Michigan to Mississippi, Mrs. Sewall settled in the Hoosier capital in 1874 to teach at Indianapolis High School, which later became Shortridge High School. Eventually, she founded the Classical School for Girls, where she took pride in hiring all of the teachers personally. One of the teachers whom she trained went on to start Tudor Hall (now part of Park Tudor School), which continued to thrive after Mrs. Sewall's school closed in the early 1900s.
On top of everything else, Mrs. Sewall was considered a spectacular host at her Indianapolis home, which became known for its glittering soirees. Her guest book read like a Who's Who of distinguished Americans who visited the city, including suffrage leader Carrie Chapman Catt, humanitarian Jane Addams and Clara Barton of American Red Cross fame.
A final tidbit about May Wright Sewall: She also shocked the city by wearing her skirts at ankle length. In the 1890s, most women's skirts swept the ground. Historians say only a woman as highly regarded and as forceful as Mrs. Sewall could have gotten away with such a breach of etiquette.
History Mystery
The nation's oldest Catholic liberal arts college for women is located in Indiana. Since the 1840s, young women have been educated at the college, which was founded by a Catholic nun.
Question: What is the Catholic college with this historic distinction?
To win the prize, you must call in with the correct answer during the live show and be willing to be placed on the air. Please do not call if you have won a prize from any WICR show during the last two months. The call-in number is (317) 788-3314, and please do not call until you hear Nelson pose the question on the air.
This week's prize is one night at the Jameson Inn Indianapolis West, as well as two tickets to the Rhythm Discovery Center in downtown Indianapolis, courtesy of the ICVA.
Roadtrip: Last Chance for You are There 1968: RFK Speaks
With Roadtripper Chris Gahl of the ICVA out on assignment, Amy Lamb of the Indiana Historical Society will join us on air to suggest that we make it down to see "You are There 1968: Robert F. Kennedy Speaks" at the Eugene and Marilyn Glick Indiana History Center before it closes on April 14.
With the upcoming anniversary of Dr. Martin Luther King's assassination on April 4, the thoughts of many Hoosiers turn to the historic speech made by Senator Robert F. Kennedy to a downtown Indianapolis crowd in what is now King Park. RFK's extemporaneous speech disclosed Dr. King's death to the crowd and urged peace.
With the help of cutting-edge hologram technology combined with talented historical interpreters, visitors are able to step back in time and become a witness and meet individuals whose lives were changed by this pivotal event.
We also expect comment from show guest Ray Boomhowever, who wrote the book "Robert F. Kennedy and the 1968 Indiana Primary" (Indiana University Press). Ray also talked about his book on the April 12, 2008 edition of Hoosier History Live!
You also can view the video of RFK's 1968 Indianapolis speech here.
Your Hoosier History Live! team,
Nelson Price, host and creative director
Molly Head, producer, (317) 927-9101
Chris Gahl, Roadtripper
Richard Sullivan, webmaster and tech director
Pam Fraizer, graphic designer
Garry Chilluffo, creative consultant
Michele Goodrich, Jed Duvall, grant consultants
Joan Hostetler, photo historian
Dana Waddell, volunteer-at-large
Please tell our sponsors that you appreciate their support: Aesop's Tables, Indiana Historical Society, Indiana Authors Award, Lucas Oil, Signature at the Propylaeum and Story Inn.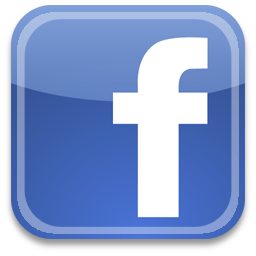 Acknowledgments to Print Resources, Indianapolis Marion County Public Library, Monomedia, Indiana Humanities, Indianapolis Convention & Visitors Association, WICR-FM, Fraizer Designs, Heritage Photo and Research Services, Derrick Lowhorn, Samantha Stratton and many other individuals and organizations. We are an independently produced program and are self-supporting through organizational sponsorships, grants and through individual tax-deductible contributions through the Indiana Humanities Council. Visit our website to learn how you can support us financially.
Thanks!
Financial support for Hoosier History Live!
Thanks to recent donors Paul J. Fouts Jr., Peggy Sabens, Carol Faenzi and Theresa and David Berghoff.
Did you know that you can specify where your funds go with your donation? If you wish to "perma-archive" a specific show on our website for later listening, for example, let us know!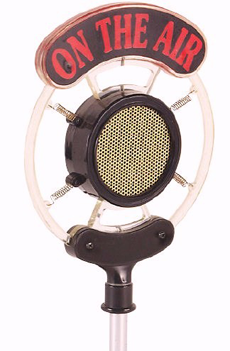 Are you aware of a foundation that might be interested in supporting us? Let us know!
We are set up for sponsorship, and for tax-deductible donations for individuals and grants through Indiana Humanities.
We are a small, self-supporting operation, and we are determined to keep our offering "newmedia" with audio, visual and Internet components, as well as a good old-fashioned opportunity to phone into the live program with a question.
The listening group at Irvington Library actually has face-to-face discussions following the show; real people talking with each other in a group, and not via texting or tweeting!
By the way, all you need to form your own listening group is a quiet room that's available on Saturday mornings at 11:30 a.m., an ability to listen to a radio or laptop computer, and a discussion facilitator.
We are committed to continuing the Hoosier History Live! "voice" in a world of media Goliaths. As one of our listeners says, "As museums and educational institutions scramble to make their offerings more interactive, more entertaining and more 'relevant' to today's digitally obsessed consumers, Hoosier History Live! seems to have mastered that formula."
As always, visit "Support the show" on our website!
April 7 show
Dan Patch, the first superstar racehorse
According to many sports historians, the greatest athlete of the early 1900s was a Hoosier - and he wasn't a baseball player, a bicyclist, a boxer or even a human being.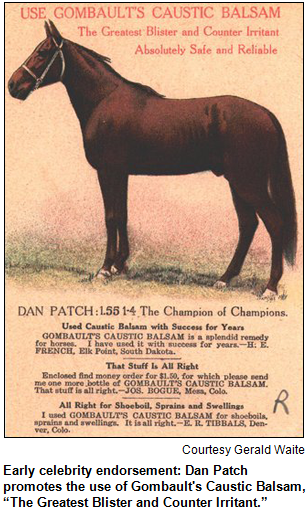 Dan Patch was a racehorse who became a top national celebrity, never lost a race on the grand circuit of harness racing and was hailed as the "Epitome of Excellence in American Sports."
Yet this superstar, who eventually endorsed an array of products from sleds to washtubs, had gangly, crooked legs at his birth in 1896. He was foaled in a barn in Oxford, a western Indiana town that continues to celebrate an annual Dan Patch Festival in honor of the famous son. A pacer who stunned spectators in 1900 at the Benton County Fairgrounds with an incredible win in his first race, Dan Patch initially was owned by local storekeeper, Daniel Messner Jr.
To explore the life of the racehorse that captivated Americans (even two popular dances, both known as the "Dan Patch Two-Step," were composed in his honor), Nelson will be joined in studio by two guests. They are Oxford resident Bob Glaspie, who owns a vast collection of Dan Patch memorabilia, and Gerald Waite, a lecturer emeritus at Ball State University who has written extensively about the legendary horse.
Dan Patch also was the subject of a bestselling biography, Crazy Good: The True Story of Dan Patch, the Most Famous Racehorse in America (Simon & Schuster, 2008) by Charles Leerhsen, whom our guest Bob escorted around Oxford during his research.
Dan Patch's dominance hurt betting at racetracks because, if the undefeated champ was entered, everyone knew who would win. "The Patch" had multiple owners, enjoyed railcar tours in retirement to meet adoring fans across the country and was living in Minnesota when he died in 1916.
© 2012 Hoosier History Live! All rights reserved.