You can listen to Hoosier History Live! live on the air each Saturday, or listen online at the WICR website during the broadcast on any computer with speakers, anywhere, or on a smartphone. We invite you to visit our website!
April 21 show
True tall tales from 1950s Indiana
To the residents of Howe, Ind., a town character was known as the "Skunk Woman." Not only did she keep skunks as pets, she seldom bathed.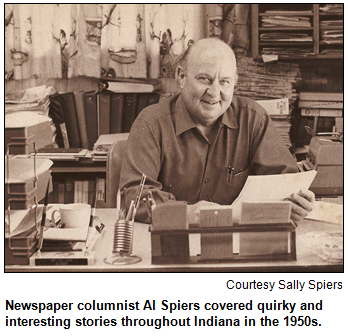 In the 1950s, the talk of Goshen was a rooster described as "over-hormoned." (During that era, roosters routinely were injected with female hormones so they would shun hens, stop crowing, eat hearty and be tender.) Despite multiple injections, a resilient rooster named Elco resumed fraternizing with hens as well as emitting "cock-a-doodle-doos" - all in front of stunned onlookers during a Jaycees event.
Accounts of the "Skunk Woman" and of the resilient rooster were syndicated across the state during the 1950s by Al Spiers, a Michigan City-based columnist and editor. Although Al died in 1994, his columns about true tall tales from across Indiana have been collected in a new book, Hoosier Lore (Brooks Publications), put together by his daughter, Sally Spiers.
An Indianapolis civic leader who is retired after a career in city and state governments, Sally will be Nelson's studio guest to explore the colorful people, critters, towns and events that her father described.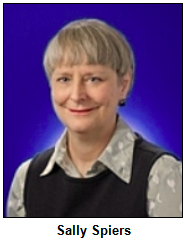 His stories from the Hoosier front during the 1950s include an account from Churubusco about alleged sightings of a giant turtle in Fulks Lake; the town celebrates a Turtle Days festival every summer in honor of Indiana's counterpart of the Loch Ness Monster.
Hoosier Lore also includes columns about a widow in northern Indiana who became known as "mom" to countless soldiers during World War II and afterward because of her generosity; Al Spiers also wrote about the "tired, decaying" town in Pulaski County of Monterey, which needed a civic miracle to survive.
Some of the tales in Hoosier Lore had their origins long before the 1950s. The "Skunk Woman" (whose real name was Chrissy Hand), for example, died in LaGrange County in 1925. When Al Spiers visited 30 years later, though, he was able to interview many residents of Howe who had known her.
Based on their accounts, he reported that the "Skunk Woman," who lived on a farm, hated water.
"When she went to town, she wore monstrous hats, and even on hot days, a long, thick coat."
In addition to a collection of pets in her house that included chickens, guinea pigs, dogs and cats, she typically kept about half a dozen skunks ("not de-skunked skunks, but fully equipped specimens," Al Spiers wrote) wandering around inside. As her fame grew, the "Skunk Woman" became a LaGrange County tourist attraction.
"Whenever a crowd gathered, Chrissy would emerge with two or three cuddly skunks adorning her shoulders and bosom. She'd dance a jig, sing a few ditties and gather coins tossed by the tourists."
The fame of the "over-hormoned" rooster was more localized. According to Al Spiers' account in Hoosier Lore, Elco received multiple hormone injections prior to a Goshen festival in 1953. Typically, even one or two such injections caused a rooster's comb to turn from a stiff red to "a limp, floppy pink," altered his full-throated crow into "a confused, subdued cackle" and decreased his romantic interests. During a Jaycees festival, though, Elco sprang to life - despite some "refresher" injections - when placed in a cage with hens.
Al Spiers, an inductee into the Indiana Journalism Hall of Fame, was editor of the Michigan City News-Dispatch, as well as a human-interest columnist. Sally Spiers is president of the Chatham Arch Neighborhood Association; she has worked as a community crime prevention manager for the city of Indy and as an investment adviser examiner for the Indiana secretary of state's securities division. Sally also is a former member of U.S. Sen. Richard Lugar's staff.
She grew up in Michigan City during the era when her father was writing the columns featured in Hoosier Lore. They include accounts from the mid-1950s about the "turtle tizzy" in Churubusco involving residents who claimed to have seen the so-called "Beast of 'Busco" beginning in 1949.
Even though Fulks Lake already had been partially drained and skin divers deployed (with no confirmations of the turtle's presence) by the time Al Spiers wrote his accounts, folklore about a massive beast persists to this day. At dusk, Spiers drove to Fulks Lake, which he described as primarily an "overgrown" pond.
"But in the east corner there's a wild and spooky section - swampy, full of tangled, dead trees and brush, silent and brooding," he reported. "It looks like a hunk of Florida everglades, or a set for a movie starring prehistoric monstrosities."
Sightings of a giant turtle in those environs are not verified, but their impact on the town of Churubusco is undeniable. So Sally and Nelson will explore the effects of the "Beast of 'Busco" accounts, along with other Hoosier Lore tales that captivated so many readers during the 1950s.
History Mystery
Folklore involving Hoosier animals often includes stories about an enormous steer of the early 1900s. Known as Old Ben, the steer was said to be the largest in the world. He apparently weighed more than 4,700 pounds in 1910, when Old Ben slipped on the ice and broke both legs. Euthanized after the accident, Old Ben was stuffed by a taxidermist.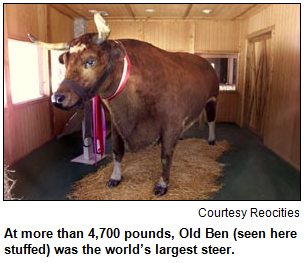 Years later, Old Ben was placed on exhibit at a public park in an Indiana city, where he remains to this day. Visitors frequently stop by to look at Old Ben in a pavilion at the park's welcome center.
Question: Name the Indiana city where the stuffed Old Ben, reportedly the world's largest steer, is exhibited in a park.
To win the prize, you must call in with the correct answer during the live show and be willing to be placed on the air. Please do not call if you have won a prize from any WICR show during the last two months. The call-in number is (317) 788-3314, and please do not call until you hear Nelson pose the question on the air.
This week's prize is two tickets to the Indiana Wine Fair in southern Brown County on Saturday, April 28, courtesy of the Story Inn, and an overnight stay at the Marriott Indianapolis East, courtesy of the ICVA.
Roadtripper
Roadtripper Chris Gahl of the ICVA reminds us that there is a free concert or performance almost every day around lunchtime at the Artsgarden, that magnificent glass "bubble" nested in downtown Indianapolis and hovering over the busy intersection of Washington and Illinois Streets.
The Artsgarden was built in 1995 by the Arts Council of Indianapolis as a part of the Circle Centre Mall project, and of course it is connected by walkways to the mall and downtown hotels and the Indiana Convention Center.
In fact, if you are visiting Indianapolis and staying at a downtown hotel, you don't need to rent a car because downtown Indy is totally walkable, and walkways keep you out of frigid weather in the winter and steamy weather in the summer. If you are parking downtown, however, look for the Circle Centre Mall parking lots for the best parking rates.
The Artsgarden is also home to the Cultural Concierge booth, which is a sort of "visitor's center" for information about the arts for visitors and locals alike, and is always fully stocked with maps and information about museums, the arts, and cultural events. The booth does not sell tickets but can direct guests to a nearby Ticketmaster outlet in the mall.
The Cultural Concierge hours are 10 a.m. to 9 p.m. Monday through Saturday, and 10 a.m. to 6 p.m. on Sunday. The phone number is ( 317) 624-2563.
Your Hoosier History Live! team,
Nelson Price, host and creative director
Molly Head, producer, (317) 927-9101
Chris Gahl, Roadtripper
Richard Sullivan, webmaster and tech director
Pam Fraizer, graphic designer
Garry Chilluffo, creative consultant
Michele Goodrich, Jed Duvall, grant consultants
Joan Hostetler, photo historian
Dana Waddell, volunteer-at-large
Please tell our sponsors that you appreciate their support: Aesop's Tables, Indiana Historical Society, Lucas Oil, Marigold Clothing, Story Inn and Yats Cajun restaurants.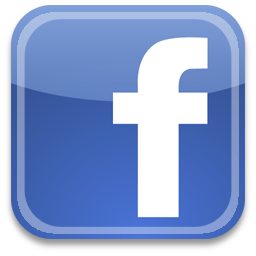 Acknowledgments to Print Resources, Indianapolis Marion County Public Library, Monomedia, Indiana Humanities, Indianapolis Convention & Visitors Association, WICR-FM, Fraizer Designs, Heritage Photo and Research Services, Derrick Lowhorn, Samantha Stratton and many other individuals and organizations. We are an independently produced program and are self-supporting through organizational sponsorships, grants and through individual tax-deductible contributions through the Indiana Humanities Council. Visit our website to learn how you can support us financially.
April 28 show - encore presentation
Amusement park history in Indy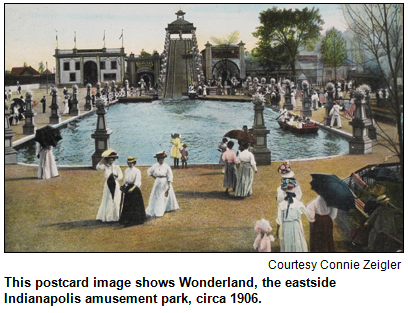 Ferris wheels, roller coasters, shoot-the-chutes, bumper cars, dunk tanks, fun houses, landscaped gardens and waterslides. All were enticements - along with cotton candy and Coney dogs - for Hoosiers who patronized three popular amusement parks in Indianapolis.
All three are bygone and had some dark chapters in their histories, including, in some cases, raging fires, racial discrimination, neighborhood objections over plans to serve alcohol and as many financial ups and downs as a wild ride.
To explore the heritage of three major amusement parks that opened more than 100 years ago, Nelson is joined in studio for this encore broadcast of a popular show from our archives (its original air date was July 9, 2011) by historic preservationist Connie Zeigler, president and owner of C. Resources Inc.
A writer and historian, Connie has researched the beginnings - during the amusement park craze that swept the country in the early 1900s - of Riverside Amusement Park, the wildly popular attraction on the westside of Indy that flourished until 1970. Connie's 2007 thesis about Indianapolis amusement park history can be read here.
Connie, a regular columnist for Urban Times, the monthly newspaper that serves historic neighborhoods in Indy, also has researched Wonderland Amusement Park, a lavish entertainment complex on East Washington and Gray streets with a short (1906-1911) but spectacular and colorful life. When illuminated at night, Wonderland's 125-foot central tower was said to be visible for miles.
The third major amusement park in Indy was located in Broad Ripple and had a series of lives. Known as White City Amusement Park when it opened in 1906, the entertainment center was named after the "white city" architecture featured at the legendary 1893 World's Columbian Exposition in Chicago.
White City burned to the ground in 1908 after a fire that started in its "Mystic Cave" attraction, which was a simulated opium den.
Wonderland also succumbed to flames (ironically, its attractions included a re-enactment of the 1889 Johnstown, Pa., flood), destroyed by a roaring nighttime blaze that, as Connie put it in an Urban Times column, left the once-lavish amusement park "a soaked, smoldering ruin."
Wonderland never reopened, but White City did. Later known as Broad Ripple Amusement Park or similar names, it held forth at the site into the 1940s.
For nearly 60 years, though, Riverside was king of the heap in Central Indiana. Its attractions included dueling roller coasters, a miniature railroad, a dance hall and a roller skating rink. Today, there is a Facebook page for people to share their Riverside memories and photos.
Riverside, however, was not beloved in every aspect. The amusement park outraged many Hoosiers by persisting with a "whites only" admission policy even into the 1960s, even as its surrounding neighborhood became increasingly diverse. African-Americans were permitted to visit only on "Colored Weekends," which were far from frequent.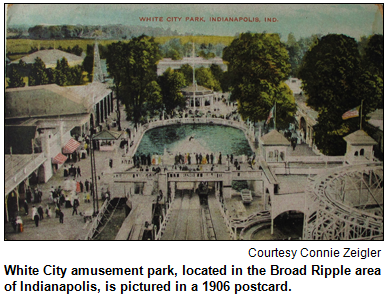 There also were controversies about possible histoplasmosis and the deterioration of the attractions. By some accounts, Riverside was losing more than $30,000 annually when it closed after the 1970 season.
So what developed on the sites of these once-popular amusement parks?
Riverside: Since 2000, subdivisions of homes, townhouses and condos, including River's Edge, have been built on the site.
Wonderland: The factory plant of P.R. Mallory and Co., an Indy-based electrical components manufacturer, employed hundreds of workers before it, too, closed.
White City: According to Connie, the lavish initial amusement park was located on what today is Broad Ripple's dog park, which opened as Indy's first "bark park" (where dogs can frolic off-leash) in 1999.
Note: Because of our encore presentation, Hoosier History Live! will not publish an enewsletter next week.
© 2012 Hoosier History Live! All rights reserved.