April 20 show
Derek Daly on Indy-car fans overseas, son Conor and more
We're going to varroom back to when former Indy-car and Formula One driver Derek Daly was growing up in Ireland. That's because Dublin native Derek Daly, now 60, will join Nelson in studio to assess how the interest level overseas in the Indianapolis 500 - as well as in NASCAR racing - has evolved during the last half-century.
Now a popular motorsports commentator on TV and radio - Derek has worked for media ranging from ESPN to Fox, CBS and the Speed Channel - he also has a son who is making headlines and blazing a path. So Nelson will be asking Derek, who has lived in Noblesville for many years, about Conor Daly, 21, who has been hired by A.J. Foyt Racing as a rookie driver in next month's Indy 500.
Our guest owns Derek Daly Academy, which coaches, evaluates and manages young motorsports drivers. His career as a race driver spanned 17 years and included competing in the Indy 500 six times. He also is the author of Race to Win (Motorsports Publishing, 2008), which features an introduction by his friend Mario Andretti.
Back in the early 1980s, foreign-born drivers like Derek and Mario were something of a novelty in the Indy 500 - although competitors during the 1960s had included popular Jimmy Clark from Scotland and Graham Hill from England, the winner of the 1966 race. Eventually, the infrequency of foreign drivers changed dramatically, almost reversing itself during the last 20 years. For example, the field of 33 drivers in the 2011 race included four from Brazil alone.
So what has all of this meant to the Indy-car fan base overseas? Do Derek's native land and other European countries still reserve most of their passion for Formula One? Is NASCAR even on their radar yet?
We will explore that and more with Derek, including the remarkable rise of his son. Conor, an Indianapolis native and graduate of Heritage Christian High School, wasn't even born in 1985, when Derek had his best finish (12th) in the 500 Mile Race.
So far, Conor has spent much of this year overseas himself, competing in Europe and Malaysia in lower-level racing series that are considered preludes for advancement to Formula One.
Derek Daly is his son's manager. After retiring from a career as a driver that included starting on the front row with Mario for the Indy 500 in 1984, Derek launched his successful business and broadcasting careers. He's also a popular motivational speaker.
In 1990, Derek began a long relationship with WISH-TV/Channel 8 in Indianapolis, serving as the expert racing analyst for the CBS-TV affiliate. This September, he will celebrate his 20th year as an American citizen.
Derek's racing career began in his homeland, when he won championships in Ireland during the 1970s. His later triumphs included winning the 12 Hours of Sebring, one of the premier endurance races in the U.S., in 1991 and '92.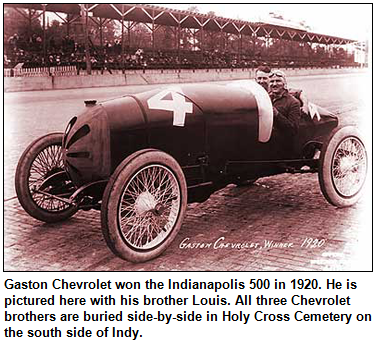 In the early years of the Indianapolis 500, foreign-born drivers like Derek were frequent competitors.
"Striving for the 500 to be a truly international affair from the very beginning, overseas entries always had been sought," Speedway historian Donald Davidson writes in Autocourse Official History of the Indianapolis 500.
He notes, though, that in the first two years of the 500 - 1911 and 1912 - none of the overseas drivers came primarily to compete in the race, "having been either in the country on an extended basis or else on their way to applying for citizenship."
French drivers, however, were the top four finishers in the 1914 race, and various Chevrolet brotherscompeted in the late 1910s and early '20s. (According to Donald Davidson's book, older brothers Louis and Arthur Chevrolet were born in Switzerland, while kid brother Gaston Chevrolet, who won the 500 Mile Race in 1920 at age 23, was born in France.)
With Derek, we will explore the extent to which the race intrigued overseas fans during that era - as well as during subsequent eras when foreign drivers were rarities. And we'll get personal, with Nelson asking our special guest about his evolving awareness of the Indianapolis 500 as a boy in Ireland.
Hoosier History Live! bonus: You can listen online to Nelson's 2011 interview with Donald Davidson about the Speedway's 100 year history.
History Mystery
In the 1980s and early '90s - several years before Juan Pablo Montoya of Colombia and Venezuelan drivers E.J. Viso and Milka Duno made their debuts at the Indianapolis 500 - one of the most popular foreign-born race drivers was a native of Colombia.
He nearly won the Indy 500 twice during the 1980s but was the runner up both times. In September 1987, he was nearly killed in a wreck during tire testing at the Indianapolis Motor Speedway. He was in a coma for more than two weeks at Methodist Hospital and spent several months in recovery. Even so, the driver from Colombia returned to win the pole position in the 1992 Indianapolis 500. But he had retired from racing in the Indy 500 by 2001.
Question: Name the Colombian-born race driver.
To win the prize, you must call in with the correct answer during the live show and be willing to be placed on the air. Please do not call if you have won a prize from any WICR show during the last two months. The call-in number is (317) 788-3314, and please do not call until you hear Nelson pose the question on the air.
The prize is a pair of tickets to "500 Track Tours" and a pair of tickets to the Indianapolis Motor Speedway Hall of Fame Museum. These prizes are courtesy of Visit Indy.
Roadtrip: Historic Pendleton in Madison County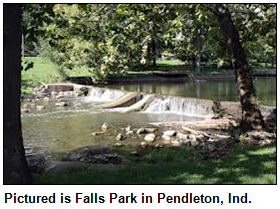 Guest Roadtripper and historian-at-large Glory- June Greiff recommends we take short trip from Indianapolis up the Pendleton Pike (SR 67) to the small historic town of, surprisingly enough, Pendleton! Glory says it's a great place to play hooky for an afternoon.
Falls Park in Pendleton is lovely, with trails, charming rock features built over 80 years ago, and a large duck pond with a stone "lighthouse" recently restored. On weekends, drop in to the Pendleton Historical Museum that overlooks the falls; it's free. The park is only a couple of blocks from the historic downtown, which is pleasant to stroll and offers nice antique shops, a coffee bistro and many marvelous old buildings. The New Deal-era post office features a mural inside.
Glory recommends lunch or supper at Jimmie's Dairy Bar on the edge of town on Pendleton Pike near Water Street. The sign says they offer the "best barbecue in Indiana." They also offer ice cream sodas, which, as our Roadtripper notes, are hard to find these days!
Your Hoosier History Live! team,
Nelson Price, host and creative director
Molly Head, producer, (317) 927-9101
Richard Sullivan, webmaster and tech director
Pam Fraizer, graphic designer
Garry Chilluffo, creative consultant
Michele Goodrich, Jed Duvall, grant consultants
Joan Hostetler, photo historian
Dana Waddell, volunteer-at-large
Please tell our sponsors that you appreciate their support: Aesop's Tables | Indiana Historical Society | Lucas Oil | Story Inn.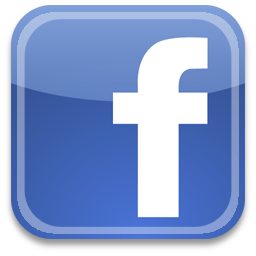 Acknowledgments to Print Resources, Monomedia, Indiana Humanities, Visit Indy, WICR-FM, Fraizer Designs, Heritage Photo & Research Services, Derrick Lowhorn and many other individuals and organizations. We are an independently produced program and are self-supporting through organizational sponsorships, grants and through individual tax-deductible contributions through Indiana Humanities. We do not receive any government funding. Visit our website to learn how you can support us financially.
Thanks to new donors
Hoosier History Live! wishes to thank Bruce and Julie Buchanan, Julie Slaymaker, Ann Allen of Akron, Ind., and Dana Waddell and Clay Collins. For more information, visit "Support the show" on our website.
April 27 show - encore presentations
Dan Patch, the first superstar racehorse, and True tall tales from Indiana: 2 classic shows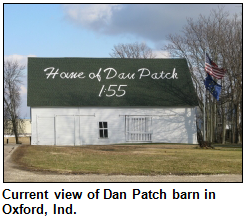 According to many sports historians, the greatest athlete of the early 1900s was a Hoosier - and he wasn't a baseball player, a bicyclist, a boxer or even a human being. Dan Patch was a racehorse who became a top national celebrity, never lost a race on the grand circuit of harness racing and was hailed as the "Epitome of Excellence in American Sports."
Other Hoosier animals, although far less famous than the renowned racehorse, nevertheless became fodder for folklore. In Howe, Ind., the town character was known as the "Skunk Woman" because she kept skunks as pets. And the talk of Goshen once was a rooster described as "over-hormoned."
In Churubusco, generations of residents have debated alleged sightings of a giant turtle. Accounts of the "Skunk Woman", the resilient rooster and the alleged turtle (often called the "Beast of 'Busco") were syndicated across the state during the 1950s.
These two topics - Dan Patch, the first superstar racehorse and True tall tales from 1950s Indiana - will be the focus of "encore" broadcasts of two popular Hoosier History Live! shows. Instead of a one-hour broadcast, you will be able to enjoy back-to-back, half-hour shows from our archives.
For the first classic show (original air date: April 7, 2012), Nelson is joined in studio by two guests with special expertise about Dan Patch, who had gangly, crooked legs at his birth in 1896. He was foaled in a barn in Oxford, a western Indiana town that continues to celebrate an annual Dan Patch Festival in honor of the famous son; the 2013 festival is planned for Sept. 6-8. Nelson's guests are Oxford resident Bob Glaspie, who owns a vast collection of Dan Patch memorabilia, and Gerald Waite, a lecturer emeritus at Ball State University who has written extensively about the legendary racehorse.
The superstar eventually endorsed an array of products ranging from sleds to washtubs, children's wagons, a pocket knife and a clothes ringer. Dan Patch first made headlines by stunning spectators at the Benton County Fairgrounds with an incredible win that was a sign of his unbroken streak of victories. The barn where "the Patch" was foaled and raised still stands in Oxford and is owned by the grandson of the racehorse's initial owner. The wonder horse died in 1916 in Minnesota, where his final owner lived.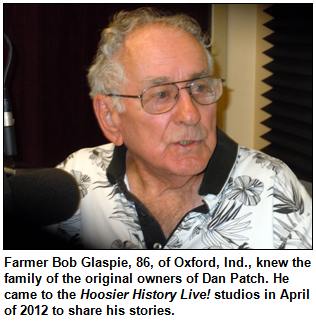 During the second classic show (original air date: April 21, 2012), the focus is on true tales, including the "Skunk Woman" (in addition to keeping skunks as pets, she seldom bathed) that were syndicated across the state during the 1950s by Al Spiers, a Michigan City-based columnist and editor. Although Al died in 1994, his columns about true tall tales have been collected in a book, Hoosier Lore (Brooks Publications), put together by his daughter, Sally Spiers.
An Indianapolis civic leader who is retired after a career in city and state governments, Sally joins Nelson in studio to explore the colorful critters, people and towns that her father described.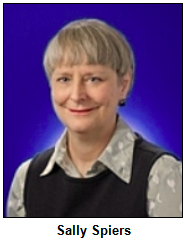 Sally was growing up in Michigan City during the era when her father was writing the columns, including the one about the "over-hormoned" rooster. During the 1950s, roosters routinely were injected with female hormones so they would shun hens, stop crowing, eat hearty and be tender. Despite numerous injections, a resilient rooster in Goshen named Elco resumed fraternizing with hens as well as emitting "cock-a-doodle-doos" - all in front of a stunned Jaycees event.
Some of the tales in Hoosier Lore had their origins long before the 1950s. The "Skunk Woman" (whose real name was Chrissy Hand), for example, died in LaGrange County in 1925. When Al Spiers visited 30 years later, though, he was able to interview many residents of Howe who had known her.
© 2013 Hoosier History Live! All rights reserved.