Sept. 27 show
World War I and Indiana
The 100th anniversary of the outbreak of World War I is prompting analysis and reflection about the "war to end all wars."
During the horrific conflict that broke out in 1914 (although the United States did not enter the war until 1917), about 1,420 Hoosiers were killed in combat, according to some accounts. Thousands more were injured, suffered from shell shock or had their lives significantly altered in other ways.
Knox County Superior Court Judge Jim Osborne of Vincennes will join Nelson in studio to share insights about the war that often is depicted with scenes involving foxholes, gas masks and doughboys.
Judge Osborne, a former high school history teacher, is the founder and curator of the Indiana Military Museum in Vincennes, which has had special events commemorating World War I's centennial. In June, volunteers in Vincennes dug trenches on the museum's property so young Hoosiers could see how the war was fought; re-enactors portrayed Allied and German soldiers. The museum also has exhibited a restored French Renault hospital field truck from 1914.
The war's end in November 1918 was celebrated for months afterward. To welcome home Indiana's returning soldiers, thousands of people flocked to downtown Indy on May 7, 1919 for a celebration that featured a massive replica of the Arc de Triomphe (victory arch) in Paris.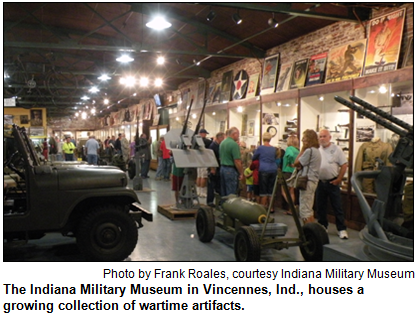 According to the Indianapolis Star, the victory arch spanned the width of the Meridian Street entrance to Monument Circle.
Our guest Judge Osborne is an avid military collector and historian. He established the non-profit Indiana Military Museum in 1982 as a way to enhance education of U.S. military history and preserve significant artifacts.
None of the 4.7 million U.S. veterans of World War I remain alive. The U.S. death toll was more than 116,500.
Even before the United States entered the war, America suffered casualties. In 1915, the British ocean liner Lusitania was attacked by Germany; its sinking killed nearly 1,200 passengers, including 128 Americans.
In Indiana, a military camp was established at scenic Winona Lake during the war. At Camp Winona, mechanics and truck drivers were trained for the war effort. According to the book Winona at 100, challenges at Camp Winona - as well as other military camps - included fatalities from diseases such as influenza and pneumonia.
During the war, Fort Benjamin Harrison in Indianapolis became one of the country's biggest training sites. The fort (now Fort Harrison State Park) had three large officer training camps during the "Great War."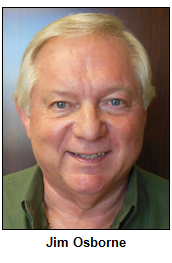 At a specialty camp, about 10,000 troops at Fort Harrison received instruction as engineers and railroad specialists, according to the Encyclopedia of Indianapolis.
Also according to the encyclopedia, various auto-related manufacturers in the Hoosier capital, including companies then known as Prest-O-Lite and Allison Engineering, converted to making, respectively, munitions and airplane engines. The city's gas company converted some operations to make explosives.
Hoosiers who served in World War I included future Republican presidential candidate Wendell Willkie, a native of Elwood. Willkie was in the U.S. Army in France as the war wound down. Indiana-born composer Cole Porter claimed to have served in the French Foreign Legion, but his biographers have disputed that. Tony Hulman, the future owner of the Indianapolis Motor Speedway, was a teenager who served with the ambulance corps of the American Red Cross during the war.
And Gene Stratton-Porter, the famous naturalist/novelist from northeastern Indiana (her bestsellers included A Girl from the Limberlost), donated $5,000 to the Red Cross during the war; her husband's relatives were surgeons in France.
During the war, a key national figure in the Red Cross also was a Hoosier.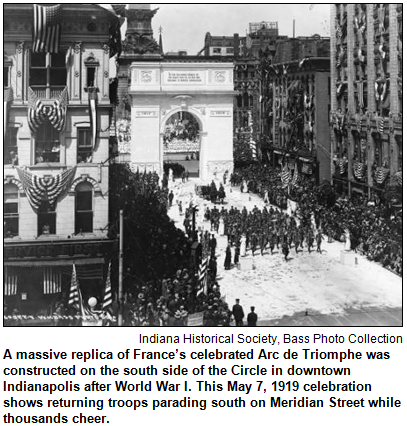 Previously a small operation, the Red Cross grew dramatically because of the unprecedented need for medical care. Vincennes native and Indiana University graduate Ernest Bicknell, who had been national director of the Red Cross, traveled to Europe to oversee several relief efforts.
Women's organizations and churches across Indiana also focused to the war effort. A "socks for soldiers" crusade spearheaded by Hoosier women involved knitting thousands of socks for Indiana regiments as they left for France, according to the Encyclopedia of Indianapolis.
After the war ended and the signing of peace treaties, including the Treaty of Versailles, the American Legion was founded in 1919. The new organization chose Indianapolis as the site of its national headquarters, where it remains to this day. Construction of the five-block Indiana World War Memorial Plaza (including what is sometimes called American Legion mall) followed.
Learn more:
Roadtrip: Logan Street Stroll in Noblesville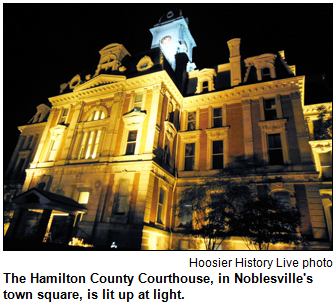 Guest Roadtripper Janet Gilray of Legacy Keepers Music points out that a new self-guided walking tour of downtown Noblesville and adjacent Logan Street, just to the east of downtown, is available.
William Connor and Josiah Polk platted the town of Noblesville seven years after Indiana became a state, with the town boundaries being the White River, Harrison Street, 12th Street, and Cherry Street on the south.
Logan Street Stroll highlights include:
The Noble County Courthouse.
Alexander's old-fashioned ice cream parlor.
Kirk's Hardware, in operation since 1890.
The Logan Village Antique Mall.
Logan Street Sanctuary, which is a repurposed old church.
Homes along Logan Street representing Early, Eastlake, Queen Anne and Victorian architectural styles, as well as Italianate, Greek Revival and American Foursquare.
A Cherokee Lodge also once existed on the street.
Additionally, a Logan Street Shuffle will be held on Oct. 12 from 1 to 5 p.m. at the Logan Street Sanctuary at 1274 Logan Street in Noblesville, including performances by the Riverboat Floozies and a steampunk fashion show.
History Mystery
A nationally famous building in southern Indiana was used as a hospital for soldiers wounded during World War I. In 1918 and 1919, U.S. Army soldiers returning from Europe were treated in the atrium and other areas of the landmark building.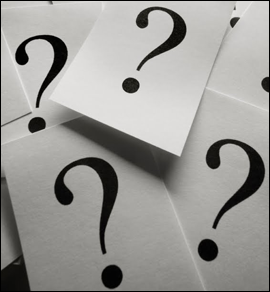 Its role as a wartime hospital was a striking departure from the reason the impressive structure attained fame. The ornate building, which opened in 1902, had been visited by hundreds of wealthy Americans.
After its stint as a World War I hospital for soldiers, the building returned to its pre-war grandeur. But the Great Depression had a significant impact on its operation.
Question: Name the historic building in southern Indiana.
The call-in number is (317) 788-3314. Please do not call in to the show until Nelson has posed the question on the air, and please do not call if you have won a prize from any WICR program during the last two months.
The prize pack is a gift certificate to the Story Inn in Brown County, courtesy of the Story Inn, and two passes to the NCAA Hall of Fame, courtesy of Visit Indy, and four passes to the Indiana Experience at the Indiana History Center, courtesy of the Indiana Historical Society.
Your Hoosier History Live! team,
Nelson Price, host and creative director
Molly Head, producer, (317) 927-9101
Richard Sullivan, webmaster and tech director
Pam Fraizer, graphic designer
Garry Chilluffo, creative consultant
Joan Hostetler, Michele Goodrich, Jed Duvall, Dana Waddell, advisors
Please tell our sponsors that you appreciate their support: Indiana Historical Society | Lucas Oil | Story Inn | The Fountain Square Theatre Building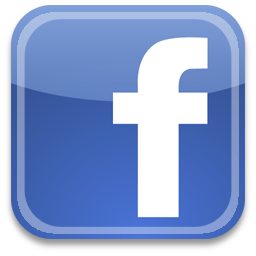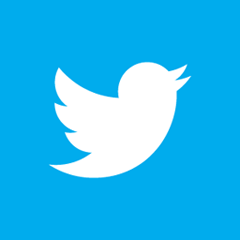 Acknowledgments to Monomedia, Visit Indy, WICR-FM, Fraizer Designs, Heritage Photo & Research Services, Derrick Lowhorn and many other individuals and organizations. We are an independently produced program and are self-supporting through organizational sponsorships and individual contributions. We do not receive any government funding. Visit our website to learn how you can support us financially. Also, see our Twitter feed and our Facebook page for regular updates.
Oct. 4
Show takes a week off
Hoosier History Live will be pre-empted on Oct. 4 for WICR-FM's coverage of Jewish holiday services for Yom Kippur. We will return with a new show on Oct. 11.
A nice note of support
'We hope to see it broadcast far and wide'
A particularly nice letter of support came in some time ago from authors James Alexander Thom and Dark Rain Thom. We like to re-read it from time to time!
To Whom it May Concern:

Last Spring, my wife and I were interviewed by Nelson Price on his Hoosier History radio program, as authors of frontier and Native American history books. Mr. Price's program was so well prepared and conducted that we feel it should be made available to students and general audiences as widely as possible. His program is well-researched, all questions pertinent to the chosen theme, and moves along briskly. Listeners called in with questions and comments that were intelligent and relevant, a sign of an avid audience.

As historical writers, we try to overcome the public's indifference to history, to bring alive in any way we can the important lessons of the past, and are enthusiastic about programs and writings that make those lessons interesting. The Hoosier History Live program does that so well that we hope to see it broadcast far and wide over this historically significant State of Indiana. It is an excellent program, worthy of extensive distribution and strong support.

James Alexander Thom & Dark Rain Thom, authors
Bloomington, Indiana
July 14, 2011
© 2014 Hoosier History Live! All rights reserved.