Nov. 8 show
Kidnapping of free blacks in early Indiana
After Indiana became a state in 1816, our first governor called attention to a problem: the kidnapping of free African-Americans, who were taken to the South and sold as slaves.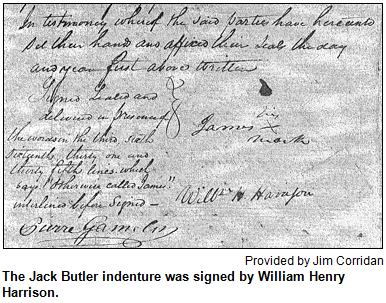 This problem - although seldom mentioned today - was serious and pervasive enough that the state's first governor, Jonathan Jennings, felt compelled to urge legislation to prohibit it.
To explore the kidnapping problem - sometimes called "man stealing" in the 1800s - Nelson will be joined in studio by two guests who will share stories of African-American families who were affected. Nelson's guests will be:
Among the kidnapped African Americans were members of a family who had lived in Vincennes. Jim Corridan will explain what happened to Jack Butler, his pregnant wife and six children, who were kidnapped after they moved to Illinois from a Knox County farm owned in part by William Henry Harrison. Jack Butler had been born free in Maryland circa 1776.
Much of the information about the kidnapping issue - including the concerns of Gov. Jennings - have been researched by Maxine Brown, a Corydon-based historic preservationist.
Maxine, who organized a recent conference that included presentations about the kidnapping issue, recommends the book Freedom at Risk: The Kidnapping of Free Blacks in America 1780-1865 (University Press of Kentucky, 1994), by Carol Wilson. According to Maxine, kidnappings were so common that historians have been unable to compile accurate statistics.
During our show, Georgia Cravey will share insights about a Henry County family affected by kidnapping attempts. The situation involving the family of William Trail is described in letters in a collection at the Indiana Historical Society.
Also during our show, Jim Corridan plans to discuss what sort of justice was available for free blacks in early Indiana.
In the family situation that Jim will describe, although Jack Butler had been born free in Maryland, he wound up as a slave in Kentucky. Butler escaped and made his way to Vincennes.
He worked for Indiana's territorial governor, William Henry Harrison, as an indentured servant (later ruled a form of slavery by the Indiana Supreme Court). Through a series of episodes that Jim will describe, Butler and his family became free but were kidnapped, sent to Louisiana and sold into slavery.
Upon learning of this, Harrison fought for the family's release and the conviction of the kidnappers. According to Jim, many current and former Vincennes residents wrote depositions in support of the Butler family during a trial in Louisiana.
Our guest Jim Corridan is president of the Grouseland Foundation. Grouseland is the restored historic home built in Vincennes by Harrison, who later in life moved to Ohio and was elected U.S. president.
Our guest Georgia Cravey grew up in Charleston, Ill., the site of an early Lincoln-Douglas debate, as well as of a Copperhead riot. In the case she will discuss that involved kidnapping attempts, William Trail (1784-1858) settled with his family in Henry County during the 1830s.
Learn more:
Roadtrip: Wilderness to World-Class at the Athenaeum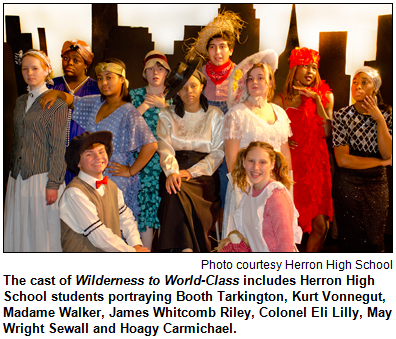 Guest Roadtripper and teacher Robin Knop of Herron High School suggests a "don't-miss" musical performance coming up next week! Wilderness to World-Class: Indy's Story through Song will be performed by Herron High School students and special guests at the Athenaeum Theatre on Nov. 11 with doors opening at 6:30 p.m. and the show starting at 7 p.m.. Tickets are $5, and they are free for ages 12 and under.
The performance is part of the city's 2014 Spirit and Place Festival. The musical is based on Indianapolis playwright Claude McNeal's past production of Indy in Revue. Wilderness to World-Class is a dramatic, historical and original musical telling the journey of one man's family as they witness Indianapolis' growth from its founding in the 1820s to the capital city it is today.
The show will highlight important people, places and events in Indianapolis history using narration, audiovisual tools, dance and song. Attendees will receive a specially designed bike map featuring many of the downtown sites mentioned in the show.
Wilderness to World-Class is collaborative production by Herron High School and Claude McNeal Productions.
History Mystery
A neighborhood in Indianapolis has deep connections to African American history. Located northwest of Monument Circle, the neighborhood included the homes of many black business and civic leaders of the 1800s and early 1900s.
Now considered a historic district, the neighborhood takes its name from a civic leader who was the corporate attorney and manager for the businesses of hair products entrepreneur Madam Walker. With his extended family, he lived in the neighborhood, where some homes date to the 1890s or even earlier.
In fact, the neighborhood - long before being known by its current name - was identified as far back as the 1830s as an area of African American settlement.
Question: What is the Indianapolis neighborhood?
The call-in number is (317) 788-3314. Please do not try to answer the question until you have heard Nelson pose the question on the air, and please do not try to win if you have won another prize from WICR in the last two months.
The prize pack is a gift certificate to LePeep Restaurant and two passes to the Indiana State Museum at White River State Park, courtesy of Visit Indy, and four admissions to the Indiana History Center, courtesy of the Indiana Historical Society.
Your Hoosier History Live! team,
Nelson Price, host and creative director
Molly Head, producer, (317) 927-9101
Richard Sullivan, webmaster and tech director
Pam Fraizer, graphic designer
Garry Chilluffo, media+development director

Please tell our sponsors that you appreciate their support: Five2Five Design Studio Architecture + Planning | Indiana Historical Society | Lucas Oil | Story Inn | The Fountain Square Theatre Building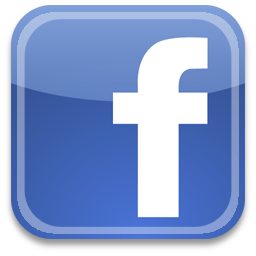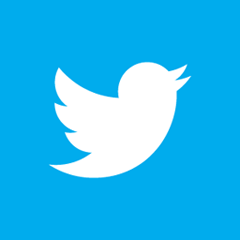 Acknowledgments to Monomedia, Visit Indy, WICR-FM, Fraizer Designs, Heritage Photo & Research Services, Derrick Lowhorn and many other individuals and organizations. We are an independently produced program and are self-supporting through organizational sponsorships and individual contributions. We do not receive any government funding. Visit our website to learn how you can support us financially. Also, see our Twitter feed and our Facebook page for regular updates.
Nov. 15 show
Epidemics in Indiana history
Amid the intense focus on Ebola and widespread concerns (or needless panic, according to many experts) about the possibilities of an epidemic in this country, Hoosier History Live will explore epidemics in Indiana's past.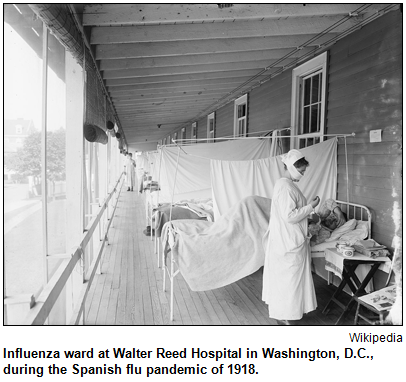 Did you know a malaria epidemic swept Indianapolis just as the Hoosier capital was getting under way in the 1820s? Some doctors blamed the epidemic on the swamps and marshland that were on the new city's site, chosen because of its central location.
With two Indianapolis-based medical historians as studio guests, Nelson will explore the impact of that early epidemic, plus others that affected not only Indiana, but places far beyond our borders.
The influenza epidemic of 1918, the polio scare that prevailed for most of the first half of the 20th century and the AIDS epidemic that caused panic during the 1980s and '90s will be among the crises explored during our show.
We also will explore episodes of panic over potential epidemics, including a swine flu scare in 1976, when a vaccination program encountered various public relations problems; fears of an epidemic proved unfounded.
Nelson will be joined in studio by:
Dr. William McNiece, president of the Marion County Historical Society. Dr. McNiece is an anesthesiologist at IU Health's Riley Hospital for Children.
Bill Beck, an author and historian who has written dozens of business and institutional history books, including histories of Indiana hospitals. The founder of Lakeside Writers' Group, he is treasurer of the Marion County Historical Society.
In July 2009. Bill Beck was a Hoosier History Live guest for a show about the 1918 influenza epidemic and its Indiana impact. In July 2012, we explored various aspects of the polio epidemic, including the involvement of Eli Lilly & Co. in distributing the polio vaccine during the 1950s.
Now we will broaden the focus and explore those epidemics, as well as several others.
The 1918 crisis, which ravaged North America and Europe, is considered to have been the country's worst flu epidemic. It coincided with - then persisted after - World War I. Both of our guests have presented programs about that horrific epidemic at the Indiana Medical History Museum.
Some of the historic epidemics - including the reactions to AIDS beginning in the early 1980s - have involved widespread misinformation about the ways the diseases and disorders can be transmitted.
Even though Ebola cases primarily have been confined to West Africa, the Indiana State Department of Health has opened a 24-hour call center to answer questions from the public. The phone number is (877) 826-0011.
Learn more:
© 2014 Hoosier History Live! All rights reserved.