Nov. 15 show
Epidemics in Indiana history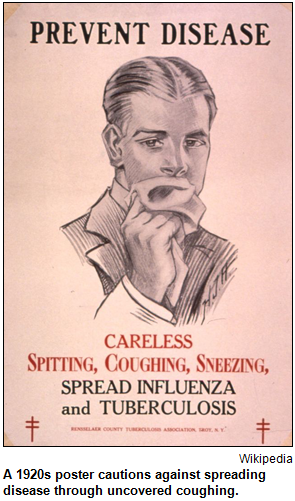 Amid the intense focus on Ebola and widespread concerns (or needless panic, according to many experts) about the possibilities of an epidemic in this country, Hoosier History Live will explore epidemics in Indiana's past.
Did you know a malaria epidemic swept Indianapolis just as the Hoosier capital was getting under way in the 1820s? Some doctors blamed the epidemic on the swamps and marshland that were on the new city's site, chosen because of its central location.
With two Indianapolis-based medical historians as studio guests, Nelson will explore the impact of that early epidemic, plus others that affected not only Indiana, but places far beyond our borders.
The influenza epidemic of 1918, a cholera epidemic of the mid-1800s, the polio scare that prevailed for most of the first half of the 20th century and the AIDS epidemic that caused panic during the 1980s and '90s will be among the crises explored during our show.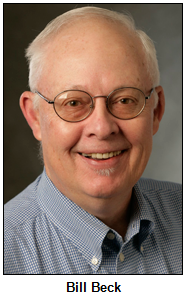 We also will explore the devastating impact of tuberculosis during the late 1800 and early 1900s - even though "epidemic" may not be the most accurate term to describe the widespread TB cases. (Tune in to the show for an explanation.)
And we will explore episodes of panic over potential epidemics, including a swine flu scare in 1976, when a vaccination program encountered various public relations problems. Fears of an epidemic proved unfounded.
Nelson will be joined in studio by:
Dr. William McNiece, president of the Marion County Historical Society. Dr. McNiece is an anesthesiologist at IU Health's Riley Hospital for Children.
Bill Beck, an author and historian who has written dozens of business and institutional history books, including histories of Indiana hospitals. The founder of Lakeside Writers' Group, he is treasurer of the Marion County Historical Society.
In July 2009. Bill Beck was a Hoosier History Live guest for a show about the 1918 influenza epidemic and its Indiana impact.
In July 2012, we explored various aspects of the polio epidemic, including the involvement of Eli Lilly & Co. in distributing the polio vaccine during the 1950s.
Now we will broaden the focus and explore those epidemics, as well as several others.
In many Indiana towns, outbreaks of cholera during the 1830s, '40s and subsequent decades caused extreme panic.
Take the town of Aurora on the Ohio River, which had a population of 2,000 in 1849. Fourteen deaths from cholera were reported in one day, according to a historical account supplied by Dr. McNiece, an associate professor at the IU School of Medicine.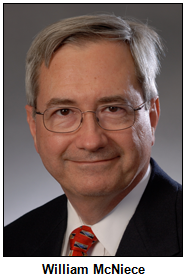 During the next three weeks in 1849, 51 other victims died in Aurora. As a result, 1,600 of the 2,000 residents fled the town.
Also in 1849, the town of Madison reacted to outbreaks of cholera by creating a board of health with the power to quarantine residents and to impose fines on people who brought the disease into the city.
Decades before that, a malaria epidemic swept Indianapolis in 1821 just as the brand-new city was being developed on lowlands and swamps. A burial site for pioneers who were victims of the epidemic was called Plague Cemetery; it was located on the current site of Indiana University-Purdue University at Indianapolis. In recent years, a marker has been installed on the historic Plague Cemetery site - which, ironically, is near a complex of classroom buildings for IU medical students.
Some of the historic epidemics - including the reactions to AIDS beginning in the early 1980s - have involved widespread misinformation about the ways the diseases and disorders can be transmitted.
Other epidemics, including polio, were brought under control with the development of vaccines.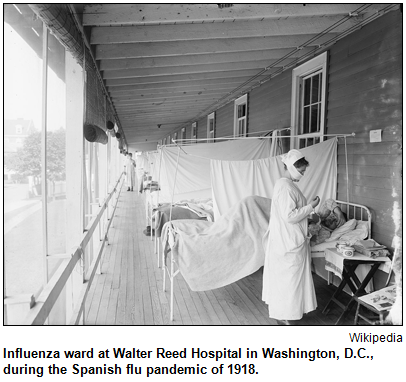 According to the Indiana Historical Society, the peak years for polio cases in the Hoosier state were 1949 and 1954, with, respectively, 1,147 and 1,448 new cases reported. In 1955, Dr. Jonas Salk developed the polio vaccine.
The 1918 influenza epidemic, which ravaged North America and Europe, is considered to have been the country's worst flu epidemic. It coincided with - then persisted after - World War I. Both of our upcoming guests have presented programs about that horrific epidemic at the Indiana Medical History Museum.
Even though Ebola cases primarily have been confined to West Africa, the Indiana State Department of Health has opened a 24-hour call center to answer questions from the public. The phone number is (877) 826-0011.
Learn more:
Roadtrip: Linden, Ind.
Guest Roadtripper and film historian Eric Grayson tells us, "I'm suggesting a visit to the historic tiny town of Linden, Ind., which is on 231 between Crawfordsville and Lafayette and was platted in 1851."
Eric continues: "Linden has a railroad depot museum, the Linden Depot Museum, which preserves a 1908 depot intact, with interactive history displays, including a telegraph and several model trains. The museum is famous for its Christmas decorations, and look for a visit from Santa coming up next month."
Linden also has a Carnegie Public Library still in use, and one of Eric's favorite vintage ice cream stands, the Lindy Freeze. It is one of those independent ice cream places from the 1950s that is famous for its Peanut Butter Mountain sundae.
Lindy Freeze is right next to Linden Park, and if you're very lucky, the railroad won't have cleared the brush in October, when several kinds of butterflies use the park as a staging area on their migration southward.
History Mystery
In 1892, the country mourned when First Lady Caroline Scott Harrison died of tuberculosis in the White House.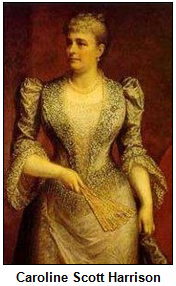 One of the highest-profile victims of the disease in the 1890s, Mrs. Harrison is buried at Crown Hill Cemetery in Indianapolis. Her husband, former President Benjamin Harrison, also is buried at Crown Hill.

A few years after Mrs. Harrison's tragic death, an Indiana chapter of a national organization was founded and named in her honor. To this day, the chapter carries her name. The national organization is one that she helped organize.

Question: What is the organization?

The call-in number is (317) 788-3314. Please do not try to answer the question until you have heard Nelson pose the question on the air, and please do not try to win if you have won another prize from WICR in the last two months.

The prize pack is a gift certificate to LePeep Restaurant and two passes to the Benjamin Harrison Presidential Site, courtesy of Visit Indy, and four admissions to the Indiana History Center, courtesy of the Indiana Historical Society.

Your Hoosier History Live! team,

Nelson Price, host and creative director
Molly Head, producer, (317) 927-9101
Richard Sullivan, webmaster and tech director
Pam Fraizer, graphic designer
Garry Chilluffo, media+development director

Please tell our sponsors that you appreciate their support: Five2Five Design Studio Architecture + Planning | Indiana Historical Society | Lucas Oil | Story Inn | The Fountain Square Theatre Building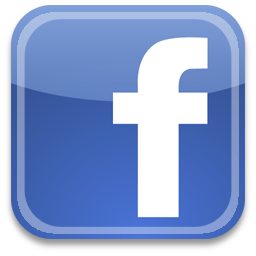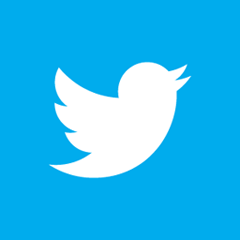 Acknowledgments to Monomedia, Visit Indy, WICR-FM, Fraizer Designs, Heritage Photo & Research Services, Derrick Lowhorn and many other individuals and organizations. We are an independently produced program and are self-supporting through organizational sponsorships and individual contributions. We do not receive any government funding. Visit our website to learn how you can support us financially. Also, see our Twitter feed and our Facebook page for regular updates.
Nov. 22 show
James Whitcomb Riley: before he was famous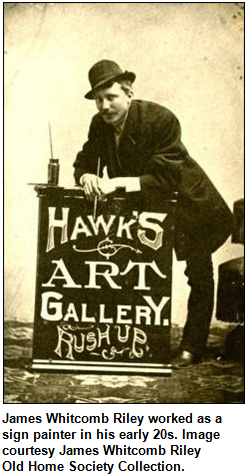 Long before the "Hoosier Poet" became known across the country as a spellbinding entertainer, he had a colorful life. That was so even before young James Whitcomb Riley worked as a musician and sign painter on the traveling medicine show circuit, which Hoosier History Live will spotlight along with other, captivating aspects of the famous Hoosier born in Greenfield in 1849.
We will explore Riley's complicated relationship with his father, a Civil War veteran; his role in a hoax about a poem described as the long-lost work of Edgar Allen Poe; his schooling, interactions with his siblings and childhood antics; the visit of a Confederate soldier and a haystack of other aspects of the early life of the Hoosier who had written more than 1,000 poems when he died in 1916.
Nelson will be joined in studio by three guests who have immersed themselves in Riley's pre-fame life. They include historic re-enactor Danny Russel, a popular entertainer/educator who periodically will portray Riley during our show as he shares some of his poems, both obscure and famous.
Our guests also will include two Hancock County residents deeply involved with the James Whitcomb Riley Boyhood Home. They are Brigette Cook Jones, president of the Hancock County Historical Society, and Gwen Betor, both longtime docents at the home Riley's father built on the Old National Road (now U.S. 40).
As a boy, Riley became captivated by the circus, imitated entertainers and once was given a flying squirrel that he featured in his routines - before things came to a sad end. Nelson and his guests will share insights about that episode during our show, as well as insights about the series of jobs Riley attempted before he became a celebrity. They even included work as a Bible salesman and a shoe clerk.
So prepare for revelations during our show even if you grew up keenly aware of Riley's poems and national impact.
History trivia: Our guest Danny Russel portrays other historic figures with Indiana connections, including Abraham Lincoln. And our guest Brigette Jones Cook joined us in October 2011 for a show about the real Hoosier who inspired Riley's classic poem Little Orphant Annie.
Learn more:
© 2014 Hoosier History Live! All rights reserved.