Dec. 6 show - encore presentations
Rare movies with Indiana connections + Danville history
As a treat for listeners who missed some of the most popular shows in our Hoosier History Live archives, we will broadcast two of them, back-to-back. The shows, both of which are 30 minutes, typify how we cover the waterfront of Indiana topics:
Rare movies with Indiana connections
During this show, don't expect a discussion of Hoosiers (1986), Breaking Away (1979) or Rudy (1993), movies with well-known links to the Hoosier state.
Dozens of more-obscure films, both silent movies and talkies, also have major connections to Indiana because of their topics, settings, cast or directors.
To explore these movies, some of which are in danger of being "lost," Nelson is joined in studio by Indianapolis-based film historian and collector Eric Grayson in this show that originally aired on Nov. 27, 2010.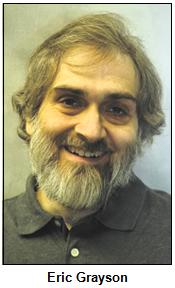 Eric's vast collection of rare 16mm and 35mm films includes movies based on bestselling books by Hoosier naturalist Gene Stratton-Porter, including a 1934 movie version of her masterpiece A Girl of the Limberlost.
Eric also shares insights about a movie he hosts for public screenings: The Great Dan Patch (1949), a biography of the fabled harness racing horse born in Oxford, Ind. During the late 1800s and early 1900s, Dan Patch became a sensation at racetracks because of his amazing speed and stamina.
Also during our show, Eric and Nelson explore silent movies starring Fort Wayne native Carole Lombard. The glamorous star, who later married Clark Gable, is far better known for her sound movies of the 1930s and early '40s. But Eric owns rare prints of Lombard's earliest movies, silents such as Smith's Pony (1927) and Run, Girl, Run (1928).
Other movies discussed during the show include The Hoosier Schoolmaster (1935), a movie based on a bestselling novel by Vevay native Edward Eggleston. He created the storyline from the experiences of his brother, who had been a school teacher in 19th-century Indiana.
Danville town history
For the second encore show (original air date: March 6, 2010), Nelson is joined in studio by Danville lawyer and civic leader Jeff Baldwin, the author of Danville (Arcadia, 2009), a visual history of the town in Hendricks County.
A lifelong Danville resident, Jeff notes that the town was devastated by a 1948 tornado. Evidence of its destruction is still being discovered by residents when they dig in many yards and unearth shards of glass.
On a more lighthearted topic, Jeff points out that Danville once found itself in the national spotlight when a mysterious "Danville Turkey" showed up in the middle of Main Street and stopped traffic by strutting back and forth for days. The turkey could not be shot because it was not in season. As a protected animal, it also could not be adopted.
During the show, we also explore the bygone Central Normal College, which specialized in training teachers. According to Jeff's book, at the turn of the last century, Central Normal had trained more teachers than IU, Purdue, and the forerunners of Ball State and Indiana State combined. Central Normal closed in 1951.
Regarding popular current destinations for visitors to Danville, there's the Mayberry Cafe, a diner that pays tribute to the classic TV series The Andy Griffith Show.
Your Hoosier History Live! team,
Nelson Price, host and creative director
Molly Head, producer, (317) 927-9101
Richard Sullivan, webmaster and tech director
Pam Fraizer, graphic designer
Garry Chilluffo, media+development director

Please tell our sponsors that you appreciate their support: Five2Five Design Studio Architecture + Planning | Indiana Historical Society | Lucas Oil | Story Inn | The Fountain Square Theatre Building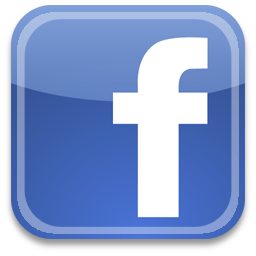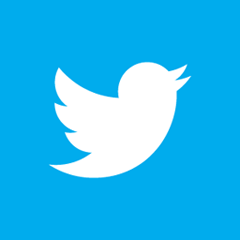 Acknowledgments to Monomedia, Visit Indy, WICR-FM, Fraizer Designs, Heritage Photo & Research Services, Derrick Lowhorn and many other individuals and organizations. We are an independently produced program and are self-supporting through organizational sponsorships and individual contributions. We do not receive any government funding. Visit our website to learn how you can support us financially. Also, see our Twitter feed and our Facebook page for regular updates.
This & that
Some opportunities to help the program
Hoosier History Live is seeking a volunteer or volunteers to facilitate a listening group each Saturday at Central Library in downtown Indianapolis. The listening group will listen to the live show each week at Central Library, Saturdays from noon to 1 p.m. Central Library will provide the space and promote the group, but a Hoosier History Live fan needs to commit to chair the group at least through the end of March.
This means showing up beforehand to set up your laptop or other listening device, and facilitating a discussion (best no more than half an hour) after the show.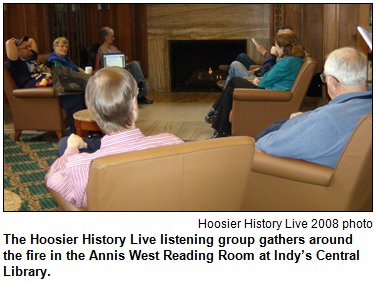 This is a fun, warm and cozy wintertime activity, and you get to share a cup of coffee with fellow history lovers! If you are interested, contact producer Molly at molly@hoosierhistorylive.org or (317) 927-9101.
The Irvington Library Listening Group continues to meet on a regular basis from noon to 1 p.m. on Saturdays. If the eastside of Indy is a better location for you, just stop by the library at 5626 E. Washington St. and ask for the listening group.

"Success is peace of mind, which is a direct result of self-satisfaction in knowing you made the effort to become the best that you are capable of becoming." - John Wooden
"All of us who work on Hoosier History Live seem to strive for the kind of success that John Wooden talks about," says producer Molly Head. "I think we are driven to create a great enewsletter and show each week. Maybe that's a problem, because we wind up looking like we are much better off than we really are."
If you would like to support us financially, just go to our website and click the yellow "Donate" button on the upper left side of our home page. Or if you prefer the paper method, you can make out a check to "Hoosier History Live" and mail it to us at P.O. Box 44393, Indianapolis, IN 46244-0393.
If you are an organization or business that would like to sponsor the show (that means your logo and link on our enewsletter and website, and live credits spoken in the show), contact Garry Chilluffo, our media + development director, at gchill@hoosierhistorylive.org, or Molly Head, producer, at molly@hoosierhistorylive.org.
We need your help!
Dec. 13 show
Johnny Wooden: Hoosier hoops icon
How often are two statues erected in honor of the same person in one year?
That's what happened in 2012 regarding Martinsville native Johnny Wooden, often cited as the best college basketball coach in history.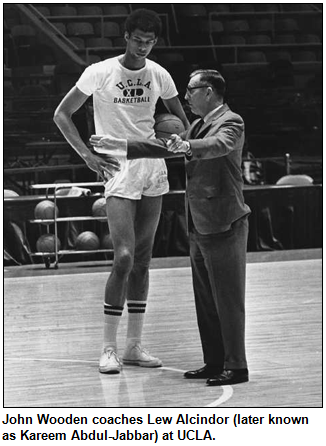 The first statue of Wooden (who died in 2010 just a few months before his 100th birthday) is a bronze sculpture near Bankers Life Fieldhouse in downtown Indy. The other is outside Pauley Pavilion at UCLA, where Wooden coached the Bruins to 10 NCAA championships in 12 years, one of the most astounding dynasties in all of sports.
Far beyond sports, Wooden became known as a motivator and folk philosopher because of his "Pyramid of Success," used as a blueprint by thousands of Americans.
Before all of that, Wooden was an outstanding basketball player at Martinsville High School and at Purdue University. In fact, he became the first person named to the Naismith Memorial Basketball Hall of Fame as both a player and a coach.
To explore the life and impact of this remarkable Hoosier, Nelson will be joined in studio by three guests:
Barbara Olenyik Morrow, the author of a new book, Hardwood Glory: A Life of John Wooden (Indiana Historical Society Press) that explores his Hoosier roots.
Jim Powers, a retired coach in South Bend who, as a star player during the 1940s, was coached both in high school (South Bend Central High School) and college (Indiana State University) by Wooden. Coach Powers, who is 89, has been inducted into the Indiana Basketball Hall of Fame.
And Mark Montieth, a former sportswriter for The Indianapolis Star who hosts "One on One," a popular radio show featuring sports legends, on 1070/107.5 WFNI.
"The respect his former players had for him was unprecedented, in my opinion," Mark says about Wooden, whom he interviewed.
Our guest Barb Morrow, who is based in the northeastern Indiana town of Auburn, has interviewed Wooden's daughter, in addition to former players and others who knew the Hoosier icon.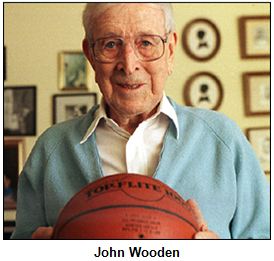 In her book, she explores how Wooden's long life intersected with those of other famous Hoosiers - from John Dillinger to former IU coach Branch McCracken - as well as the social history that unfolded during his era.
For example, she explores Wooden's progressive views on race relations, including his decision in 1948 while coaching at Indiana State (then known as Indiana State Teachers College) to play Clarence Walker, an African-American from East Chicago, in a post-season tournament. She calls that "a history-making move that paved the way for other blacks to play in national tournaments."
During our show, we also will clarify some misconceptions about Wooden's life as well as explore little-known or often-overlooked episodes. Regarding the latter, our guest Mark Montieth points out that Wooden's pro career as a player often has been neglected in discussions of his life. After graduating from Purdue, Wooden played for the first truly pro team in Indianapolis, the Kautskys, during the 1930s.
Our guest Jim Powers, who says, "I am so proud to have been one of his 'boys'," cites as a favorite from his mentor's Pyramid for Success: "Make each day your masterpiece."
Learn more:
© 2014 Hoosier History Live! All rights reserved.