Jan. 24 show
Figure skating heritage in Indiana
Nine figure skating clubs across Indiana are affiliated with the U.S. Figure Skating Association. They include the Winter Club of Indianapolis, which is turning 75 years old and has been a part of the lives of thousands of Hoosiers, from preschoolers taking their first steps on ice to skating devotees in their 80s.
Indiana also has produced Olympians in figure skating, as well as influential coaches and judges.
Just as the national championships in figure skating are unfolding on network TV, Hoosier History Live will explore the heritage of the sport across Indiana, where well-known venues have included the Coliseum at the Indiana State Fairgrounds (it recently was renamed the Indiana Farmers Coliseum), the home of the Winter Club since 1940.
Nelson's guests will be:
Patty Hagen, director of the "Learn to Skate" program at the Winter Club and the author of The Joy of Coaching (Professional Skaters Association, 2013). A former reporter for The Indianapolis Star, Patty lives in Carmel and has been teaching group and private lessons since the 1980s.
Michael Fisher, an Indianapolis-based judge of ice dancing. He competed in ice dancing tournaments as a student at Southport High School and Butler University several years before ice dancing became an Olympic sport in 1976. A Realtor in his day job, Michael will join Nelson and Patty in studio after returning from his role as an ice dancing judge in Greensboro, N.C., site of the national championships currently underway.
And Kelley Morris-Adair of Indianapolis. She is a past president of the Professional Skaters Association and a nationally known coach. As a child in her hometown of Columbus, Ind., Kelley began competing in figure skating. In 1977, she won the U.S. junior ice dance championship with her then-partner Michael Seibert. Today, her coaching partner is her husband, Donny Adair.
The evolution of figure skating in Indiana was affected by some historic tragedies. They included a plane crash in Belgium during February 1961 that killed top American skaters and coaches.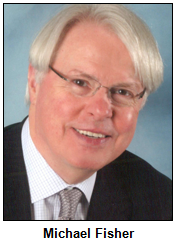 Among the fatalities was Danny Ryan, a coach in Indianapolis who had been the first American to win a medal in ice dancing at a world championship.
An explosion at the Coliseum on Halloween night of 1963 - during a Holiday on Ice show - also affected the lives and training of Hoosier skaters.
On the positive side, Hoosier figure skaters who have competed in the Olympics included brother-sister pairs team from Marion of Wayne and Natalie "Kim" Seybold (who were crowd favorites during the 1988 Calgary Olympics) and Jill Watson of Bloomington, who won a bronze medal, also at the 1988 Olympics.
Wayne Seybold, currently the mayor of Marion, and his sister were guests on a Hoosier History Live show in 2010 about their careers.
Like our guest Michael Fisher, the Seybolds began as competitive roller skaters, then switched to figure skating - even though, in their case, there was no ice rink in Marion. The Seybolds traveled to Fort Wayne, then Indianapolis and, finally, to Delaware as they advanced in their skating careers.
Influential Hoosier coaches have included Sandy Schwomeyer Lamb, a Shortridge High School graduate who pioneered figure skating as a sport in the Special Olympics. Her sister, Judy Schwomeyer Sladky, is considered a pioneer in ice dancing.
(Sandy Lamb also was an early coach of our guest Kelley Morris-Adair. Today, Kelley travels to rinks around the country to work with coaches on figure skating skills and ice-dancing choreography.)
Many accomplished skaters were influenced by the late Pieter Kollen, who coached at the Indiana/World Skating Academy at Pan American Plaza in Indy. In 2012, the academy moved to another well-known venue - the Carmel Ice Skadium - prior to the closing of the ice rinks at Pan Am Plaza.
In addition to figure skating clubs in central Indiana, others affiliated with the U.S. Figure Skating Association include clubs in Fort Wayne, South Bend, Columbus and Evansville.
Roadtrip: Winter fun in Ellenberger Park
Suzanne Stanis of Indiana Landmarks suggests we take the Roadtrip to historic Ellenberger Park on Indianapolis's east side.
In 1909 the city of Indianapolis acquired part of the Ellenberger family farm in Irvington for use as a community park. The land, known as Ellenberger Woods, had long been enjoyed by residents of the area who took advantage of its wooded paths and creek.
German-born landscape architect George Kessler's plan for the park included the existing well-worn paths and linked the Ellenberger land to Garfield Park via the construction of Pleasant Run Parkway. The city added an outdoor ice skating rink in 1962, enclosing it in 1987 for year-round skating.
With increasing competition from commercially operated rinks and maintenance challenges, Indy Parks closed the rink in 2009. The building remains as locker rooms for the adjacent swimming pool.
Winter fun has not ceased at the park. The beloved sledding hill, enjoyed by several generations of Indianapolis families, continues to provide thrills for all ages, as demonstrated by this little daredevil in a 2009 YouTube video.
History Mystery
A national Hall of Fame is in Marion, Ind., the hometown of Wayne and Kim Seybold, the former Olympic figure skaters. The Hall of Fame has nothing to do with sports. Instead, it celebrates a domestic art.
Located in a restored house that is on the National Register of Historic Places, the Hall of Fame honors a domestic art that has been associated with generations of Hoosier women. For more than 35 years, the Hall of Fame has been in Marion, where Wayne Seybold has served as mayor since 2003.
Question: What is the national Hall of Fame located in Marion?
The prize pack is a gift certificate to Story Inn in Brown County, courtesy of Story Inn, and two passes to the Indianapolis Motor Speedway Hall of Fame Museum and two passes to tour Lucas Old Stadium, courtesy of Visit Indy.
The call-in phone number is (317) 788-3314, and please do not try to win the prize if you have won any prize from WICR during the past two months. Please do not call in to the show until Nelson has posed the question on the air.
Your Hoosier History Live! team,
Nelson Price, host and creative director
Molly Head, producer, (317) 927-9101
Richard Sullivan, webmaster and tech director
Pam Fraizer, graphic designer
Garry Chilluffo, media+development director
Please tell our sponsors that you appreciate their support: Indiana Authors Award | Indiana Historical Society | Lucas Oil | Santorini Greek Kitchen | Story Inn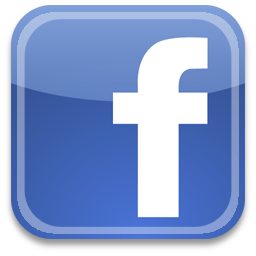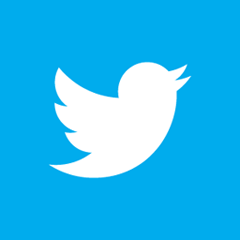 Acknowledgments to Monomedia, Visit Indy, WICR-FM, Fraizer Designs, Heritage Photo & Research Services, Derrick Lowhorn and many other individuals and organizations. We are an independently produced program and are self-supporting through organizational sponsorships and individual contributions. We do not receive any government funding. Visit our website to learn how you can support us financially. Also, see our Twitter feed and our Facebook page for regular updates.
Jan. 31 show
Guinness World Records and Hoosiers
During Super Bowl weekend, Hoosier History Live will focus on history-making achievements in offbeat athletic endeavors - as well as a buffet of other kinds of world records.
That's because our focus will be on Indiana people and places associated with Guinness World Records.
There are more of these connections than you might assume, in part because the famous Guinness Book of World Records has a long track record; it's celebrating the 60th anniversary of its annual editions. In addition, the records chronicled in the books - which rotate listings every year - draw on a massive, international database at Guinness that stretches back a century or more.
Nelson will be joined in studio by two Hoosiers who have set Guinness records. We also will explore world records that have involved the Indiana State Fair, Children's Museum, the Indianapolis 500 and Tamika Catchings, the star player for the Indiana Fever.
Our guests will be:
David Fisher of Westfield, who has carved out a career as an expert about the benefits - and techniques - of various forms of rope jumping. Known as the "rope warrior" and the author of Cool Jump Rope Tricks You Can Do, David set a world record for the most "rump jumps," a type of rope jumping in which both the push-off and landing occur only on the participant's, ahem, rear end.
And Kevin Silva of Indianapolis, proud owner of the world's largest collection of Batman memorabilia. Thanks to his massive collection of more than 2,501 pieces (ranging from lunch boxes, posters and neon signs to cowls), Kevin has been featured in national news media, as well as in the 2015 Guinness Book of World Records. An interview with him is included in the newly released Blu-Ray boxed set of the Batman TV series from the mid-1960s.
A London-based crew from Guinness came to Kevin's house last October to photograph his collection, which consumes his basement.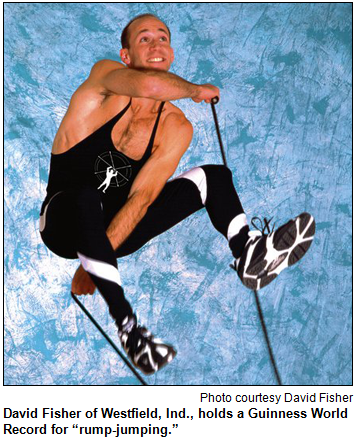 "They told me the Guinness database has 60,000 verified world records, and only about 3,300 to 3,500 are selected to be included in each year's edition," Kevin says.
By the way, "Batman collector" isn't his vocation. He's a songwriter, guitarist and the owner of Uncle Albert's, an amplifier repair business.
David, the rope warrior, also has been featured in national media, including Good Morning, America and The Today Show. In Indiana, he has appeared at events with popular Tamika Catchings, who holds the world record for the most free throws (more than 1,709) during a career in the WNBA. She also holds the world record for the most steals (more than 930) during a WNBA career.
The rump-jumping record - which David achieved on the set of a Los Angeles-based TV show in 1998 - involved 56 consecutive revolutions.
During our show, we also will share details about a world record set in 2013 at the Indiana State Fair. Remember the world's largest popcorn ball that was exhibited during the "Year of Popcorn" at the fair? It set a record by weighing 6,510 pounds.
At the Children's Museum last October, 250 preschool students helped set a Guinness World Record. They were among 4,000 children at five sites (in various states) who simultaneously participated in a vocabulary lesson.
Fun fact: The 2013 edition of the Guinness book lists a distinction from 1952 at the Indianapolis Motor Speedway. At age 22, Troy Ruttman became the youngest winner in Indy 500 history.
Learn more:
© 2015 Hoosier History Live! All rights reserved.