March 21 show
History of Indiana women's prisons
When the Indiana Women's Prison opened in 1873, it was described as the first state-run women's prison facility in the entire country.
Even before that, though, privately run prisons for women - many of them known as Magdalene Laundries and overseen by orders of Catholic nuns - existed in the Hoosier state and elsewhere.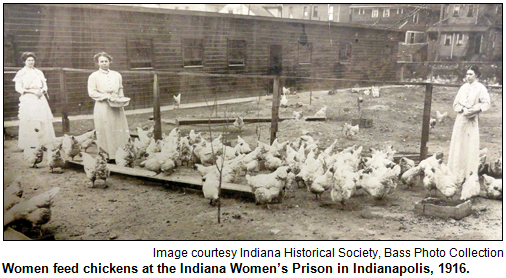 Even during Women's History Month, the heritage of prisons for women is rarely explored. But it will be the focus of our show, and it currently is being researched by Hoosier women. They include inmates at the Indiana Women's Prison who have undertaken historic research for college-level classes.
Nelson's studio guests will include Kelsey Kauffman, a Greencastle-based instructor who is the volunteer director of the higher education program at the Indiana Women's Prison. In addition to assisting the women in writing a history of their own prison, Kelsey has taught at various colleges, including DePauw University.
She will be joined in studio by Steve McCauley, the superintendent of the Indiana Women's Prison, who has had a long career with the Department of Correction.
Nelson and his guests will share insights about various historic "firsts" (including a camp that enabled visits by children of inmates) during the last 20 years at the Indiana Women's Prison. For more than 100 years, the prison was located at a site on Randolph Street on the near-eastside of Indianapolis. The women's prison was relocated in 2009 to its current site on the far-westside of Indy (the former site of the Indiana Girls School) because of the need for more space.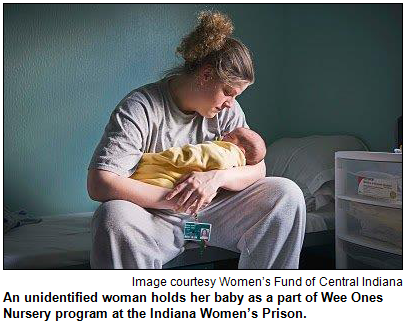 During our show, Nelson and his studio guests will be joined by phone by Michelle Jones, an inmate at the women's prison who has been researching - and writing articles for academic and historical publications - about the evolution of punishment for women in Indiana.
A current snapshot of the state-run sites, according to DOC statistics:
At the Indianapolis site, a maximum/medium security facility, the daily prisoner population last year averaged 615 women.
In Rockville, a correctional facility established in 1970 has an average daily population of 1,225. But officials emphasized that figure is skewed because the Rockville Correctional Facility, in addition to being a medium-security facility, is an intake unit where all women in the prison system are taken for processing.
At a minimum security correctional facility in Madison, there are about 660 women. The Madison facility opened in 1989.
Before the Indiana Women's Prison opened in 1873, women felons had been detained at early state prisons that also housed male inmates, including one in Jeffersonville. After reports that male guards and others at the Jeffersonville facility were abusing women inmates, Quaker reformers - including Rhoda Coffin and Sarah J. Smith - crusaded for the creation of a separate correctional facility in Indiana for women.
Several Magdalene Laundries already had been established across the country, including one in Indianapolis. Although Magdalene Laundries were privately run (by Catholic organizations), they received women who had been convicted of crimes in county courts.
According to an article in the Journal of the Indiana Academy of the Social Sciences co-written by our guest Michelle Jones, Magdalene Laundries primarily housed prisoners who were considered "fallen women." Rather than felons who had been convicted of violent crimes, the women had been convicted of sex-related crimes such as prostitution.
Historic research indicates the women were forced to perform "arduous physical labor," particularly scrubbing laundry amid grim conditions. The model was an initial Magdalene Laundry in Ireland that became infamous.
For all of the 20th century, the Indiana Women's Prison was located on a 15-acre site at Randolph Street. According to DOC spokesman Doug Garrison, portions of the buildings at the site are more than 100 years old. Since the move of the women's prison in 2009, the Randolph Street site has housed low-risk male inmates transitioning to the work force.
Current programs at the women's prison include Wee Ones Nursery (WON), in which some inmates may keep their babies on a 24/7 basis in a specialized housing unit. Other programs include instruction from community volunteers in literacy and parenting.
Our guest Kelsey Kauffman, who has visited more than 80 prisons, is the author of Prison Officers and Their World (Harvard University Press, 1988). Our guest Michelle Jones has undertaken extensive historic research; during the show, Michelle will explain how she was able to accomplish that while in prison.
Learn more:
History Mystery
The country's oldest Catholic liberal arts college for women is in Indiana. Its heritage dates to the 1840s, when a group of pioneer Catholic nuns came to the Indiana wilderness. Their leader established an academy for girls that became the liberal arts college for women.
Question: What is the Indiana college?
The call-in phone number is (317) 788-3314, and please do not try to win the prize if you have won any prize from WICR during the past two months. Please do not call in to the show until Nelson has posed the question on the air.
The prize pack is two tickets to the Indiana Wine Fair in Brown County on April 25, courtesy of Story Inn, and a pair of tickets to the Indiana State Museum, courtesy of the Indiana State Museum, and a pair of tickets to the Benjamin Harrison Presidential Site, courtesy of Visit Indy.
Roadtrip: Camp Dellwood on Indy's west side
Guest Roadtripper Suzanne Stanis of Indiana Landmarks tells us that just minutes west of busy downtown Indianapolis lies an oasis providing outdoor adventure to girls since 1926. Camp Dellwood is tucked into the woods along Girls School Road, where it offers a variety of experiences - from primitive camping to technology workshops.
The original Marion County Girl Scout camp, known as Camp Ada Boyd Holliday, was located at 75th Street and College Avenue beginning in 1922. It moved to the Girls School Road address when the Indiana School for the Blind constructed its new campus along College Avenue. Dorothy Dell Moffat, a Girl Scout and college student at the time, donated $30,000 to purchase land on the west side of Indianapolis from the Pugh family estate.
150 girls attended the first summer camp. The nearby Girls School provided drinking water for the campers. The girls swam in nearby Eagle Creek until Booth Tarkington led a campaign to build a swimming pool that opened in 1929.
Today, Camp Dellwood thrives year-round with camps and a Math & Science Center. The Girl Scouts of Central Indiana celebrate Camp Dellwood's 90th anniversary in 2016 and look forward to the construction of a new Leadership and Learning Center near the camp at 21st Street and Girls School Road.
Your Hoosier History Live! team,
Nelson Price, host and creative director
Molly Head, producer, (317) 927-9101
Richard Sullivan, webmaster and tech director
Pam Fraizer, graphic designer
Garry Chilluffo, media+development director
Please tell our sponsors that you appreciate their support: Indiana Authors Award | Indiana Historical Society | Lucas Oil | Santorini Greek Kitchen | Society of Indiana Pioneers | Story Inn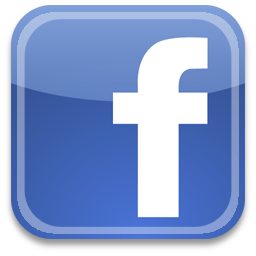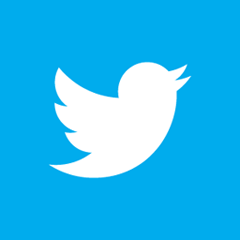 Acknowledgments to Monomedia, Visit Indy, WICR-FM, Fraizer Designs, Heritage Photo & Research Services, Derrick Lowhorn and many other individuals and organizations. We are an independently produced program and are self-supporting through organizational sponsorships and individual contributions. We do not receive any government funding. Visit our website to learn how you can support us financially. Also, see our Twitter feed and our Facebook page for regular updates.
April 1 panel discussion
Host Nelson Price to launch his new book on Ryan White
Hoosier History Live salutes show host Nelson Price as he launches his much-anticipated new book, Quiet Hero: A Life of Ryan White, published by the Indiana Historical Society Press.
This evening affair is hosted by the Indiana Historical Society and starts at 6 p.m. on April 1 at the Eugene and Marilyn Glick Indiana History Center in downtown Indianapolis at 450 W. Ohio Street.
The event includes a reception and a book signing by Nelson, along with a panel discussion featuring Nelson, Ryan's mother, Jeanne White-Ginder; Ryan's good friend, champion Olympic diver Greg Louganis; and IHS President and CEO John Herbst.
Admission is complimentary; RSVP to Kimberly Rohl at krohl@indianahistory.org or (317) 233-5658.
March 28 show - encore presentation
Interurbans: Their rise and fall across Indiana
With mass transit proposals continually in the headlines, consider this:
Interurbans were intercity electric railways popular 100 years ago - and, believe it or not, the Hoosier state had one of the most extensive systems in the entire country.
It's the focus of this encore broadcast of one of the most popular shows in our Hoosier History Live archives; the original air date was Sept. 28, 2013.
Interurban lines connected small towns with most of Indiana's big cities, and the cities with each other. Lines radiated from Indianapolis to Fort Wayne, Louisville, Lafayette, Peru, Terre Haute and Richmond (and six other routes). These interurbans then connected with others, reaching Chicago, Toledo, Columbus and even farther. A separate hub centered on Evansville.
To explore the rise and fall of the interurban system, Nelson is joined in studio by two experts:
Nathan Bilger, the planning director for the town of Whiteland in Johnson County. Nathan grew up in Columbia City, lives in Greenfield and has extensively researched interurban and railroad lines throughout Indiana. He maintains a website about Indiana railroading.
Craig Berndt of Fort Wayne, the author of The Toledo and Chicago Railway Company (2007), a book about one of the interurban lines that served travelers in northeastern Indiana, including residents of towns in his home turf of DeKalb County.
The first interurban line in Indiana opened in 1898, from Anderson to Alexandria. The first interurban to Indy opened on New Year's Day in 1900 and brought passengers from Franklin and Greenwood to the Hoosier capital.
Today, the only remaining passenger interurban in the state - and one of the few left in the country - is the popular South Shore line that links South Bend with Chicago.
"Learn more" videos; click to watch and listen:
© 2015 Hoosier History Live! All rights reserved.