Jan. 30, 2016 show
Toys, toys and more toy heritage
In terms of the social impact across the country and business impact across the state, Indiana's heritage with toys has not just been fun and games.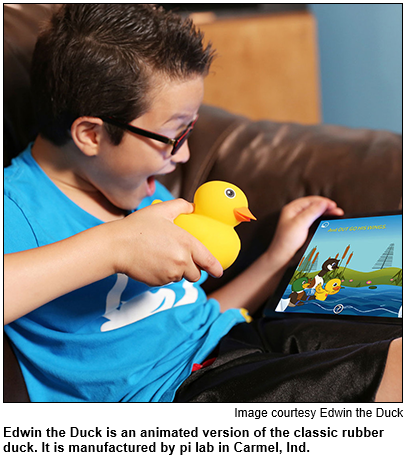 Consider an early gyroscope, the Pet Tornado, cartoon characters Garfield and Clifford the Big Red Dog, Raggedy Ann, Lincoln Logs and croquet sets made in the 1870s, as well as a digital "animated version of the rubber duck" enjoyed today. All of them have had deep Hoosier roots.
To explore enough Indiana toy connections to fill a playroom, Nelson will be joined by studio guests including Kara Reibel, a freelance writer and editor who has researched the links between nationally distributed toys and Hoosiers.
According to Kara, the "Original Gyroscope" was first manufactured in 1917 by Hoosiers. The gyroscope - as well as the Pet Tornado, the "Original Blocks and Marbles" and other "nostalgia toys" - are made today by TEDCO Toys in Hagerstown.
The South Bend Toy Company, which began by making croquet sets and expanded to products such as rocking horses known as "Shoo Fly Rockers," was one of the northern Indiana city's largest employers for more than 100 years. (After a series of corporate acquisitions and mergers, the plant in South Bend shut down in 1985.)
And talk about a big footprint: Guinness World Records lists Garfield, the comic strip about a cantankerous cat created by Jim Davis, who grew up on a farm near Fairmount, as the most widely syndicated comic strip in the world.
Jim Davis and his team at PAWS Inc., which is headquartered on a wooded retreat near the town of Albany, draw the strip and create an array of Garfield products such as dolls with suction-cup paws, books and posters.
Clifford the Big Red Dog was created by Kokomo native Norman Bridwell, who died in 2014 at age 86. Bridwell attended the Herron School of Art, then moved to the East Coast and reaped widespread success with Clifford, the slightly clumsy main character in read-aloud books for young children and a TV series. The books have been translated into 13 languages.
Our guest Kara Reibel is the community relations specialist at Carmel-based pi lab, which is enjoying success with Edwin the Duck, a computer app-enhanced children's educational toy. Often touted as an "animated version of the classic rubber duck," Edwin was honored earlier this month at a "Last Gadget Standing" competition in Las Vegas.
Some fun facts related to our toy heritage:
The Garfield balloon in the Macy's Thanksgiving Day Parade was filled with 18,907 cubic feet of helium, making it the biggest parade balloon in history, according to Kara's research.
The "Original Blocks and Marbles" toys distributed by TEDCO include blocks made by Amish residents of Wayne County.
Raggedy Ann was created by Johnny Gruelle (1880-1938), who grew up in the Lockerbie neighborhood of Indianapolis and was a cartoonist for The Indianapolis Star for several years before moving to the East Coast. Raggedy Ann made her debut in a book published in 1918; the dolls initially were spinoff products, hand-made by Gruelle family members with small hearts sewn into their chests. Gruelle descendants have told Nelson, our host, that the inspiration for the famous character was Johnny's recollection of his two favorite poems by family friend James Whitcomb Riley: Little Orphant Annie and The Raggedy Man.
So what's the Lincoln Logs link with Indiana?
The popular toy was invented by prominent architect John Lloyd Wright (1892-1972), the son of an even more famous architect, Frank Lloyd Wright. Shortly after Long Beach, Ind., was founded as a resort town on Lake Michigan during the early 1920s, John Lloyd Wright moved there to set up an architectural practice.
He designed several homes and other structures in Long Beach, which is in LaPorte County.
Lincoln Logs have been inducted into the National Toy Hall of Fame. So have Raggedy Ann and her "brother," Raggedy Andy, who made his debut in 1920.
Initially, Raggedy Ann and Andy dolls had hair made of brown yarn. Since the early 1950s, though, the siblings have been red-haired. In the beginning, when the dolls were hand-made, cardboard or candy hearts were sewn into their chests. The hearts could easily be felt when Raggedy Ann and Andy were hugged.
Clifford the Big Red Dog made his debut in 1963. His "owner" is a little girl named Emily Elizabeth, who rides her huge dog like a horse. (Bridwell named Clifford's owner as a tribute to his daughter, also Emily Elizabeth.)
Garfield was "born" in 1978, meaning the world-famous cat turns 38 this year. According to research by our guest Kara Reibel, eleven Garfield books have made The New York Times bestseller list; the first, Garfield at Large, was published in 1980.
Final fun fact: Also according to Kara's research, Academy Award-winning movie star Halle Berry has a Garfield tattoo.
Learn more:
Additional research for this article provided by Jeff Kamm.
Roadtrip - Greensburg, more than a courthouse tree
Guest Roadtripper John Pratt, a history teacher at Greensburg High School, suggests a Roadtrip to his hometown of Greensburg. Every visit to the small town of 11,000, southeast of Indianapolis in Decatur County, begins at the downtown courthouse to take a glimpse at the famous tree growing from the courthouse tower. But there is much more to see.
The town square is filled with restaurants, antique stores and an art gallery. A short walk to 413 N. Franklin St. takes you to the Italianate Greek Revival home of B.B.Harris, a member of Morgan's Raiders. And across the street is the Porter Oliger-Pearson Funeral Home. The funeral home building is the former home of former Lieutenant Governor Will Cumback, who cast Indiana's first ever Republican electoral vote, and that going to his friend Abraham Lincoln.
Heading south, you can enter the Decatur County Historical Museum, filled with a treasure trove of early Native American artifacts and local historical items. One block further south takes you back to the courthouse square, where presidential candidate Robert Kennedy gave a speech in 1968 as he marveled at the mulberry tree on top. Directly across the street, no visit is complete without a visit to Storie's Family Restaurant, the famous local eatery known for tenderloin sandwiches and homemade pie.
History Mystery
Garfield creator Jim Davis always has maintained that the cat's owner, socially awkward Jon Arbuckle, is based on Jim Davis himself. Like the cartoonist's parents, who owned a cattle farm near Fairmount, the parents of Jon Arbuckle have a farm.
Also like Garfield's owner, Jim Davis has a brother. The real-life brother has the same nickname as the brother character in the popular comic strip.
Question: What is the brother's nickname?
Please do not call into the show until you have heard Nelson pose the question on the air, and please do not call if you have won any prize from WICR during the last two months.
The prize pack includes a gift certificate to LePeep Restaurant and two admissions to the Benjamin Harrison Presidential Site, courtesy of Visit Indy.
Your Hoosier History Live team,
Nelson Price, host and creative director
Molly Head, producer, (317) 927-9101
Richard Sullivan, webmaster and tech director
Pam Fraizer, graphic designer
Garry Chilluffo, media+development director

Please tell our sponsors that you appreciate their support: Indiana Authors Award | Indiana Historical Society | Indiana Landmarks | Jacquie's Gourmet Catering | Lucas Oil | Story Inn | Yats Cajun Creole Restaurant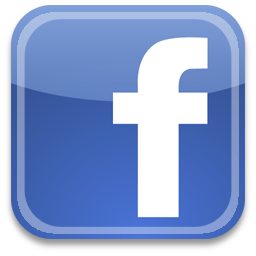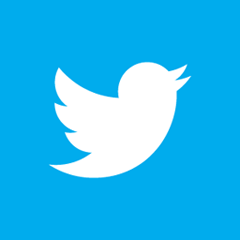 Acknowledgments to Monomedia, Visit Indy, WICR-FM, Fraizer Designs, Heritage Photo & Research Services, Derrick Lowhorn and many other individuals and organizations. We are an independently produced program and are self-supporting through organizational sponsorships and individual contributions. We do not receive any government funding. Visit our website to learn how you can support us financially. Also, see our Twitter feed and our Facebook page for regular updates.
Feb. 25 - Note the new date!
Indiana is 200, and Hoosier History Live is 8
Can you believe it? Hoosier History Live has been on the air eight years.
To celebrate, we are throwing another of our famous anniversary parties!
When: Thursday, Feb. 25, 2016, from 5 to 7:30 p.m. (Please note that this is a revised date!)
Where: Indiana Landmarks Center, 1201 Central Ave., Indianapolis.
The state of Indiana is turning 200, and Hoosier History Live is turning 8. Let's celebrate!
Book release
Jill Ditmire of WFYI and Bookmamas feature Then and Now book
It's here! A major revision of the visual history book Indianapolis Then and Now (Salamander Press), written by our host Nelson Price, has become available.
Nelson's collaborators are co-author and photo historian Joan Hostetler of Heritage Photo, who tracked down the vintage "Then" images, and Garry Chilluffo of Chilluffo Photography, who took the "Now" color photos. More than half of the book has been revised in the new edition of the book, which originally was published in 2004.
You can listen to Nelson Price and Joan Hostetler on WFYI 90.1 FM on Friday, Jan. 29, at about 5:44 p.m. with host Jill Ditmire, who also has been a guest host on Hoosier History Live.
And Bookmamas in Irvington will host a party for the book release at 2 p.m. on Sunday, Jan. 31, at its store at 9 S. Johnson Ave. in Indianapolis. The party is free and open to the public, and of course you get to meet Nelson, Joan and Garry in person. And you can buy a book and have it signed, if you so choose!
Feb. 6, 2016 show
At age 93, memories of Walker Theatre, Indiana Avenue and more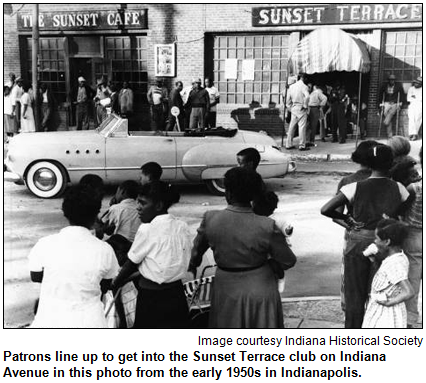 In 1927, when the Madam Walker Theatre in Indianapolis opened with a gala event, 5-year-old Tom Ridley was in the audience with his parents.
Now 93 years old, Mr. Ridley lived through the heyday of Indiana Avenue, when nightclubs featured jazz musicians who became national stars. He attended Attucks High School before and after service during World War II. That military service included disembarking from a ship on Utah Beach on D-Day in June 1944.
So Mr. Ridley truly has lived through history - local, national and international. He will be Nelson's studio guest to share insights as Hoosier History Live salutes Black History Month.
These days, Mr. Ridley is a beloved docent at the Walker Theatre, where he shares memories from the very beginning of the cultural landmark. During his boyhood in the 1920s and '30s, the Walker building included a basement shop, the Coffee Pot, that Mr. Ridley says became a popular hangout for his friends.
"Outside the Coffee Pot, on the corner, the young men would come and look at pretty ladies, who were all dressed up in their finery," he writes in his self-published memoir, From the Avenue.
"These same ladies could enjoy the attention of the gentlemen in their zoot suits, which sported very full-legged pants and were narrow at the cuff. Some of us guys wore more conservative clothes, but all were custom made by the local tailors. ... The idea was definitely to see and be seen on this corner."
To this day, Mr. Ridley lives not far away, in the neighborhood now known as Ransom Place.
Like the Walker Theatre, Attucks High School opened in 1927. One of Mr. Ridley's older brothers, Martin, was in the first group of freshmen.
Mr. Ridley began attending Attucks in 1936 but did not graduate until 1947. That's because his high school years were interrupted by World War II. In his memoir, Mr. Ridley writes that his first experience with "blatant, hard-core" bigotry came during military training at camps in Georgia and Mississippi.
After the war, Mr. Ridley returned to Indianapolis and spent most of his career working for the U.S. Postal Service. In his memoir, he describes becoming "one of the first African Americans to work as a window clerk" in the Hoosier capital.
Learn more: