Feb. 20, 2016 show
What did Indiana look like 200 years ago?
Amid the hoopla about the Indiana Bicentennial this year, have you been wondering what kinds of wildlife, trees and plant life were thriving here in 1816?
To offer a glimpse of the new state's landscape 200 years ago, botanist Michael Homoya of the Indiana Department of Natural Resources will be Nelson's studio guest.
In addition to describing the dense forest that apparently prevailed in 80 percent of the state, Michael even has identified the species of trees that were thriving on what became the site of downtown Indianapolis. (The city was not platted until the 1820s. Corydon was the capital in 1816.)
Bison could be found in various regions of the state in 1816, Michael notes. So could such now-gone or greatly diminished (in Indiana) animals and birds as the gray wolf, mountain lion, black bear, Carolina parakeet, ivory-billed woodpecker, prairie chicken, porcupine and avocet. (During a Hoosier History Live show in 2014, we explored passenger pigeons and other extinct species of birds.)
According to research by our guest Michael Homoya - who has studied accounts of pioneers and early travelers as well as surveyors' notes - major types of trees in the 1816 wilderness that became downtown Indy included American beech, black walnut, elm, ash and sugar maple.
What natural phenomenon occurred within five months of Indiana becoming the 19th state in 1816?
"A mass emergence of 17-year cicadas," Michael says. The next emergence of the cicadas, he adds, will be in 2021.
In 1816, the 20 percent of the state that wasn't forest consisted of prairies, barrens and marsh, according to Michael. Northwestern Indiana included, as he puts it, "vast prairies as far as the eye could see."
Michael Homoya, a plant ecologist, has written an article for Outdoor Indiana magazine's January/February issue that describes the new state's landscape in 1816. He is the author of Orchids of Indiana (Indiana University Press) and was our guest in 2014 for a show with gardening expert Jo Ellen Meyers Sharp about plants that are native to the Hoosier state and early botanical explorations.
During our What did Indiana look like 200 years ago? show, Michael will discuss the importance of knowing the state's early natural landscape as a "baseline." He also will share details about the aspects of the natural vegetation that have been altered the most.
Some other landscape topics related to 1816 Indiana that Michael and Nelson will explore:
Canebrakes. "This is a grassland type essentially gone from Indiana's landscape," Michael notes. "Some were several thousand acres in size prior to settlement, occurring mostly along the lower Ohio and Wabash rivers."
Dense forests and streams. Michael will describe the water quality of the streams 200 years ago, as well as details about the timber lands, natural lakes and open wetlands then.
Landscape diversity. The Hoosier state, then and now, is said to be something of, in Michael's phrase, "an ecological mash-up." Plants and animals in various parts of the state reflect different regions of the country. Swamps in some parts of Indiana, for example, have species similar to those found in the Deep South.
Squirrel "invasions." Mass migrations of squirrels occurred during the 1800s, startling early Indiana residents. Accounts of early settlers described large numbers of squirrels swimming across the White River, Wabash River and Ohio River. This phenomenon, which Michael says "is essentially non-existent today," also was explored during a Hoosier History Live show in January 2014 about quirky aspects of our heritage.
In addition, Michael Homoya will tackle the question: "Are there areas existing today that still look as they did in 1816?"
Learn more:
Additional research courtesy Jeff Kamm.
History Mystery
The oldest tree in Indianapolis is generally considered to be an oak tree located in a historic neighborhood. The tree, a bur oak, may be nearly 400 years old. Motorists often drive to the historic neighborhood to see the oak tree.
Question: In what historic neighborhood is it located?
Please do not call in to the show until you have heard Nelson pose the question on the air, and please do not call if you have won any prize from WICR during the last two months.
The prize pack includes a gift certificate to Iaria's Italian Restaurant and two admissions to the Indianapolis Motor Speedway Hall of Fame Museum, courtesy of Visit Indy.
Roadtrip - New visitor center coming for Levi Coffin House
Guest Roadtripper Kisha Tandy of the Indiana State Museum tells us about upcoming improvements to the Levi Coffin House in Fountain City, a home once known as the "Grand Central Station of the Underground Railroad."
The home is about to become part of a $3.2 million improvement effort, and most of the money will go toward creating a 5,200-square-foot visitors center adjacent to the 1839 home.
The home's owners, Levi and Catherine Coffin, Quakers from North Carolina, were thought to have helped 2,000 enslaved persons escape to freedom in Canada prior to the Civil War. The house has hidden doors, secret nooks and a water well in the basement.
When completed, the improvement would be the largest to date at the handful of small, state-owned museums around Indiana known as Indiana State Historic Sites.
Your Hoosier History Live team,
Nelson Price, host and creative director
Molly Head, producer, (317) 927-9101
Richard Sullivan, webmaster and tech director
Pam Fraizer, graphic designer
Garry Chilluffo, media+development director

Please tell our sponsors that you appreciate their support: Indiana Authors Award | Indiana Historical Society | Indiana Landmarks | Jacquie's Gourmet Catering | Lucas Oil | Story Inn | Yats Cajun Creole Restaurant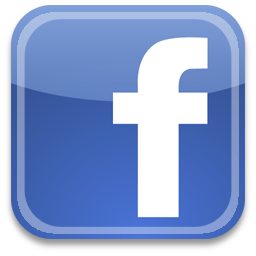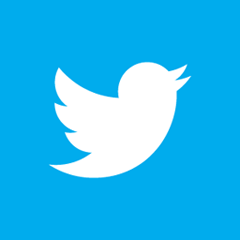 Acknowledgments to Monomedia, Visit Indy, WICR-FM, Fraizer Designs, Heritage Photo & Research Services, Derrick Lowhorn and many other individuals and organizations. We are an independently produced program and are self-supporting through organizational sponsorships and individual contributions. We do not receive any government funding. Visit our website to learn how you can support us financially. Also, see our Twitter feed and our Facebook page for regular updates.
Hoosier History Live thanks the following individuals who have made a 2016 contribution via either our website or by mailed check. Thank you to Tom Spalding, Roz Wolen, Jinsie Bingham, Emerson Houck and Jill Chambers!
Feb. 25 anniversary soiree!
Mayor Joe Hogsett + scan-a-thon at this year's party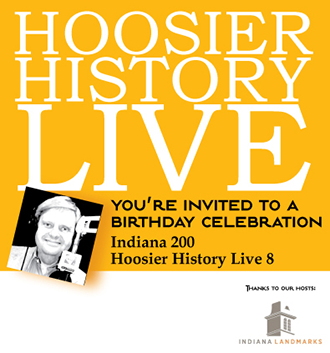 Can you believe it? Hoosier History Live has been on the air eight years.
To celebrate, we are throwing another of our famous anniversary parties!
When: Thursday, Feb. 25, 2016, from 5 to 7:30 p.m. (Please note that this is a revised date!)
Where: Indiana Landmarks Center, 1201 Central Ave. in downtown Indianapolis.
If you have not yet RSVPed for "Indiana 200, Hoosier History Live 8," please RSVP today!
The party will feature lots to see, hear and do:
Mayor Joe Hogsett to speak at 5:30 p.m.
Jacquie's Gourmet Catering providing delicious eats and cash bar.
Entertainment by Herron String Quartet, Janet Gilray and Shirley Judkins.
Guest appearance by "Babe," the Bicentennial Bison.
Live History Mystery questions from Nelson Price with fabulous prizes.
Historic attire is always a plus!
Scan-a-thon! In addition to the events listed above, you also may bring your interesting old Indiana photographs. Photos with people in them are fine, of course, but photos also must show the environment (houses, buildings, streets) so that they will be of interest to the general public in years to come. The Scan-a-thon is presented by the Indiana Album, an ambitious initiative led by our longtime history collaborator Joan Hostetler. Trained volunteers will register and scan your photos while you celebrate, and you may pick them up before you leave.
The state of Indiana is turning 200, and Hoosier History Live is turning 8. Let's celebrate!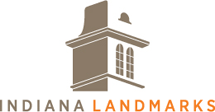 Please tell our event sponsors that you appreciate their support: Core Redevelopment | Indiana Landmarks | Jacquie's Gourmet Catering
Feb. 27 show - encore presentation
How to furnish an historic home
Maybe your home's interior has a Victorian-era theme. Or is your preference for an even earlier period, like the Colonial era? Perhaps, though, a much later era, such as the 1950s or '70s, is your decorative dream.
To offer advice about furnishing homes with "period" themes, Hoosier History Live calls in three experts with track records of making period-appropriate decorating decisions about distinctive homes, including some of Indiana's historic sites. Our topics include plenty of do's and don'ts. We also will explore the care, treatment and placement of period furniture in this information-packed show, which originally aired Jan. 10, 2015.
Nelson's guests are:
Along with advice for homeowners, our guests share anecdotes related to their restoration, furnishing and conservation experiences.
Regarding antique furniture, they talk about reproductions - along with, as our guest Link Ludington puts it, "reproductions that area now legitimate antiques." In addition, he discusses whether "investing" in antiques is a good idea; tips about starting collections; fakes and forgeries, and "matching furnishings to the period and style of a house versus eclectic collections."
Some other tidbits:
David Buchanan lives in an Italianate home built in 1870 that is considered the closest private residence to Monument Circle in downtown Indianapolis.
Among the conservation experiences Greg Ziesemer regards as his most cherished: helping conserve a corner cupboard made in Indiana by Thomas Lincoln, father of future president Abraham Lincoln. (During a Hoosier History Live show in February 2014, we explored Abe Lincoln's relationships with his parents and Thomas' outstanding skills as a furniture maker.)
Greg Ziesemer also has been involved with historic furnishings at the Lanier Mansion in Madison (where our guest Link Ludington once was the curator); the Benton House in the Irvington neighborhood of Indianapolis, and the IU Memorial Union in Bloomington.