April 30, 2016 show
Hoosiers who competed in early Indy 500s
After 22-year-old native Hoosier Joe Dawson won the Indianapolis 500 in 1912, he hurried from the Indianapolis Motor Speedway to his family's home at 2828 N. Illinois St. to hug his mom.
Charlie Merz, the son of an Indianapolis police officer, survived horrific accidents early in his racing career to complete the final lap of the Indy 500 in 1913 - with his car on fire. He died in 1952 and is buried in Crown Hill Cemetery.
In 1919, the Indy 500 was won by popular Howdy Wilcox, a pioneer race driver born in Crawfordsville. His son Howard S. Wilcox, also known as Howdy, founded the Little 500 bicycle race at Indiana University in the early 1950s.
As the countdown continues to the 100th running of the Indy 500, Hoosier History Live will explore the colorful lives and careers of these and other early race drivers who had deep connections to Indiana.
Our guest will be Indy native and lifelong racing enthusiast Mark Dill, the creator of firstsuperspeedway.com, an extensive website about auto racing, including the sport's pre-1920 history.
Mark, who is based in Cary, N.C., has worked in marketing and public relations for various high-tech companies; he also previously worked for the Indianapolis Motor Speedway and, when he was an Indiana University student, as news director of Indianapolis Raceway Park. Mark and his wife, Esther, own Mark Dill Enterprises Inc., which helps market the rapidly growing sport of vintage auto racing.
Speaking of vintage: Many Hoosiers know a bit about Ray Harroun, a Pennsylvania native who won the inaugural Indy 500 in 1911 with a Marmon car made in Indianapolis.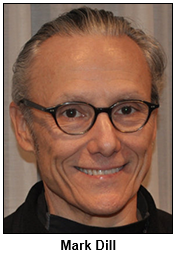 That race has been the focus of Hoosier History Live shows, including some with Speedway historian extraordinaire Donald Davidson. Most recently, Donald was Nelson's studio guest on April 4, 2015 for a program that explored the impact of track announcer Tom Carnegie and popular driver Jimmy Clark, the "Flying Scot" who won the Indy 500 in 1965.
For this show, we will explore some Hoosiers whose legacies are not as well remembered by the general public today - as well as others such as Wilcox and Barney Oldfield, an Ohio native who, as our guest Mark Dill puts it, was "embraced by Indiana like a native son." A confidant of Speedway founder Carl Fisher, Oldfield (1878-1946) was a racing pioneer and showman who even starred in silent movies.
Although Harroun won the inaugural Indy 500 in 1911, the first lap was led by driver Johnny Aitken, an Indianapolis native whose life and racing achievements Mark will discuss during our show. (According to Donald Davidson's Official History of the Indianapolis 500 with co-author Rick Shaffer, Aitken stayed in front for the first four laps of the 1911 race.)
Mark also will share insights about Joe Dawson, the winner of the second Indy 500 who went home to hug his fretful mother, an anecdote celebrated in local newspapers in 1912. Described as a "simple, modest man," Dawson (at age 22 years and 10 months) remained the youngest Indy 500 winner for several decades.
According to Mark's research, Dawson lived with his parents in a house with "the 1912 version of a man cave" that featured college football and baseball pennants.
Other early Indy 500s drivers we will explore include "Farmer" Bill Endicott, whose nickname, Mark says, derived from his ownership of a farm near Crawfordsville.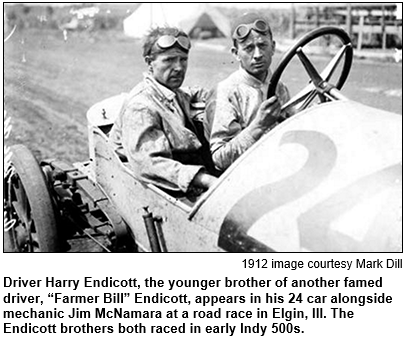 In addition to his firstsuperspeedway.com website, Mark oversees a Facebook page on the same subjects.
Earlier in his career, Mark was vice president of Nortel and, in that capacity, worked with former Indy 500 driver Scott Goodyear on sponsorships. Mark also is a regular guest and commentator about racing for radio and TV and has been active in the SportsCar Vintage Racing Association.
Before the inaugural Indy 500 in 1911, there were several other auto races at the Speedway after the track opened in 1909.
Some of these races were won by a talented young driver, Tommy Kincaid, who had been born in Indianapolis; he drove for the Indianapolis-based National Motor Vehicle Company race team owned by Arthur Newby. Our guest Mark Dill will share insights about Kincaid, even though he never raced in the Indy 500; that's because he was killed at age 23 at the Speedway in 1910 while testing his car. (If Tommy Kincaid had been alive in 1912, Mark suspects that he - rather than Joe Dawson, who hugged him mom after the victory - might have driven the winning car, which also was owned by National.)
Barney Oldfield, who even starred in a Broadway musical, generally is considered to have been the first American auto racing celebrity. According to the website of the Henry Ford Archive of Innovation, Oldfield "helped to democratize not only racing entertainment, but also the automobile in general, as the vehicles moved out of the carriage houses and into backyard sheds."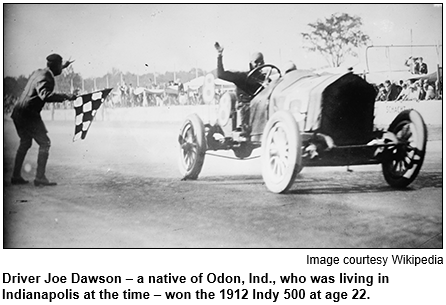 The website also notes that Oldfield "flouted the conventions of his time, both on and off the track. He was notorious for his post-race celebrations, womanizing and bar fights."
Charlie Merz, who finished the 1913 race with his car on fire, later became a successful businessman, engineer and chief steward of the Indy 500. According to a description of the 1913 Indy 500 on Mark's website, Merz's car burst into flames just before the final lap. Instead of stopping, he "forged ahead for the final lap ... with the riding mechanic swatting the flames with his jacket."
Learn more:
Roadtrip: Running events highlight Indy historic landmarks
Guest Roadtripper and Indy-based history writer and enthusiast Jeff Kamm tells us that Saturday, April 30 is a first for Indianapolis. A new running event, the Indy Ultimate, will see runners compete through a course that features obstacles in our shimmering sports venues, as well as traversing some of our historic landmarks, such as the Soldiers and Sailors Monument and the Indiana War Memorial.
You can kick a field goal at Lucas Oil Stadium, take a shot at a basket at Bankers Life Fieldhouse, and run up, around and down the Indiana War Memorial steps as fast as you can.
This new event is just another of the several that have popped up in recent years. The running events owe this legacy to the 500 Festival Mini Marathon which will be run for the 39th time this coming weekend.
The half marathon, originally intended to be a bicycle race, was created by city leaders in 1977 at the insistence of Tony Hulman as a grand way to kick off the monthlong celebration of the Indianapolis 500. It has grown to be one of the largest running events in the nation and features some 35,000 participants from around the world looking to cross the yard of bricks at the historic Indianapolis Motor Speedway, which will celebrate the 100th running of the Greatest Spectacle in Racing on May 28th.
Oh, and yes, Jeff is a runner.
History Mystery
In 1909, two years before the first Indianapolis 500, the Indianapolis Motor Speedway opened.
The first competition at the racetrack did not involve cars. Carl Fisher, the flamboyant founder of the Speedway, not only organized the first race in June 1909, he was among the competitors in it.
Question: What was raced?
Hint: Not only did the race, a national competition, not involve any kind of car, it also did not involve motorcycles.
Please do not call in to the show until you hear Nelson pose the question on the air, and please do not try to win the prize if you have won any other prize on WICR during the last two months. You must also give your first name to our engineer in order to be placed on the air.
The prize pack includes a Family 4-Pack to Conner Prairie Interactive History Park, including four tickets to the 1859 Balloon Voyage, and two tickets to the Indianapolis Motor Speedway Track Tour, courtesy of Visit Indy.
Your Hoosier History Live team,
Nelson Price, host and creative director
Molly Head, producer, (317) 927-9101
Richard Sullivan, webmaster and tech director
Pam Fraizer, graphic designer
Garry Chilluffo, media+development director
Please tell our sponsors that you appreciate their support: Indiana Authors Award | Indiana Historical Society | Indiana Landmarks | Lucas Oil | Scott Keller Appraisals | Story Inn | Yats Cajun Creole Restaurant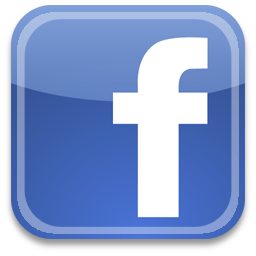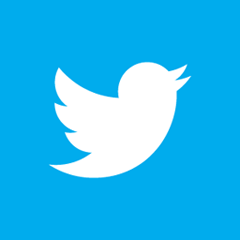 Acknowledgments to Monomedia, Visit Indy, WICR-FM, Fraizer Designs, Heritage Photo & Research Services, Derrick Lowhorn and many other individuals and organizations. We are an independently produced program and are self-supporting through organizational sponsorships and individual contributions. We do not receive any government funding. Visit our website to learn how you can support us financially. Also, see our Twitter feed and our Facebook page for regular updates.
May 7 show - encore presentation
Postcards from Indiana
Here's a dispatch to send far and wide: Beginning in the late 1800s and early 1900s, almost every small town in Indiana had its own postcard.
So did landmark buildings and institutions. Not just hotels, spas, restaurants and drug stores, but sanitariums, prisons and asylums, as well.
Also during that era, one of the country's most popular postcard artists was based in Indianapolis, as Nelson and his guests discuss during this show, which originally was broadcast Aug. 15, 2015.
"In the century before Twitter, text messaging and Snapchat, people who wanted to send a short and concise message simply picked up a postcard at the newsstand or drugstore and dropped it in the mail," notes Indianapolis attorney Libby Cierzniak in an article for historicindianapolis.com. Libby, a partner at Faegre Baker & Daniels, collects vintage photos, postcards, advertising and other memorabilia about the Hoosier capital.
During our show, she shares insights about Cobb X. Shinn, an Indy-based artist of the early 1900s who designed nationally distribute postcards. Although her research indicates Shinn was creating more than 400 different designs annually by 1912, he specialized in postcards that depicted frogs dressed in formal attire.
In addition to Libby, Nelson's guests are two members of the Indianapolis Postcard Club:
Glory June Greiff, a public historian and author who uses Indiana postcards (Glory estimates that she owns more than 2,000) for her research about Indiana state parks, outdoor sculptures, roads and roadside attractions.
And Dr. Chuck Hazelrigg, a dentist and pharmacist who collects vintage Indiana postcards of small towns, drug stores, sanitariums, asylums and even prisons.
According to the Smithsonian Institution, the postcard era began in the early 1870s with the debut of government-produced, pre-stamped postal cards. (During earlier eras, so-called "mailed cards" were sent by some people who wrote notes on them.)
In Libby's article, she notes that the popularity of postcards boomed to such an extent that, by 1912, the U.S. Postal Service was processing an average of 8 million postcards daily.
Shinn, who was born in 1887 and studied at what was then called the John Herron Art Institute, designed thousands of the postcards. Many of his designs, according to Libby, appeared in a series of four to 16 cards that were sold as sets. They included a "Tin Lizzy" series that featured the Model T Ford. Shinn's small studio was at the corner of Ohio and Alabama streets.
Lavish buildings in Indiana that were promoted with postcards included the two world-famous resort hotels in southwestern Indiana, the French Lick Springs Hotel and the West Baden Springs Hotel. Some postcards were devoted exclusively to promoting the mineral waters available at the hotels, including Pluto water sold at French Lick.
Learn more:
© 2016 Hoosier History Live! All rights reserved.