May 28, 2016 show
Roadside architecture
Hoosier History Live will "patronize" drive-in restaurants that have been cherished by generations of Hoosiers in West Lafayette, Logansport and the eastside of Indy.
The show also will explore drive-in movie theaters that still are going strong in Morgan County and on Bass Lake in far-northern Indiana.
And we will make a "pit stop" at a miniature golf course that opened during the 1930s on what's now the suburban south eastside of Indy. For decades, though, getting there involved a jaunt to the "countryside" for patrons.
All are surviving examples of roadside architecture that has been vanishing from the Indiana landscape as chain-owned eateries and retailers - with standardized buildings and signage - have multiplied. Roadside architecture, both bygone and lingering across the Hoosier state, will be the focus of our show, with two historic preservationists as Nelson's guests.
Triple XXX Family Restaurant, which opened in 1929 in West Lafayette and touts itself as "Indiana's oldest drive-in," isn't just known for its root beer, burgers and shakes. The landmark, which has been featured on the Food Network's "Diners, Drive-Ins and Dives" show, also is cherished for its roadside ambience.
Ditto for the Char-Bett Drive In in Logansport, with its eye-catching red and white awning and distinctive sign that features a looping red arrow.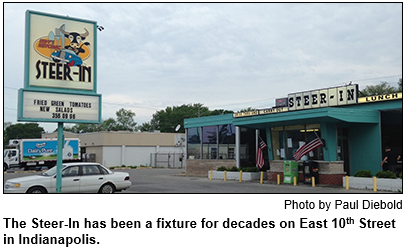 To share details about these and other roadside gems - as well as reasons to preserve vestiges of vanishing Americana - Nelson will be joined in studio by:
Paul Diebold of the Indiana DNR's division of historic preservation and archaeology. Paul recently gave a presentation about the need to preserve roadside architecture to the Irvington Historical Society. Previously on Hoosier History Live, he has been a guest on shows about Sears Kit Homes and the historic Irvington neighborhood in Indy.
And public historian Glory-June Greiff, an author who has been a frequent guest (and Roadtripper) on Hoosier History Live programs. They include shows about the history of Indiana's state parks - Glory is the author of People, Parks and Perceptions (Trafford Publishing) and the heritage of U.S. 40 (the National Road) and the Lincoln Highway. Her other books include Remembrance, Faith and Fancy (Indiana Historical Society Press), which explores outdoor statues and sculptures across Indiana.
Sometimes distinctive statues - or other signage - are part of the roadside appeal of the sites we will explore.
But in some cases, the roadside destination's distinction is due other factors.
That's so, Paul says, with the miniature golf course known as Rustic Gardens when it opened in far-southeastern Marion County in 1932. It's now called Rustic Driving Range & Miniature Golf Inc.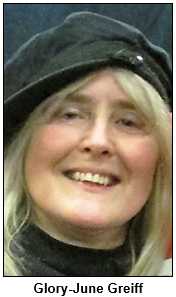 "The roadside appeal of Rustic Gardens is that, when founded and until the 1960s, it was a trip to the countryside to get there," Paul says. "And by 'trip,' I mean there were no rail lines to get there. It was a 'destination' roadside place."
Other roadside destinations include drive-in movie theaters that survive even as so many have closed across Indiana during the last 30 years. Glory plans to discuss the CenterBrook Drive-In (which opened in 1950 with a name derived from its location between the Morgan County towns of Centerton and Brooklyn) and the Melody Drive-In on U.S. 35 at Bass Lake in Starke County.
Speaking of the derivation of names: According to the Triple XXX, the restaurant was named for a brand of root beer popular during the early 1900s. Root beers then were ranked with X ratings, with one X being good, two better "and three X's best of all."
Other drive-in restaurants on our roadside show's menu will include the Steer-In, which opened in 1960 at 5130 E. 10th in Indy. With a sign that depicts the head of a steer (horns and all), the Steer-In also has been featured on the Food Network, which praised its meatball sandwiches and beef and noodles.
Several years ago, our guest Glory-June was the central Indiana escort for John Margolies, generally considered the country's premiere author-photographer of roadside architecture. His books include See The USA (Chronicle Books) and Fun Along the Road (Bulfinch Press).
Roadside stops on our radio journey will include:
Also during the show, our host, Nelson, will share details about mimetic architecture in which a building's design mimics the roadside services or products it offers. Several long-gone examples of mimetic architecture are featured in his Indianapolis Then and Now visual history book (Pavilion Books), including Polks Sanitary Milk Company. The corners of the bygone dairy's headquarters on the near-northside of Indy were shaped like giant milk bottles.
Learn more:
Roadtrip: McCormick's Creek near Spencer
Guest Roadtripper Terri Gorney of Fort Wayne tells us that Indiana is celebrating the centennial of our state parks.
"The idea of a state park system was conceived by Richard Lieber in 1910," says Terri. "He wanted at least one state park for the 100th birthday of Indiana's statehood in 1916."
Lieber would later be named the "Father of Indiana State Parks."
The distinction of the first state park goes to McCormick's Creek State Park. It was named after the first owner of the property, John McCormick, who purchased 450 acres in Owen County in 1816. In 1888, the land was purchased and a sanitarium was built. The land was offered to the state for a bargain price of $5,250. Private funds paid for the land in May 1916.
McCormick's Creek has beautiful limestone canyons, waterfalls and forests. A Stone Arch Bridge was created by the Civilian Conservation Corps (CCC) in the 1930s. The park also includes a nice inn and a nature center.
Today, all Hoosiers live within a one-hour drive from a state park.
Many special events are planned this summer to celebrate the park's Centennial.
Says Terri: "I would encourage everyone to enjoy McCormick's Creek or one of our other parks this year."
Learn more:
History Mystery
For generations of Indianapolis residents, the Tee Pee Restaurant was a distinctive roadside landmark near the Indiana State Fairgrounds. Marsh Davis, president of Indiana Landmarks, has called the Tee Pee, which was demolished in the late 1980s, a "fine example of whimsical roadside architecture."
The drive-in restaurant was so popular - particularly during the heyday of the "cruising" era of the 1950s and '60s - that a second Tee Pee was opened on the city's south side with nearly the same, distinctive architectural design.
But when the original restaurant opened during the 1930s, its name was not the Tee Pee. Instead, the iconic restaurant had a different name associated with Native Americans.
Question: What was the Tee Pee Restaurant's initial name?
Please do not call in to the show until you hear Nelson pose the question on the air, and please do not try to win the prize if you have won any other prize on WICR during the last two months. You must also give your first name to our engineer in order to be placed on the air.
The prize pack includes two tickets to the Indiana Medical History Museum and two tickets to ComedySportz, courtesy of Visit Indy, and a gift certificate to Empire Pizzeria in Kirklin, Indiana, (with lots of antique shops on Main Street!), courtesy of Empire Pizzeria.
Tell them Hoosier History Live sent you!
Your Hoosier History Live team,
Nelson Price, host and creative director
Molly Head, producer, (317) 927-9101
Richard Sullivan, webmaster and tech director
Pam Fraizer, graphic designer
Garry Chilluffo, media+development director
Please tell our sponsors that you appreciate their support: Circle Business Equipment | Indiana Authors Award | Indiana Historical Society | Indiana Landmarks | Lucas Oil | Scott Keller Appraisals | Story Inn | Yats Cajun Creole Restaurant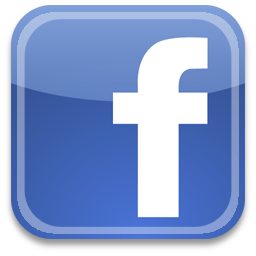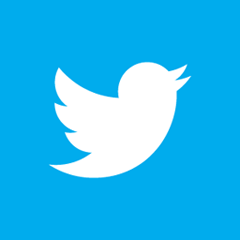 Acknowledgments to Monomedia, Visit Indy, WICR-FM, Fraizer Designs, Heritage Photo & Research Services, Derrick Lowhorn and many other individuals and organizations. We are an independently produced program and are self-supporting through organizational sponsorships and individual contributions. We do not receive any government funding. Visit our website to learn how you can support us financially. Also, see our Twitter feed and our Facebook page for regular updates.
June 4 show
World War II vets look back
Periodically on Hoosier History Live, we salute Hoosiers who served during what has been called "the most significant and influential event of the 20th century" by inviting survivors to share insights about their lives before, during and after World War II.
Our guests on this show will be two central Indiana residents in their 90s - veterans of the Army Air Force and the Navy - as well as a chaplain who has included their stories in a new book.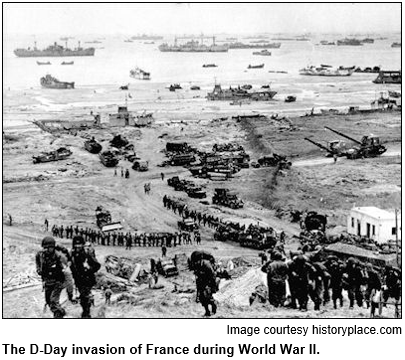 Ron May, a chaplain and pastor based in Avon, is the author of Our Service, Our Stories (Fideli Publishing). Ron, who spent 22 years as a Navy reserve chaplain, will join Nelson in studio, along with:
Paul Maves, a retired civil engineer who lives on the west side of Indianapolis. During World War II, he was a bombardier with the Army Air Force and served with a squadron that provided aerial support during the Battle of the Bulge in December 1944.
And Walter Dreyfus of Greenwood, who is retired from the insurance industry. A Navy veteran, Walter served on ships off North Africa, Italy, England and France. He helped ready some mid-sweeper ships for the D-Day invasion and helped retrieve - and do sea burials for - bodies found after the historic invasion.
As a bombardier, Paul flew on 41 missions in France, Holland and Germany. According to Our Service Our Stories, he initially was disqualified for bombardier training because he was left-handed. ("Bombardiers had to learn to use the Norden Bomb Sight, which could only be operated by the right hand.").
He persevered and went on to serve on B-26 bombers; close calls included a mission on a hobbled aircraft that endured more than 300 strikes from German artillery.
Walter served in radio communications on the Navy ships; on land in France, he was part of a reconnaissance party ambushed by Germans. (He survived by hiding in a ditch.) In Cherbourg, Walter met Catherine Fox, a WAC from Indianapolis. They later married and, before Catherine's death in 2013, returned to France for the 50th and 60th anniversaries of Cherbourg's liberation.
Both Paul and Walter have participated on Indy Honor Flights to Washington D.C. Our guest Ron May accompanied Hoosier veterans on one of the flights.
In the prelude to his book, Ron notes that of the 16 million service members who fought in WW II, only about 850,000 are still alive; about 500 pass away daily.
Previous Hoosier History Live shows featuring interviews with veterans of WWII have included programs in January 2014 and February 2015. Guests on those shows included veterans whose stories are shared, respectively, in the books World War II: Duty, Honor, Country and World War II Legacies: Stories of Northeast Indiana.
Learn more:
Reflections of World War II veterans - Hoosier History Live newsletter for the Feb. 28, 2015 show featuring WWII vets Don Shady, Bob Foster (now deceased) and author Kayleen Reusser, all of northern Indiana.
World War II veterans remember - Hoosier History Live newsletter for the Jan. 11, 2014 show featuring WWII veteran Merrill "Lefty" Huntzinger of Noblesville (now deceased) and authors Steve Hardwick and Duane Hodgin.
© 2016 Hoosier History Live! All rights reserved.