July 9, 2016 show
Latvian and Lithuanian heritage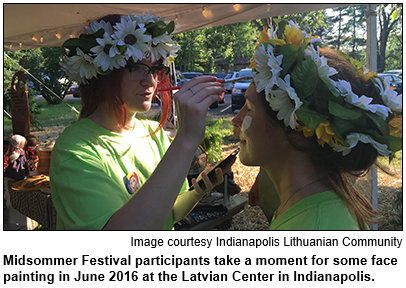 For nearly 55 years, the Latvian Community Center has been a landmark on the northwest side of Indianapolis. In fact, some of the other ethnic heritage groups featured in our rotating series on Hoosier History Live have their monthly meetings at the Latvian center, 1008. W. 64th St.
So isn't it high time we spotlight the heritage in Indiana of the Baltic countries of Latvia and Lithuania? (Because of scheduling challenges, the third Baltic nation, Estonia, won't be in the spotlight this time. We hope to explore Estonian heritage in Indiana down the road.)
Our rotating series about immigration and ethnic heritage already has explored the impact in Indiana of more than a dozen groups. Shows have focused on Scottish, Russian and Cuban immigration, as well as Italian stonecutters, Swedish and Norwegian heritage and even Sikh heritage in the state.
This time around, Nelson's studio guests will include Laura Bates, a Terre Haute-based author and English professor at Indiana State University whose parents fled Latvia as refugees after World War II.
"They came to this country with sponsors who provided work and housing," Laura reports.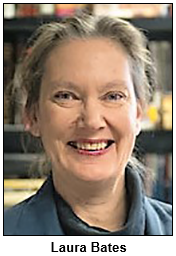 "My mother was a caregiver for an elderly couple, and my father was a dishwasher in a hotel restaurant. My sister and I learned Latvian before English, we always spoke Latvian at home, and we attended Latvian school and church."
In Indianapolis, Andris Berzins, president of the Latvian Community Center, also grew up as the child of two immigrants.
Although Andris, who was born in 1968 and works in the insurance industry, is a graduate of North Central High School and Indiana University, he also attended Latvian school, a Saturday school that still continues. In addition to learning the Latvian language, students are taught the culture, geography, grammar, music and traditions of their ancestral homeland.
Andris, who also will be a guest on our show, attends the Latvian Lutheran Church, a congregation that meets at Pleasant View Lutheran Church on West 73rd Street. According to Andris, about 80 percent of Latvians are Lutherans, and 20 percent are Catholic.
In contrast, Lithuanians are about 80 percent Catholic, according to several sources, including Sigita Nusbaum, past president of the Indianapolis Lithuanian Community. After graduating from college in Lithuania, Sigita, 42, came to Indiana under an exchange program. Sigita, who will join Nelson in studio, lives in Fishers and owns Delaney Window Fashions, a custom drapery business.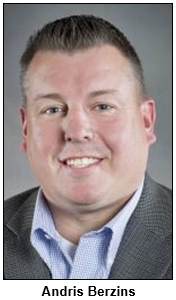 Immigrants from Latvia and Lithuania tended to arrive in two or three waves, according to Peopling Indiana: The Ethnic Experience (Indiana Historical Society Press, 1996). The first wave, during the late 1800s and early 1900s, consisted of immigrants seeking upward mobility. The second followed World War II and included refugees who refused "to return to communist-occupied or dominated homelands."
For centuries, the Baltic people often were ruled by powerful neighbors, including Germans, Russians, Poles and even Swedes. In 1918, following World War I, all three countries declared independence, only to be overrun during World War II and eventually absorbed into the Soviet Union. With the collapse of the Soviet empire, the three Baltic countries regained independence in 1991.
Peopling Indiana notes that, during the early 1900s, Lithuanians developed "active colonies in the Calumet Region" of Indiana thanks to jobs at the steel mills and other booming industries; many relocated from Chicago, Pittsburgh and other cities to northwest Indiana.
During the last 30 years, Lithuanians who have settled in central Indiana have tended to be college-educated professionals, according to our guest Sigita Nusbaum. She said the Lithuanian heritage organization in central Indiana is one of 56 across the country, with groups in greater Chicago, including northwest Indiana, among the largest.
In fact, Chicago is sometimes called the "Lithuanian-American capital." In northwest Indiana, the resort town of Beverly Shores on Lake Michigan has a high percentage of residents of Lithuanian heritage.
According to our guest Sigita Nusbaum, many Lithuanians who arrived in Indiana after World War II hoped to return to their homeland after Soviet control ended. Because Lithuanian independence took nearly 50 years, though, many "did not live to that day."
Sigita also notes the Lithuanian and Latvian languages are considered among the world's oldest. The Lithuanian language is said to retain many of the most "archaic" features of Indo-European languages; they include some aspects only found in ancient Greek and Sanskrit.
Like the Latvians, the Lithuanian community in Indianapolis also offers a Saturday school. Local Lithuanians also have formed a folk band group, Biru Bar, and two folk dance groups.
Other notes about Baltic heritage in Indiana:
Our guest Laura Bates is working on a book drawn from the hundreds of letters and journals written by her Latvian parents.
Several ethnic heritage groups - including Latvians, Lithuanians and Estonians - host an annual Midsommer Festival at the Latvian Community Center. This year's festival on June 25 was attended by more than 400 people; the event evolved from ancient celebrations of the summer solstice.
Learn more:
Roadtrip: Ripley, Switzerland and Ohio counties
Guest Roadtripper Paul Diebold of the Indiana Department of Natural Resources, Division of Historic Preservation, reports on a recent Roadtrip he took with his wife Peggy wandering down U.S. 421 and State Road 129 in southeastern Indiana. He reports lots of fascinating historic sites and architecture in along those roads, and the journey includes two scenic byways, the Michigan Road and the Ohio River Scenic Byway.
Paul and Peggy they saw the solid stone, arched bridges of Ripley County; early row houses in Napoleon; and even an early French-Swiss farmhouse in Switzerland County called Venoge.
Our Roadtrippers visited the Switzerland County Historical Society's museum in Vevay, where the Greek Revival-style courthouse overlooks a town filled with great architecture. On their way to the Ohio County seat of Rising Sun on the Ohio River Scenic Byway, it seems our Roadtrippers were briefly detained in the Patriot Jail!
Tune in to see how they escaped, and see if they make to the Ohio County Historical Society to meet their new friend, the two-headed calf. Happy Roadtripping!
History Mystery
The resort town of Beverly Shores in far-northern Indiana not only has many residents of Lithuanian heritage, it also is known for some distinctive homes. Some of the historic homes in the town on Lake Michigan were transported by barges from Chicago to Beverly Shores, which is located near the Indiana Dunes.
The distinctive houses, which are now privately occupied in Beverly Shores, had been associated with a famous event in Chicago. Thousands of visitors had seen the houses at the event.
Question: What was the event in Chicago?
To win the prize, you must call in with the correct answer during the live show and be willing to be placed on the air and give your first name to the student engineer. Please do not call if you have won a prize from any WICR show during the last two months. The call-in number is (317) 788-3314, and please do not call until you hear Nelson pose the question on the air.
This week's prize package includes two tickets to see Peter Frampton and Gregg Allman at White River State Park on Wednesday, July 20, four admissions to the Indiana Experience, and a gift card to Sun King Brewery, all courtesy of Visit Indy.
Your Hoosier History Live team,
Nelson Price, host and creative director
Molly Head, producer, (317) 927-9101
Richard Sullivan, webmaster and tech director
Pam Fraizer, graphic designer
Garry Chilluffo, media+development director
Please tell our sponsors that you appreciate their support: Indiana Authors Award | Indiana Historical Society | Lucas Oil | Story Inn | Visit Indy | Yats Cajun Creole Restaurant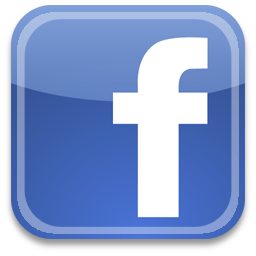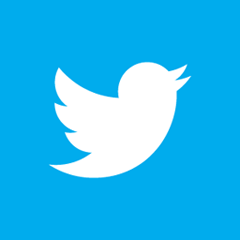 Acknowledgments to Monomedia, Visit Indy, WICR-FM, Fraizer Designs, Heritage Photo & Research Services, Derrick Lowhorn and many other individuals and organizations. We are an independently produced program and are self-supporting through organizational sponsorships and individual contributions. We do not receive any government funding. Visit our website to learn how you can support us financially. Also, see our Twitter feed and our Facebook page for regular updates.
July 16, 2016 show
Bygone natural landmarks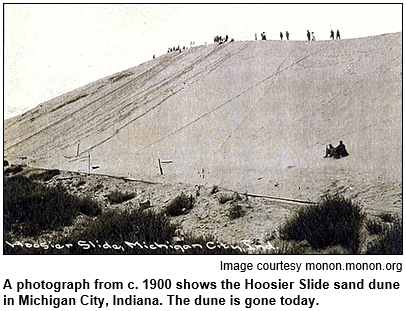 It was the biggest, by far, of the Indiana Dunes on Lake Michigan. But the Hoosier Slide, a huge, barren sand dune near Michigan City, had disappeared by 1920.
In early Indianapolis, a stream known as Pogue's Run broke the grid pattern of the Mile Square downtown. The urban creek - named after an early settler who suddenly vanished - has mostly disappeared from sight. Parts of Pogue's Run flow underneath Indy and along parkways.
What happened to these bygone natural landmarks that once were household names across the state? To share insights, Nelson will be joined in studio by two Hoosiers who have extensively researched the vanished landmarks. His guests will be:
Christopher Taelman, a resident of Granger in far-northern Indiana who is chief development officer of the Hospice Foundation based in Mishawaka. For several years, Chris, a South Bend native and civic leader, was a manager with NIPSCO (Northern Indiana Public Service Co.). It's a utility with a generating station that now sits on the site of the legendary Hoosier Slide, which Chris calls "one of our wonders along Lake Michigan."
And Indianapolis architect Jim Lingenfelter, owner of Five2Five Design Studio, 660 Virginia Ave. Jim, the past president of the Indianapolis Public Library Board, even embarked on a search last year with a newspaper reporter and others to try to find and follow remnants of Pogue's Run.
"In the mid-1800s, (the Hoosier Slide) had trees and berries (and) cows even grazed there," says the website emichigancity.com. "As the trees were cut and used, the dune became bare, probably by 1870. Commercial sand mining began about 1890, when the Monon Railroad built a switching track along the south side of the dune to serve the lumber docks on the west side of the harbor."
Postcards of the Hoosier Slide were distributed during the late 19th century to tout what some called "Indiana's most famous natural landmark."
According to various sources, sand from the Hoosier Slide was hauled away - initially via wheelbarrows - and was transported for use by commercial endeavors in Indiana. When natural gas was discovered in east central Indiana during the 1880s, large users of the Hoosier Slide's sand were glass-making companies that sprang up. They included the business of the Ball Brothers in Muncie.
In Indianapolis, the original planner of the new Hoosier capital, Alexander Ralston, had to modify the pattern of his grid because Pogue's Run flowed through the Mile Square.
Ralston platted the city in 1821, the same year that George Pogue, a blacksmith credited with being one of the earliest white settlers, mysteriously vanished. He disappeared after leaving his home to search for horses that may have been stolen. Various theories have been offered to explain why Pogue never returned from the woods, including folklore that Native Americans may have captured him.
The stream named in his honor often was regarded as a nuisance by city leaders. To open the Mile Square for development, downtown portions of Pogue's Run were routed underground into storm sewers.
But portions of Pogue's Run still visibly flow near Brookside Parkway on the eastside of Indy. The stream also runs through the campus of Tech High School. (Our guest Jim Lingenfelter is a Tech alum.)
Learn more:
© 2016 Hoosier History Live! All rights reserved.