Aug. 6, 2016 show
Unheralded historic Olympians from Indiana
As the 2016 Summer Olympics kick off in Rio de Janeiro, many links between Indiana athletes and the Olympic games are well remembered.
The gold-medal winning "Dream Team" of U.S. basketball players at the 1992 Barcelona Olympics included Larry Bird. At the 1960 Rome Olympics, Oscar Robertson was the star of the triumphant U.S. team.
Who can forget the connections between swimmer Mark Spitz, the sensation of the 1972 Munich Olympics, and Indiana University? Greenfield native Jaycie Phelps was just 16 years old when, as a member of the "Magnificent Seven" team during the 1996 Atlanta Olympics, she won a gold medal in gymnastics.
So rather than exploring those well-remembered Olympians, Hoosier History Live will dig deeper. With two Indiana-based sports historians as Nelson's studio guests, we will spotlight the Olympic careers and colorful lives of other Hoosiers dating back nearly to the beginning of the modern-era Olympics in 1896.
We will explore Hoosiers ranging from a Lafayette track and field star believed to be the first Hoosier to compete in the Olympics - he overcame childhood polio to win gold medals at the 1900 Olympics and subsequent games - to a North Central High School graduate who was part of the U.S. women's relay team that won gold in Atlanta in 1996.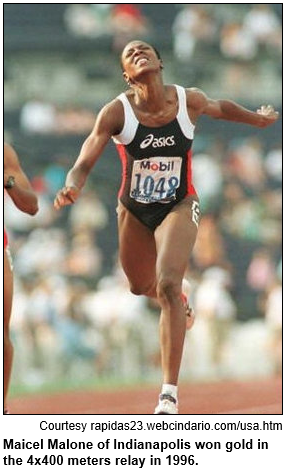 Our guests will be Indianapolis-based author and sportswriter Pete Cava, a member of the International Society of Olympic Historians, and Greenwood-based journalist and TV producer Dan O'Brien. With Nelson, they will explore historic Olympians, including:
If those Olympians - as well as others from Indiana whom we will explore during the show - are not enough to whet your appetite, our guest Pete Cava will share insights about an astounding "drought" for the United States in a track event.
Americans have not won the 1,500 meters (the so-called "metric mile") since their championship team took home the gold in 1906. That long-forgotten team included James Lightbody, a track star who attended high school in Muncie.
Modeled after games held in ancient Greece, the modern Olympics began in 1896. So Ewry, the track star from Lafayette, was competing in the second modern Olympics when he won gold medals during the 1900 games, which were held in Paris. (Athens was the site of the 1896 Olympics.)
According to several accounts, Ewry had contracted polio as a young boy and needed a wheelchair. Amid concerns he might be paralyzed for life, Ewry began exercising and became an exceptional athlete. At Purdue, he was the captain of the track and field team. After winning gold medals in various standing-jump events during a series of Olympic games, Ewry retired following the 1908 Olympics. All standing-jump events were dropped after 1912.
In men's swimming, Indiana University athletes dominated the medal stand for decades. In addition to Spitz, well-known Olympic gold medalists included Frank McKinney Jr., who became an influential Indianapolis civic leader before his death in a plane crash in 1992.
During our show, Nelson and his guests will focus on McKinney's teammate at IU and in the 1960 Olympics, Indianapolis native Mike Troy. Despite setting world records and winning two Olympic gold medals - and then becoming a decorated Naval officer during the Vietnam War - Troy, now 75, isn't well-remembered in his home state today.
Kathy Ellis, the multiple-medal-winning swimming sensation of the 1964 Olympics, also graduated from IU but never competed for the Hoosiers. As our guest Dan O'Brien notes, IU did not have a women's swimming team then.
The dominance of IU's men swimmers at the Olympics ended with the retirement of legendary coach James "Doc" Counsilman. After a drought of 40 years with no IU swimmer on the U.S. Olympic team, three IU swimmers will compete in Rio.
In fact, nearly 20 athletes with Indiana connections will participate in Rio. They include Paul George of the Indiana Pacers and Tamika Catchings of the Indiana Fever (who will be competing for her fourth gold medal), as well as divers David Boudia of Noblesville, the defending gold medalist in the 10-meter platform, and Steele Johnson of Carmel.
Additional research by Heather Kaufman-McKivigan
Roadtrip: Indiana State Fair's Pioneer Village
Can you believe it's August? Expect a call into the show from Miss Melody, the schoolmarm in the One Room Schoolhouse in the Pioneer Village at the Indiana State Fair, who will suggest a Roadtrip to the Indiana State Fair!
Miss Melody is portrayed by Janet Gilray of Legacy Keepers Music, an organization dedicated to the preservation of traditional music and song. The schoolmarm is also known for picking up a guitar and singing a song or two, along with her teaching of reading, writing, arithmetic and cursive writing!
Miss Melody tells us that the Pioneer Village is in the northeast corner of the fairgrounds, and she invites us to hear a stellar array of singers at the Songs of Indiana competition in the Pioneer Village Music Hall on Wednesday, Aug. 10, from 10 to 11 a.m.
The fair runs from Friday, Aug. 5 through Sunday, Aug. 21. Looks like the Fair Train won't be running this year, but you can avoid parking hassles by taking the free shuttle from Glendale Mall's Rural Street lot, which operates every 20 minutes from 10 a.m. to 11 p.m. daily. Enjoy!
History Mystery
In 1924, the U.S. Olympic Swimming Trials were in Indianapolis. The venue was Broad Ripple Park's pool, which then was the largest outdoor swimming pool in the entire country.
The star of the swimming trials went on to create a sensation at the 1924 Paris Olympics, winning three gold medals in swimming and one bronze medal in water polo. He also won gold medals at the 1928 Summer Olympics, which were in Amsterdam.
Because of his subsequent, post-Olympics endeavors, the swimming star - who was not a Hoosier - remained famous for the rest of his life.
Question: Who was he?
To win the prize, you must call in with the correct answer during the live show and be willing to be placed on the air and be willing to give your contact info to our engineer. The call-in number is (317) 788-3314, and please do not call until you hear Nelson pose the question on the air. Please do not call if you have won a prize from any WICR show during the last two months.
The prize is two admissions to the Indiana State Fair, and two admissions to the Vanilla Ice, I Love the '90s concert on Aug. 13 at White River State Park, courtesy of Visit Indy.
Your Hoosier History Live team,
Nelson Price, host and creative director
Molly Head, producer, (317) 927-9101
Richard Sullivan, webmaster and tech director
Pam Fraizer, graphic designer
Garry Chilluffo, media+development director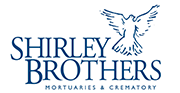 Please tell our sponsors that you appreciate their support: Indiana Authors Award | Indiana Historical Society | Lucas Oil | Mr. Tequila's Cantina & Grill | Shirley Brothers Mortuaries & Crematory | Story Inn | Visit Indy | Yats Cajun Creole Restaurant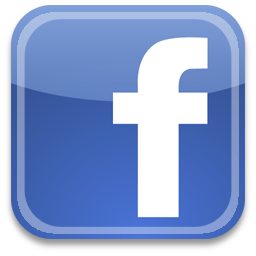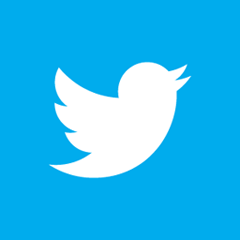 Acknowledgments to Monomedia, Visit Indy, WICR-FM, Fraizer Designs, Heritage Photo & Research Services, Derrick Lowhorn and many other individuals and organizations. We are an independently produced program and are self-supporting through organizational sponsorships and individual contributions. We do not receive any government funding. Visit our website to learn how you can support us financially. Also, see our Twitter feed and our Facebook page for regular updates.
Aug. 13, 2016 show
Political campaign memorabilia from Indiana history
With campaign season in full swing, Hoosier History Live will delve into buttons, stickers, hats, bobble-heads, ribbons, tintypes or other memorabilia associated with Indiana political figures clear back to the state's earliest history.
One of our guests, David Yount, a former state legislator from Columbus, owns a letter written in 1823 by Indiana's first governor, Jonathan Jennings, who by then was a U.S. congressman. Jennings wrote the letter to President James Monroe.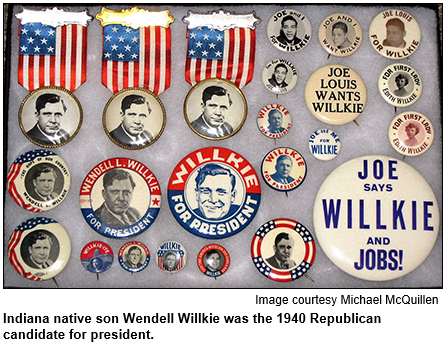 David, who is now a financial investment manager based in Carmel, also owns buttons from George Washington's first presidential inauguration in 1789.
Nelson also will be joined in studio by Michael McQuillen, an Indianapolis City-County councilman who also a vast collection of historic political memorabilia.
Michael, a Republican who is the city council's minority leader, writes about antiques and collectibles for publications such as Antique Week and Collectors' Classified. With his wife Polly, he buys, sells and appraises political memorabilia and other collectibles at politicalparade.com.
With Michael and David, we will share insights about hunting for rare finds, the value of political collectibles and the range of promotional products that have touted Hoosier politicians for 200 years. Specialties of both of our guests include memorabilia related to Indiana's governors.
Michael's specialties also include the 1940 presidential campaign of Wendell Willkie (the Elwood native lost to FDR) and the campaigns of Dan Quayle, as well as memorabilia related to the World War II homefront and the Indiana State Fair.
The array of memorabilia touting political campaigns during the 1800s and early 1900s went far beyond traditional posters. Our guest David Yount has a clothes brush promoting the 1840 U.S. presidential campaign of William Henry Harrison, who was Indiana's first territorial governor earlier in his career. (Memorabilia associated with William Henry Harrison also is among David's specialties.)
Rare campaign memorabilia is permanently displayed in the historic home associated with Harrison's grandson, the Benjamin Harrison Presidential Site in Indianapolis.
In Logansport, Julian and Sue Ridlen own the Museum of American Political Communication. The two-story museum, which may be visited by appointment, has an extensive collection of memorabilia - some dating to the 1790s - of everything from soap and sheet music to T-shirts and license plates.
Our guest Michael McQuillen, who is regional vice president of the American Political Items Collectors, has had his memorabilia collection featured on national and local TV. His collection even includes, as he puts it, "3D items" such as glassware, lighters and other novelties.
Additional research courtesy of Jeff Kamm.
© 2016 Hoosier History Live! All rights reserved.