Aug. 13, 2016 show
Political campaign memorabilia from Indiana history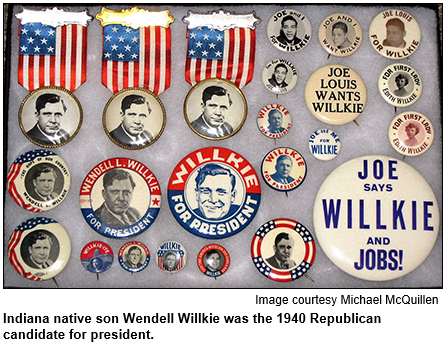 With campaign season in full swing, Hoosier History Live will delve into buttons, stickers, hats, bobble-heads, ribbons, tintypes or other memorabilia associated with Indiana political figures clear back to the state's earliest history.
One of our guests, David Yount, a former state legislator from Columbus, owns a letter written in 1823 by Indiana's first governor, Jonathan Jennings, who by then was a U.S. congressman. Jennings wrote the letter to President James Monroe.
David, who is now a financial investment manager based in Carmel, also owns buttons from George Washington's first presidential inauguration in 1789.
Nelson also will be joined in studio by Michael McQuillen, an Indianapolis City-County councilman who also has a vast collection of historic political memorabilia.
Michael, a Republican who is the city council's minority leader, writes about antiques and collectibles for publications such as Antique Week and Collectors' Classified. With his wife Polly, he buys, sells and appraises political memorabilia and other collectibles at politicalparade.com.
With Michael and David, we will share insights about hunting for rare finds, the value of political collectibles and the range of promotional products that have touted Hoosier politicians for 200 years. Specialties of both of our guests include memorabilia related to Indiana's governors.
Michael's specialties also include the 1940 presidential campaign of Wendell Willkie (the Elwood native lost to FDR) and the campaigns of Dan Quayle, as well as memorabilia related to the World War II homefront and the Indiana State Fair.
The array of memorabilia touting political campaigns during the 1800s and early 1900s went far beyond traditional posters. Our guest David Yount has a clothes brush promoting the 1840 U.S. presidential campaign of William Henry Harrison, who was Indiana's first territorial governor earlier in his career. (Memorabilia associated with William Henry Harrison also is among David's specialties.)
Rare campaign memorabilia are permanently displayed in the historic home associated with Harrison's grandson, the Benjamin Harrison Presidential Site in Indianapolis.
In Logansport, Julian and Sue Ridlen own theMuseum of American Political Communication. The two-story museum, which may be visited by appointment, has an extensive collection of memorabilia - some dating to the 1790s - of everything from soap and sheet music to T-shirts and license plates.
Our guest Michael McQuillen, who is regional vice president of the American Political Items Collectors, has had his memorabilia collection featured on national and local TV. His collection even includes, as he puts it, "3D items" such as glassware, lighters and other novelties.
Because our guest David Yount also collects Indiana State Fair memorabilia, we will explore that timely aspect, as well as political artifacts.
In addition to owning a letter written by Jennings, Indiana's first governor (who was seeking a U.S. Navy appointment for a Hoosier constituent from James Monroe), David even has a letter written by Thomas Posey, one of Indiana's territorial governors. Posey was the third governor of the Indiana Territory from 1813 to 1816.
Both of our guests buy historic Indiana memorabilia from a variety of sources, ranging from eBay to other collectors and antique shows.
Michael McQuillen, a graduate of Perry Meridian High School and the University of Indianapolis, first was elected to the Indianapolis City-County Council in 2007. He has been a licensed auctioneer since 1994; his collections also include Indiana police and fire badges.
David Yount represented the Columbus area in the Indiana House of Representatives for 10 years beginning in 1996. A graduate of Indiana University, he is the former editor of a national journal dedicated to the preservation of cultural artifacts related to Abraham Lincoln and the Civil War.
Additional research courtesy of Jeff Kamm.
Roadtrip: Shelbyville revisited
Guest Roadtripper John Pratt, a history teacher at Greensburg Community High School, will take us on a quick tour of Shelbyville in Shelby County; not too far southeast of Indianapolis along I-74. John will tell us about historical figures with ties to Shelbyville, including Charles Major, Sandy Allen, Thomas Major and Bill Garrett.
John's stops will include the Grover Museum and Anderson Orchard, and then we'll really step back in time with stops at the Skyline Drive-In movie theater and a visit to the Bear's Den, where your food is served by a real car hop!
History Mystery
Indiana's only First Lady, Caroline Scott Harrison, started a White House collection. The wife of Benjamin Harrison, who was elected U.S. president in 1888, was convinced that the White House had fallen into neglect and crusaded to upgrade the historic home.
As part of that, Mrs. Harrison began a collection that continues to this day in the White House. A portrait painting of Mrs. Harrison occasionally is displayed in the White House - on a rotating basis - in part because of her role with the collection of White House artifacts.
Question: What is the collection?
To win the prize, you must call in with the correct answer during the live show and be willing to be placed on the air and be willing to give your contact info to our engineer. The call-in number is (317) 788-3314, and please do not call until you hear Nelson pose the question on the air. Please do not call if you have won a prize from any WICR show during the last two months.
The prize is two admissions to the Indianapolis Zoo and a gift certificate to Tavern on South in downtown Indianapolis, courtesy of Visit Indy.
Your Hoosier History Live team,
Nelson Price, host and creative director
Molly Head, producer, (317) 927-9101
Richard Sullivan, webmaster and tech director
Pam Fraizer, graphic designer
Garry Chilluffo, media+development director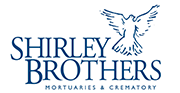 Please tell our sponsors that you appreciate their support: Indiana Authors Award | Indiana Historical Society | Lucas Oil | Mr. Tequila's Cantina & Grill | Shirley Brothers Mortuaries & Crematory | Story Inn | Visit Indy | Yats Cajun Creole Restaurant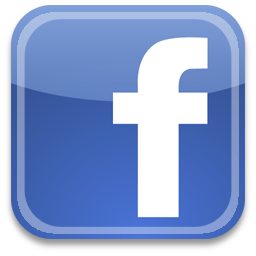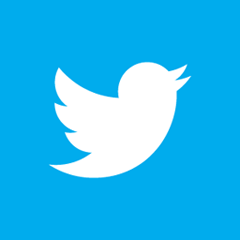 Acknowledgments to Monomedia, Visit Indy, WICR-FM, Fraizer Designs, Heritage Photo & Research Services, Derrick Lowhorn and many other individuals and organizations. We are an independently produced program and are self-supporting through organizational sponsorships and individual contributions. We do not receive any government funding. Visit our website to learn how you can support us financially. Also, see our Twitter feed and our Facebook page for regular updates.
Aug. 20, 2016 show
Calvin Fletcher, first major Indianapolis civic leader
He left his family's home in Vermont at age 17 and eventually, nearly penniless, made his way to Indianapolis in 1821 just as the new state capital was getting underway.
From that inauspicious start, Calvin Fletcher (1798-1866) became an attorney. A wealthy banker. A farmer and major landowner. A state legislator. And the first major civic leader in his adopted hometown.
Not to mention an abolitionist and the writer of an extensive diary that, since its publication in nine volumes by the Indiana Historical Society, has been a trove for anyone seeking insights about daily life in early Indianapolis.
Fletcher's name has come up during many previous Hoosier History Live shows. They have ranged from a program in December 2014 that explored the evolution of outreach to families and children (during the 1830s, Fletcher helped found the city's first social service organization, which then was known as the Indianapolis Benevolent Society) to a program about the notorious Massacre at Fall Creek. (As an influential attorney, Fletcher was brought in to represent some of the white men accused of slaughtering Native Americans in Madison County.)
So isn't it time for us to explore the colorful life of the self-made, early power-broker whose name continues to live on nearly 200 years after he first showed up in Indy? The Fletcher Place Neighborhood on the near-Southside is on the former site of its namesake's 269-acre farm. In nearby Fountain Square, Calvin Fletcher's Coffee Company is just one of the other ways his legacy continues.
To explore the life and impact of Calvin Fletcher - as well as those of some descendants and members of his extended family - Nelson will be joined by two guests:
Daniel Blake Smith, the St. Louis-based author of a new book about the Calvin Fletcher and his family, Our Family Dreams: The Fletchers' Adventures in Nineteenth-Century America (St. Martin's Press). Dan, who also is a screenwriter and former American history professor, will have a book talk at 6:30 p.m. on Aug. 16 at the Eugene and Marilyn Glick Indiana History Center in Indianapolis.
And Georgia Cravey, an Indianapolis-based historic researcher and scholar who lives in a historic home in Fletcher Place. A former reference librarian for the Indianapolis Public Library, Georgia was one of our guests on a show in November 2014 about the kidnapping of free blacks in early Indiana.
According to the Indiana Historical Society, Dan Blake Smith uses Fletcher's diary - as well as the family's letters, which also are found in IHS collections - "to demonstrate (that) the Fletchers dream, fret, fight and love in a way that is similar to many American families today."
During our show, guest Dan Blake Smith will discuss how the Civil War posed a "moral crisis" for Calvin Fletcher, a passionate abolitionist. One of his 11 children, William "Billy" Fletcher, trained as a Union Army soldier at Camp Morton in Indianapolis; Billy Fletcher later was captured as a spy by Confederates.
Calvin Fletcher began his diary before he left Vermont, where his father, Jesse, had a "hardscrabble farm" and "struggled with debt and depression," as Dan Blake Smith puts it in Our Family Dreams. Calvin Fletcher continued writing his diary until days before his death.
Additional research courtesy of Michael Armbruster.
© 2016 Hoosier History Live! All rights reserved.