Aug. 20, 2016 show
Calvin Fletcher, first major Indianapolis civic leader
He left his family's home in Vermont at age 17 and eventually, nearly penniless, made his way to Indianapolis in 1821 just as the new state capital was getting under way.
From that inauspicious start, Calvin Fletcher (1798-1866) became an attorney. A wealthy banker. A farmer and major landowner. A state legislator. And the first major civic leader in his adopted hometown.
Not to mention an abolitionist and the writer of an extensive diary that, since its publication in nine volumes by the Indiana Historical Society, has been a trove for anyone seeking insights about daily life in early Indianapolis.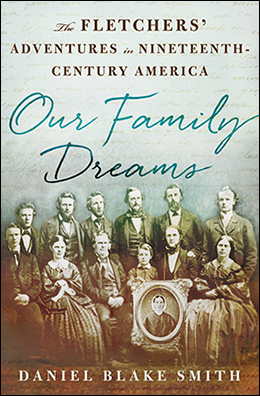 Fletcher's name has come up during many previous Hoosier History Live shows. They have ranged from a program in December 2014 that explored the evolution of outreach to families and children (during the 1830s, Fletcher helped found the city's first social service organization, which then was known as the Indianapolis Benevolent Society) to a program about the notorious Massacre at Fall Creek. (As an influential attorney, Fletcher was brought in to represent some of the white men accused of slaughtering Native Americans in Madison County.)
So isn't it time for us to explore the colorful life of the self-made early power broker whose name continues to live on nearly 200 years after he first showed up in Indy? The Fletcher Place Neighborhood on the near-Southside is on the former site of its namesake's 269-acre farm. On Virginia Street in that neighborhood, Calvin Fletcher's Coffee Company is just one of the other ways his legacy continues.
To explore the life and impact of Calvin Fletcher - as well as those of some descendants and members of his extended family - Nelson will be joined by two guests:
Daniel Blake Smith, the St. Louis-based author of a new book about the Calvin Fletcher and his family, Our Family Dreams: The Fletchers' Adventures in Nineteenth-Century America (St. Martin's Press). Dan, who also is a screenwriter and former American history professor, recently gave a presentation about his book at the Eugene and Marilyn Glick Indiana History Center in Indianapolis.
And Georgia Cravey, an Indianapolis-based historic researcher and scholar who lives in a historic home in Fletcher Place. A former reference librarian for the Indianapolis Public Library, Georgia was one of our guests on a show in November 2014 about the kidnapping of free blacks in early Indiana.
According to the Indiana Historical Society, Dan Blake Smith uses Fletcher's diary - as well as the family's letters, which also are found in IHS collections - "to demonstrate (that) the Fletchers dream, fret, fight and love in a way that is similar to many American families today."
Calvin Fletcher began his diary before he left Vermont, where his father, Jesse, had a "hardscrabble farm" and "struggled with debt and depression," as Dan Blake Smith puts it in Our Family Dreams. Calvin Fletcher continued writing his diary until days before his death.
During the Civil War, Calvin Fletcher supported the formation of the 28th Regiment U.S. Colored Troops, an infantry of African Americans from Indiana. As our guest Georgia Cravey will describe during our show, the recruits trained at Camp Fremont, which was set up on Fletcher's land.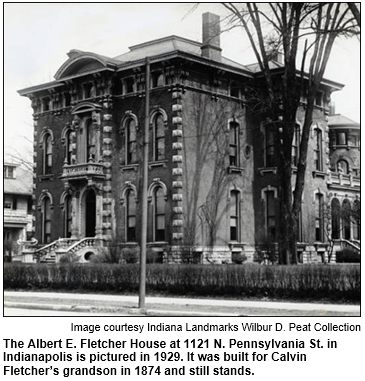 Georgia also will describe the vast expanse of Fletcher's land holdings, which included much of Brookside Park on the eastside of Indy, as well as Fletcher Place. In Our Family Dreams, Dan Blake Smith notes that in 1834 Fletcher even bought 1,200 acres in LaPorte County, "launching a long career of mostly profitable land speculation."
Nelson and his guests also will explore Fletcher's staunch religious beliefs. According to Georgia, he instructed a daughter that reading novels was unseemly; he also made his sons return money and retrieve a horse they had sold on the Sabbath. Calvin's close friends included Rev. Henry Ward Beecher, then the pastor at Second Presbyterian Church - and later a nationally influential preacher based in New York
Calvin Fletcher became the first practicing attorney in Indianapolis and helped organize Indiana's first state bank.
His first wife, Sarah Hill Fletcher, also kept a diary; they had had 11 children. After Sarah's death in 1854, Fletcher married his second wife, Keziah, a teacher who, like most of the Fletchers, highly valued education.
When Fletcher died in 1866, his funeral cortege to Crown Hill Cemetery stretched, according to Our Family Dreams, "for nearly a mile."
Learn more:
Additional research courtesy of Michael Armbruster.
Roadtrip: Selmier State Forest in Jennings County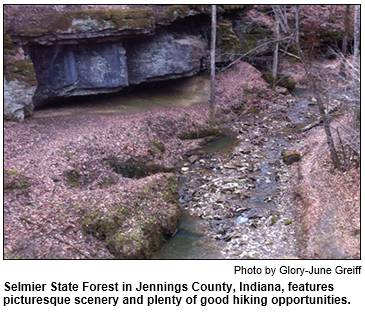 Guest Roadtripper and public historian Glory-June Greiff tells us: "Put on your hiking shoes and take a trip to Jennings County, about an hour and a half southeast of Indianapolis."
Says Glory, a longtime Indiana explorer: "A visit to the little-known Selmier State Forest, just a bit northeast of North Vernon, the county's largest town, will give you fine trails through forested lands and along the Muscatatuck River."
Break for lunch and stroll around the tiny county seat of Vernon, a very old town with lots of pre-Civil War architecture and a stunning courthouse that was built in 1859. Just northwest of the courthouse square is an impressive stone arch railroad overpass.
Vernon has some interesting restaurants for its tiny size; you might try the Log Cabin Inn on the south side of the courthouse square.
Walk off your meal at Muscatatuck County Park just on the northwest edge of Vernon on Highway 7 (between Vernon and North Vernon). Also on the Muscatatuck River, the park features a more rugged terrain plus several structures built by the Works Progress Administration, which worked on the property in the 1930s. Muscatatuck actually started out as a state park, our third, and briefly was named Vinegar Mills. Remnants of that early 19th-century mill site remain in the park.
History Mystery
Alexander Ralston, a surveyor and engineer, was hired to plan the new city of Indianapolis in the early 1820s. Previously, Ralston had helped French architect Pierre L'Enfant design Washington D.C. With his plan for Indiana's new state capital of Indianapolis, Ralston suggested the Mile Square, with a circular drive in the center.
Although he spent the rest of his life in Indianapolis after designing the city, Ralston was not a native American. He was born in another country and immigrated to the United States after the Revolutionary War.
Question: Where was Alexander Ralston born?
The call-in number is (317) 788-3314. Please do not call into the show until you hear Nelson pose the question on the air, and please do not try to win the prize if you have won any other prize on WICR during the last two months. You must be willing to give your name and address to our engineer and be willing to be placed on the air.
The prize is two admissions to the Rhythm Discovery Center, courtesy of Visit Indy, and two tickets to the Hoosier Hops and Harvest Craft Beer Festival in Brown County, courtesy of the Story Inn.
Your Hoosier History Live team,
Nelson Price, host and creative director
Molly Head, producer, (317) 927-9101
Richard Sullivan, webmaster and tech director
Pam Fraizer, graphic designer
Garry Chilluffo, media+development director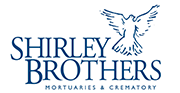 Please tell our sponsors that you appreciate their support: Indiana Authors Award | Indiana Historical Society | Lucas Oil | Mr. Tequila's Cantina & Grill | Shirley Brothers Mortuaries & Crematory | Story Inn | Visit Indy | Yats Cajun Creole Restaurant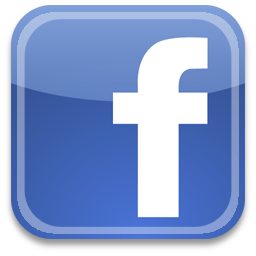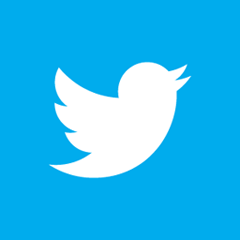 Acknowledgments to Monomedia, Visit Indy, WICR-FM, Fraizer Designs, Heritage Photo & Research Services, Derrick Lowhorn and many other individuals and organizations. We are an independently produced program and are self-supporting through organizational sponsorships and individual contributions. We do not receive any government funding. Visit our website to learn how you can support us financially. Also, see our Twitter feed and our Facebook page for regular updates.
Aug. 27, 2016 show
History of police training in Indiana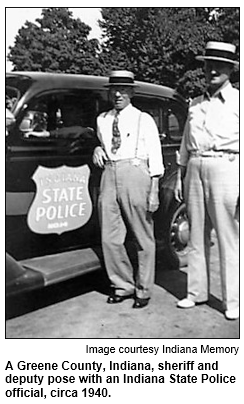 Our guest will be attorney and WICR-FM colleague Charles Braun, who has been training police officers on every level of law enforcement - from Indiana State Police officers to those on town and city forces across the state - for 39 years.
A popular instructor for decades at the Indiana Law Enforcement Academy in Plainfield, Charles is the host of Legally Speaking, the longest-running legal advice show on American radio.
During his distinguished career, Charles, a history lover and Fort Wayne native, has extensively researched the evolution of police training in Indiana since the 1800s.
During our show, he will describe the law enforcement scenario during the 1800s when many untrained citizens - akin to vigilantes - offered to help local law enforcement. Sometimes their offers were accepted - and sometimes major problems resulted.
"Prior to ... 1972, anyone could become a police officer in Indiana," Charles says. He notes that "Old West-style posses and bounty hunters" still can be formed in the state.
According to Charles, Indiana's two state constitutions - the first in 1816, the second in 1851 - established the elected office of county sheriff across the state. But the constitutions included few requirements for those seeking the post.
Among the courses Charles has taught to state, city and other police officers are classes on interpersonal communications. Beyond that, he played a key role in developing basic training, as well as in developing continuing education of Indiana's law enforcement officers.
So who better to share insights on this timely history topic?
As a history enthusiast, Charles' interests include the origins of county names across Indiana. He has joined Nelson on two previous Hoosier History Live shows - in May 2013 and September 2010 - to share insights about that topic.
He launched Legally Speaking in 1983. The call-in legal advice show airs at 11 a.m. Saturdays on WICR 88.7 FM in Indianapolis.
© 2016 Hoosier History Live! All rights reserved.