Oct. 15, 2016 show
Live from Hoosier Homecoming
Thousands of Hoosiers are expected to celebrate the state's 200th birthday at the debut of the Bicentennial Plaza next to the Indiana State Capitol. And Hoosier History Live will be amid the hoopla at the Hoosier Homecoming for a live "remote" (on-location) broadcast as Nelson interviews an array of attendees.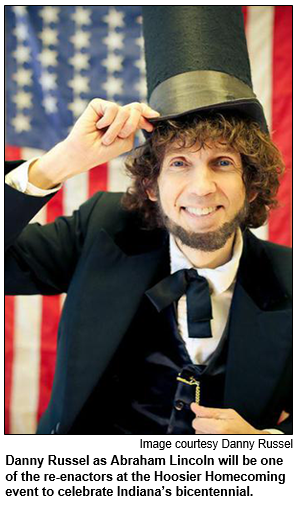 During the festivities, the Bicentennial torch will arrive from its 92-county journey that began in early September in Corydon, the state's first capital.
Historic re-enactors of famous Hoosiers, top state and civic leaders, artists, food vendors and residents from across Indiana are expected to attend the Hoosier Homecoming. So are many of the 2,000 people who have carried the torch during its 2,300-mile relay.
Designed and constructed at a cost of about $2 million, the Bicentennial Plaza will be an outdoor public gathering space with artwork and a water element. Located just west of the Indiana Statehouse, the plaza is expected to serve as a legacy of the state's 200th anniversary. Indiana became the country's 19th state in 1816.
Nelson's lineup of guests is expected to include distinguished historians such as Jim Madison of the Indiana Bicentennial Commission (and the author, most recently, of Hoosiers: A New History of Indiana), as well as Abraham Lincoln, who lived in the state from ages 7 through 21.
Well, slight clarification. "Honest Abe" (1809-1865), whose family moved to the Indiana wilderness just before statehood was achieved, won't be on the scene. But expect historic re-enactor Danny Russel - in his stovepipe hat, boots and other Lincoln-like garb - to participate in the festivities and share insights with Nelson.
Other notables on our special show will include Perry Hammock, executive director of the Bicentennial Commission, who has been a frequent Hoosier History Live guest during the last 18 months. Perry and his crew are overseeing the Hoosier Homecoming.
During a guest appearance on our show in July, he noted the creation of the plaza initially was planned in 1916 during the state's 100th birthday celebrations; construction never occurred, though.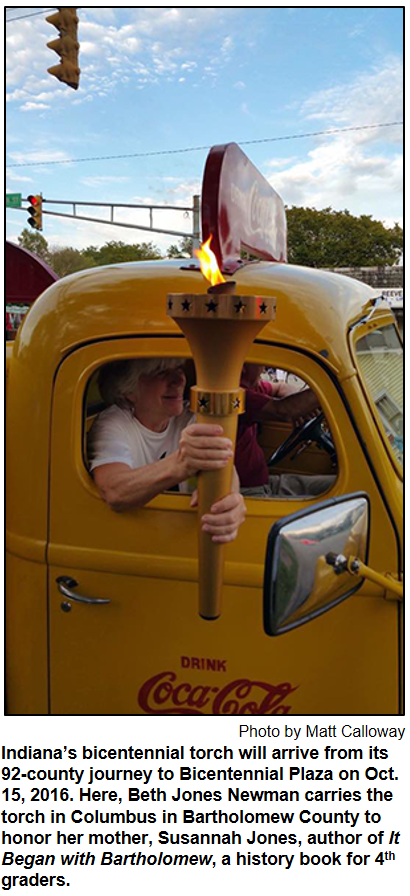 So instead of being a Centennial Plaza as originally proposed, the public space will be a Bicentennial Plaza - and it will serve as a future setting, officials hope, for a range of outdoor events, including rallies for sports teams, concerts and festivals. Construction of the plaza began last spring.
Inspired by the Olympic torch, the Bicentennial torch was designed by a team of more than 50 engineering students at Purdue University. The torch relay project has had a budget of $1.6 million.
Since the relay began in Corydon, the torch has been carried along U.S. 40 (the Old National Road) and to landmarks including the Indianapolis Motor Speedway, the Indiana Dunes, the Indiana Basketball Hall of Fame in New Castle and the Lincoln Boyhood National Memorial in Spencer County.
Mark Newman, director of the Indiana Office of Tourism, has been on the road with the torch. He will share insights about the relay during our show at the Hoosier Homecoming, a free gala that will last from noon to 5 pm.
Also during the festivities, the new Statehouse Education Center and the new plaza will be dedicated. Jessica Robertson, the commissioner of the Indiana Department of Administration, which has been overseeing construction of both projects, will be among Nelson's guests on the show.
The Hoosier Homecoming will have a "family flavor," officials say, with multi-sensory, interactive activities for children. Face-painting and scavenger hunts will be among them. In addition to Danny Russel as "Honest Abe," re-enactors will portray notable Hoosiers such as Jonathan Jennings, Indiana's first governor, and Ernie Pyle, the World War II journalist who was born in the town of Dana in far-western Indiana.
The Pyle interpreter, in fact, will perform a one-man show on the south steps of the Indiana State Capitol. You can listen online to a podcast of our Hoosier History Live show about Ernie Pyle and his international impact as a war correspondent.
Inside the Statehouse, both of Indiana's constitutions (from 1816 and 1851) will be displayed in the rotunda.
Your Hoosier History Live team,
Nelson Price, host and creative director
Molly Head, producer, (317) 927-9101
Richard Sullivan, webmaster and tech director
Pam Fraizer, graphic designer
Garry Chilluffo, media+development director

Please tell our sponsors that you appreciate their support: Indiana Authors Award | Indiana Historical Society | Lucas Oil | Mr. Tequila's Cantina & Grill | Shirley Brothers Mortuaries & Crematory | Story Inn| Yats Cajun Creole Restaurant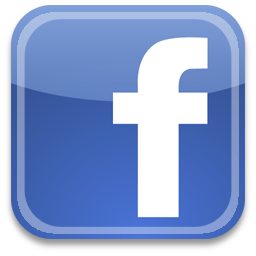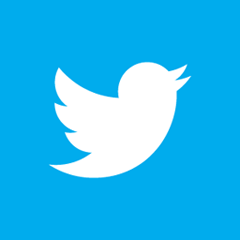 Acknowledgments to Monomedia, Visit Indy, WICR-FM, Fraizer Designs, Heritage Photo & Research Services, Derrick Lowhorn and many other individuals and organizations. We are an independently produced program and are self-supporting through organizational sponsorships and individual contributions. We do not receive any government funding. Visit our website to learn how you can support us financially. Also, see our Twitter feed and our Facebook page for regular updates.
Oct. 22, 2016 show
Sculpting famous Hoosiers
From a fur trader of French Canadian heritage during the 1700s who established Vincennes, Indiana's oldest town, to Peyton Manning, the former Indianapolis Colts quarterback, sculptures of famous Hoosiers have been erected - or are in the process of being created - across the state.
In addition to the Manning sculpture, which will stand tall and proud at Lucas Oil Stadium, and the sculpture of Francois Vincennes, notables depicted with bronze statues or other pieces of artwork include James Whitcomb Riley.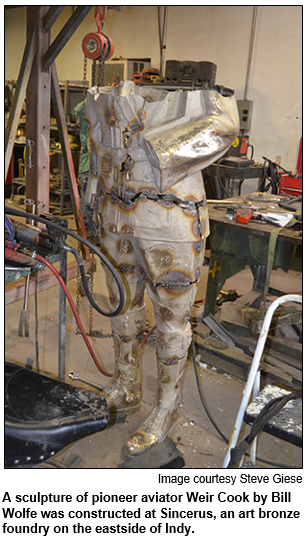 A new sculpture of the Hoosier poet was dedicated earlier this month in his hometown of Greenfield.
You can see the sculptures of aviation pioneer Weir Cook at Indianapolis International Airport and basketball icon Larry Bird at Indiana State University, his alma mater. Elsewhere across the state are sculptures honoring Hoosiers who sacrificed as law enforcement and public safety officers, as well as statues of military veterans. Nelson will be joined by three studio guests involved in the creation of many of the sculptures:
Steve Giese, owner of Sincerus, an art bronze foundry on the eastside of Indy. The foundry works with patrons and artists - including our two other guests - to create a range of statuary and other artwork. The foundry at 6800 E. 32nd St. oversees casting, assembling and other aspects of the process. According to Steve, Sincerus is a Latin word meaning "without wax".
Bill Wolfe, a sculptor based in Terre Haute. He created the new sculpture of the Hoosier poet - it was unveiled Oct. 8 at the James Whitcomb Riley Boyhood Home and Museum - as well as the sculptures of Larry Bird, Francois Vincennes, Weir Cook and many others.
And Ryan Feeney, an Indianapolis firefighter and artist who was chosen to create the 10-feet-tall bronze statue of Manning that will be installed in 2017. Ryan, the owner of Indy Art Forge, also is creating the bronze statue of a firefighter that will be displayed on Massachusetts Avenue at the union hall of the Indianapolis Fire Department. (It will be a memorial to firefighters killed during a major fire at the Indianapolis Athletic Club in 1992.)
According to a recent article in the Indianapolis Star, Ryan has been poring over more than 400 photos of Manning; he was flown by Colts owner Jim Irsay to meet the retired quarterback, who led the team to a Super Bowl win in February 2007.
The giant (16 feet tall) statue of "Larry Legend" created by our guest Bill Wolfe is at the Hulman Center on the Indiana State campus. Its dedication ceremony in November 2013 was attended by Bird, who grew up in French Lick and followed his astounding success at Indiana State by becoming an NBA superstar with the Boston Celtics. Since retiring as a player, Bird has been involved with the Indiana Pacers as the team's coach and, currently, as president.
Francois Vincennes, the namesake of the historic town in Knox County, is often considered to be the first "famous Hoosier." His father, known as the first Sieur de Vincennes, was born in Quebec and traveled to the Indiana wilderness; Francois Vincennes established a fort on the Wabash River in the 1730s that evolved into a frontier village.
Additional research courtesy Michael Armbruster.
© 2016 Hoosier History Live. All rights reserved.