Oct. 22, 2016 show
Sculpting famous Hoosiers
From a fur trader of French Canadian heritage during the 1700s who established Vincennes, Indiana's oldest city, to Peyton Manning, the former Indianapolis Colts quarterback, sculptures of famous Hoosiers have been erected - or are in the process of being created - across the state.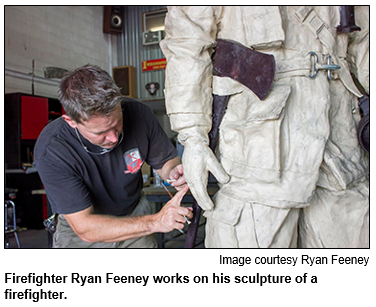 In addition to the Manning sculpture, which will stand tall and proud at Lucas Oil Stadium, and the sculpture of Francois Vincennes, notables depicted with bronze statues or other pieces of artwork include James Whitcomb Riley. A new sculpture of the Hoosier poet was dedicated earlier this month in his hometown of Greenfield.
You can see the sculptures of aviation pioneer Weir Cook at Indianapolis International Airport and basketball icon Larry Bird at Indiana State University, his alma mater. Elsewhere across the state are sculptures honoring Hoosiers who sacrificed as law enforcement and public safety officers, as well as statues of military veterans.
Nelson will be joined by three studio guests involved in the creation of many of the sculptures:
Steve Giese, owner of Sincerus, a bronze art foundry on the eastside of Indy. The foundry works with patrons and artists - including our two other guests - to create a range of statuary and other artwork. The foundry at 6800 E. 32nd St. oversees casting, assembling and other aspects of the process. According to Steve, Sincerus is a Latin word meaning "without wax."
Bill Wolfe, a sculptor based in Terre Haute. He created the new sculpture of the Hoosier poet - it was unveiled Oct. 8 at the James Whitcomb Riley Boyhood Home and Museum - as well as the sculptures of Larry Bird, Francois Vincennes, Weir Cook and many others.
And Ryan Feeney, an Indianapolis firefighter and artist who was chosen to create the 10-feet-tall bronze statue of Manning that will be installed in 2017. Ryan, the owner of Indy Art Forge, also is creating the bronze statue of a firefighter that will be displayed on Massachusetts Avenue at the union hall of the Indianapolis Fire Department. (It will be a memorial to firefighters killed during a major fire at the Indianapolis Athletic Club in 1992.)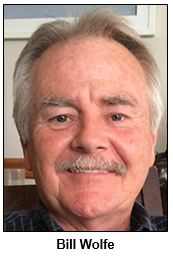 According to a recent article in the Indianapolis Star, Ryan has been poring over more than 400 photos of Manning; he was flown by Colts owner Jim Irsay to meet the retired quarterback, who led the team to a Super Bowl win in February 2007.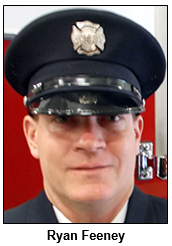 The giant (16 feet tall) statue of "Larry Legend" created by our guest Bill Wolfe is at the Hulman Center on the Indiana State campus. Its dedication ceremony in November 2013 was attended by Bird, who grew up in French Lick and followed his astounding success at Indiana State by becoming an NBA superstar with the Boston Celtics. Since retiring as a player, Bird has been involved with the Indiana Pacers as the team's coach and, currently, as president.
Francois Vincennes, the namesake of the historic town in Knox County, is often considered to be the first "famous Hoosier." His father, known as the first Sieur de Vincennes, was born in Quebec and traveled to the Indiana wilderness; Francois Vincennes established a fort on the Wabash River in the 1730s that evolved into a frontier village.
Our guest Ryan Feeney has been a firefighter since 1999 and has been creating art even longer, ever since his school days in Indianapolis. Ryan is a graduate of Cathedral High School and Miami University of Ohio, where he studied sculpture and graphic design.
His sculptures include a bronze eagle at the Indianapolis 9/11 Memorial on the Central Canal.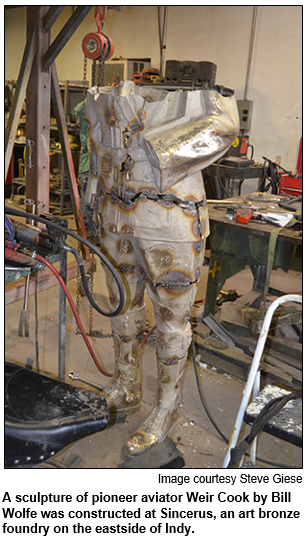 The eagle is perched atop one of two 11,000-pound bronze beams at the memorial, which was dedicated on Sept. 11, 2011, the 10th anniversary of the terrorist attacks. Ryan also created the Peace Dove sculpture that "soars" atop the atrium of the central branch of the Indianapolis Public Library; the dove was created from guns confiscated by local law enforcement agencies.
During our show, foundry owner Steve Giese will explain how sculptures evolve from ideas through the finished product. According to Steve, the idea for a towering sculpture of Larry Bird was sparked when Indiana State boosters noticed a sculpture at Michigan State honoring Bird's arch-rival (and close friend) Magic Johnson. Marching orders for the Bird sculpture were to make it taller than the Johnson statue.
In addition to the sculptures of Bird, Vincennes, James Whitcomb Riley and Weir Cook (a World War I fighter pilot born in Hancock County), Bill Wolfe has created dozens of other statues across Indiana, as well as murals of famous Hoosiers. They include a mural depicting various eras in the life of Saint Mother Theodore Guerin, a pioneer Catholic nun who founded St. Mary-of-the-Woods College, orphanages and schools in the Indiana wilderness.
The mural honoring her is in the Vigo County Courthouse, where another of Bill's murals also adorns the rotunda. It's a depiction of famous Hoosiers from all walks of life (including Tony Hulman and Birch Bayh) who have connections to the county. Elsewhere in Indiana, his sculptures include the Carmel Veterans Memorial.
In Indianapolis, Ryan created the Fallen Deputy Memorial in front of the Marion County Jail. To create the high-profile sculpture of Manning, which was commissioned by the Colts, Ryan was selected over dozens of other artists from across the country.
Additional research courtesy Michael Armbruster.
Roadtrip: Rugged Martin County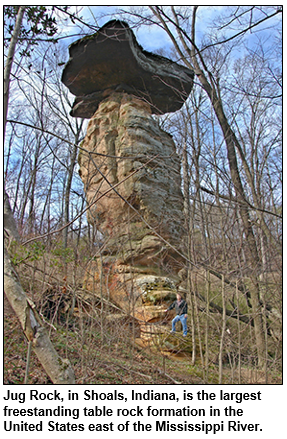 Guest Roadtripper and public historian Glory-June Greiff tells us: "Rugged Martin County is a great place to spend the day. It's got great hiking opportunities - many quite vigorous! - and lots of oddities to see."
Scenic views and rugged hills abound at Martin County State Forest, which also has several structures built by the Civilian Conservation Corps - including a lookout tower that you are welcome to climb. What sights await you at the top!
If you're hungry after all that hiking, go into Shoals, the county seat, and stop at Velma's Diner, right downtown - downhome cooking and downhome folks.
Take a drive around the county for a variety of rock formations and historic sites. Probably the most famous is Jug Rock, a rare table rock formation, just on the edge of Shoals off Highway 50. But there are other geological wonders if you brave the winding county roads - you'll hardly believe you're in Indiana! - with names like Pinnacle Rock, House Rock, and Beaver Bluffs.
Along the way you may note amazing old structures; Martin County even sports two surviving stagecoach inns!
And of course there is the storied site of Hindostan, the first county seat. Don't believe all the wild legends; the town was once a thriving community where a major stagecoach route crossed the White River. Today the spot is renowned for fishing, but you can still see the holes in the rock where mills once stood.
After all that exploring, time for a treat - or even another meal? Says Glory: "Stop at Bo-Mac's Drive In on the east side of Shoals on US 50!"
History Mystery
An 8-foot bronze statue of the Catholic priest who founded the University of Notre Dame has stood on the South Bend campus for 110 years. The priest who founded Notre Dame in the 1840s - and who served as its first president - was an immigrant from a European country.
Even though Notre Dame has been associated with the Irish for generations - its sports teams are known as the Fighting Irish - the founding priest was not from Ireland.
Question: What country was he from?
The call-in number is (317) 788-3314. Please do not call into the show until you hear Nelson pose the question on the air, and please do not try to win the prize if you have won any other prize on WICR during the last two months. You must be willing to give your name and address to our engineer and be willing to be placed on the air.
The prize is a Family 4-Pack to Conner Prairie, including 4 tickets to the 1859 Balloon Voyage, courtesy of Conner Prairie.
Your Hoosier History Live team,
Nelson Price, host and creative director
Molly Head, producer, (317) 927-9101
Richard Sullivan, webmaster and tech director
Pam Fraizer, graphic designer
Garry Chilluffo, media+development director
Please tell our sponsors that you appreciate their support: Indiana Authors Award | Indiana Historical Society | Indiana Repertory Theatre | Lucas Oil | Shirley Brothers Mortuaries & Crematory | Story Inn| Yats Cajun Creole Restaurant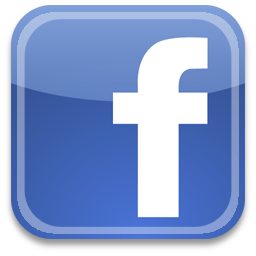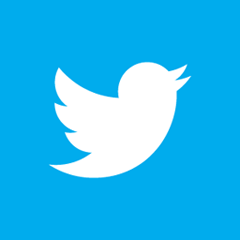 Acknowledgments to Monomedia, Visit Indy, WICR-FM, Fraizer Designs, Heritage Photo & Research Services, Derrick Lowhorn and many other individuals and organizations. We are an independently produced program and are self-supporting through organizational sponsorships and individual contributions. We do not receive any government funding. Visit our website to learn how you can support us financially. Also, see our Twitter feed and our Facebook page for regular updates.
Live from Hoosier Homecoming
200-year celebration was a live history blast
On Saturday, Oct. 15, 2016, Hoosier History Live transmitted our show "Live from Hoosier Homecoming" from the new Bicentennial Plaza at the Indiana Statehouse. Indiana's 200-year anniversary party offered up some great live interviews, including:
Perry Hammock, director of the Indiana Bicentennial Commission.
Mark Newman, state tourism director.
Jessica Robertson, state Director of Administration.
Lewis Ricci, Indiana Arts Commission director.
A host of torch bearers and historic re-enactors from around the state.
We were proud to participate in and document the historical opening of Bicentennial Plaza and associated events. Our day's challenges - always multitudinous when doing a live remote - included navigating through Secret Service-secured areas due to the current vice-presidential campaign of Indiana Gov. Mike Pence.
Big thanks to Henri Pensis, program director at WICR, who ran the "on location" board as host Nelson Price conducted live interviews. Thanks also to Hoosier History Live's own Garry Chilluffo and Molly Head for "corralling" guests for the live show.
We are looking for an organization or individual to sponsor the editing for the podcast of this show. If interested, contact molly@hoosierhistorylive.org.
Oct. 29, 2016 show
Capital move from Corydon to Indy and early roads
Have you ever wondered how, during an October in the 1820s, all of the money in the state treasury was moved through the Indiana wilderness from Corydon, our first state capital?
There were no Brink's armored vehicles, no Indiana State Police. And very few roads existed through the dense forest of towering trees that prevailed over much of early Indiana when the new capital city of Indianapolis was created.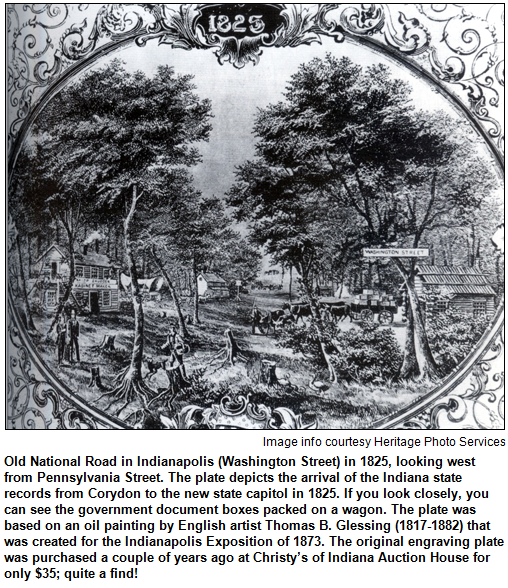 The site was chosen primarily for its central location as pioneers began to move north.
We will explore the transport of the state's property and money in October 1824. The treasury was kept in silver during the move by a caravan of horse-drawn covered wagons. The caravan included state officials and their extended families, some of whom slept by the silver (which was in crates) to protect it during the rigorous journey.
Also during our show, we will explore the creation of early roads through the wilderness to the new capital city, including a road that was crucial for the state capital's move.
The trip from Corydon to Indy - which takes about two hours today - lasted nearly two weeks then, even with a team of horses hailed as "none finer in Indiana."
The first two roads created in the wilderness to Indianapolis were known as Mauxferry (occasionally spelled Mauckferry) Road and the Madison State Road, sometimes called "Indiana's mother roads". There's a direct connection between them and today's Madison Avenue on the south side of Indianapolis.
We also will delve into the creation of Michigan Road. It was built in the 1830s to connect Ohio River towns with Indianapolis - and, eventually, to Lake Michigan.
Our guide for this time-traveling journey will be Jay Allen, an Indianapolis-based historic researcher and author who owns and lives in the historic Bates-Hendricks House, which is listed on the National Register of Historic Places. The original part of the home (one of the oldest in Indy) was built in the early 1820s.
Many of the details about the move of the precious treasury have endured thanks to the sister-in-law of Samuel Merrill, the state's treasurer. His sister-in-law, Mary Catherine Anderson (later Mary Catherine Naylor), wrote a memoir that included a description of the journey, on which she was a participant. In addition to the treasury, the property that was moved included the state's printing press.
The creation of roads in the Indiana wilderness was hardly a breeze. Tall trees had to be felled, stumps removed (if possible) and muck endured.
On previous Hoosier History Live shows, we have explored the creation of the Old National Road (now U.S. 40 in Indiana) and the Lincoln Highway in northern Indiana.
Learn more:
© 2016 Hoosier History Live. All rights reserved.