Jan. 28, 2017 show
Indiana's first governor and first lady
With the inauguration this month of a new Indiana governor, Hoosier History Live will explore the life and career of the first.
We also will explore the life - and early death - of First Lady Ann Jennings, the wife of Gov. Jonathan Jennings.
Neither was born on Hoosier soil. And they lived in Corydon, the capital when Indiana became a state in 1816, rather than Indianapolis.
According to the book First Ladies of Indiana and the Governors (1984), no portrait ever was painted of Ann Jennings. She lived before photography was invented, of course, so no image of her exists, meaning no one knows precisely what she looked like.
Even so, Lori Roberts, who lives in Brownstown in Jackson County, portrays Jennings (in typical 1800s attire) at historical events and workshops. Aside from her work as an historical re-enactor, Lori teaches U.S. history at Shawswick Middle School in Bedford and will be among Nelson's studio guests this week.
Also on the program will be award-winning historian, editor and author Ray Boomhower of the Indiana Historical Society. Ray was the editor for Jonathan Jennings: Indiana's First Governor (IHS Press, 2005), a biography written by Randy Mills.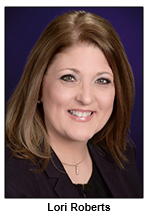 The son of a Presbyterian minister, Jonathan Jennings was born in New Jersey in 1784 and grew up in Pennsylvania. Ann Hay (later Jennings) was the daughter of a prosperous surveyor in Kentucky, where she was born in 1792. Ann, who married Jonathan in 1811, was just 24 years old when she became Indiana's first lady in 1816.
Jonathan Jennings had moved to the Indiana Territory to study law. He settled in Charlestown near the Ohio River. A strong opponent of slavery, he was elected a territorial delegate to the U.S. Congress in 1809, defeating a pro-slavery candidate. Periodically, Ann Jennings nursed victims of malaria, which was epidemic both in Washington D.C. and southern Indiana (as we explored on this 2015 episode of Hoosier History Live).
Jonathan Jennings' years as governor were sandwiched between stints in Washington. He won re-election as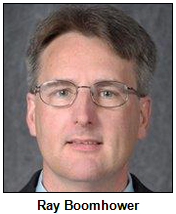 governor, but he quit during the middle of his second term in 1822 to take a seat in Congress. Ann Jennings, whose health had begun to fail, did not make the return move to Washington. She died at age 34 in Charlestown.
Battles with alcoholism ended Jonathan Jennings' political career several years before his death in 1834.
Our guest Lori Roberts is the author of three books, including historical fiction set in the Civil War era. In addition to portraying Ann Jennings, she is a the re-enactor of several other historic figures, including the wife of Gen. "Stonewall" Jackson. Her website is at stonewallswife.com.
Our guest Ray Boomhower is the editor of Traces of Indiana and Midwestern History, the popular magazine published by the Indiana Historical Society. Ray also has written 13 books, primarily biographies of famous Hoosiers such as Gen. Lew Wallace, astronaut Gus Grissom and journalist Ernie Pyle. He's a frequent guest on Hoosier History Live, most recently on a show last year about derivations of the terms "Hoosiers" and "Indianans".
Some history facts:
Jonathan and Ann Jennings had no children. After her death, Jonathan - by then a member of Congress - remarried. That marriage also didn't produce children.
Ann Jennings was said to have been highly skilled at horsemanship, often riding side saddle.
According to First Ladies of Indiana and the Governors, Jennings' salary as Indiana's governor in 1816 was $1,000.
History Mystery
Governors of Indiana since 2000 have included one who had been a prisoner of war. During the Vietnam War, he was a flight officer and navigator whose plane was shot down. Captured by the North Vietnamese, he spent more than 10 months in the notorious "Hanoi Hilton" prison camp where many American pilots were held.
The future governor, who was awarded two Purple Hearts and the Distinguished Flying Cross, served as mayor of a city in northern Indiana during the 1990s.
Question: Name the former governor.
The call-in number is (317) 788-3314. Please do not call in to the show until you hear Nelson pose the question on the air, and please do not try to win the prize if you have won any other prize on WICR during the last two months. You must be willing to give your name and address to our engineer and be willing to be placed on the air.
The prize is two admissions to the Indiana Experience at the Indiana History Center in downtown Indianapolis, courtesy of the Indiana Historical Society History.
Roadtrip: Villages of Marion County
Guest Roadtripper Paul Diebold of the Indiana DNR's Division of Historic Preservation will tell us about a recent Roadtrip that he and his wife Peggy made exploring the historic villages of Marion County.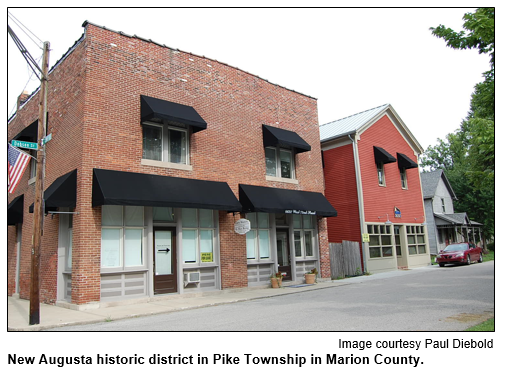 What historic villages? Indianapolis has pretty much "grown over" and absorbed most of these once-distinct small towns. But some of these places still exist, either by virtue of their historic buildings and places, or in a few cases, simply by name. Those that have survived to make it to the National Register of Historic Places are mentioned on the National Park Service's official travel itinerary.
Paul and Peggy forgot to grab a bite to eat first, so they headed to Snacks. That's Snacks, Indiana, which is in the northwest part of Indianapolis, inside 465 in Pike Township. There aren't many historic buildings left in Snacks, with the notable exception of the historic Bethel United Methodist Church, which has been on West 52nd Street near Lafayette Road for over 175 years.
Paul asked, "If we had snacks in the parking lot, would that be Snacks in Snacks?"
Maybe someone can tell us the origin of the name of Snacks.
Further north in Pike Township there's New Augusta. Just north of the 4700 block of West 71st Street, this place still feels like a village, complete with chapel, train depot, former store buildings and even the town water pump!
Paul and Peggy next ventured to the north edge of Marion County to Castleton. To the mall? No, Castleton was a railroad village a long, long time before Castleton Square Mall opened in the 1970s. Most railroad villages have lost their old train depot to demolition. Castleton lost its village to demolition and highway construction, but it kept its depot, which now serves as home to Chateau de Pique Winery and Brewery! The rail line just outside the window is still in use, but the only thing chugging in the depot - or being chugged - is wine.
And we'll hear more about the villages of Marion County next week ... to be continued!
Your Hoosier History Live team,
Nelson Price, host and creative director
Molly Head, producer, (317) 927-9101
Richard Sullivan, webmaster and tech director
Pam Fraizer, graphic designer
Garry Chilluffo, media+development director
Michael Armbruster, editing and tech associate
Please tell our sponsors that you appreciate their support: Greek Islands Restaurant & Catering | Indiana Historical Society | Indiana Landmarks | Lucas Oil | MBP Catering | Shirley Brothers Mortuaries & Crematory | Story Inn | Yats Cajun Creole Restaurant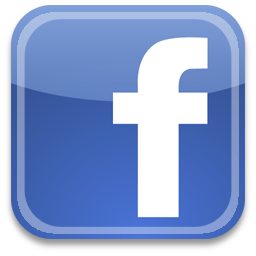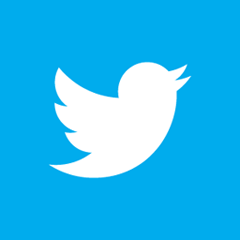 Acknowledgments to Monomedia, Visit Indy, WICR-FM, Fraizer Designs, Heritage Photo & Research Services, Derrick Lowhorn and many other individuals and organizations. We are an independently produced program and are self-supporting through organizational sponsorships and individual contributions. We do not receive any government funding. Visit our website to learn how you can support us financially. Also, see our Twitter feed and our Facebook page for regular updates.
9 years on the air!
Join us Feb. 23 for our anniversary soiree
Can you believe it? Hoosier History Live has been on the air nine years.
To celebrate, we are throwing another of our famous anniversary parties!
Featured events at the party will include live "History Mystery" quizzes by host Nelson Price, with fabulous prizes. We are particularly looking forward to remarks by former Indiana First Lady and television producer Judy O'Bannon. And you never know what other notables will be on hand to share remarks and good cheer with our history-loving crowd, which includes listeners, readers and of course many of our distinguished on-air guests.
Delicious catered cuisine and cash bar will be provided by MBP Distinctive Catering.
Let's celebrate together: RSVP today!
Hoosier History Live welcomes Michael Armbruster
Hoosier History Live extends a hearty welcome to new team member Michael "Mick" Armbruster, who is beginning to do the layout of the weekly newsletter. Mick is training under the "master," webmaster Richard Sullivan. As producer Molly Head says, it takes a lot of talented and hardworking people to keep Hoosier History Live looking and sounding so good each week.
Mick is originally from Santa Fe, New Mexico, but he took his undergraduate degree at the University of Virginia and also studied for a year at Moscow State University in Russia. He earned a graduate degree at Indiana University's Slavic Department in Bloomington, where he studied Russian language and literature, with a focus on 19th-century authors such as Fyodor Dostoevsky and Alexandr Pushkin.
He taught English at Arsenal Tech High School and Brebeuf Jesuit Preparatory School, both in Indianapolis, for 19 years.
Mick says he fell in love with Indiana while in Bloomington, with the state's woodlands, four seasons and deciduous trees, as opposed to the high-desert climate he grew up in. He is an active cyclist and hiker, and he gets out to the Rocky Mountains at least once a year to enjoy the outdoors and visit family.
Mick says he loves working with the Hoosier History Live crew and getting the opportunity to develop and use his language and computer skills in a real-world setting.
Feb 4, 2017 show - upcoming
Soldiers and Sailors Monument, Athenaeum, landmark status
The Soldiers and Sailors Monument in the center of downtown Indianapolis is so iconic that you might assume it has been designated a National Historic Landmark for decades.
Ditto for another historic structure in downtown Indianapolis: the Athenaeum, the expansive (94,000 square feet) cultural center designed in 1894 by the grandfather of novelist Kurt Vonnegut Jr.
Actually, both distinctive structures have only (separately) received National Historic Landmark designations recently. Hoosier History Live will seize the opportunity to explore their histories, as well as what the landmark designations mean for them.
Built beginning in the 1880s and finally dedicated in 1902, the limestone Soldiers and Sailors Monument initially was designed to honor Hoosiers who died or served in the Civil War. Its designation as a National Historic Landmark came in January as a result of the National Park Service's expansion and renaming of the Indiana War Memorial Historic District.
The Athenaeum, which was known as Das Deutsche Haus when it opened as a German-American center, was designated a National Historic Landmark last fall. The building at the intersection of Michigan Street, New Jersey Street and Massachusetts Avenue includes a YMCA, the Rathskeller (the city's oldest continually operating restaurant), a theater and a biergarten (beer garden), with more enterprises to come.
Designed by architect Bernard Vonnegut, the Athenaeum has steep gables, stained-glass windows and a massive pitched roof. Its name was changed from Das Deutsche Haus because of anti-German sentiment engendered by World War I.
Nelson will be joined in studio by three guests:
Jim Glass, principal of Historic Preservation & Heritage Consulting, a co-author of the nomination for landmark designation for the Soldiers and Sailors Monument. Jim is the former director of the Indiana DNR's historic preservation division. He writes the "Culture Watch" column that appears monthly in The Indianapolis Star.
Architectural historian William Selm, a co-author of the nomination for the monument, which long ago became a symbol for Indianapolis. An expert on German-American heritage in Indiana, William also was the key player in the landmark designation for the Athenaeum, an extensive project that began nine years ago. He teaches architectural history at IUPUI.
And Cassie Stockamp, president of the Athenaeum Foundation. During our show, Cassie will share plans for new endeavors in the Athenaeum, which nearly was demolished in the 1980s due to significant deterioration. Various renovations have unfolded since then, with a $1.2 million restoration project currently under way.
© 2017 Hoosier History Live. All rights reserved.