Feb 11, 2017 show
Tuskegee Airmen and Indiana connections
Met with skepticism before World War II about whether African Americans could master the skills of flying in combat, the Tuskegee Airmen went on to become an acclaimed fighting force. And the Hoosier parents of two of our guests were among most distinguished members of the all-black Army air squadron during an era when the military was segregated.
As Hoosier History Live salutes Black History Month, we will explore Indiana connections with the squadron, which drew its name from the Tuskegee Army Air Field in Alabama. Many of the men who were part of what is known as the "Tuskegee Airmen Experience" were not pilots and did not aspire to be. Many fought in the war as ground crewmen or in other non-flying support roles. To share insights about the Tuskegee Airmen - who were collectively recognized (both flight and non-flight personnel) in 2007 with a Congressional Gold Medal - Nelson will be joined in studio by:
Reginald DuValle, an Indianapolis native who graduated in 1979 from the U.S. Air Force Academy. He is the president of the Indianapolis chapter of Tuskegee Airmen Inc., a nonprofit that honors the squadron; members often were not included in victory parades and were nearly forgotten for several years after World War II.
Janice Carter, whose father flew 158 combat missions, the most of any Tuskegee Airman. Her father, Walter J. Palmer, was one of the original group of Tuskegee Airmen; they were the first African-American aviators in U.S. history. Palmer is among the aviators featured in video interviews archived by the Genealogy Center of the Allen County Public Library in Fort Wayne.
And Charles Hall, whose father was the first African-American pilot to have an aerial combat victory over an enemy aircraft. His father, Charles B. Hall, was a native of Brazil, Indiana. He became the first Tuskegee Airman to shoot down three enemy fighter aircraft; the engine that powered his plane was made in Indianapolis.
Some of the Tuskegee Airmen received training at Freeman Field (now Freeman Municipal Airport) in Seymour. In the spring of 1945, it became the setting for the "Freeman Field Mutiny," a non-violent civil rights protest. More than 100 officers were arrested for refusing to sign an order that they would not attend the whites-only officers club.
In another piece of Hoosier African-American history, Tuskegee Airmen of the 618th and 619th Bomb Squadrons of the 477th Bomb Group trained at Atterbury Army Air Field, near Columbus Indiana.
Some other Indiana connections, courtesy of our guest Reginald DuValle:
The director of the first two phases of flight training for all of the Tuskegee Airmen was Lewis Jackson, a native of Angola, Indiana. The library at Indiana Wesleyan University (Jackson was a graduate in 1939 when it was known as Marion College) has been named in his honor.
In 1944, 12 black officers, led by Capt. Willard B. Ransom from Indianapolis, integrated the Tuskegee Army Air Field's restaurant.
For many years, Hoosiers were undercounted among the graduates of the Tuskegee Advanced Flying School. That's because the hometown of four of them was East Chicago, which was incorrectly listed as being in "Illinois" on their records.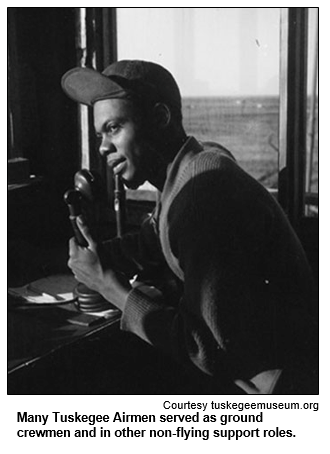 At the outset of the war, the U.S. Army Air Corps set up College Training Detachments (CTDs) because there weren't enough aspiring pilots with college degrees to meet the need. Theodore Randall, an Indianapolis native, served as commander of the CTD at Tuskegee.
Tuskegee pilots ended up fighting in aerial combat over Europe and North Africa. Many were awarded the Distinguished Flying Cross.
In Indiana, the Tuskegee Airmen were honored at a ceremony last October during which a stretch of I-65 from Seymour (not far from the site of the Freeman Field Mutiny) to the Bartholomew/Johnson County line was named the Tuskegee Airmen Highway.
Referring to the discrimination at Freeman Field and other challenges, our guest Reginald DuValle was quoted in The Columbus Republic as saying the historic aviators achieved a double victory: "one against Fascism overseas, and the other against racism at home."
The public is invited to celebrate the Tuskegee Airmen Experience and the state's naming of the highway at an event beginning at 1 pm Feb. 19 at the Indiana War Memorial. The event will feature a display about the Tuskegee Airmen and will include a special recognition and insights about youth opportunities in aviation. More information is available at the website of the Indianapolis Chapter of Tuskegee Airmen, Inc.

History Mystery
Camp Atterbury, where some squadrons of the Tuskegee Airmen trained during World War II, has a small, unusual chapel. The Roman Catholic chapel - made of cast-off construction material - was built during the war by a group of people who were at the camp.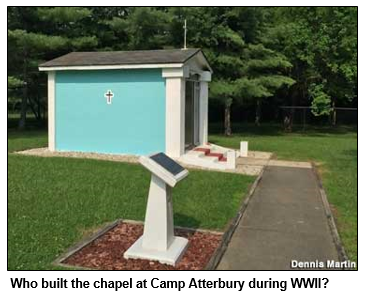 Almost forgotten after the war and neglected for several years, the historic chapel was restored more than 25 years ago. It was restored in part with the help of an ethnic heritage group associated with the people who initially built the modest chapel, sometimes called the "Chapel in the Meadow."

What group of people built the chapel at Camp Atterbury during World War II?

The call-in number is (317) 788-3314. Please do not call in to the show until you hear Nelson pose the question on the air, and please do not try to win the prize if you have won any other prize on WICR during the last two months. You must be willing to give your name and address to our engineer and be willing to be placed on the air, and you must answer the question on the air.

The prize is a pair of passes to GlowGolf, the miniature golf course at the Circle Centre Mall in Indianapolis, courtesy of GlowGolf. Actually, there are two GlowGolf courses at Circle Centre Mall now!

.Your Hoosier History Live team,

Nelson Price, host and creative director
Molly Head, producer, (317) 927-9101
Richard Sullivan, webmaster and tech director
Pam Fraizer, graphic designer
Garry Chilluffo, media+development director
Michael Armbruster, editing and tech associate

Please tell our sponsors that you appreciate their support: Greek Islands Restaurant & Catering | Indiana Authors Award | Indiana Historical Society | Indiana Landmarks | Lucas Oil | MBP Catering | Shirley Brothers Mortuaries & Crematory | Story Inn | Yats Cajun Creole Restaurant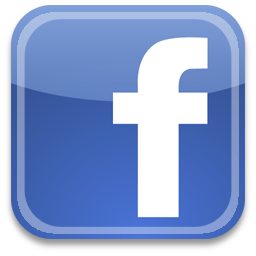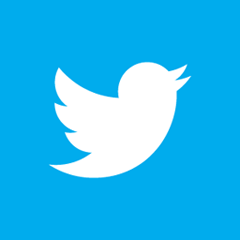 Acknowledgments to Monomedia, Visit Indy, WICR-FM, Fraizer Designs, Heritage Photo & Research Services, Derrick Lowhorn and many other individuals and organizations. We are an independently produced program and are self-supporting through organizational sponsorships and individual contributions. We do not receive any government funding. Visit our website to learn how you can support us financially. Also, see our Twitter feed and our Facebook page for regular updates.
Thank You!
We'd like to thank the following recent, new, and renewal contributors whose donations help make this show possible!
Daniel Craig
Chuck and Cheryl Hazelrigg
Stacia Gorge
Jill Chambers
9 years on the air!
Join us Feb. 23 for our anniversary soiree
Can you believe it? Hoosier History Live has been on the air nine years.
To celebrate, we are throwing another of our famous anniversary parties!
Featured events at the party will include live "History Mystery" quizzes by host Nelson Price, with fabulous prizes. We are particularly looking forward to remarks by former Indiana First Lady and television producer Judy O'Bannon. And you never know what other notables will be on hand to share remarks and good cheer with our history-loving crowd, which includes listeners, readers and of course many of our distinguished on-air guests.
Delicious catered cuisine and cash bar will be provided by MBP Distinctive Catering.
Let's celebrate together: RSVP today!
Feb. 18, 2017 show - upcoming
Murals of famous Hoosiers
In the 300 block of bustling Massachusetts Avenue in downtown Indy, you will find a 38-feet tall, outdoor mural of famed novelist Kurt Vonnegut. The eye-catching artwork is titled "My Affair with Kurt Vonnegut."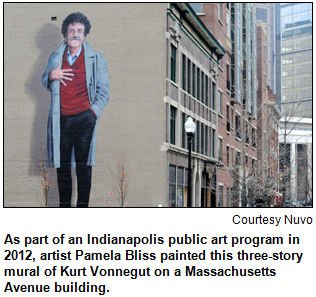 Inside Bankers Life Fieldhouse, home of the Indiana Pacers, you will encounter a mural of retired players including Reggie Miller and George McGinnis, plus retired coach Bobby "Slick" Leonard.
In Cambridge City, an outdoor mural depicts Lincoln's Funeral Train, which came through the town in far-eastern Indiana in April 1865. And in Richmond, an outdoor mural that's 25 feet tall depicts composer Hoagy Carmichael. During the 1920s, Carmichael and other emerging stars recorded at the historic Gennett Studios in Richmond.
Pamela Bliss, the acclaimed Hoosier artist who created these high-profile murals across Indiana, will join Nelson in studio to share insights about them. Her artwork also includes two 2012 Super Bowl murals and "Jazz Musicians of Indiana Avenue," an outdoor mural on a music repair shop downtown that depicts Wes Montgomery, David Baker and other jazz notables. A gallery of images of her murals is available for viewing on FaceBook.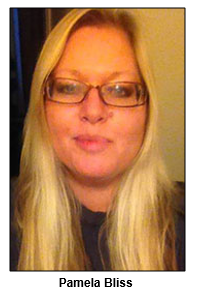 A native of Cambridge City who has been creating outdoor and indoor murals, portraits and other canvas works for more than 30 years, Pamela lives in the historic Herron-Morton Place neighborhood of Indianapolis

She has been traveling to London recently because of a major opportunity: Pamela was among 100 international artists chosen to paint frames of Loving Vincent, an upcoming movie about the works of Vincent Van Gogh; it is billed as "the first full-feature animated, hand-painted film."

Closer to home, Pamela is teaching a mural history class at IU-East, which has honored her with its Distinguished Alumni Award.

Her mural of Vonnegut is drawing particular attention now because, as a salute to the 10-year anniversary of the death of the literary great, Indianapolis is celebrating a "Year of Vonnegut." In 2007, Indianapolis was celebrating an initial "Year of Vonnegut" when the author of Slaughterhouse-Five and other bestsellers died just a few weeks before he planned to return to his hometown. Our host, Nelson Price, was doing presentations then about Vonnegut, who is featured in his book Indiana Legends.

Nelson and Pamela will co-host a discussion about Vonnegut at 6 pm March 2 at WFYI, 1630 N. Meridian St. The free event, open to the general public, will include a showing of the WFYI documentary A Writer's Roots: Kurt Vonnegut's Indianapolis. For more information, visit the website of the Vonnegut Library.

© 2017 Hoosier History Live. All rights reserved.