Feb. 18, 2017 show
Murals of famous Hoosiers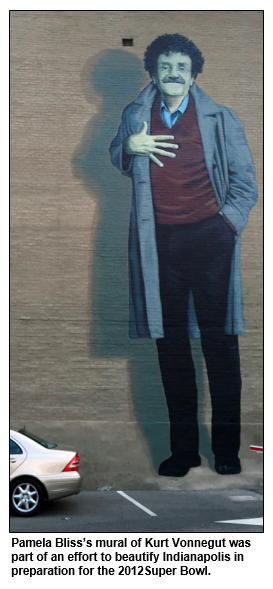 In the 300 block of bustling Massachusetts Avenue in downtown Indy, you will find a 38-foot-tall outdoor mural of famed novelist Kurt Vonnegut. The eye-catching artwork is titled "My Affair with Kurt Vonnegut."
Inside Bankers Life Fieldhouse, home of the Indiana Pacers, you will encounter a mural of retired players that includes Reggie Miller and George McGinnis, plus retired coach Bobby "Slick" Leonard.
In Cambridge City, an outdoor mural depicts Lincoln's Funeral Train, which came through the town in far-eastern Indiana in April 1865. And in Richmond, an outdoor mural that's 25 feet tall depicts composer Hoagy Carmichael. During the 1920s, Carmichael and other emerging stars recorded at the historic Gennett Studios in Richmond.
Pamela Bliss, the acclaimed Hoosier artist who created these high-profile murals across Indiana, will join Nelson in studio to share insights about them. Her artwork also includes Jazz Masters of Indiana Avenue, an outdoor mural on a music repair shop downtown that depicts Wes Montgomery, David Baker and other jazz notables. A gallery of images of her murals is available for viewing on Facebook.
A native of Cambridge City who has been creating outdoor and indoor murals, portraits and other canvas works for more than 30 years, Pamela lives in the historic Herron-Morton Place neighborhood of Indianapolis.
She has been traveling to London recently because of a major opportunity: Pamela was among 100 international artists chosen to paint frames of Loving Vincent, an upcoming movie about the works of Vincent Van Gogh; it is billed as "the first full-feature animated, hand-painted film."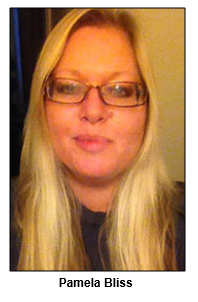 Closer to home, Pamela is teaching a mural history class at IU-East, which has honored her with its Distinguished Alumni Award.
Her mural of Vonnegut is drawing particular attention now because, as a salute to the 10-year anniversary of the death of the literary great, Indianapolis is celebrating a "Year of Vonnegut." In 2007, Indianapolis was celebrating an initial "Year of Vonnegut" when the author of Slaughterhouse-Five and other bestsellers died just a few weeks before he planned to return to his hometown. Our host, Nelson Price, was doing presentations then about Vonnegut, who is featured in his book Indiana Legends.
Nelson and Pamela will co-host a discussion about Vonnegut at 6 p.m. on March 2 at WFYI, 1630 N. Meridian St. The event, open to the general public, will include a showing of the WFYI documentary A Writer's Roots: Kurt Vonnegut's Indianapolis. For more information, visit the website of the Kurt Vonnegut Museum & Library. The event is free, but those wishing to attend should RSVP here.
Pamela's Jazz Masters of Indiana Avenue - which, in addition to Montgomery with a guitar, features Freddie Hubbard playing a trumpet - is 19 feet tall and can be found on the Musicians' Repair & Sales store at Capitol Avenue and Vermont Street in Indy. That mural and My Affair with Kurt Vonnegut were created as part of a project called 46 For XLVI; local, state, and national artists were selected to create public artwork as the Hoosier capital prepared to host the Super Bowl (the 46th) in 2012.
In far-eastern Indiana, Pamela's murals include one in the town of Portland celebrating automobile pioneer and inventor Elwood Haynes, who was born there in 1857.
In Richmond, Indiana native Hoagy Carmichael was among scores of musicians from across the country - including Louis Armstrong, Gene Autry and Jelly Roll Morton - who recorded at the bygone Gennett Studios.
The jazz recording heritage of Richmond during the 1920s was the focus of a Hoosier History Live show on April 13, 2012. The Lincoln Funeral Train - which came through Richmond, Indianapolis, Zionsville, Lafayette and other Indiana cities, in addition to Cambridge City - was the focus of a Hoosier History Live show on Feb. 14, 2015.
History Mystery
A 10-foot-tall bronze statue of a famous person with Indiana connections is currently being created.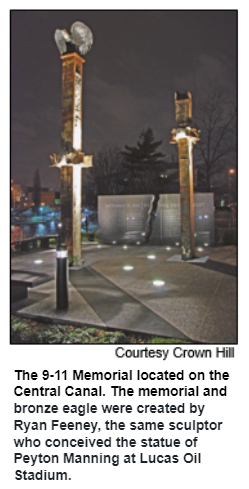 The sculptor of the statue will be unveiled later this year. He is an Indianapolis firefighter who was a guest on Hoosier History Live last October. He has met with the famous person and has pored over more than 400 photos of him in the process of creating this work of art.

The statue will be installed at a high-profile site in downtown Indy. Although the famous person depicted in the sculpture wasn't born in Indiana and did not grow up here, much of his career was spent in the state.
Question: Name the famous person whose sculpture will be unveiled later this year.
The call-in number is (317) 788-3314. Please do not call in to the show until you hear Nelson pose the question on the air, and please do not try to win the prize if you have won any other prize on WICR during the last two months. You must be willing to give your name and address to our engineer and be willing to be placed on the air, and you must answer the question on the air.
The prize is a pair of passes to the Indiana Experience exhibit at the Eugene and Marilyn Glick Indiana History Center, courtesy of the Indiana Historical Society.
Roadtrip: A time capsule on the Ohio River
Guest Roadtripper and film historian Eric Grayson shares some highlights from his recent sojourn to Madison, in southeastern Indiana.
"Madison is like a time capsule in a lot of ways," Eric tells us. "It was very popular when river travel was the dominant mode of travel, but it's out of the way and at the bottom of some steep hills to get to by land. As a result, it stopped suddenly and got preserved just because it was too expensive to tear down the old buildings."
Everyone wants to know about the Jefferson Country courthouse, built in 1854, which is beautiful and has been re-restored after a disastrous 2009 fire.
But, of course, being a film historian, Eric takes care to mention their historic theater, the Ohio, which just closed in the past few weeks.
"There's talk of reopening it," Eric says, "and I hope it happens. It's a great place!"
Down the road just a bit is a bookstore, the Village Lights Bookstore.
"I know bookstores aren't historic, but they are headed that way," Eric says, "and this one is a nice local one with antique and new books, plus cats in the window."
For lunch, consider Hinkle's Sandwich Shop, which dates to 1933 and still has that '30s look.
"Their burgers are smallish, so order a couple," Eric says. "Their chili is famous, too, as are their funnel fries. Yum!"
Hoosier History Live seeks restaurant partner
We like to treat our show guests to lunch after the live show on Saturday at noon. Hoosier History Live is seeking a restaurant near the University of Indianapolis, perhaps in Fountain Square or Downtown, that would like to treat our guests to lunch in exchange for underwriting credit, including logos on the Hoosier History Live website and newsletter and live reads in the show.
Are you a restaurant owner or manager who would like to host us on Saturday afternoons? Interesting guests and lots of lively conversation are guaranteed.
For more information contact molly@hoosierhistorylive.org. In fact, for all underwriting inquiries, contact Molly! We can't do it without your support.
Your Hoosier History Live team,
Nelson Price, host and creative director
Molly Head, producer, (317) 927-9101
Richard Sullivan, webmaster and tech director
Pam Fraizer, graphic designer
Garry Chilluffo, media+development director
Michael Armbruster, editing and tech associate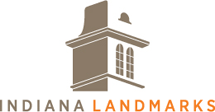 Please tell our sponsors that you appreciate their support: Indiana Authors Award | Indiana Historical Society | Indiana Landmarks | Lucas Oil | MBP Catering | Shirley Brothers Mortuaries & Crematory | Story Inn | Yats Cajun Creole Restaurant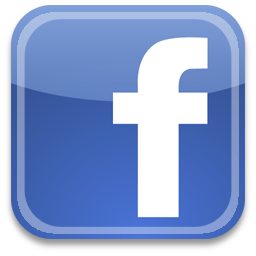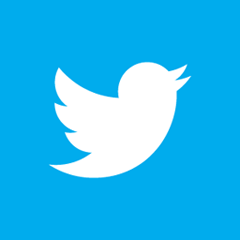 Acknowledgments to Monomedia, Visit Indy, WICR-FM, Fraizer Designs, Heritage Photo & Research Services, Derrick Lowhorn and many other individuals and organizations. We are an independently produced program and are self-supporting through organizational sponsorships and individual contributions. We do not receive any government funding. Visit our website to learn how you can support us financially. Also, see our Twitter feed and our Facebook page for regular updates.
Thank you!
We'd like to thank the following recent, new and renewal contributors whose donations help make this show possible!
Daniel Craig.
Chuck and Cheryl Hazelrigg.
Stacia Gorge.
Jill Chambers.
9 years on the air!
Join us Feb. 23 for our anniversary soiree
Can you believe it? Hoosier History Live has been on the air nine years.
To celebrate, we are throwing another of our famous anniversary parties!
Remarks by former Indiana First Lady Judy O'Bannon and Indianapolis Mayor Joe Hogsett. Live "History Mystery" with host Nelson Price, including fabulous prizes. Musical performances by Herron High School String Quartet, PrairieTown with Dan Wethington and Janet Gilray, and Indiana songs on piano by Shirley Judkins. Bring your interesting Indiana photos for scanning by the Indiana Album. And historic garb is encouraged at this party; you never know who you will run into, both past and present!
Special thanks to Garry Chilluffo and Gary BraVard for helping to put the dazzle in this party.

Thanks to our party sponsor Core Redevelopment!
Delicious catered cuisine and cash bar provided by MBP Distinctive Catering.
Let's celebrate together: RSVP today!
Feb. 25, 2017 show - encore presentation
How to excite young people about history
With colorful and captivating characters, perpetual conflicts, unsolved mysteries and dramatic changes in everything from fashion to modes of transportation, history surely has the potential to be intriguing.
But sparking interest in previous generations and earlier eras can be a challenge. Even the word "history" can be a turn-off for teenagers and children.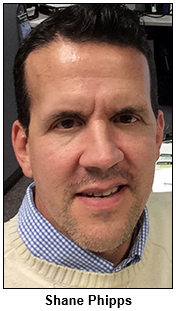 To share advice for parents, grandparents, educators and anyone else seeking to ignite a history passion in young people, Nelson is joined in studio by two teachers during this encore show. (Its original air date was Jan. 16, 2015). His guests, who have been hailed for success in sparking an interest in history, are:
Shane Phipps, an 8th-grade history teacher and social studies department chair at Decatur Middle School in Indianapolis. He is the author of The Carter Journals (Indiana Historical Society Press, 2015), a novel in which a 14-year-old boy, Cody Carter, embarks on adventures inspired by dusty ancestral journals given to him by his grandfather. Like his fictional character, Shane developed an interest in history because of his grandfathers; also like Cody Carter, he discovered that some of his ancestors had been slave owners.
And Chris Edwards, a world history teacher at Fishers High School. Chris, a resident of New Palestine, is the author of Connecting the Dots in World History (Rowman & Littlefield Education, 2015), a five-volume series.
Both of our guests say they use the compelling story of Tecumseh, the Shawnee chief based in Indiana during the early 1800s, as a way to intrigue students. Often considered the greatest Native American leader in history, Tecumseh traveled from the Alleghenies to the Everglades to the Ozarks in his crusade to unite diverse tribes into a confederacy to stop the waves of white settlers.
In fact, our guest Shane Phipps says he has posed this question to his students: "Should Andrew Jackson continue to be honored on the $20 bill or replaced by someone like Tecumseh?"
In his classes, Shane says he stresses "big-picture topics that flow as an undercurrent" throughout the course of history and the connections between events in various eras.
"As an example," he says, "I begin teaching the causes of the Civil War while we are still studying the 13 colonies, because that is where the roots lie."
As a hobby, Shane's maternal grandfather researched the burial location of Hoosier veterans of the Revolutionary War and Civil War, seeking out cemeteries in remote locations.
Our guest Chris Edwards emphasizes that delving into history enhances young people's ability to analyze evidence, connect information to other subjects, present an argument and other skills. He wrote his history books when his youngest son, 7-year-old Ben, was a toddler and was being treated for a rare brain cancer at Riley Children's Hospital.
"I wasn't sleeping anyway, so I thought I would write a history of the world," Chris says. Ben has been in remission for several years.
© 2017 Hoosier History Live. All rights reserved.