March 18, 2017 show
Health care during the Gilded Age
Maybe you have seen vintage advertisements for lotions and potions marketed as "cure-alls" during the late 1800s and early 1900s.
Amid the current debate about healthcare and governmental regulations, Hoosier History Live will time-travel to the Gilded Age and the subsequent Progressive Era (periods stretching generally from 1870 to 1920) to explore a range of aspects of the healthcare market.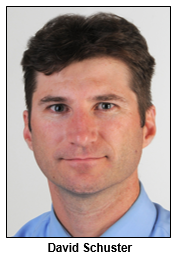 Nelson's guest will be David Schuster, an associate professor of history at Indiana University-Purdue University Fort Wayne (IPFW) who has researched health care during those eras. As per David's description during a recent presentation at the Indiana Medical History Museum, the Gilded Age was an era "that placed drug manufacturers, religious healers, lifestyle enthusiasts and professional physicians in competition with one another."
During these eras, the Elkhart business that later became known as Miles Laboratories marketed patent medicine tonics to treat "nervous disorders." They included Nervine, which was said to soothe everything from headaches to backaches. (During the late 20th century, Miles Laboratories became part of Bayer.) The Elkhart company was founded during the 1880s by a physician, Dr. Franklin Miles; it included an extensive mail-order business.
Our guest David Schuster will share insights on how people during the Gilded Age "differentiated 'normal' from 'abnormal'."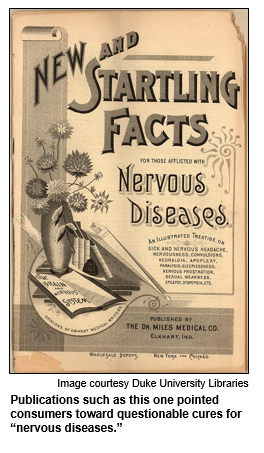 For his presentation at the medical history museum, David described some of the medical care challenges this way:
"Faced with heightened expectations from patients, America's turn-of-the-century medical profession began promising something they could not necessarily guarantee: happiness."
So during our show, we will explore the approach to mental health during the late 19th and early 20th centuries. David also will discuss medical education during those eras.
"Since the 19th Century," he says, "Americans' understanding of health and medicine have developed hand-in-hand with American capitalism. In particular, the development of America's highly competitive work environment has led to the development of a host of diagnoses and complaints, such as neurasthenia, as well as a litany of -sometimes - lucrative cures."
Neurasthenia was a term coined during the 19th century by physicians to describe a host of ailments ranging from anxiety, insomnia and lethargy to indigestion and irritability.
Medical experts, spiritual healers and others frequently blamed the ailments on the country's industrialization, workplace competition and technological advances.
Concerning Gilded Age treatments for various disorders, David will share insights about alternative medical practices that gained popularity during the Gilded Age. Homeopathy, water cures, spiritual healing and Thomsonian Medicine were among them. Developed by American herbalist Samuel Thomson, Thomsonian Medicine involved the use of herbs (including cayenne pepper, rootbark and poplar bark) and steam baths in treating a range of maladies.
Patent medicines often were high in alcoholic content. So were some herbal remedies such as Lydia Pinkham's Vegetable Compound; it was marketed through the 1930s (with frequent commercials on radio) as a cure for "women's ailments."
David Schuster is the author of Neurasthenic Nation: America's Search for Health, Happiness and Comfort, 1869-1920 (Rutgers University Press, 2011). A native of California, David has been teaching at IPFW for more than 10 years.
For a deeper look into widespread beliefs about health and wellness during this era, David recommends the following archived primary sources, written for the popular audiences of their day:
History Mystery
During the early 1900s, both of the lavish resort hotels in southwestern Indiana marketed mineral water. The rival hotels in French Lick and West Baden promoted the curative powers of their mineral springs and spas, selling bottled water to thousands of guests and other customers.
The French Lick Springs Hotel sold Pluto water. Pluto, the Greek god of the underworld, was symbolized by a red devil with a pitchfork.
Pluto water's popularity far exceeded that of the mineral water marketed by the West Baden Springs Hotel.
Question: What was the name of West Baden's mineral water that competed with Pluto water?
The call-in number is (317) 788-3314. Please do not call in to the show until you hear Nelson pose the question on the air, and please do not try to win the prize if you have won any other prize on WICR during the last two months. You must be willing to give your name and address to our engineer and be willing to be placed on the air, and you must answer the question on the air.
The prize is a pair of passes to the Indiana Experience exhibit at the Eugene and Marilyn Glick Indiana History Center, courtesy of the Indiana Historical Society, and a pair of passes to GlowGolf, the miniature golf course (actually there are two!) at the Circle Centre mall in downtown Indianapolis, courtesy of GlowGolf.
Roadtrip: Frankfort
Guest Roadtripper and public historian Glory-June Greiff suggests we head to Frankfort, the county seat of Clinton County, about an hour by car northwest of Indianapolis. The town is filled with history, and the downtown area is beginning to be revitalized. The three-story courthouse, completed in 1884, sits smack in the middle and is listed in the National Register of Historic Places.
The old Frankfort high school, also listed in the National Register, dominates the east side of downtown. Known fondly as "Old Stoney," the Richardsonian Romanesque structure, originally constructed in 1892, is a 1926 reconfiguration following a disastrous fire that completely gutted the building, leaving only the stone walls. The massive building served proudly as the city's high school for 70 years, then became a junior high until 1974. Too important a community landmark to be destroyed, several offices moved into the building; the second floor was taken over by the Clinton County Historical Society in 1980, and the City Hall occupied much of the rest of the former school. Indiana's Bicentennial last year stimulated a major renovation of the building.
Glory's favorite place in Frankfort is the historic park on the northeast side, Gem City TPA Park, founded in 1911 by the Travelers Protective Association. It contains buildings from its earliest days, such as the bandstand and bath house, and several stone structures built under the auspices of the New Deal. The park boasts a petting zoo and, in the warm-weather months, a walk-in aviary. Currently it is being researched for listing in the National Register.
"There are several places to eat downtown, but my favorite is right near the park, and it's open all year," exclaims Glory-June. "The Milky Way is an old fashioned drive-in dating to 1950. They have hand-dipped ice cream, wonderful shakes and great sandwiches!"
Your Hoosier History Live team,
Nelson Price, host and creative director
Molly Head, producer, (317) 927-9101
Richard Sullivan, webmaster and tech director
Pam Fraizer, graphic designer
Garry Chilluffo, media+development director
Michael Armbruster, newsletter editor

Please tell our sponsors that you appreciate their support: Indiana Historical Society | Indiana Landmarks | Indiana Pioneers | Lucas Oil | MBP Catering | Story Inn | Yats Cajun Creole Restaurant
Acknowledgments to Monomedia, Visit Indy, WICR-FM, Fraizer Designs, Chilluffo Photography, Heritage Photo & Research Services, Michael Armbruster, Derrick Lowhorn and many other individuals and organizations. We are an independently produced program and are self-supporting through organizational sponsorships and individual contributions. Or, contact Molly Head at molly@hoosierhistorylive.org for underwriting opportunitites. We do not receive any government funding. Visit our website to learn how you can support us financially. Also, see our Twitter feed and our Facebook page for regular updates.
Thank you!
We'd like to thank the following recent, new, and renewal contributors whose donations help make this show possible!
John and Diana Iozzo.
Margaret Smith.
Tom and Linda Castaldi, Fort Wayne.
Peggy Hollingsworth, Connersville.
Jane "Janie" Hodge.
Lorraine and Richard Vavul.
Kathleen Angelone.
Richard Vonnegut.
Jim and Marjorie Kienle.
Georgia Cravey and Jim Lingenfelter.
Dennis Arbuckle.
Rita Kohn.
Don Willsey and Judy O'Bannon.
John and Lena Snethen.
Juliet Emanuel, New York City.
Sharon Butsch Freeland.
March 25, 2017 show - encore presentation
Columbus architecture and city history
The American Institute of Architects once asked its members to rank U.S. cities on architectural quality and innovation. Columbus, Ind., finished sixth - behind only the significantly larger cities of Chicago, New York City, Washington, D.C., San Francisco and Boston.
The modern architecture in Columbus (population 45,000) has been showcased in national media ranging from CBS Sunday Morning and USA Today to Travel & Leisure and Smithsonian magazines. It's Hoosier History Live's turn to explore the architectural heritage of the Bartholomew County city in this encore show. (The original air date was April 9, 2016.)
Nelson's guest is one of the best-known media figures/historians in Columbus: Bartholomew County historian Harry McCawley, the retired associate editor of The Columbus Republic. He continues to write a popular weekly newspaper column that often focuses on local history. Harry, a civic leader who has been president of the Bartholomew County Historical Society, also has edited several books focusing on Columbus history.
Key figures in the story of the Columbus architectural heritage include renowned Finnish architect Eliel Saarinen, who designed the city's First Christian Church in 1942, and his son, Eero Saarinen, who designed the Irwin Union Bank and Trust in 1955 - several years after having designed the Gateway Arch in St. Louis.
Columbus business and civic leaders who spearheaded the crusade to lure top architects with diverse, innovative designs included J. Irwin Miller (1909-2004). For nearly 50 years, Miller was at the helm of Cummins, Inc., a Fortune 500 company based in Columbus that manufactures diesel engines.
Eero Saarinen also designed the Miller House, the former residence of the Miller family that is located on more than 13 acres of landscaped gardens. The Miller House, which has been featured in Architectural Digest, is owned today by the Indianapolis Museum of Art and has become a popular destination for tours. (Famous furniture designer Charles Eames created furnishings for the Miller family.)

In downtown Columbus, historic structures include the Irwin family's ancestral home, which was built during the Civil War era. Today, it is a bed-and-breakfast called the Inn at Irwin Gardens.

Our guest Harry McCawley shares details about the origins of the city's architectural heritage. Much of the trigger was the critical need for new schools for children of the baby boom generation; Miller is said to have looked at the unimpressive design for a school and said, "We certainly can do better than this."

The eventual result has been dozens of award-winning designs and sites listed on the National Register of Historic Places.

During our show, Harry also describes the beginnings of the city, which was founded in the 1820s. Today, Columbus markets itself with the slogan: "Different By Design."

The distinctive architecture, Harry emphasizes, "was as much a business decision as it was to provide residents with a model community."

© 2017 Hoosier History Live. All rights reserved.