April 1, 2017 show
Early railroads in Indiana
During the late 1840s, a former U.S. senator from Indiana told a gathering of Hoosiers:
"The time has now come when central Indiana has to decide whether the immense travel, emigration and business of the west should pass round or go through central Indiana - and not force them round by either Cincinnati to the east, or Chicago on the north."
That speech advocating construction of more Indiana railroads is quoted in a new book titled Forging the Bee Line Railroad, 1848-1889 (Kent State University Press). The Bee Line was a conversational name for the Indianapolis and Bellefontaine Railroad that, when connected to other railroads, linked the Hoosier capital with Cleveland, Columbus and other Ohio cities.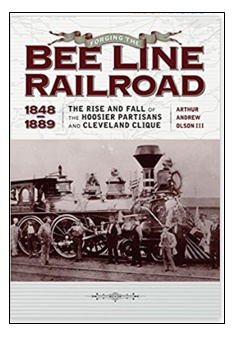 Andy Olson, the book's author, notes that the Bee Line was likened to "a bumblebee's nearly straight-line path" as it traveled between cities. Andy will be Nelson's studio guest for a show exploring the unfolding of the Bee Line and other early railroads in Indiana.
Dr. Francis Parker, the co-author of Railroads of Indiana (IU Press, 1995), also will be a studio guest. He's a former department chair of urban planning at Ball State University and a former board member of the Indiana Transportation Museum in Noblesville. Considered one of the top experts on Indiana's railroad heritage, Dr. Parker is also a qualified locomotive engineer and conductor.
With our guests, we will explore the evolution of early railroads in Indiana, including the Bee Line. (In Indianapolis, its tracks run parallel to Massachusetts Avenue, Pendleton Pike and Fort Harrison.)
The state's first railroad line was the Madison and Indianapolis, which was completed in 1847 and linked the Ohio River town (then one of the state's largest cities) with the Hoosier capital.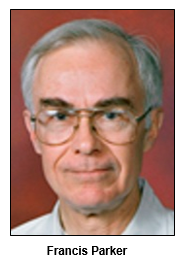 Major challenges for early Indiana railroads ranged from topographical (the bluffs of the Ohio River and hills of southern Indiana) to the financial. "The Bee Line far underestimated the amount of capital required to bring such a massive undertaking to life," our guest Andy Olson wrote in a series of blogs for the Indiana Historical Bureau.
Initially, railroad construction was slow. In Railroads of Indiana, Dr. Parker and his co-author, the late Richard Simons, noted that construction of the Madison and Indianapolis line took nine years and involved cuts through solid rock to depths of 100 feet and embankments nearly 100 feet high.
But a dramatic increase in construction across Indiana between 1850 and 1855 resulted in a "railroad explosion." During our show, our guests will describe the national significance in 1853 of the opening in Indianapolis of Union Depot, the predecessor of the majestic Union Station that remains a downtown landmark today in the Hoosier capital.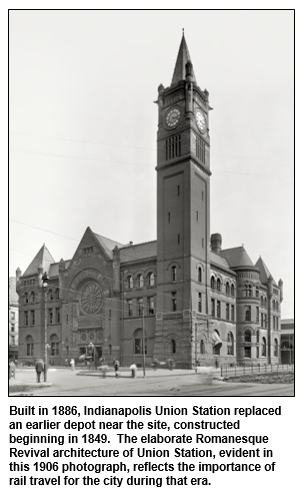 Our guest Andy Olson also will discuss the influential role of Oliver H. Smith, the former U.S. senator who delivered "the time has now come" speech to Hoosiers. Smith, who primarily was based in Connersville during the early railroad era, became a key figure in the development of the Indianapolis and Bellefontaine, which extended 83 miles northeast of Indianapolis into Ohio.
Board members for the railroad line came from all of the Indiana counties along the route: Marion, Hancock, Madison, Delaware and Randolph counties. For some members, lucrative contracts ensued because of the construction of depots and railroad ties or the provision of rights-of-way.
Following our show on Saturday (April 1) Andy will sign copies of his Forging the Bee Line Railroad book at Bookmamas, 9 Johnson St., beginning at 2:00 p.m. A noted amateur historian and retired lawyer, Andy is a board member of the Society of Indiana Pioneers and has been involved in various projects at Conner Prairie Interactive History Park.
Some Indiana railroad heritage facts:
Madison banker James Lanier became a major financer of Midwest railroad lines, including the Bee Line, according to Andy's book.
As a locomotive conductor, our guest Dr. Francis Parker has operated the Indiana State Fair Train and other special trains.
Located on the border with Ohio, the Indiana town of Union City (then a railroad junction known simply as Union), "bustled with activity," according to Forging the Bee Line. Early railroad companies "did not allow locomotives or rail cars to travel beyond geographic and corporate boundaries," so transfers at the junction were continual, often requiring passengers to stay overnight in a local hotel.

History Mystery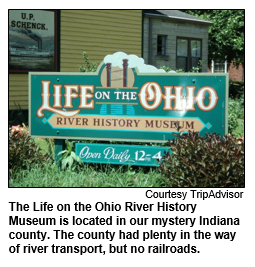 No railroad company ever has laid any track in a certain county in southeastern Indiana that's known for its hilly terrain and vineyards. The county is named for a European country because its immigrants were among the earliest settlers of the county, which borders the Ohio River.
Beginning in the 1850s, when railroads came to exceed riverboats as the dominant way to ship goods to and from Indiana, the county began to decline. Today, tourism is a significant business in the county, which boasts of its opportunities for boating, camping and fishing on the scenic Ohio River.
Question: What is the county?
The call-in number is (317) 788-3314. Please do not call in to the show until you hear Nelson pose the question on the air, and please do not try to win the prize if you have won any other prize on WICR during the last two months. You must be willing to give your name and address to our engineer and be willing to be placed on the air, and you must answer the question on the air.
The prize is a gift certificate to Story Inn in Brown County, courtesy of Story Inn, and a pair of passes to GlowGolf, the miniature golf course (actually there are two!) at the Circle Centre mall in downtown Indianapolis, as well as in Bloomington, courtesy of GlowGolf.
Roadtrip: Metamora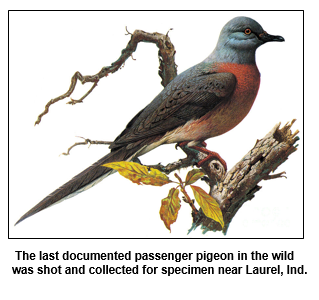 Who knew that a North American bird with a population in the billions, and whose flocks would literally darken the sky, would be nearly extinct by 1900?
The passenger pigeon was hunted and killed for inexpensive food and for sport, and the birds would not breed in captivity. The last documented passenger pigeon in the wild was shot and collected for specimen near Laurel, Indiana, in Franklin County on April 3, 1902.
Michael Homoya of the Indiana Department of Natural Resources will tell us about a public dedication ceremony for a state historical marker commemorating the passenger pigeon on Monday, April 3. The date marks the 115th anniversary of the shooting of the last passenger pigeon in the wild. The marker dedication will begin at 1 p.m. at the Whitewater Canal State Historic Site in Metamora, Ind.
Other animals that once occurred in Indiana include Carolina parakeet, Ivory-billed woodpecker, American bison, elk, timber wolf, and black bear (a few transient bears have been coming into the state, but none have established as breeding population).
For more information this topic, check out the Hoosier History Live newsletter for our June 2014 show "Passenger pigeons and other extinct or endangered birds."
Podcast online for Shortridge High School history show
You can now listen to the podcast version of our March 4, 2017 show about Shortridge High School history by clicking on the link above, or you can find it on the Listen page of our website, as well as, for now, on the website's home page.
This podcast was underwritten by the Shortridge Class of 1957. If you would like to sponsor a show to be edited for podcast, contact Molly.
Your Hoosier History Live team,
Nelson Price, host and creative director
Molly Head, producer, (317) 927-9101
Richard Sullivan, webmaster and tech director
Pam Fraizer, graphic designer
Garry Chilluffo, media+development director
Michael Armbruster, newsletter editor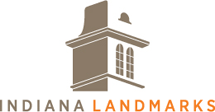 Please tell our sponsors that you appreciate their support: Indiana Authors Award | Indiana Historical Society | Indiana Landmarks | Lucas Oil | MBP Catering | Story Inn | Yats Cajun Creole Restaurant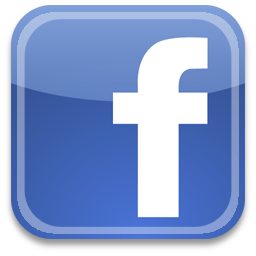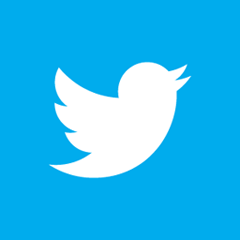 Acknowledgments to Monomedia, Visit Indy, WICR-FM, Fraizer Designs, Heritage Photo & Research Services, Derrick Lowhorn and many other individuals and organizations. We are an independently produced program and are self-supporting through organizational sponsorships and individual contributions. We do not receive any government funding. Visit our website to learn how you can support us financially. Also, see our Twitter feed and our Facebook page for regular updates.
Thank you!
We'd like to thank the following recent, new and renewal contributors whose donations help make this show possible!
John and Diana Iozzo.
Margaret Smith.
Tom and Linda Castaldi, Fort Wayne.
Peggy Hollingsworth, Connersville.
Jane "Janie" Hodge.
Lorraine and Richard Vavul.
Kathleen Angelone.
Richard Vonnegut.
Jim and Marjorie Kienle.
Georgia Cravey and Jim Lingenfelter.
Dennis Arbuckle.
Rita Kohn.
Don Willsey and Judy O'Bannon.
John and Lena Snethen.
Juliet Emanuel, New York City.
Sharon Butsch Freeland.
April 8, 2017 show - upcoming
Italians during WWII and Camp Atterbury history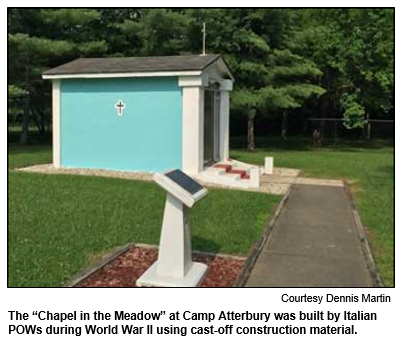 Amid the interest sparked by the Indiana Historical Society's new "You Are There" exhibit of a chapel built by Italian prisoners of war at Camp Atterbury, Hoosier History Live will take the opportunity to explore interrelated chapters of our heritage.
We will look at life during World War II for Italian families across Indiana. Did they confront discrimination? Where did they live in the Hoosier state? Were they aware of the 3,000 Italian prisoners of war who were held at Camp Atterbury, most of them after being captured in North Africa?
We also will explore the unfolding of Camp Atterbury, which was planned just before the U.S. entry into WWII. Today, the camp, primarily located in Johnson County, is the state's largest military installation. It is operated by the Indiana National Guard.
Nelson will be joined in studio by three guests:
Dr. James Divita, past president of the Italian Heritage Society of Indiana and a professor emeritus of history at Marian University. Dr. Divita is the author of Indianapolis Italians (Arcadia Publishing, 2006) and of the chapter about Italians in Peopling Indiana (Indiana Historical Society Press, 1996).
Master Sgt. Bradley Staggs, public affairs officer at Camp Atterbury. Italian POWs arrived there in 1943; many worked under supervision at local farms within a 25-mile radius of the camp. After Italian POWs left in 1944, German POWs were held at Camp Atterbury.
And Angela Wolfgram, a historical researcher for the Indiana Historical Society. The society's exhibit is a replica of a chapel that the Italian POWs were permitted to build using cast-off material. The chapel's altar was created so that it resembles marble.
The actual chapel still stands in a meadow at Camp Atterbury. Unused after the war except for storage, the POW chapel had deteriorated alarmingly until it was restored about 27 years ago as the result of a project that involved the Italian Heritage Society.
Today, Italian immigrants and their descendants account for about 3 percent of the state's population, according to the heritage society. Indiana cities with the highest percentages of Italian heritage residents include Clinton, Dyer, Crown Point, Cedar Lake and Munster, according to statistics supplied by Dr. Divita.
Some history facts:
During the Revolutionary War, Italian fur trader Francis Vigo (namesake of Vigo County) financially supported George Rogers Clark's forces in their successful capture of the fort in Vincennes from the British.
During World War I, Italy sided with the Allies but suffered from a weak post-war economy.
Hoosier History Live explored the immigration of Italian marble-cutters to southern Indiana to work as limestone cutters during a show in May 2010.
No Italian POW ever attempted to escape from Camp Atterbury during World War II.
At the height of the wars in Iraq and Afghanistan, thousands of troops and civilians moved through Camp Atterbury, according to news accounts. In recent years, the camp has diversified its mission by hosting anti-terrorism exercises and cybersecurity training.
© 2017 Hoosier History Live. All rights reserved.