April 22, 2017 show
Forests, forests and more forests
(April 22, 2016) The first Indiana state forest - Clark State Forest in far-southern Indiana - was established in 1903.
What's been the evolution since then?
Just as the outdoor exploration season begins across Indiana, Hoosier History Live plunges into the history of state forests, exploring everything from early conservation efforts to recent protests about logging.
Along the way, we look at forests ranging from Salamonie State Forest in northern Indiana to Clark, which is just north of Henryville in Clark County.
There are 14 officially designated state forests across Indiana.
Our guides for the exploration are the two co-editors of a new book, The History of the Indiana State Forests (M.T. Publishing Co.):
The differences between state forests and state parks, in fact, are among the topics on this show. According to Glory-June, the initial concept for a state forest "was a tree reserve and a place for experimentation with scientific forestry."
There are some blurred lines, though. What once was Wells County State Forest, for example, is now Ouabache State Park.
Following Clark State Forest, the second to be established was Morgan-Monroe State Forest north of Bloomington. Most of the state forests were established during the Great Depression of the 1930s. Only two were established later.
During the New Deal in the 1930s, the missions of forest conservation were "to ensure a sustainable crop of timber, tree plantations and reserves for state and commercial use, forestry experimentation and restoration of habitat," our guest Ron Morris writes. A recreational element was added as a secondary mission.
After World War II, though, parents of the Baby Boom generation sought places for family recreation, resulting in changes in the way state forests were regarded.
The History of Indiana State Forests features 192 full-color pages, with most of the photos taken by our guest Glory-June. At one point, Glory and Ron managed to visit five forests in a single day.
"It was quite an adventure," Glory reports.
Chapters in the book about individual forests, the co-editors note, "allow the reader to visit vicariously forests that are old friends and to consider investigating forests they have not yet discovered."
Some forest facts:
History Mystery
Although the first Indiana state forest - Clark State Forest - was established in 1903, the first state park was not established for several more years.
In 1916, the year of Centennial celebrations across the state, a scenic, rocky area of towering trees and rugged terrain became Indiana's first state park. Today, the park has an inn, a swimming pool and a nature center.
Question: Name the first state park.
The prize is a pair of passes to the Indiana History Center to see "You Are There 1943: Italian POWs at Camp Atterbury," courtesy of the Indiana Historical Society, and a family 4-Pack to Conner Prairie Interactive History Park, including admission for four, as well as four tickets to the 1859 Balloon Voyage, courtesy of Conner Prairie.
Roadtrip: Ruthmere Mansion in Elkhart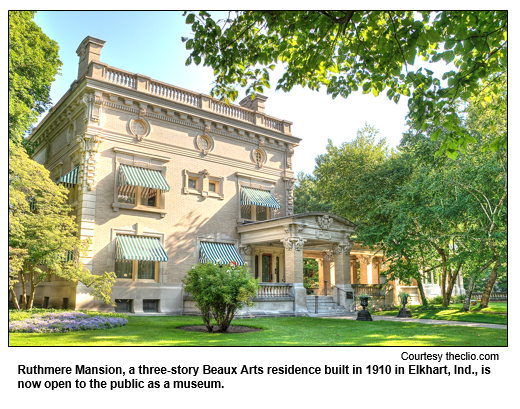 Guest Roadtripper Chris Taelman of Granger in northern Indiana suggests a Roadtrip to Ruthmere Mansion, a three-story Beaux Arts mansion along the St. Joseph River in Elkhart. Built in 1910, the Ruthmere Mansion is now open to the public as a museum, along with the neighboring Dr. Havilah Beardsley House.
Ruthmere's architect was Enoch Hill Turnock, commissioned by Albert and Elizabeth Beardsley in 1908. The Beardsleys named the mansion in memory of their daughter Ruth, who died at a young age. The "mere" in Ruthmere reflects the Latin root "maris," referring to water and the house's proximity to the river.
You can also wander around the neighborhood, known as the Beardsley Avenue Historic District, near the confluence of the St. Joseph and Elkhart Rivers, where you can also see Dr. Havilah Beardsley House, Island Park, Beardsley Park, the Main Street Memorial Bridge, St. Paul's Methodist Church and the Best House. The entire neighborhood was added to the National Register of Historic Places in 2003.
What a great place for a stroll!
Hoosier History Live welcomes English Ivy's into its family of underwriters
One of the fun things about being a guest on Hoosier History Live is that sometimes we keep talking history long after the show. The conversation continues at an Indianapolis restaurant that provides us with a complimentary lunch as part of their support for the show.
Hoosier History Live welcomes the "revamped" English Ivy's to our family of sponsors. Located at 944 N. Alabama Street in the historic St. Joseph neighborhood in downtown Indy, the pub has a new owner/manager, Danny Scotten, who is himself a history enthusiast. Ivy's recently put in windows to "open itself up" to the neighborhood. The 1958 all-brick building was, years ago, home to a bar known as the "944" with a clientele quite different from today's urbanites. Now it's more like a friendly neighborhood pub.
Your Hoosier History Live team,
Nelson Price, host and creative director
Molly Head, producer, (317) 927-9101
Richard Sullivan, webmaster and tech director
Pam Fraizer, graphic designer
Garry Chilluffo, media+development director
Michael Armbruster, newsletter editor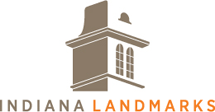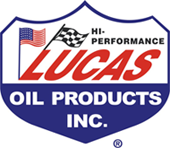 Please tell our sponsors that you appreciate their support: | Indiana Historical Society | Indiana Landmarks | Lucas Oil | MBP Catering | Story Inn | English Ivy's | Indiana Pioneers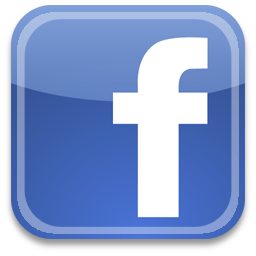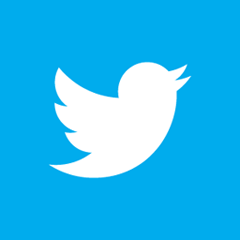 Acknowledgments to Monomedia, Visit Indy, WICR-FM, Fraizer Designs, Heritage Photo & Research Services, Derrick Lowhorn and many other individuals and organizations. We are an independently produced program and are self-supporting through organizational sponsorships and individual contributions. We do not receive any government funding. Visit our website to learn how you can support us financially. Also, see our Twitter feed and our Facebook page for regular updates.
Thank you!
April 29, 2017 show - upcoming
Films of Little Orphant Annie, Milan basketball and more
Thanks to new restoration projects, there's going to be an Act II for some diverse films with Indiana connections.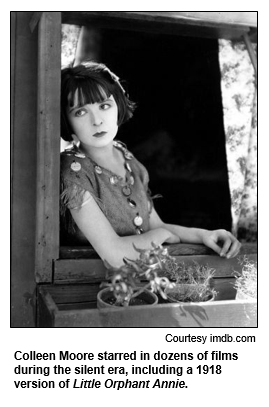 One of them involves "Little Orphant Annie," the classic poem by James Whitcomb Riley, which inspired a 1918 silent movie. The movie, also called Little Orphant Annie and featuring silent screen star Colleen Moore, is an expansion of the poem in which Annie warns spellbound children about predatory "goblins."
Another film relates to the state basketball tournament win in 1954 by underdog Milan High School, which was fictionalized in the hit movie Hoosiers (1986). Film of the entire, actual championship game at Hinkle Fieldhouse - during which Milan defeated Muncie Central High School - had been rapidly deteriorating and was in danger of crumbling.
Indianapolis-based film historian and preservationist Eric Grayson has been restoring both of those films, along with other rare movies with Indiana connections. Eric will be Nelson's studio guest to share insights about the films; later on the same day, the restored Little Orphant Annie movie will have a screening in Greenfield, the hometown of the "Hoosier Poet."
At the H.J. Ricks Centre for the Arts, a recently restored ArtDeco/Art Moderne style movie house built in the 1940s, Eric will host a showing of the silent movie beginning at 4 p.m. on April 29.
Our show also comes as Eric is finishing work on restoration of film of the iconic Milan High triumph.
"The Milan footage was a professionally shot, 16mm movie of the whole [game], done by IU," Eric reports. "It didn't survive in good shape."
While we have Eric with us, he also will discuss how he found Hoosier Schoolmaster (1924), a silent movie based on a popular novel written in 1871 by Edward Eggleston of Vevay, Ind. (In 1935, a subsequent movie version of Hoosier Schoolmaster was released.)
He also will share insights about a rare 1945 film version of A Girl of the Limberlost, based on an internationally bestselling novel by Hoosier naturalist Gene Stratton-Porter. (Eric previously restored an earlier film version of Limberlost, a movie made in 1934.) Stratton-Porter eventually founded a movie production company; it produced Little Mickey Grogan (1927), a movie that Eric also is restoring.
He has been a studio guest on previous Hoosier History Live shows about vintage movie theaters and rare films with Indiana connections.
© 2017 Hoosier History Live. All rights reserved.