June 10, 2017 show - encore presentation
The Redheads and all-female bands of 1920s, '30s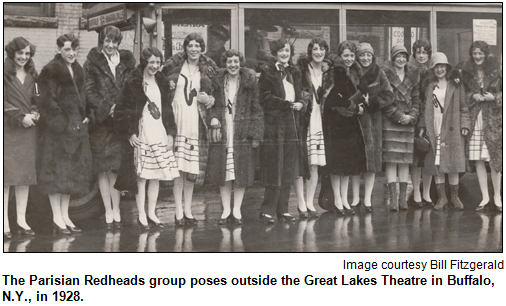 (Originally aired on Aug. 9, 2014) Even though they became nationally known during the 1920s as The Parisian Redheads, many of the band members were not red-haired - and, rather than Paris, they were based in Indiana.
In the 1930s, the all-female orchestra/dance band, which was promoted as "America's Greatest Girl Band," became known as The Fourteen Bricktops.
The colorful history of the now-forgotten novelty band - which was based in Indianapolis, with a pianist born in the eastern Indiana town of Portland, a saxophonist from Elwood, a harpist from Richmond and other Hoosier "lady musicians" - is the focus of our show. Nelson is joined in studio by Evan Finch, an Indy-based advertising copywriter who has extensively researched The Parisian Redheads and other all-female orchestras.
"So-called 'ladies' orchestras had existed since the late 19th century due to the fact that male orchestras rarely hired female musicians," Evan notes in an article in a 2014 issue of Traces of Indiana and Midwestern History magazine, published by the Indiana Historical Society.
"As a result, women formed their own groups."
However, the impresarios behind The Parisian Redheads were two men, Charles Green and Harry Z. Freeman of Indianapolis, both of whom had experiences with organizing musical programs on the Chautauqua circuit. Chautauqua, the popular adult-education movement of the late 19th and early 20th centuries, also had provided opportunities for many of The Parisian Redheads, several of whom were classically trained musicians, according to Evan's article.
"By the end of 1926, the group had become a local sensation," Evan writes. "In Indianapolis alone, within a space of four weeks, the Parisians played a reception for Queen Marie of Romania, opened the city's Marott Hotel and graced the stage of the Circle Theatre."
Of the original Redheads, only pianist/singer Martha Tripper (a Portland native who later moved to Kokomo) was a natural redhead, Evan reports.
"The other women were required either to dye their hair or wear red wigs when appearing in public. In the name of success, the musicians went along with the gimmick, although not always happily."
The Redheads expanded to a 13-piece orchestra in 1927 and attained national success. According to Evan, the performers eventually included a "Mistress of Ceremonies," a woman who dressed in a man's tuxedo and "sang, danced, conducted and otherwise functioned as the band's public face."
Some fun facts:
Our guest Evan Finch, who works as a writer for advertising agency Miller Brooks, joined Nelson in studio in 2014 for a show about Offbeat Landmarks across Indiana. "I like weird stuff," Evan says, referring to his interest in quirky aspects of our state's heritage.
During the 1930s and '40s, bandleader and composer Phil Spitalny and His All-Girl Orchestra reaped national fame on radio and in concerts. The group featured a performer promoted as Evelyn and Her Magic Violin.
Referring to The Parisian Redheads, Evan writes: "The group's earliest reviews referred to them as a 'jazz orchestra,' but the Redheads, in an effort to please the diverse tastes of vaudeville audiences, actually played everything from operettas to show tunes."
During the show, expect to hear some musical interludes to give a flavor of the Redheads (Bricktops) in performance.
Group members also changed over the years with The Parisian Redheads-turned-Fourteen Bricktops (also known by other names, such as the Paramount Parisians, early on).
Even though the Bricktops broke up in the 1930s, some of the musicians enjoyed flourishing careers long afterward. Bricktop member Ruth Hutchins Thrasher became, as Evan puts it, "a valued member of the Indianapolis Symphony Orchestra - and played several different instruments for them over the course of four decades."
Why the emphasis (or insistence) on red hair?
"In addition to adding an extra layer of novelty, red hair gave the band a visual identity - and a hair color associated with free-spiritedness seems in tune with the Jazz Age," Evan writes in his Traces article.
He notes that, as the years passed, dozens of women musicians from across the country joined the band. But the group always had Indiana musicians, including Bobbie Greiss, a singer-dancer who grew up in Indianapolis and was recruited as the group's conductor. Trumpet player Lillian Evans was a native of Dublin in Wayne County, while another trumpeter, Alice Miller, attended Arsenal Technical High School in Indy.
Other members of the Parisians (or of the Bricktops) included saxophonist Bernice Lobdell of Huntington; accordionist Jeane Brown of Greencastle, and saxophonist Marietta Gift of Converse.
In 1929, the band played The Palace in New York City and shared a bill with the famous Marx Brothers. As the vaudeville circuit declined, the Bricktops transformed into a dance band.
"The success of the Parisian Redheads and the Fourteen Bricktops proved that a band of women could compete successfully with men, both in terms of performance and financial reward," Evan writes.
He adds: "In the many years since the Bricktops' dissolution, opportunities for female musicians have improved. In 2010, it was estimated that the membership of America's top 15 orchestras - once almost exclusively male - had become 35 percent female."
Evan and Nelson also share info about other all-female musical groups from Indiana. They have included the Hampton Sisters, who went, as the Indianapolis Star once put it, "from a child act to jazz legends." The last of the legendary sisters, Dawn Hampton, died in 2016.
Fans of the genre might want to view this video montage of all-female orchestras of the '30s and '40s.
Your Hoosier History Live team,
Nelson Price, host and creative director
Molly Head, producer, (317) 927-9101
Richard Sullivan, webmaster and tech director
Pam Fraizer, graphic designer
Garry Chilluffo, media+development director
Michael Armbruster, newsletter editor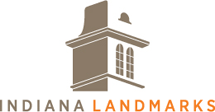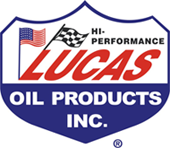 Please tell our sponsors that you appreciate their support: Indiana Historical Society | Indiana Landmarks | Lucas Oil | MBP Catering | Story Inn | English Ivy's | Indiana Pioneers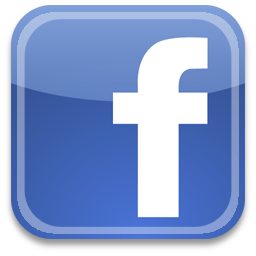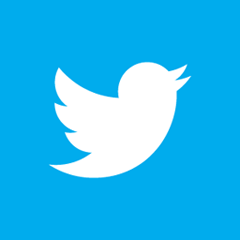 Acknowledgments to Monomedia, Visit Indy, WICR-FM, Fraizer Designs, Heritage Photo & Research Services, Derrick Lowhorn and many other individuals and organizations. We are an independently produced program and are self-supporting through organizational sponsorships and individual contributions. We do not receive any government funding. Visit our website to learn how you can support us financially. Also, see our Twitter feed and our Facebook page for regular updates.
Thank you!
We'd like to thank the following recent, new and renewal contributors whose donations help make this show possible!
© 2017 Hoosier History Live. All rights reserved.