July 15, 2017 show
Tamika Catchings, history maker
She has been called the most beloved athlete in Indiana - and not only because she's considered to have been one of the best female professional basketball players in history. Nor is it merely because she has won four Olympic gold medals.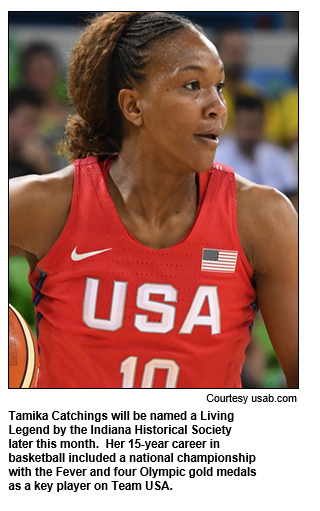 Tamika Catchings is regarded as an inspirational figure even by admirers who never have attended an Indiana Fever game.
Born with a profound hearing impairment that caused her to be bullied as a child, Tamika established her Catch the Stars Foundation in 2004 to help young people confronted by challenges. She has written an autobiography, Catch a Star (Revell Publishing, 2016) in which she describes how she was discouraged from chasing dreams.
Tamika, 37, is about to be named a Living Legend by the Indiana Historical Society. Last month, her jersey (No. 24) became the first to be permanently retired by the Indiana Fever; her entire 15-year playing career in the WNBA was spent with the team.
She will be Nelson's guest to talk about a range of aspects of her life and career, which includes a new role: tea shop proprietor. A few months ago, Tamika bought the Tea's Me Cafe, 140 E. 22nd St., after learning the owners intended to shutter it. She had been a longtime patron and didn't want the cafe to close.
The last two years have been something of a whirlwind for Tamika. She married her husband, Parnell Smith, in a small ceremony in downtown Indy. She has become a commentator for ESPN's SEC network. She also has a new job with Pacers Sports and Entertainment: director of player programs and franchise development. And she recently gave the commencement address at IUPUI.
"If anyone can do it, you can," she repeated to the graduates as a refrain throughout her speech.
Although her father, Harvey Catchings, enjoyed a 12-year career with the NBA and then played pro basketball overseas, the WNBA didn't even exist until Tamika was 16 years old.
By then, she had moved multiple times, spending her formative years everywhere from Italy to Texas as the family was continually uprooted because of her father's career. In Catch a Star, which Tamika wrote with Ken Petersen, she describes how she was perceived at the succession of new schools:
"Tamika Catchings was still just an odd-looking girl with big box hearing aids over her ears."
She went on to lead the Fever to a national championship in 2012, win four Olympic gold medals (the most recent at the 2016 Rio Olympics) as a key player on Team USA and receive the ESPN Humanitarian Award.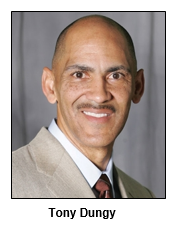 "Tamika has been a shining light in the community, a tireless worker, and a tremendous role model not only for young athletes, but for everyone," writes Tony Dungy, the former Indianapolis Colts coach, in the introduction to Catch a Star. "She is one of the rare superstar athletes who really 'get it.'"

Tamika was drafted by the Indiana Fever in 2001 after leading the University of Tennessee's team to a national championship. At Tennessee, she had suffered a severe leg injury, but in Indianapolis she rebounded and excelled with the Fever, overcoming what Tamika describes in her autobiography as painful shyness during her youth.

"The name-calling, the put-downs, all the being singled out and set apart was too much," she writes in Catch a Star, referring to childhood teasing because of the hearing aids she wore.

When she launched her Catch the Stars Foundation, Tamika's goal was to help disadvantaged and challenged youth. In recent years, the foundation has expanded its mission to "empower youth to achieve their dreams by providing goal-setting programs that promote literacy, fitness and mentoring," as stated on the organization's website.

In addition to Tamika Catchings, the Living Legends this year will include Janet Allen, the longtime artistic director of the Indiana Repertory Theatre who was the Hoosier History Live guest July 1. At the Legends gala, which will be held July 28 at the Indiana History Center, business leader Mark Miles and civic leaders/philanthropists John and Sarah Lechleiter also will be named Living Legends.

History Mystery
In addition to Tamika Catchings, who won a gold medal in women's basketball as part of Team USA, Hoosiers who won medals at the 2016 Rio Olympics included a diver who grew up in Noblesville.
The diver, who won a silver medal in synchronized diving on the 10-meter platform, had done even better at the 2012 London Olympics. At those Olympic games, he won the gold medal on the 10-meter platform.
He attended Purdue University; today, he lives in West Lafayette.
Question: Who is the diver?
The call-in number is (317) 788-3314. Please do not call in to the show until you hear Nelson pose the question on the air, and please do not try to win the prize if you have won any other prize on WICR during the last two months. You must be willing to give your name and address to our engineer and be willing to be placed on the air, and you must answer the question on the air. The prize is two admissions to the Indiana History Center, courtesy of the Indiana Historical Society, and two admissions to the Benjamin Harrison Presidential Site, courtesy of the Benjamin Harrison Presidential Site.

Roadtrip: Kokomo Automotive Museum
Guest Roadtripper Kayleen Reusser of Bluffton in northeastern Indiana, author of the blog World War II Legacies: Stories of Northeast Indiana Veterans, suggests a Roadtrip to the Kokomo Automotive Museum. Kokomo is where one of the first motor vehicles built in America was assembled in 1894 by Elwood Haynes.
Those first cars were called "Haynes" and then "Haynes & Apperson" after two brothers who bought into the business. The nascent U.S. automobile industry as a whole experienced rapid growth and by 1900 was producing 8,000 cars a year. Unfortunately, competition and the Great Depression caused Haynes to go out of business in 1925.
The Kokomo Automotive Museum, which opened in 1997, features the largest collection of Haynes automobiles in the United States, as well as 112 vehicles of various models and purposes. Many of the vehicles date from the late 1800s, but not every car is more than a century old. Here's a museum where you can see a 1957 T-bird with a supercharged V8 engine, a 1935 Auburn sports car with front suicide doors (manufactured in Auburn, Ind., now home to the National Auto and Truck Museum), a 1936 Packard convertible and 1941 black Cadillac.
Kayleen tells us that the museum is open year-round. Sharing her etymological prowess, she also informs us that the word "automobile" comes from the Greek word "auto," meaning self, and "mobile," from the French word meaning moving.
Happy Roadtripping!
Nelson Price, host and historian
Molly Head, producer/project manager, (317) 927-9101
Michael Armbruster, associate producer
Richard Sullivan, senior tech consultant
Pam Fraizer, graphic designer
Garry Chilluffo, media+development director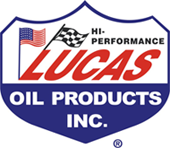 Please tell our sponsors that you appreciate their support!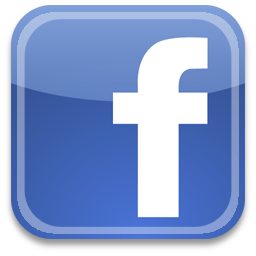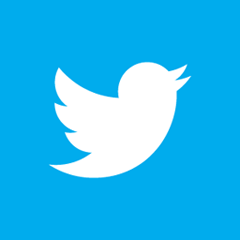 Acknowledgments to Monomedia, Visit Indy, WICR-FM, Fraizer Designs, Heritage Photo & Research Services, Robin Knop, Derrick Lowhorn and many other individuals and organizations. We are an independently produced program and are self-supporting through organizational sponsorships and individual contributions. We do not receive any government funding. Visit our website to learn how you can support us financially. Also, see our Twitter feed and our Facebook page for regular updates.
Thank you!
We'd like to thank the following recent, new and renewal contributors whose donations help make this show possible!
Margaret Smith.
Elizabeth Cierzniak.
July 22, 2017 show - upcoming
Little-known stories of Hoosiers in the Civil War
Letters written by Indiana children to their fathers who were dying on the front lines of the Civil War. Orphanages and homes for widows that were championed after the war by women civic leaders, including one who had served as a spy. (She escaped from a Confederate camp with a gun hidden in her skirts.)
A Copperhead grave robbery near Rochester, Ind.
And captured Confederate battle flags that helped expand collections of the Indiana State Museum, which had its humble origins as a as a cabinet of mineralogical samples assembled by State Librarian R. Deloss Brown in 1862.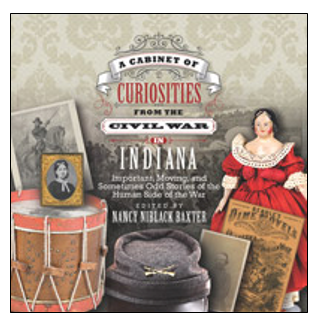 They are among the little-known Civil War stories involving Hoosiers that are described in a new book that we will explore during our show. Nelson's guests will be three Civil War experts who have contributed to the new book, A Cabinet of Curiosities from the Civil War in Indiana: Important, Moving, and Sometimes Odd Stories of the Human Side of the War (Hawthorne Publishing). The guests will be:
Nancy Baxter, the author of 11 books about Indiana history and the editor of the new book.
Steve Towne, the archivist at IUPUI and an expert on Copperhead activity and spies in Indiana.
And Dale Ogden, the recently retired chief curator of cultural history at the State Museum, which has an array of Civil War-era photos and artifacts.
The State Museum's artifacts include a 32-pound shell fired by Confederates at the 18th Indiana Light Artillery, which was led by then-Captain Eli Lilly. The shell was unidentified until recent years.
After its establishment during the Civil War, the State Museum quickly became the repository of Confederate regiments' flags captured by Indiana soldiers. During the early 1960s, Gov. Matthew Welsh decided the captured flags should be returned to the South.
Indiana sent nearly 210,000 men and teenage boys to fight for the Union cause, the second highest percentage of any Northern state in proportion to its population. As A Cabinet of Curiosities notes, diseases such as dysentery and typhoid fever in the soldiers' camps killed far more Hoosiers than battle.
At some of the camps, Lovina Streight of Indianapolis joined her husband (who rose to become a brigadier general) and his troops. She nursed wounded soldiers and spent time as a spy.
A Cabinet of Curiosities describes how after the Civil War, Mrs. Streight and other women became benefactors of soldiers' widows and orphans in Indiana. Mrs. Streight was buried with full military honors in a ceremony at Crown Hill Cemetery attended by 5,000 people.
© 2017 Hoosier History Live. All rights reserved.