August 5, 2017 show
Chuck Taylor shoes, Wonder Bread and Alka-Seltzer: iconic products
Every day, more than 270,000 pairs of Chuck Taylor All Star basketball shoes are sold around the world by Converse. The athletic shoe's namesake was a shoe salesman who grew up in Columbus, Ind., during the early 1900s. He became a master marketer of the previously-created shoe, turning it into an enduring icon of the footwear world, worn by famous athletes and movie stars as well as by typical teenagers.
To share insights about the impact and Indiana roots of Brown County native Chuck Taylor (1901-1969), who first started wearing Converse shoes as a high school basketball star in Columbus, Nelson will be joined in studio by Abe Aamidor, a Carmel-based author and journalist. Abe's biography, Chuck Taylor All Star: The True Story of the Man Behind the Most Famous Athletic Shoe in History, was originally published in 2006 but has been rereleased by IU Press, just in time for the shoe's 100th birthday.
When the Converse sneaker was introduced in 1917, it revolutionized the athletic shoe industry; it was lighter, cheaper and more flexible than competitors becausee it was made of canvas, rather than leather as was common at the time, and featured rubber soles. Chuck Taylor was not responsible for any of these innovations, but, as a sales manager, he pioneered marketing techniques for the shoe.
"He was a showman, kind of a P.T. Barnum," our guest Abe Aamidor notes. Crisscrossing the country, Taylor organized thousands of clinics focused on the increasingly popular sport of basketball. The events also helped promote the All Star athletic shoe. As part of the marketing strategy, Taylor made the decision to add his name and autograph to its design.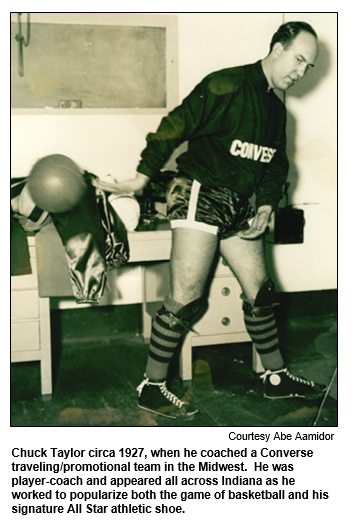 Chuck Taylor All Stars became the shoe of choice for basketball players, and their popularity lasted through the late 1960s, when various factors led to a steep decline in sales. These factors included critical comments about the sneaker made by Taylor's friend and fellow Hoosier, the iconic coach John Wooden, who was the subject of a Hoosier History Live show back in December of 2014. The fall of Chuck Taylors among athletes was also brought on by the ascendency of competitors such as Adidas and, later, Nike. By then, though, Chuck Taylor All Stars had found new life as a "fashion statement" (to use our guest Abe Aamidor's phrase), embraced by artists, musicians and teenagers.
In 1969, a few months before his death of a heart attack at age 68, Chuck Taylor was inducted into the Naismith Memorial Basketball Hall of Fame as a "contributor" to the sport's success.
We won't attempt to cover every iconic product with an Indiana connection during the show. But our focus will broaden to include two other household names with Indiana origins, which, like Chuck Taylor All Stars, are still sold around the world decades after their debuts: Wonder Bread and Alka-Seltzer.
Both are among products featured in a "Made in Indiana" exhibit on the Indiana History Train that visitors can board during the Indiana State Fair. Angela Wolfgram, a researcher for the Indiana Historical Society, the creator of the exhibit, will join Nelson by phone during the show to share insights about the famous bread and the tablet many associate with its "plop plop, fizz fizz" jingle.
Initially made by Indianapolis-based Taggart Baking Co., Wonder Bread was first sold in 1921. Its name and long-time logo of balloons has a direct connection to the Indianapolis Motor Speedway. A bakery executive attended an international balloon race at the racetrack and left in awe - i.e. with a sense of wonder - when marketing for the bread was initially being planned. Wonder Bread became the first bread to be sold pre-sliced in stores during the early 1930s.
That was about the same time Alka-Seltzer was developed as a remedy for colds and upset stomachs by the Elkhart manufacturer that began as Miles Medical Company. Founded by Indiana physician Dr. Franklin Miles in 1884, the company eventually became known as Miles Laboratories.

On previous Hoosier History Live shows, we have explored other iconic products with Indiana connections. They include Orville Redenbacher's Gourmet Popcorn, which was the focus of a show about the life and career of its creator, an Indiana farm boy-turned-entrepreneur and advertising icon. The show was broadcast in 2013, the "Year of Popcorn" at the State Fair.

History Mystery
A doll that's famous around the world was created by a cartoonist who grew up in Indianapolis.

The doll made her debut in 1918 in a book of adventure stories in which she was the central character. The doll was created as a spin-off product that became far more popular than the books.

Question: Name the famous doll.

Hint: There's a connection between the doll and the poetry of James Whitcomb Riley.

The call-in number is (317) 788-3314. Please do not call in to the show until you hear Nelson pose the question on the air, and please do not try to win the prize if you have won any other prize on WICR during the last two months. You must be willing to give your name and address to our engineer and be willing to be placed on the air, and you must answer the question on the air. The prize is two tickets to the Hoosier Hops & Harvest festival in Brown County on Saturday, Aug. 26, courtesy of Story Inn, and two tickets to the Indiana History Center, courtesy of the Indiana Historical Society.



Roadtrip: New at the Indiana State Fair
We're bringing back Miss Melody, the schoolmarm in the Pioneer Village at the Indiana State Fair, to tell us about new happenings this year.
Drum roll please: this year's theme is "The Wonderful World of Food," which seems like an obvious tribute to the fair's culinary delights, both healthy and not-so-healthy! And, of course, we will get to learn more about where our food actually comes from.
Miss Melody will tell us that you can ride the newly-installed Subaru Sky Ride for $5 to give you a bird's eye view of all the happenings. For those who prefer life on the ground, the regular shuttle pulled by a tractor will still go around the Oval (it still only costs $1 and features some of the best people watching ever). All concerts are free with fair admission. Also new this year is the ride at Hedrick's Racing Pigs.
And don't forget to visit the Pioneer Village, which also has a new milk house! The Pioneer Village is in the northeast corner of the fair; look for the windmill! And visit the guitar-playing and singing Miss Melody in the one room schoolhouse (her 20th century alter-ego is known as Janet Gilray of Legacy Keepers Music). The fair runs August 4-21. Full information at 2017 Indiana State Fair.
Nelson Price, host and historian
Molly Head, producer/project manager, (317) 927-9101
Michael Armbruster, associate producer
Richard Sullivan, senior tech consultant
Pam Fraizer, graphic designer
Garry Chilluffo, media+development director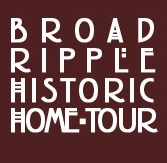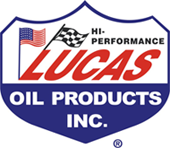 Please tell our sponsors that you appreciate their support!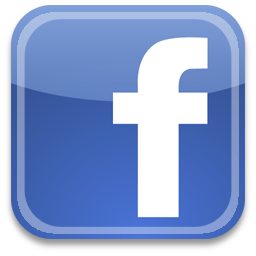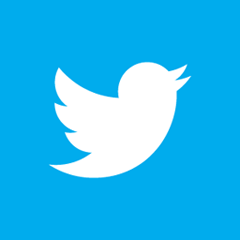 Acknowledgments to Monomedia, Visit Indy, WICR-FM, Fraizer Designs, Heritage Photo & Research Services, Robin Knop, Derrick Lowhorn and many other individuals and organizations. We are an independently produced program and are self-supporting through organizational sponsorships and individual contributions. We do not receive any government funding. Visit our website to learn how you can support us financially. Also, see our Twitter feed and our Facebook page for regular updates.
Thank you!
We'd like to thank the following recent, new and renewal contributors whose donations help make this show possible!
Margaret Smith.
Elizabeth Cierzniak.
The Boyle Racing Project.
August 12, 2017 show - upcoming
Persimmons and pawpaws with Jo Ellen Meyers Sharp
Persimmon and pawpaw trees aren't confined to Indiana, but they have been associated with the Hoosier state for nearly 200 years. Today's enthusiasm for eating locally-grown produce has renewed interest in the fruits of these trees, which are most often used in pudding, ice cream and custard. Not to be left out of the trend, connoisseurs of adult beverages have been putting a new twist on classic cocktails with persimmon syrup and brewing beer with the fruit of the pawpaw, also known as the Indiana banana.
Our favorite gardening guru, Jo Ellen Meyers Sharp, will be Nelson's studio guest to discuss the growth habits of - and soil conditions preferred by - persimmons, pawpaws and other local trees and plants that bear edible fruit and vegetables.
Jo Ellen, who writes "The Hoosier Gardener" column in The Indianapolis Star and is the co-author of The Indiana Gardener's Guide (Cool Springs Press), also will take phone calls from listeners seeking advice about their flower or vegetable gardens. As treasurer of the Garden Writers Association, Jo Ellen will join us fresh from the organization's annual convention in Buffalo, N.Y.
She also is a member of Indiana Landmarks' cultural landscape committee and will share details about 40 culturally significant landscapes across central Indiana that will be highlighted during a national gathering in October. Free tours of some of the landscapes will be open to the public during the Oct. 6-8 events.
In southern Indiana, the town of Mitchell will host the 71st annual Persimmon Festival from Sept. 23-30, a celebration that typically is attended by tens of thousands of visitors. Persimmon pudding has been beloved by generations of Hoosiers, but in recent years enthusiasts of the fruit also have used it to flavor everything from cookies and ice cream to margaritas.
In her Hoosier Gardener column last year, Jo Ellen even explored the folklore that the shape of a season's persimmon seeds is a predictor of the harshness of the upcoming winter.
For pawpaw enthusiasts who do not grow their own, several sources suggest visiting farmers markets in Indiana from late summer to early fall. The fruit has a "custardy sweet" flavor often compared to a blend of a banana and a mango.

© 2017 Hoosier History Live. All rights reserved.