August 12, 2017 show
Persimmons and pawpaws with Jo Ellen Meyers Sharp
Persimmon and pawpaw trees aren't confined to Indiana, but they have been associated with the Hoosier state for nearly 200 years. Today's enthusiasm for eating locally-grown produce has renewed interest in the fruits of these trees, which are most often used in pudding, ice cream and custard. Not to be left out of the trend, connoisseurs of adult beverages have been putting a new twist on classic cocktails with persimmon syrup and brewing beer with the fruit of the pawpaw, also known as the Indiana banana.
Our favorite gardening guru, Jo Ellen Meyers Sharp, will be Nelson's studio guest to discuss the growth habits of - and soil conditions preferred by - persimmons, pawpaws and other local trees and plants that bear edible fruit and vegetables.
Jo Ellen, who writes "The Hoosier Gardener" column in The Indianapolis Star and is the co-author of The Indiana Gardener's Guide (Cool Springs Press), also will take phone calls from listeners seeking advice about their flower or vegetable gardens. As treasurer of the Garden Writers Association, Jo Ellen will join us fresh from the organization's annual convention in Buffalo, N.Y.
She also is a member of Indiana Landmarks' cultural landscape committee and will share details about 40 culturally significant landscapes across central Indiana that will be highlighted during a national gathering in October. Free tours of some of the landscapes will be open to the public during the Oct. 6-8 events.
In southern Indiana, the town of Mitchell will host the 71st annual Persimmon Festival from Sept. 23-30, a celebration typically attended by tens of thousands of visitors. Persimmon pudding has been beloved by generations of Hoosiers, but in recent years enthusiasts of the fruit also have used it to flavor everything from cookies and ice cream to margaritas.
In her Hoosier Gardener column last year, Jo Ellen even explored the folklore that the shape of a season's persimmon seeds is a predictor of the harshness of the upcoming winter.
For pawpaw enthusiasts who do not grow their own, several sources suggest visiting farmers markets in Indiana from late summer to early fall. The fruit has a "custardy sweet" flavor often compared to a blend of a banana and a mango.
The Hoosier state, of course, also is known for the quality of its tomatoes. So we will prevail on Jo Ellen to share advice for listeners about growing them in their home gardens.
Indiana companies in the tomato business include Red Gold, based in Elwood. The multi-generational, family-owned company is headquartered in a former elementary school in the Madison County town, but acres of Red Gold tomatoes are grown across the state. Not only does Red Gold distribute tomato products (including ketchup and tomato juice) throughout the United States, it ships them to more than 15 other countries.
Some fun facts:
In addition to being the co-author of The Indiana Gardener's Guide, Jo Ellen Meyers Sharp is the author of The Visitor's Guide to American Gardens (Cool Springs Press). She also is director of the Indianapolis Museum of Art Horticultural Society. The extensively landscaped gardens of Oldfields, the former estate of J.K. Lilly Jr., the late Indianapolis businessman, collector, and philanthropist that is part of the IMA grounds, is expected to be among the destinations of the October event. Indiana Landmarks is coordinating the October gathering with the Cultural Landscape Foundation in Washington D.C
Persimmon fruit matures in the fall. Typically, the fruit is yellow, orange or dark brown. Connoisseurs emphasize the fruit is best harvested once it falls naturally from the tree.
In addition to being associated with Indiana, persimmon trees grow in the region around Fresno, California. The trees also grow in China and Korea, where the fruit is popular.
Do you have a favorite persimmon pudding recipe? Email it to our associate producer Mick and we'll publish it on our website when the persimmons start getting ripe in the fall.
A few memories of James Worley, who loved persimmon and pawpaws
Columbus (Indiana) East High School literature teacher and poet James Worley (1921-2014) was a great friend to Hoosier History Live, but he will also be remembered by former students and family members as a man who loved his pawpaws and persimmons.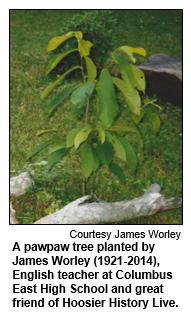 He planted the pawpaw tree pictured at the right near his home in rural Bartholomew County about 15 years ago. Rather than purchase a sapling from a nursery, however, he used a more unusual method of propagation: while enjoying a pawpaw fruit picked from trees that grew down by the creek on his property, he chose a spot closer to the family house and spit out the seeds in what turned out to be an auspicious location. Worley's daughter Glynis Worley reports that the resulting pawpaw tree flourished and is yielding fruit for the very first time this summer, a bounty of about 50 pawpaws.
Glynis tells us that her father used to pick pawpaws and let them ripen in a bowl inside the house, preferring this method to that of those who favor gathering the fruits only after they have fallen from the tree. A native of West Virginia who served as a conscientious objector medic during WWII, Worley loved persimmon fruit, too, and cultivated those trees on the family property as well. His wife Elizabeth "Bette" (1921-2015) made a mean persimmon pudding, and Worley so delighted in the flavor that he considered the addition of whipped cream to be an abomination.
Unfortunately, a passion for the pawpaw fruit doesn't seem to be passed from one generation to the next: Glynis reports that she doesn't particularly care for the taste and "lets the critters have them." But she certainly cherishes the family pawpaw and persimmon trees that continue to bear fruit.
History Mystery
Tomato juice was served for the first time - anywhere - in 1917. It happened at a famous site in Indiana, where a chef squeezed tomatoes and served the new beverage of tomato juice to guests. The landmark site, which dates to the early 1900s, underwent a spectacular restoration more than 10 years ago. It is listed on the National Register of Historic Places.
Question: Name the site where tomato juice was first served.
The call-in number is (317) 788-3314. Please do not call in to the show until you hear Nelson pose the question on the air, and please do not try to win the prize if you have won any other prize on WICR during the last two months. You must be willing to give your name and address to our engineer and be willing to be placed on the air, and you must answer the question on the air. The prize is two tickets to the Hoosier Hops & Harvest festival in Brown County on Saturday, Aug. 26, courtesy of Story Inn, as well as two tickets to Conner Prairie and the 1859 Balloon Voyage, courtesy of Conner Prairie Interactive History Park.

Roadtrip: St. James Restaurant
Guest Roadtripper, author and travel writer Jane Ammeson suggests we head to the small town of Avilla in Noble County in northeastern Indiana. "Avilla is not a big town," she says , "but the St. James Restaurant there has been in continuous operation there since 1897." Jane tells us that it's a real destination place with lots of traditional Indiana foods like fried chicken and pork tenderloin sandwiches. The St. James also serves German fare, and they're known for their excellent bean soup, too.
Founded around the middle of the 19th century (the first post office opened in 1846), Avilla came into its own as a stop on the Grand Rapids and Indiana Railway. The St. James Hotel and Restaurant were established in 1878 by Jonathan James, a Pennsylvania farmer who moved to Indiana in 1860, and served as a stopover for those traveling the Hoosier state by rail.
By the middle of the 20th century, the once-proud St. James Hotel had seen its better days and had become a rundown tavern.
In 1949 the St. James was purchased and renovated by the Freeman family, who have kept it in the family for multiple generations since then, expanding the restaurant's seating space into the upper story originally occupied by the hotel. They proudly proclaim the St. James' status as the oldest restaurant in northern Indiana.
If you choose to venture out to the St. James, be sure to tell them that Roadtripper Jane Ammeson from Hoosier History Live sent you!
Meet Nelson at Eagle Creek Park this Wednesday evening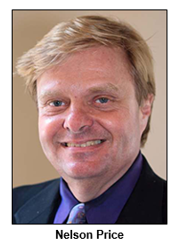 Pitch a blanket, bring some chairs, or cruise in on your boat to enjoy a live music performance by the Cohen-Rutkowski Project this Wednesday night, August 16, at the Marina in Eagle Creek Park on the west side of Indianapolis.
Hoosier History Live host Nelson Price will be there to meet and greet everyone at the WICR booth from 6 to 8 p.m. The concert begins at 6:30, and the concession stand remains open until 7 pm. Picnics are welcome, and the concert is free with park admission ($5 per car for Marion County residents, $6 for everyone else).
Don't miss Jazz on the Point. It's a delightful way to spend a summer evening and hang with Nelson all at the same time!

Nelson Price, host and historian
Molly Head, producer/project manager, (317) 927-9101
Michael Armbruster, associate producer
Richard Sullivan, senior tech consultant
Pam Fraizer, graphic designer
Garry Chilluffo, media+development director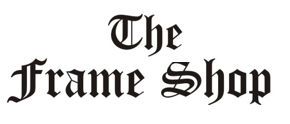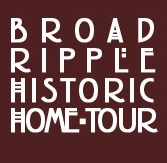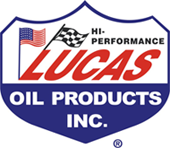 Please tell our sponsors that you appreciate their support!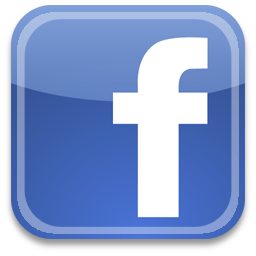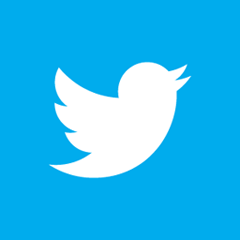 Acknowledgments to Monomedia, Visit Indy, WICR-FM, Fraizer Designs, Heritage Photo & Research Services, Robin Knop, Derrick Lowhorn and many other individuals and organizations. We are an independently produced program and are self-supporting through organizational sponsorships and individual contributions. We do not receive any government funding. Visit our website to learn how you can support us financially. Also, see our Twitter feed and our Facebook page for regular updates.
Thank you!
We'd like to thank the following recent, new and renewal contributors whose donations help make this show possible!
Margaret Smith.
Elizabeth Cierzniak.
The Boyle Racing Project.
August 19, 2017 show - encore presentation
Switzerland County and living on the Ohio River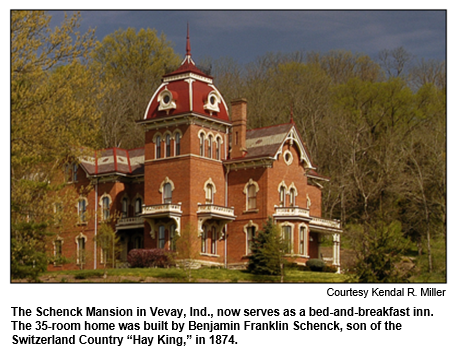 (Originally broadcast Aug. 3, 2013) Even though it's one of our smallest counties, a visit to Switzerland County in southeastern Indiana on the Ohio River feels like "a world away" for many of us. Switzerland County has rolling hills and a wealth of buildings and structures that have not been significantly altered for 200 years. No interstate highway runs through Switzerland County, nor has a railroad ever been built there because of its hilly terrain; much of its landscape and small towns remain as serene as they were in the early days of Indiana's settlement.
Not only does this Hoosier History Live encore show explore such fascinating aspects of Switzerland County as its Swiss heritage, a local historical figure known as the "Hay King" and a contemporary wine festival, we examine the impact of the Ohio River on towns and farms in the far-southeastern corner of the Hoosier state.
Considered to be the home of the country's first commercial winery, county seat Vevay hosts the annual Swiss Wine Festival (2017 dates: August 24-27), where visitors can sample local wine, cheese and chocolate while basking in the ambience of the scenic Ohio River. And don't miss the Rural Heritage Tour (2017 dates: October 7-8), which highlights the rural and agricultural life and history of Switzerland County from settlement days to the present time.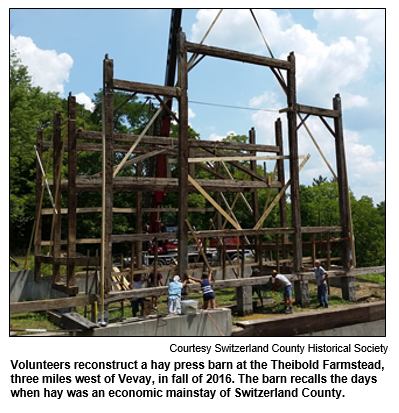 The county's early Swiss settlers, who included John James Dufour Jr., his family and descendants, initially called their land on the river "New Switzerland." They set up vineyards and in 1813 established the town of Vevay. Thanks to the ease of shipping goods by riverboat, the town and surrounding farms flourished for several decades. Farmers constructed flatboats and keelboats from plentiful nearby timber.

At the"Life on the Ohio" River History Museum, riverboat models and artifacts from the heyday of steamboats offer visitors a glance into life during the steamboat era (1850-1920), when the Ohio River served as the economic "lifeline of Switzerland County," as the museum's website explains.

Early Switzerland County resident and entrepreneur Ulysses P. Schenck, who became known as the "Hay King," had a fleet of eight steamboats and barges plying his trade upon the Ohio River. Even before that, the ancestors of our guest Barry Brown had settled in the county. Both sides of his family, which include Scottish immigrants as well as Swiss and French, arrived in the early 1800s. Vintage artifacts from various early settlers displayed at the Switzerland County Historical Museum include the first piano brought down river by flatboat to Indiana.


© 2017 Hoosier History Live. All rights reserved.