April 7, 2018
Faculty war of 1832: Early IU history
In 1832, there were only three faculty members at what is today Indiana University, and those three became embroiled in a bitter feud with aspects that remained a mystery until recent years.
We will explore the early faculty war at the school known as State Seminary when it was founded in 1820 in Bloomington. By 1832 it had become Indiana College with two dozen students and colorful Andrew Wylie serving as the first president. Wylie was preceded on campus by Rev. Baynard Rush Hall, a Presbyterian minister who had been hired as the school's first professor.
Wylie and Hall were the central figures in the faculty war, which one of our guests, IU historian Jim Capshew, says became fodder for a "durable legend." The war was sparked by what Jim describes as a "mysterious, unsigned letter" addressed to Hall with blistering descriptions of him as "indolent, careless, superficial and shamefully neglectful of his duties."
The identity of the letter writer was not publicly revealed for 177 years. In 2009, our other guest, author and historian Dixie Kline Richardson, disclosed the information in her book Baynard Rush Hall: His Story, the only biography of IU 's historic professor, who taught ancient languages.
In addition to exploring the faculty war and the lives of Wylie (1792-1851), who died following a wood-chopping accident, and Hall (1793-1863), this week's show will explore the Wylie House, the restored home of the first IU president. Built in a blend of Federal and Georgian styles during the 1830s, it is now a house museum open for tours and the setting for concerts and other cultural events. The Wylie House (where the first president and his wife, Mary Ann, lived with 10 of their 12 children) is listed on the National Register of Historic Places.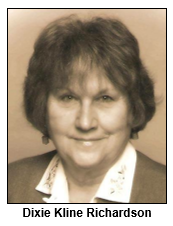 During our show, Jim Capshew also will describe some of the events planned for the IU Bicentennial in 2020. Jim was our guest for a show in May 2012 about the life of Herman B Wells, the longtime chancellor and president often called "Mr. IU." Jim is the author of a widely acclaimed biography of Wells, for whom he worked as a personal assistant during his junior and senior years of college at IU.
Our guest Dixie Kline Richardson became intrigued by the life of Hall (who left Bloomington in 1832 after the faculty war) when she was a staff writer for the Spencer Evening World newspaper in Owen County during the 1970s. She spent years researching her book about Hall, who suspected Wylie had written the scathing letter. Wylie, though, denied it.
The third faculty member in the earliest years of IU was John Hopkins Harney, a professor of mathematics and science. He sided with Hall in the faculty war that was an inauspicious beginning for the university that would become the alma mater of hundreds of thousands of students.
According to folklore, during the dispute Wylie and Harney met on a narrow bridge over the Jordan River that flows through the Bloomington campus. The encounter ended with Harney in the water.
Wylie - who, like Hall, was a Presbyterian minister - had come to IU following stints as president of two colleges in Pennsylvania. Several of the early IU students had been attending the Pennsylvania colleges and followed Wylie to Bloomington to complete their degrees. When Wylie and his large family arrived in 1829, Bloomington was a small town of barely 1,000 residents who lived in log cabins and, in a few cases, brick homes.
As part of the IU Bicentennial, oral interviews about the university's history will be conducted with alumni, staff and faculty. Historical markers will be erected along with other endeavors commemorating the milestone anniversary. Those who would like to learn more can visit the project website.
"The IU Bicentennial is not just a big birthday party," our guest Jim Capshew says. "[It's] a serious effort to explore the good, the bad and the ugly . . . in our history and learn from it going forward."
History Mystery
The name of one of Purdue University's early presidents lives on in Indianapolis as the name of a public high school. The high school is named in honor of the educator, who served briefly as Purdue's president during the 1870s.
The honor was granted not because our mystery man had occupied the top administrative role at the West Lafayette campus, however. Rather, his name was adopted as the name of the high school several years before his death in 1919 because of his early leadership role in Indianapolis schools.
Question: What is the name of the high school?
The call-in number is (317) 788-3314. Please do not call in to the show until you hear Nelson pose the question on the air, and please do not try to win if you have won any other prize on WICR during the last two months. You must be willing to give your first name to our engineer, you must answer the question correctly on the air and you must be willing to give your mailing address to our engineer so we can mail the prize pack to you. The prize is four passes to the Indiana History Center, courtesy of the Indiana Historical Society, and a gift certificate to the Story Inn in Brown County, courtesy of Story Inn.
Roadtrip: Two adventures in one trip - Milan and Batesville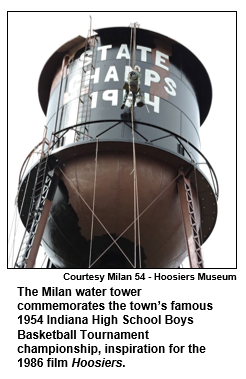 Milan Ind. (pronounced in the Hoosier vernacular as MY-lan, in contrast to the Italian city of mee-LAHN it was named after) has a rich and storied history. But the small town might not offer enough attractions to justify a day-long road trip. Guest Roadtripper and film historian Eric Grayson suggests that we combine a trip to Milan with a stop in Batesville, another historically significant small town in the southeast corner of the state.
Milan, of course, earned its place in history because of the Milan Miracle, the town high school's triumph in the 1954 high school state basketball championship, which served as inspiration for the 1986 movie Hoosiers. To learn more about the legendary David-and-Goliath victory, you'll want to visit the Milan 54 - Hoosiers Museum, which offers extensive photographic and motion-picture documentation of the historic championship game.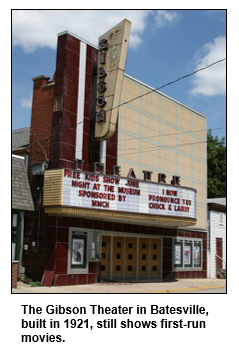 Incidentally, Roadtripper Eric Grayson spent two years restoring the 16mm films of the 1954 Milan basketball game; the restored compilation is now available on DVD.
Other Milan attractions include the newly restored water tower and the Masonic Lodge. For lunch, Eric recommends the Reservation, a favorite among locals.
After visiting Milan you can head north a bit to Batesville, known for its German heritage and food. If your taste tends toward the Teutonic, check out The Sherman restaurant, which offers an open-air Biergarten and live entertainment to go with the Brats and Schnitzel. The landmark Sherman House hotel opened in 1852, and the architecture is distinctly German Tudor in style.
And if you still have the energy after your day of small-town Hoosier tourism, catch a movie at Batesville's restored Gibson Theatre, originally built in 1921.
Hoosier History Live guests look and sound great in their 90s! 
Prizes solicited for History Mystery contest
If your business or organization would like to contribute prizes for our History Mystery contest, we would love to have them! Ideally they fit in a standard mailing envelope, such as coupons or vouchers.
Your organization gets a mention on the air by Nelson, as well as a link to your website on our enewsletter and website! If interested, contact producer Molly Head at molly@hoosierhistorylive.org.
Nelson Price, host and historian
Molly Head, producer/project manager, (317) 927-9101
Michael Armbruster, associate producer
Cheryl Lamb, marketing and administrative manager
Richard Sullivan, senior tech consultant
Pam Fraizer, graphic designer
Garry Chilluffo, special events consultant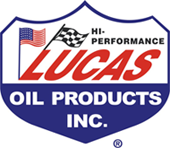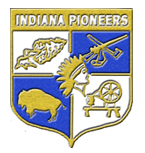 Please tell our sponsors that you appreciate their support!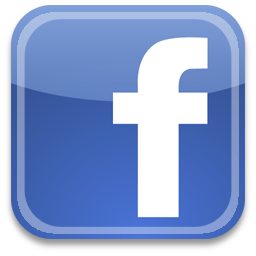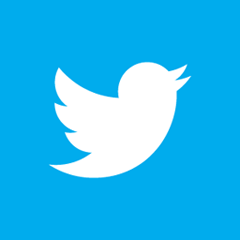 Acknowledgments to Monomedia, Visit Indy, WICR-FM, Fraizer Designs, Heritage Photo & Research Services, Henri Pensis, Chris Shoulders and many other individuals and organizations. We are an independently produced program and are self-supporting through organizational sponsorships and individual contributions. We do not receive any government funding. Visit our website to learn how you can support us financially. Also, see our Twitter feed and our Facebook page for regular updates.
Thank you!
We'd like to thank the following recent, new and renewal contributors whose donations help make this show possible!
Chuck and Karen Bragg.
Joseph Young III.
Andy Hein.
Rita Kohn.
Dennis and Catherine Krauser.
Margaret Smith.
Lorraine and Philip Vavul.
Jim and Marjorie Kienle.
Peggy Hollingsworth.
Dennis Arbuckle.
The Chatterbox/David Andrichik.
Eunice Trotter.
Scott Keller.
Link Ludington.
David Buchanan.
Doug Brooks.
Tom and Linda Castaldi.
Marion Wolen.
April 14, 2018 - Upcoming
Reno Brothers, notorious train robbers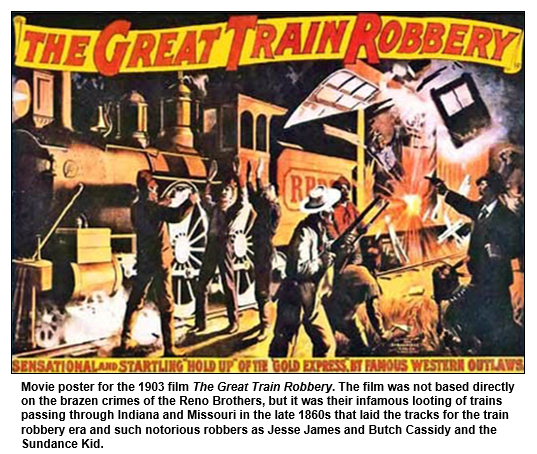 Shortly after the Civil War, a notorious crime spree unfolded across the Midwest that included the country's first robbery of a moving train. The perpetrators were bandits in a gang organized by brothers who grew up on a farm near Seymour in Jackson County. The outlaws also pulled off what may have been the first peacetime train robbery in U.S. history.
The notorious Reno Brothers - whose history-making train robbery occurred on Oct. 6, 1866 - will be the focus of our show. The gang included brothers Frank, John, Simeon ("Sim") and William Reno, who had begun looting businesses before the Civil War.
Their most infamous crime occurred May 22, 1868 as the Jefferson, Madison & Indianapolis Railroad train was proceeding through Marshfield, Ind., about 17 miles south of Seymour. The Renos and their gang boarded the train, overpowered the engineer, threw one of his co-workers out a door, broke into an express car and eventually made off with about $96,000.
As train robberies and other crimes by the Reno gang persisted, Jackson County residents formed vigilante committees. Pinkerton detectives were hired to capture the gang.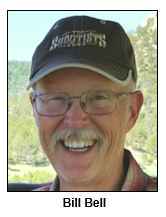 To describe the Reno Brothers' crime spree, William "Bill" Bell, a retired law enforcement officer based in Indianapolis, will be Nelson's studio guest. Bill, who writes for several magazines about the Old West, has researched and written about the Reno Brothers for Wild West magazine. In a 38-year career, Bill worked as a police officer, deputy sheriff, U.S. border patrolman and as a U.S. Customs worker. He is a member of the Scarlet Mask Vigilance Society, which is named after one of the vigilante organizations that, as Bill puts it, "finally put a stop to the depredations of the notorious Reno Brothers."
According to Bill's research, the Reno family came to Indiana in 1813, when the grandfather of the brothers arrived from Kentucky. Frank, John, Sim and William Reno grew up on a 1,200-acre farm. Another brother, Clinton, and a sister, Laura, "apparently never entered into the illicit activities of their siblings," Bill writes.
As an early headquarters, the Reno Brothers and their gang used a dilapidated building in the small Jackson County town of Rockport; later, their base was a hotel in Seymour. Before the historic train robberies, the Renos committed a series of post office robberies and murders.
According to Bill Bell's article, the Reno gang's robbery of an Ohio & Mississippi Railroad train as it left the Seymour depot in 1866 means that the brothers can be blamed for "opening the door to the train robbery era, which featured Jesse and Frank James, and, later, Butch Cassidy and the Sundance Kid."


© 2018 Hoosier History Live. All rights reserved.