December 22, 2018
Rock and roll across 1960s Indiana with Jimmy Mack: encore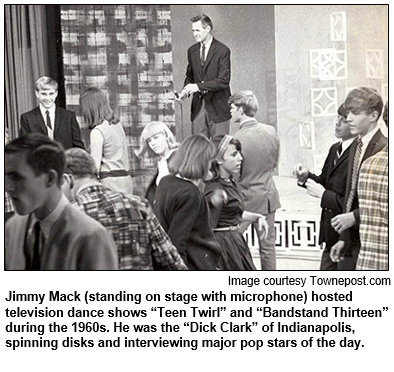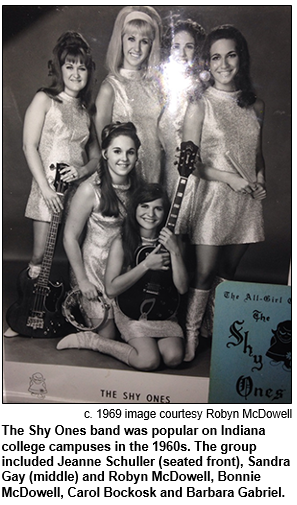 Across the Indiana landscape during the 1960s, there may not have been much surf and sand of the sort celebrated in the music of The Beach Boys. But there were plenty of garage bands, rock and roll concerts by national touring groups and jam-packed venues for the music that was captivating Hoosier teenagers during the era.
At center stage for much of the era that we will explore during this encore show (originally aired on Dec. 10, 2016) was Jimmy Mack, the host of Bandstand 13, a popular teen dance show broadcast on Channel 13 (then WLWI, now WTHR) from 1965 through 1969. His show was modeled on Dick Clark's American Bandstand.
Jimmy Mack was 94 years old when he participated as one of Nelson's guests on this show. This year, he turned 96 and moved into a retirement community in Indianapolis.
In addition to hosting his TV show during the 1960s, he was a well-known disc jockey and appeared at concert venues to play records before nationally known groups performed. In the mid-1960s, he was even at the Fairgrounds Coliseum for an appearance by the Rolling Stones.
During this show, you will be fascinated by our trio of guests as they share details about everything from a native Hoosier who is the widow of the lead singer for the Dave Clark Five and a rollicking Jimi Hendrix concert in Muncie in 1968 to Hoosier dance bands like the Workmon of Anderson, the Chosen Few of Muncie, the Boys Next Door of Indianapolis and the Teen Tones of South Bend.
Nelson and his guests also embark on radio road trips to explore venues of rock and roll concerts during the 1960s, including the Indiana State Fairground Coliseum, Indiana Beach on Lake Shafer and the Allen County War Memorial Coliseum in Fort Wayne.
In addition to Jimmy Mack, the guests are:
David Humphrey, a freelance writer-photographer based in Pendleton who is the author of The Golden Years of Rock and Roll in the Hoosier State (M.T. Publishing Co.). David grew up in Anderson and remembers sneaking into a teen dance when he was 10 years old to hear The Chalets, a regionally popular rock and roll group based in his hometown.
And Robyn McDowell, who joined the Shy Ones, an all-female pop rock group, about a year after graduating from North Central High School in 1968. Robyn's sister Bonnie also was a member of the Indy-based group, which enjoyed an enthusiastic following on college campuses. Robyn is the daughter of Jimmy Mack, whose real name is Jimmy McDowell.
"During the golden years of rock and roll in the Hoosier state, there seemed to be a continuous flow of concerts to attend, records to buy or songs to hear on the radio," David Humphrey writes in his book. It features an interview with Miss Indiana of 1964, who later married Mike Smith, lead singer of the Dave Clark Five. He died in 2008, just 10 days before the group was inducted into the Rock and Roll Hall of Fame; his widow, Charlie Smith, lives in Valparaiso.
In David's book, Jimmy Mack describes his deejay gigs at dances and sock hops during the 1960s, as well as his extensive TV career.
"In the early days of Bandstand 13, boys were required to wear suits, and girls wore dresses," Jimmy recalls of the show, which featured performances by live acts and local teens dancing to hit records. The TV program also featured on-location footage of recent concerts in Indiana by headliners like Sonny and Cher. Bandstand 13 was broadcast in the morning and evening on Saturdays.
During that era, many of the Indiana-based bands were described with comparisons to nationally known groups. The Boys Next Door, for example, were often called "the Midwestern version of the Beach Boys." According to David's book, the Boys Next Door actually played several shows with the Beach Boys - as well as with Herman's Hermits, The Rascals and many other groups that were household names.
The Indy-based Shy Ones, featuring women playing rhythm guitar, drums and bass, had been performing for several years before our guest Robyn McDowell and her sister joined the group, providing lead vocals. After Robyn and Bonnie left the Shy Ones in 1970, they performed in Vietnam for U.S. troops.
As a special treat, during the final portion of our show listeners will enjoy an encore excerpt on a related topic from our archives of classic Hoosier History Live shows.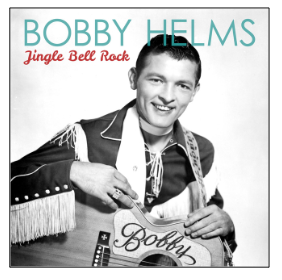 We will share a portion of a show about the classic pop tune Jingle Bell Rock and Indiana native Bobby Helms (1933-1997), the multitalented musician who made the song a seasonal favorite when he recorded it in 1957 for Decca Records.
For this show (original air date: Dec. 12, 2015), Nelson was joined in studio by John Kleiman, a Greenfield native who became Helms' personal manager (and close friend) for the last 10 years or so of the musician's life
Helms was born in Bloomington, lived for many years in Martinsville and made Jingle Bell Rock famous. His big year was 1957, when Decca also released two other hit songs that he recorded: My Special Angel and Fraulein.
Referring to Jingle Bell Rock, John says: "Bobby originally did not want to do it because he didn't believe it was right to mix rock and roll with Christmas. So the song does not mention Christmas anywhere."
Although accounts differ about credits for the lyrics and music, John says Helms wrote most of the words and that the tune was a joint effort between the Hoosier and Hank "Sugarfoot" Garland, who plays the guitar lead-in on the original version of Jingle Bell Rock.
In the nearly 60 years since the tune was released, Jingle Bell Rock has been covered by vocalists ranging from Brenda Lee, Johnny Mathis and Neil Diamond to the Jonas Brothers and Amy Grant. It has also been featured on the soundtrack of movies such as Home Alone 2 (1992).
Hoosier History Live cast and crew celebrate the holidays at Greek Islands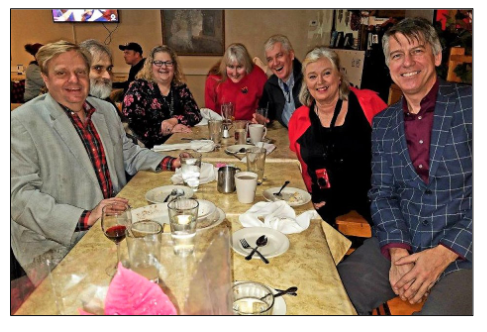 A big thank you to the Greek Islands Restaurant at 906 S. Meridian St. in Indianapolis. They treated the hard working folks affiliated with Hoosier History Live to a festive Greek dinner on December 17. It takes a lot of people to put on a tremendous show, newsletter, website and podcasts, and now, a great iTunes feed each and every week! Starting from the left is Nelson Price, Eric Grayson, Cheryl Lamb, Glory-June Greiff, Garry Chilluffo, Molly Head, and Richard Sullivan. Missing is Mick Armbruster, who was deep in rehearsal for the Indianapolis Winter Solstice Celebration. These busy show biz types can't be everywhere at once, but they do work very hard to entertain and inform you!
Hoosier History Live podcasts are now available at the Apple iTunes store!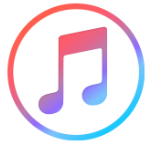 We've been providing podcasts of Hoosier History Live for a couple of years, posting links to recent shows at the top of each newsletter and on the weekly update to our website. Listeners tell us they love the opporunity to listen to the show at a time that's convenient for them; our fans also share the link to the podcast with friends who might be interested.

Those who like to subscribe to podcasts can now find us in the Apple iTunes store as well - just open your iTunes app and search on Hoosier History Live. We're working to get listed on all the major podcast providers as well; send us an email if your favorite one doesn't carry us, and we'll make sure it gets posted there. We'll keep posting podcast links on our newsletter and website as before. And if you're looking for a podcast from a 2017 or 2018 show, just go to the Archive page on our website and you'll see the podcast link posted right below the show's title.

Thanks to associate producer Mick Armbruster for heading up our online distribution project. Our growing availability as a podcast and on iTunes is great news for our sponsors as well. More media reach!

New to podcasts? All you need is a computer or smartphone, and you can listen to radio shows (and more!) wherever and whenever you want. Confused by the new-fangled technology? Check out this guide to podcasts, provided by Wired Magazine.



Coming Soon: Our 11th anniversary party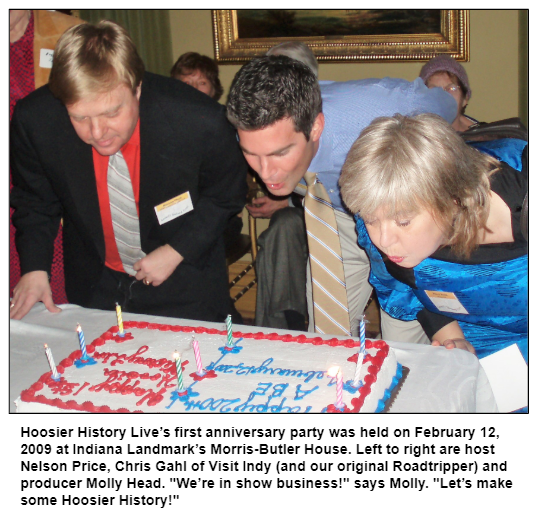 Mark your calendars for our annual bash, hosted by our friends at Indiana Landmarks! The party will be held Thursday, February 28 from 5:00 to 7:30 pm at Indiana Landmarks Center, 1201 N. Central Avenue, Indianapolis, IN 46202. Come as you are, or (better yet!) dress in historic garb as your favorite character from the past.
More details to come!
Nelson Price, host and historian
Molly Head, producer/project manager, (317) 927-9101
Michael Armbruster, associate producer
Cheryl Lamb, administrative manager
Richard Sullivan, senior tech consultant
Pam Fraizer, graphic designer
Garry Chilluffo, special events consultant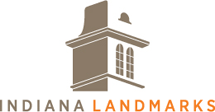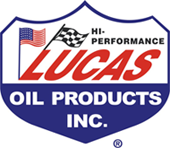 Please tell our sponsors that you appreciate their support!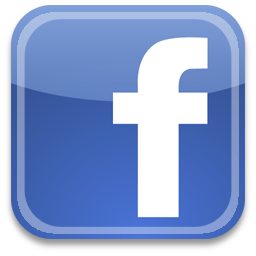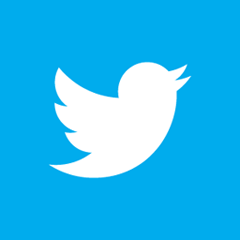 Acknowledgments to Monomedia, Visit Indy, WICR-FM, Fraizer Designs, Heritage Photo & Research Services, Henri Pensis, Aaron Duvall, and many other individuals and organizations. We are an independently produced program and are self-supporting through organizational sponsorship, and by individual contribution at the yellow button on our newsletter or website. For organizational sponsorship, which includes logos, links, and credits in the show, contact Molly Head at (317) 927-9101 or email her at molly@hoosierhistorylive.org. And any of our podcasts can be sponsored for a nominal fee.
Thank you!
We'd like to thank the following recent, new and renewal contributors whose donations help make this show possible!
Kathleen Angelone
Stacia Gorge
Teresa Baer
Linda Gugin and Jim St. Clair
Tom and Linda Castaldi
Jinsie Bingham
James H. Madison
Theresa and Dave Berghoff
Diane Dallas
Yetta Wolen
December 29, 2018 - coming up
Tip of the hat to New Year's celebrations of yore, supper clubs and more
For its final show of the year, Hoosier History Live has established a tradition that, while not as time-tested as Champagne toasts and renditions of "Auld Lang Syne," is enlightening, enjoyable and reflective.
We take the opportunity to look at various dining trends, restaurants and nightspots - bygone, current and recently revived - with two of our favorite in-studio guests. This time, we also will take a history plunge into the ways New Year's Eve and New Year's Day were celebrated during previous eras, and look into some of the settings for the revelry as well.
Nelson's returning guests will be: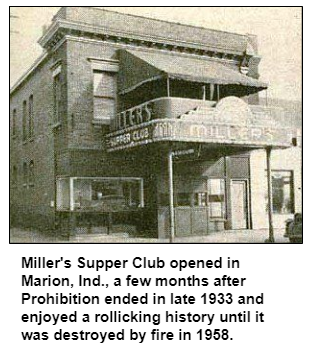 Noting the recent openings of Geraldine's Supper Club and the Inferno Room tiki bar, both in the bustling Fountain Square neighborhood of Indianapolis, Terry plans to share insights about "trends from the past that people are loving now and why," as he puts it.
Nightspots from the past that we will spotlight include the now defunct Sheffield Inn, a hotel and nightclub in downtown Indy famous during the 1960s for its New Year's Eve revelry. Our guest Jeff Kamm notes that the Sheffield Inn building still stands in modified form in the 900 block of N. Pennsylvania St., although it now houses a service organization for military veterans.
During our show, we will have a phone-in report about a supper club/nightspot in Marion, Ind., that burned to the ground 60 years ago this month. Ed Breen, a former editor of the Marion Chronicle-Tribune who now hosts a weekday radio news show, will discuss the rollicking history of Miller's Supper Club, which opened a few months after Prohibition ended in late 1933.
The Black Curtain wasn't a supper club - it was a dinner theater in the 2100 block of N. Talbott Street in Indy - but its history as a popular nightspot also will be on our menu. As Jeff notes in Classic Restaurants of Indianapolis, the Black Curtain offered musical entertainment (like the supper clubs) along with other performances. From 1968 until 1980, the dinner theater anchored an area of the Hoosier capital that was then becoming known as "bohemian."
Before that era - and continuing to this day - Chinese restaurants have advertised extensively about being open on New Year's Day. Jeff's book describes the evolution of Lotus Gardens, beginning in 1953 with the opening of a restaurant near E. 46th Street and Keystone Ave. At one point, Lotus Gardens had three locations in the metro area; only its restaurant in Greenwood remains. When the restaurant opened in the early '50s, Lotus Gardens house specialties included Cantonese lobster chow mein and chicken chop suey.
"Not surprisingly for 1950s Indianapolis," Jeff writes, "the number one menu item was roast beef."
Listeners will be invited to call in earlier than usual during this show to share memories of bygone dining establishments or comments about trends that are being revived. The call-in phone number at WICR-FM is 317-788-3314.
© 2018 Hoosier History Live. All rights reserved.