March 23, 2019
Claypool Hotel and Hotel Lincoln: bygone Indy landmarks
With the announcement that downtown Indianapolis will get a new high-rise hotel that, according to news accounts, will "change the city's skyline," Hoosier History Live will explore two grand hotels that were rivals for most of the early and mid-20th century.
When the elegant Claypool Hotel opened in 1903 at Washington and Illinois Streets, its lobby was touted as one of the largest in the world. During the next six decades, distinguished guests included Eleanor Roosevelt, Jack Benny, Dwight Eisenhower and Fort Wayne native Carole Lombard, who spent the last nights of her life at the Claypool.
The glamorous movie star was killed in 1942 when her plane crashed as she was returning to Hollywood from Indianapolis, where she had raised a record $2.5 million at war bond rallies.
Two sensational murders at the Claypool made international headlines: The notorious "dresser drawer murder" in 1954 (the body of teenage victim Dorothy Poore was found stuffed into a dresser drawer), and the unsolved slaying of Maoma Ridings, who was serving in the Women's Army Corps at Camp Atterbury, during WWII.
Hotel Lincoln opened in 1918 on the current site of Hyatt Regency (it later was known as the Sheraton Lincoln Hotel after an acquisition). At 15 stories, the hotel was the largest flatiron building ever constructed in Indiana, built on an acutely angled lot at the corner of West Washington Street and Kentucky Avenue. The adjacent stretch of Kentucky Avenue was later eliminated from the city street grid prior to construction of the Hyatt Regency.
Like the Claypool, the Lincoln hosted political conventions, including dozens of state legislators who stayed at the hotels during the General Assembly. Demolition of the Lincoln in 1973 involved the first use of controlled dynamite to raze a building in the entire state, according to an article written by historian Joan Hostetler for historicindianapolis.com.
Nelson's studio guest will be John McDonald, the CEO of the information technology company ClearObject in Fishers; he is the author of Lost Indianapolis (Arcadia Publishing, 2002), which devotes a chapter to the lavish Claypool.
Two years after a devastating fire in 1967 caused the Claypool to close, the hotel was demolished. Guests at a "demolition ball" then bid on dozens of Claypool artifacts and mementos.
Other Claypool objects, however, remained in storage for decades; for example, the Carole Lombard Suite (furnishings from the room in which the actress stayed) eventually was purchased in 2000 by the Indianapolis Propylaeum.
Some history facts:
Before the Claypool was built, its site had been the location of a legendary hotel of the 19th century: the Bates House, which was constructed in the 1850s. None other than Abraham Lincoln stayed at the Bates House. As president-elect in 1861, traveling from Springfield, Ill., to his inauguration in Washington, Lincoln delivered a speech from the balcony of the Bates House that made national headlines.
According to Lost Indianapolis, a partnership that involved entrepreneur Edward Fay Claypool, the son of one of the first settlers of Connersville, Ind., initiated construction of the eight-story hotel, which had 450 guest rooms. Our guest John McDonald writes that the Claypool's furnishings and décor were "made of the best mahogany, brass and textiles available." Every room at the Claypool had a private bath, a luxury in 1903.
At the Hotel Lincoln, an Estey pipe organ was built specifically for the Travertine Room, the elegant dining room.
The new downtown hotel will be a Signia Hotel, a new brand created by Hilton. Expected to become one of the tallest buildings in the Hoosier capital, the hotel is planned for Pan American Plaza at Illinois and Georgia streets.
Expansions of the Claypool during its heyday eventual increased its capacity to 600 guest rooms. The hotel included two ballrooms, the Florentine Room and the Riley Room, which was named in honor of poet James Whitcomb Riley.
"From the first night, the Claypool had no trouble filling its guest list with the most powerful and influential," John McDonald writes.
Carole Lombard stayed at the hotel in January 1942 while making a series of major public appearances to sell war bonds at Monument Circle, Cadle Tabernacle and the Indiana Governor's Residence. Lombard, 33, and her mother were among the passengers killed when their plane from Indianapolis crashed into a mountain in Nevada. Her grief-stricken widower, movie icon Clark Gable, then quietly visited Indianapolis and may have stayed in the rooms that later became known as Carole Lombard Suite.
The Claypool's reputation never fully recovered from the "dresser drawer murder" in 1954. Dorothy Poore, the 18-year-old victim, had come to Indianapolis from her hometown of Clinton, Ind., in search of a job. A door-to-door salesman was convicted of the gruesome slaying.
The years after the shocking murder also were a lackluster era for Indy's downtown, another factor in the decline of both the Claypool and the Lincoln hotels.
That era resulted in the demise of other landmarks depicted in Lost Indianapolis, the book by our guest John McDonald. In addition to being the CEO of ClearObject, John is the chairman of the Indiana Technology and Innovation Policy Committee.
Roadtrip: The National Road and Terre Haute
Please note: this Roadtrip was originally scheduled for our March 9 show, but had to be postponed until this week.

Guest Roadtripper Glory-June Greiff invites us on a journey to explore the National Road, the nation's first truly interstate highway. In Indiana, the National Road runs from Richmond westward through Indianapolis and on to Illinois through Terre Haute, crossing the Wabash into West Terre Haute.


Terre Haute makes a great destination, but Glory-June suggests we make the most of the journey by taking our time as we travel along US40, which traces the course of the original National Road and reveals much of its 189 years of history. A good place to start is the Oasis Diner, moved from its earlier location four miles away to a new spot in downtown Plainfield. Glory-June says it's a great place to eat and soak up the 1950s-era vibe.

Other interesting stops for history-minded Roadtrippers traveling the old National Road include 19th century inns and great old houses, like Rising Hall west of Stilesville. Take time to check out the Clay County Courthouse (listed in the National Register) in downtown Brazil. And while you're there, stop by Lynn's Old Fashioned Soda Parlor at Lynn's Pharmacy.

Upon reaching Terre Haute, you have a wealth of things to see! Glory-June tells us that the new Vigo County Historical Society museum is soon to open on Wabash Avenue (US40), just across the street from the Clabber Girl Museum. A little farther west, on 7th Street, is the Swope Museum of Art, in sight of the glorious Indiana Theater, an old movie palace and architectural treasure.


In need of a pick-me-up before heading home? Glory-June recommends the Corner Grind on the corner of 7th and Wabash, a great coffee house adjacent to its sister business, the Cornerstone Cafe, featuring tasty sandwiches and soups.

That's just a taste of the many great things to do and see in Terre Haute; plenty of reasons to return!

History Mystery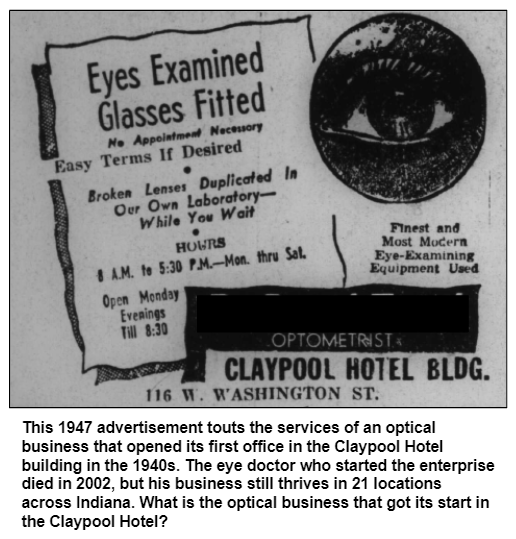 A well-known chain of optical stores in Indiana had its beginnings in the Claypool Hotel in Indianapolis. During the 1940s, an optometrist opened his first office in the Claypool. That office became the start of a chain of eye care stores, which still remains a family-owned business.
Even though the Claypool was demolished 50 years ago, the optical business today has more than 20 stores across Indiana.
Question: What is the optical business that got its start in the Claypool Hotel?

Please do not call in to the show until you hear Nelson pose the question on the air, and please do not try to win if you have won any other prize on WICR during the last two months. You must be willing to give your first name to our engineer, you must answer the question correctly on the air and you must be willing to give your mailing address to our engineer so we can mail the prize pack to you. Prizes: four passes to the Indiana History Center, courtesy of Indiana Historical Society, and two passes to GlowGolf, courtesy of GlowGolf.
Please email molly@hoosierhistorylive.org if your business or organization would like to offer History Mystery prizess.
Highway 65 (and 70) revisited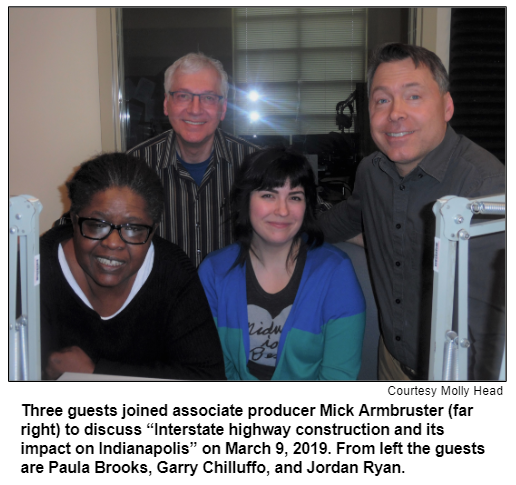 Party like it's 1899!
Annual bash celebrates 11 Years of making Hoosier History!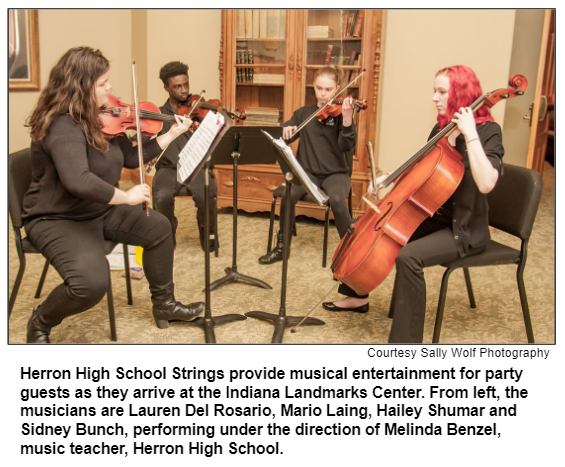 Thanks again to our special sponsors of Hoosier History Live 11th anniversary party: James and Marjorie Kienle and the Society of Indiana Pioneers.
Nelson Price, host and historian
Molly Head, producer/project manager, (317) 927-9101
Michael Armbruster, associate producer
Cheryl Lamb, administrative manager
Richard Sullivan, senior tech consultant
Pam Fraizer, graphic designer
Garry Chilluffo, special events consultant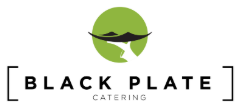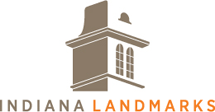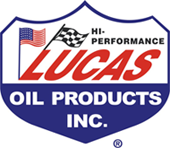 Please tell our sponsors that you appreciate their support!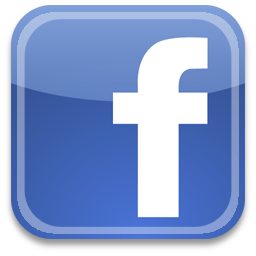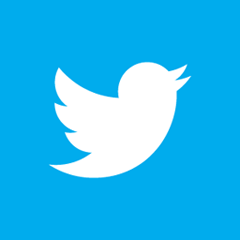 Acknowledgments to Monomedia, Visit Indy, WICR-FM, Fraizer Designs, Heritage Photo & Research Services, Henri Pensis, Aaron Duvall, Chloe Tyson, and many other individuals and organizations. We are independently produced and are self-supporting through organizational sponsorship and through individual contribution at the yellow button on our newsletter or website. For organizational sponsorship, which includes logos, links, and voiced credits in the show, contact Molly Head at (317) 927-9101 or email her at molly@hoosierhistorylive.org.  Our media reach continues to grow via podcasting and iTunes.
Thank you!
We'd like to thank the following recent, new and renewal contributors whose donations help make this show possible!
John and Diane Iozzo
Marjorie and James Kienle
Tom and Linda Castaldi
Julie Slaymaker
Joe Young
Andy Hein
Georgia Cravey and Jim Lingenfelter
Lorraine and Richard Vavul
Steve and Marilyn Barnett
Aleta Hodge
Jeanne Blake
Perry and Melanie Hammock
Jim and Bonnie Carter
Barbara and Michael Homoya
Noraleen Young
Barbara Wellnitz
Phil and Pam Brooks
Russ Pulliam
March 30, 2019 - coming up
A multi-talented composer called Sinky and other captivating musicians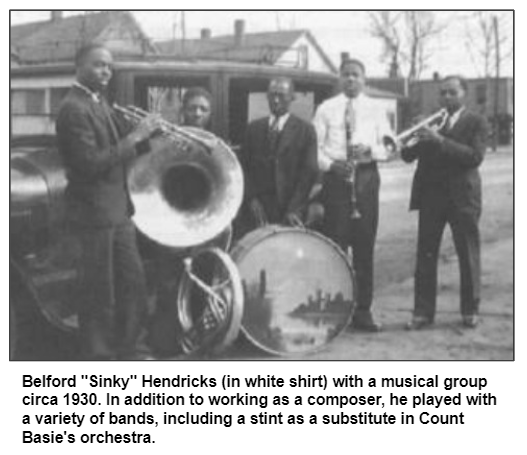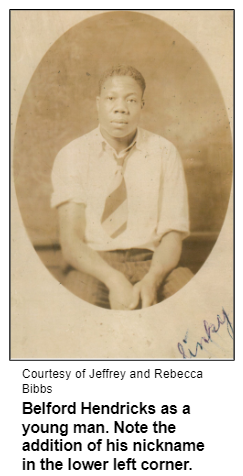 The origins of his nickname, Sinky, are unknown.
And you may never have heard of Belford "Sinky" Hendricks (1909-1977), a native of Evansville who worked as one of that city's first African-American mail carriers during the 1930s before his career flourished as a composer, pianist, arranger and conductor.
Undoubtedly, though, you have heard some of the songs Sinky composed: "It's Just a Matter of Time" (which has been a major hit for several singers, including Randy Travis); "Looking Back," recorded by Nat King Cole; "Call Me," which is associated with Johnny Mathis, and "First Star I See Tonight," a song popularized by Patti Page.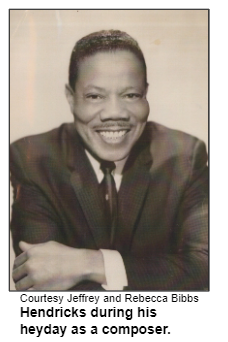 During the early 1960s, Sinky was the conductor and arranger for Aretha Franklin's first album at Capitol Records.
He also did the arrangements for "Ramblin' Rose," another Nat King Cole hit, "What A Difference A Day Makes," which reached No. 4 on the Hit Parade in 1959, and other songs that continue to be heard across the country today.
In addition to exploring the life and enduring impact of Sinky Hendricks, Hoosier History Live will spotlight other African-American musicians with Indiana connections. Many are featured in Indianapolis Rhythm and Blues (Arcadia Publishing), a new book by David Leander Williams, a music historian who will be among Nelson's studio guest.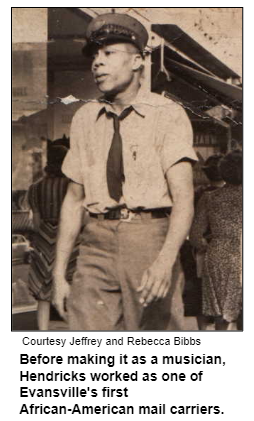 Other guests will be two of Sinky Hendricks' relatives who have been researching his life: Jeffrey Bibbs, Sinky's nephew, who is an Eli Lilly & Co. retiree, and Rebecca Bibbs, Sinky's great-niece (and Jeffrey's daughter). Rebecca is a reporter for the Herald-Bulletin newspaper, which is based in Anderson, Ind.
Sinky studied music and science at Indiana State Teachers College (now Indiana State University), graduating in 1935. During the 1940s, he played the piano on "Toast and Coffee," a popular radio show in Evansville. That was followed by his national success, which unfolded when Sinky lived in Detroit, New York and other cities.
Other Hoosier musicians we will focus on during the show will include:
The Peanut Boys, a singing, dancing and guitar-playing group that began as sidewalk performers outside the Madam Walker Theatre when the Indianapolis landmark opened during the late 1920s. The group later evolved into the Ink Spots, which became nationally known.
The Highlighters, a band that formed when its members were students at Attucks High School. The band went on to back up the Temptations, Martha and the Vandellas and other famous groups.
And Ron Howard, a singer who lived in Lockefield Gardens apartments and appeared in nearby nightclubs on Indiana Avenue. Relocating to New York, he chose a song by Indiana composer Hoagy Carmichael for his signature number: "Skylark."
© 2019 Hoosier History Live. All rights reserved.