April 13, 2019
An artist who confronted segregation, and other painters
It may seem remarkable that his abstract artwork often reflected harmony and balance, given the struggles he faced in establishing himself as a prominent artist.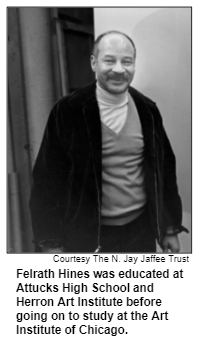 Indianapolis native Felrath Hines, who became the first African-American conservator of the Smithsonian National Portrait Gallery, worked during the Great Depression in a segregated company of the Civilian Conservation Corps (CCC) based in Bloomington. Before that, he graduated from Attucks High School in 1931; he was a member of the first four-year class at Attucks, which was created in the late 1920s as a separate high school for black students in Indianapolis. After his stint as a laborer with the CCC, Hines worked as a dining car waiter on railroad cars at night while attending the Art Institute of Chicago during the day.
Today, paintings by Hines (1913-1993) are exhibited at museums across the country, including the National Museum of African American History and Culture in Washington D.C. and the Indianapolis Museum of Art at Newfields. For several years, Hines worked with Georgia O'Keeffe as her private paintings restorer.
We will explore the life and impact of Hines - as well as other artists - with two studio guests:
As a 13-year-old boy, Hines received scholarships to attend special Saturday classes at what was then called the Herron Art Institute. Despite segregation in Indianapolis schools and public places, Herron had established an open door policy at its inception in 1903 and did not discriminate on the basis of race, according to Rachel's book. At Herron, young Hines studied painting and drawing.

During his career, Hines fought against, as Rachel puts it, "being pigeonholed as a black artist" - even when turning down opportunities for his paintings to be included in exhibits of African American artwork hurt his career.

During our show, guest Mark Ruschman also will discuss other notable painters, including two who attended Manual High School in Indianapolis during the early 1900s: William Edouard Scott (1884-1964) and John Wesley Hardrick (1891-1968). At Manual, both Scott and Hardrick studied under famous Hoosier Group painter Otto Stark.

Like Hines, Hardrick went on to attend Herron. Unlike Hines, whose career flourished after he focused on abstract art, Hardrick painted landscapes, still lifes and portraits. The Indiana State Museum and the Indianapolis Museum of Art own paintings by Hardrick, who lived in Indianapolis all of his life.

In contrast, Hines was based during the 1960s in New York City, where he befriended well-known jazz musicians like Billy Strayhorn. In 1972, Hines moved to the Washington D.C. area to become the conservator of the National Portrait Gallery.
Roadtrip: Angel Mounds State Historic Site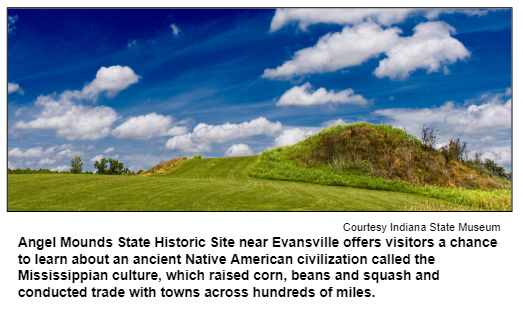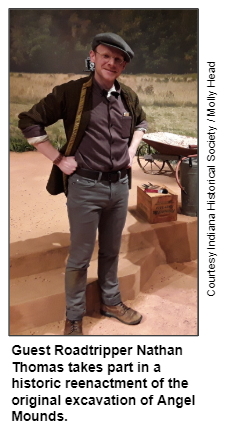 Guest Roadtripper and interpreter for the Indiana Historical Society Nathan Thomas invites us on a jaunt to Angel Mounds State Historic Site near Evansville.

Not to be confused with Mounds State Park in Anderson, Angel Mounds was the site of a large Native American town on the Ohio River that flourished from around 1000 to 600 years ago. At its largest point, the town was home to over 1000 inhabitants and held sway over a large swath of surrounding territory. Archeologists believe that the mounds themselves were the dwelling place of the chiefdom's upper class; the largest mound is over 600 feet long and around 30 feet tall.


Angel Mounds is just one of many towns that were occupied by a Native American civilization called the Mississippian culture, which raised corn, beans and squash and conducted trade with towns across hundreds of miles. The town was abandoned for unknown reasons around 1450. In the pioneer era, the area was used as farmland until Eli Lilly purchased it in 1938 for preservation.


Nathan tells us that the site was excavated beginning in the '30s as part of a joint project between Indiana Historical Society and the Works Projects Administration. Indiana University ran an archaeological field school at Angel Mounds from 1946-1964, and the state built an interpretive center there in 1971.

Today, visitors to Angle Mounds can see ancient artifacts from the area and experience a living history area portraying the site under excavation in late September 1939.


And if you can't make it down to the Evansville area, Nathan suggests we visit the current "You Are There 1939 - Exploring Angel Mounds" exhibit at the Indiana Historical Society.

Either way you make this archeological Roadtrip, you're going to dig Angel Mounds!





History Mystery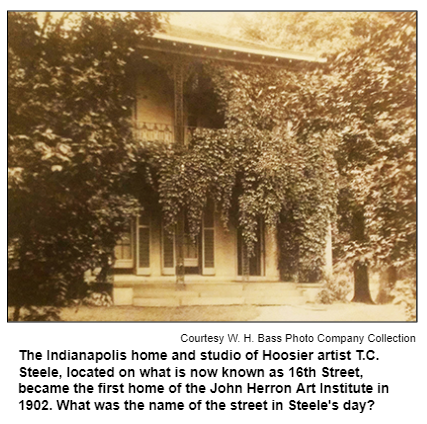 When what was then known as the Herron Art Institute opened in Indianapolis the early 1900s, the academy was located in the 100 block of East 16th Street. It is now the site of Herron High School, a charter school; the Herron Art Institute eventually evolved into IUPUI's Herron School of Art and Design and, in 2005, moved to a building on the Indianapolis campus.
During the 19th century, East 16th Street had a different name. In fact, famous Hoosier artist T.C. Steele lived on the property that became the Herron Art Institute. His estate was known by a name that reflected East 16th Street's historic name.
Question: What was East 16th Street called during the 19th century?
Hint: Today, a popular restaurant located farther east on the street has a name that pays tribute to the thoroughfare's historic name.
Please do not call in to the show until you hear Nelson pose the question on the air, and please do not try to win if you have won any other prize on WICR during the last two months. You must be willing to give your first name to our engineer, you must answer the question correctly on the air and you must be willing to give your mailing address to our engineer so we can mail the prize pack to you. Prizes: two passes to the Indiana State Museum, courtesy of the Indiana State Museum, and a gift certificate to Story Inn, courtesy of Story Inn.
Please email molly@hoosierhistorylive.org if your business or organization would like to offer History Mystery prizes.

Homing in on distinctive historic houses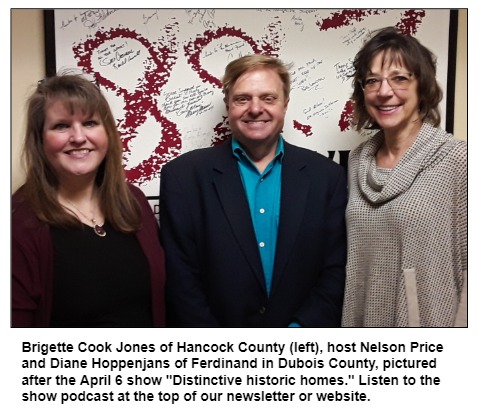 Nelson Price, host and historian
Molly Head, producer/project manager, (317) 927-9101
Michael Armbruster, associate producer
Cheryl Lamb, administrative manager
Richard Sullivan, senior tech consultant
Pam Fraizer, graphic designer
Garry Chilluffo, special events consultant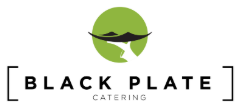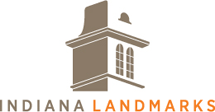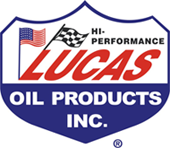 Please tell our sponsors that you appreciate their support!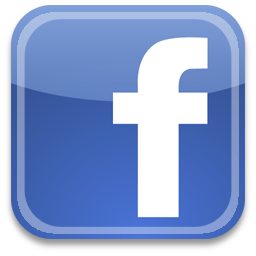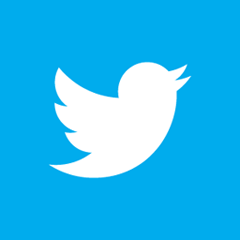 Acknowledgments to Monomedia, Visit Indy, WICR-FM, Fraizer Designs, Heritage Photo & Research Services, Henri Pensis, Aaron Duvall, Chloe Tyson, and many other individuals and organizations. We are independently produced and are self-supporting through organizational sponsorship and through individual contribution at the yellow button on our newsletter or website. For organizational sponsorship, which includes logos, links, and voiced credits in the show, contact Molly Head at (317) 927-9101 or email her at molly@hoosierhistorylive.org.  Our media reach continues to grow via podcasting and iTunes.
Thank you!
We'd like to thank the following recent, new and renewal contributors whose donations help make this show possible!
Perry and Melanie Hammock
Jim and Bonnie Carter
Barbara and Michael Homoya
Noraleen Young
Barbara Wellnitz
Phil and Pam Brooks
Russ Pulliam
Roz Wolen
April 20, 2019 - coming up
Former Supreme Court Chief Justice Randy Shepard on historic preservation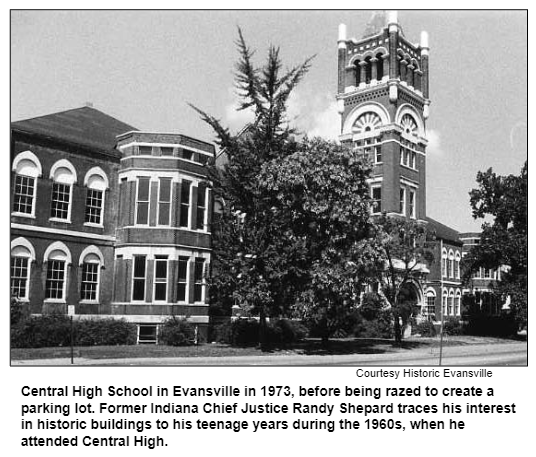 Among distinguished Hoosiers in public life, few have been associated with historic preservation more closely - or longer - than former Indiana Supreme Court Chief Justice Randy Shepard.
A trustee for 11 years for the National Trust for Historic Preservation and a former board chair (and current honorary chair) of Indiana Landmarks, Justice Shepard grew up in Evansville. In an article about him in the March/April issue of Indiana Preservation, Justice Shepard traces his interest in historic buildings to his teenage years during the 1960s, when he marvelled at historic architecture on his daily trip to Evansville Central High School, which was - and remains - the oldest public high school in continuous operation west of the Alleghenies. During the 1970s, the school moved to a new building, and Old Central was demolished to create a parking lot.
Justice Shepard, who was the longest serving chief justice in Indiana history when he retired in 2012, will be Nelson's studio guest to discuss the role of historic preservation in building stronger communities across Indiana.
Currently a visiting professor at the IU McKinney School of Law in Indianapolis, Justice Shepard also will share insights about Indiana's constitutional history, particularly on issues such as slavery and individual rights.
He also plans to discuss the ways that state history likely influenced young Abraham Lincoln, who lived in southern Indiana from ages seven to 21 - the future president's "formative years," as Justice Shepard puts it. Lincoln moved to what is now Spencer County from Kentucky with his parents and sister in 1816, the same year Indiana became a state.
A seventh-generation Hoosier, Justice Shepard has held several national leadership posts in the legal profession, including serving as chairman of the Conference of Chief Justices. He is a graduate of Princeton University and Yale University Law School. In the book Justices of the Supreme Court (Indiana Historical Society Press, 2010), he is praised for his "wisdom, plain English and independence."
According to the Indiana Preservation article, Justice Shepard's passion for preserving historic structures even had an impact on his family life. He met his wife, Ohio native Amy MacDonell, when she was visiting Evansville during National Historic Preservation Week.
© 2019 Hoosier History Live. All rights reserved.