June 8, 2019
German freethinkers in Indy
During the 19th century, Germans became the largest European ethnic heritage group in Indiana. In 1870, immigrants and German-Americans in the state's capital - including some of its most influential residents - formed the Freethinker Society of Indianapolis.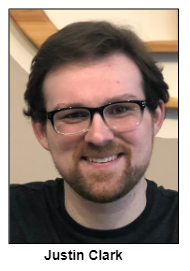 The immigrants, who included political refugees from a failed revolution in Germany in 1848, had a history in their homeland of "freethought," which our guest, public historian Justin Clark, describes as "open evaluation of religion based on the use of reason." Justin, the communications director for the Indiana Archives and Records Administration, will share insights about the German freethinkers and their impact on their adopted hometown of Indianapolis.
They included Clemens Vonnegut (1824-1906), the patriarch of a family that, for more than 110 years, owned an Indianapolis-based chain of hardware stores that he founded in the 1850s. Beginning in 1870, he served as the first president of the Freethinker Society of Indianapolis. During our show, Justin will describe how Clemens' freethinker beliefs influenced his great-grandson, literary icon Kurt Vonnegut Jr.
Other key figures in the Freethinker Society of Indianapolis included its co-founder, Herman Lieber, who immigrated from Germany in the 1850s and became the patriarch of an influential, multi-generational Indianapolis family. Lieber opened a small frame shop that became one of the most respected art dealerships of its era, employing more than 200 people.
According to Justin, the Freethinker Society was "one of the city's first non-religious organizations and facilitated freethought ideas and practices through educational lectures and social gatherings." At the society's events, these "philosophical radicals" discussed such topics as science, women's suffrage, socialism and theology.
Freethinkers included German immigrant Philip Rappaport, who, in 1873, bought the German Daily Tribune, the city's dominant German-language newspaper of the era, which later changed its name to the Indiana Tribune. During a Freethinker Society debate, Rappaport changed his position on women's suffrage, becoming an advocate despite earlier opposition.
In a blog that Justin wrote for the Indiana Historical Bureau, he notes that, in Kurt Vonnegut's semi-autobiographical book Palm Sunday (1981), he describes his great-grandfather's freethinking as the novelist's own "ancestral religion."
Clemens Vonnegut, Herman Lieber and others in Indianapolis - as well as German Americans in other cities during the late 19th century - were influenced significantly by Karl Heinzen, a Boston-based freethinker. In 1882, Heinzen wrote Separation of Church and State, a widely distributed book. He traveled to Indiana several times and became a professional colleague of Lieber, according to Justin Clark.
All of them, in turn, were influenced by Robert Ingersoll (1833-1899), an orator known as the "great American agnostic."
In Indianapolis, the freethinkers established an industrial trade school and a secular Sunday school. But the Freethinkers Society of Indianapolis dissolved in 1890 because, among other reasons, the organization had "spread itself too thin," Justin Clark says. He emphasizes, though, that its impact endured, including in the literature of Kurt Vonnegut Jr.
History Mystery
In addition to being a co-founder of the German Freethinker Society of Indianapolis, Herman Lieber was an art patron. In the early 1880s, he raised the funds for his friend, painter T.C. Steele, to study at a distinguished art academy in a major city in Germany. T.C. Steele, who eventually became best-known for his paintings of Indiana landscapes, was joined at the German art academy by some of the other artists who later became famous as the Hoosier Group.
Question: What major German city was the location of the art academy where T.C. Steel studied?
Please do not call in to the show until you hear Nelson pose the question on the air, and please do not try to win if you have won any other prize on WICR during the last two months. You must be willing to give your first name to our engineer, you must answer the question correctly on the air and you must be willing to give your mailing address to our engineer so we can mail the prize pack to you. This week's prizes: a family 4-pack to Conner Prairie, including 4 tickets to the 1859 Balloon Voyage, courtesy of Conner Prairie, and two passes to the James Whitcomb Riley Museum Home in Indianapolis, courtesy of the James Whitcomb Riley Museum Home.
Roadtrip: Arcadia in Hamilton County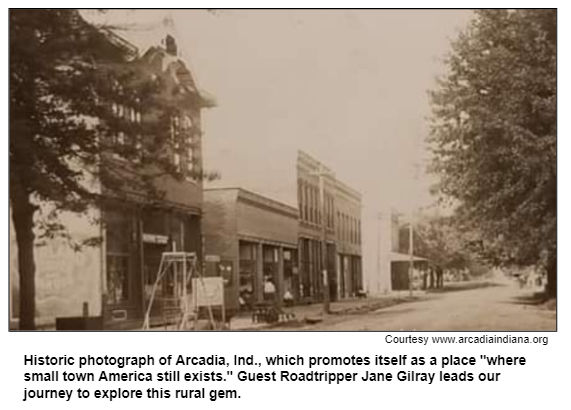 Guest Roadtripper Janet Gilray of Legacy Keepers Music invites us on a jaunt to the delightful small town of Arcadia, located just a hop, skip and a jump up the road from her place in northern Hamilton County.
The sign just outside of Arcadia proclaims it to be "where small town America still exists," and the town certainly lives up to that assertion. There's not a single traffic light in Arcadia, Janet tells us, and its small-town pleasures include taking an old-fashioned stroll down Main Street, where 120-year-old brick storefronts convey the charm and friendliness of a bygone era.
One of those delightful Main Street buildings is home to the Hedgehog Music Showcase, which features live performances and plenty of home grown local music. Styles range from country and bluegrass, to jazz, blues and swing. Check out their events page and plan your trip accordingly!
Just a few blocks away is the Arcadia Depot, a long-time stop on the Nickel Plate Railroad. The Depot was built in 1869 and is now a small museum featuring story boards and an antique telegraph, where you can try your hand at Morse code. Other displays present WWI memorabilia and authentic Arcadia glass from the nearby D.C. Jenkins Glass Factory. In its heyday, Arcadia was home to glass and tin factories powered by the natural gas boom of the 1880s, and the Arcadia Depot is a part of this rich railroad history.
Be sure to join Janet as she shows off this small-town gem!

Old Pathology Building show explores Indy's medical history
Nelson Price, host and historian
Molly Head, producer/project manager, (317) 927-9101
Michael Armbruster, associate producer
Cheryl Lamb, administrative manager
Richard Sullivan, senior tech consultant
Pam Fraizer, graphic designer
Garry Chilluffo, special events consultant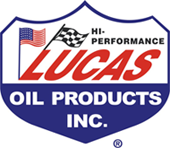 Please tell our sponsors that you appreciate their support!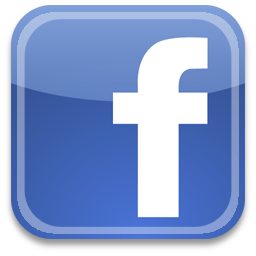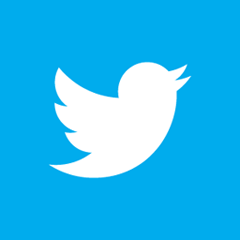 Acknowledgments to Monomedia, Visit Indy, WICR-FM, Fraizer Designs, Heritage Photo & Research Services, Henri Pensis, Aaron Duvall, Chloe Tyson, and many other individuals and organizations. We are independently produced and are self-supporting through organizational sponsorship and through individual contribution at the yellow button on our newsletter or website. For organizational sponsorship, which includes logos, links, and voiced credits in the show, contact Molly Head at (317) 927-9101 or email her at molly@hoosierhistorylive.org. Our media reach continues to grow via podcasting and iTunes.
Thank you!
We'd like to thank the following recent, new and renewal contributors whose donations help make this show possible!
Perry and Melanie Hammock
Jim and Bonnie Carter
Barbara and Michael Homoya
Noraleen Young
Barbara Wellnitz
Phil and Pam Brooks
Russ Pulliam
Roz Wolen
Marion Wolen
June 15, 2019 - coming up
Earliest settlers of Indianapolis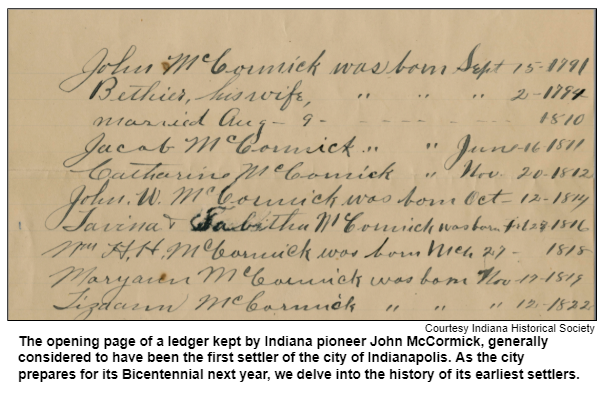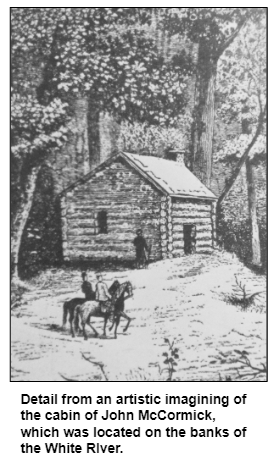 One year from now, in June 2020, the city of Indianapolis plans to kick off its Bicentennial celebrations. An initial event in the 200th birthday jubilee - which will extend through May 2021 - is expected to be at a site near the White River, where the cabin of pioneer John McCormick, generally considered to have been the first settler of the city, was located.
In fact, in June of 1820 McCormick (1791-1825) hosted a meeting to identify the precise site of the new state capital, following an earlier gathering of top state leaders at the cabin of William Conner (namesake of Conner Prairie Interactive History Park.)
Today, a boulder with a commemorative plaque marks the historic site of McCormick's double cabin, which also included a tavern. The site is located in what is now White River State Park.
John McCormick, who came to the then-isolated frontier location from Connersville, built the double cabin with his brothers Samuel and James, along with various hired hands. A journal (or ledger) kept by John McCormick - and newly accessible to the public after being in family hands for nearly 200 years - confirms the arrival of the McCormicks prior to that of another pioneer, George Pogue, who also often has been identified as the first settler of Indianapolis. The journal also indicates that Pogue (namesake of the creek Pogue's Run) likely was among the McCormicks' laborers.
To share insights about the earliest settlers, Nelson's studio guests will be:
Mike Todd, a retired truck driver who is descended from the McCormicks. Mike, a Ben Davis High School graduate who attended Indiana Central University (now the University of Indianapolis), lives on the west side of the city that his ancestors had such a key role in founding. Mike says that he only developed a passion for the city's history in recent years, although he recalls his grandmother taking him on Memorial Day to visit the commemorative boulder.
And Jordan Ryan, coordinator of the Indianapolis Bicentennial Project for the Indiana Historical Society. She notes that, as part of a new archival collection for the Bicentennial Project, the society has transcribed the McCormick journal, which was obtained from a descendant who lives in North Carolina. Mike and Jordan persuaded his relative to ship the journal to Indianapolis for transcription.
"It's remained in the family all of this time and was unavailable [to researchers and the public], but we have digitized it," Jordan reports.
The historic McCormick journal is now available on the Indiana Historic Society website as a series of high-resolution digital images of each page.
The city's 200th birthday celebrations will extend into 2021 because Scottish-born surveyor Alexander Ralston actually platted the city in 1821, not 1820.
Ralston had helped design the original layout of Washington D.C. and used the plan for the nation's capital as an inspiration for his design of the new Hoosier capital. Hoosier History Live explored Ralston's life and impact during a show in 2013.
According to our guest Mike Todd, Ralston was a guest at John McCormick's tavern. McCormick later built the first sawmill in Marion County.
© 2019 Hoosier History Live. All rights reserved.