August 3, 2019
Reno Brothers, notorious train robbers: encore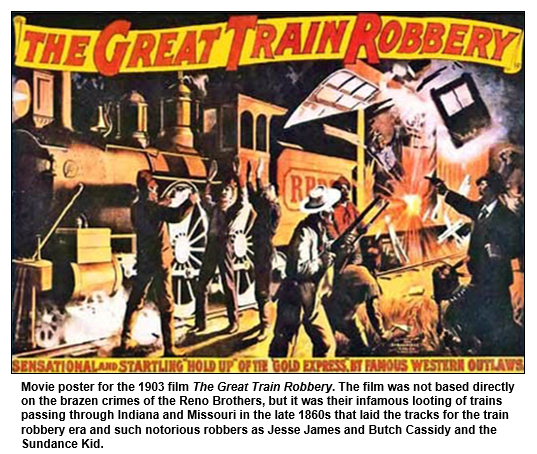 Shortly after the Civil War, a notorious crime spree unfolded across the Midwest that included the country's first robbery of a moving train. The perpetrators were bandits in a gang organized by brothers who grew up on a farm near Seymour, Ind., in Jackson County. The outlaws also pulled off what may have been the first peacetime train robbery in U.S. history.
The notorious Reno Brothers - whose history-making train robbery occurred on Oct. 6, 1866 - are the focus of this encore show originally broadcast April 14, 2018. The gang included brothers Frank, John, Simeon ("Sim") and William Reno, who had begun looting businesses before the Civil War.
Their most infamous crime occurred May 22, 1868 as the Jefferson, Madison & Indianapolis Railroad train was proceeding through Marshfield, Ind., about 17 miles south of Seymour. The Renos and their gang boarded the train, overpowered the engineer, threw one of his co-workers out a door, broke into an express car and eventually made off with about $96,000.
As train robberies and other crimes by the Reno gang persisted, Jackson County residents formed vigilante committees. Pinkerton detectives were hired to capture the gang.
To describe the Reno Brothers' crime spree, William "Bill" Bell, a retired law enforcement officer based in Indianapolis, is Nelson's studio guest. Bill, who writes for several magazines about the Old West, has researched and written about the Reno Brothers for Wild West magazine. In a 38-year career, Bill worked as a police officer, deputy sheriff, U.S. border patrolman and as a U.S. Customs worker. He is a member of the Scarlet Mask Vigilance Society, which is named after one of the vigilante organizations that, as Bill puts it, "finally put a stop to the depredations of the notorious Reno Brothers."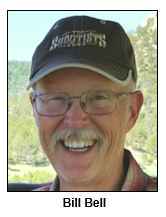 According to Bill's research, the Reno family came to Indiana in 1813, when the grandfather of the brothers arrived from Kentucky. Frank, John, Sim and William Reno grew up on a 1,200-acre farm. Another brother, Clinton, and a sister, Laura, "apparently never entered into the illicit activities of their siblings," Bill writes.
As an early headquarters, the Reno Brothers and their gang used a dilapidated building in the small Jackson County town of Rockford; later, their base was a hotel in Seymour. Before the historic train robberies, the Renos committed a series of post office robberies and murders.
According to Bill Bell's article, the Reno gang's robbery of an Ohio & Mississippi Railroad train as it left the Seymour depot in 1866 means that the brothers can be blamed for "opening the door to the train robbery era, which featured Jesse and Frank James, and, later, Butch Cassidy and the Sundance Kid."
The Reno Brothers were suspects in arson fires that swept through Rockford and in the slayings of residents who could have testified against them in court.
In 1868, several members of the Reno gang, including Frank, William and Sim Reno, were captured in separate apprehensions. They were taken to New Albany, the Ohio River town in Floyd County with a "big stone jail, considered the strongest in southern Indiana," according to Bill's article. (John Reno had been arrested previously and was imprisoned in Missouri, where members of the Reno Gang had robbed banks and a county treasurer's office.)

Determined to make the Reno Brothers pay for their crimes, nearly 100 members of a vigilante society in Jackson County took trains to New Albany one night in December. The vigilantes showed up at the Floyd County jail at about 3 a.m., masked and armed with revolvers and clubs. They overpowered the jailers, the Floyd County sheriff and Floyd County commissioners, and dragged Frank, William and Sim Reno one-by-one out of their cells and executed them by hanging. After the lynchings, the vigilantes returned by train by Seymour.

The bodies of the three Reno Brothers who had been lynched were turned over to their sister Laura and were buried side by side in Seymour City Cemetery. The fenced graves of the infamous bandits can be visited by going up a stone walkway from 9th St in Seymour.

To learn more about the Reno Brothers' lasting impact on American culture, listen to "The First Train Robbery," a bluegrass song written by Chris Stout and performed here by Larry Cordle.



Roadtrip: Bethel AME Church in Richmond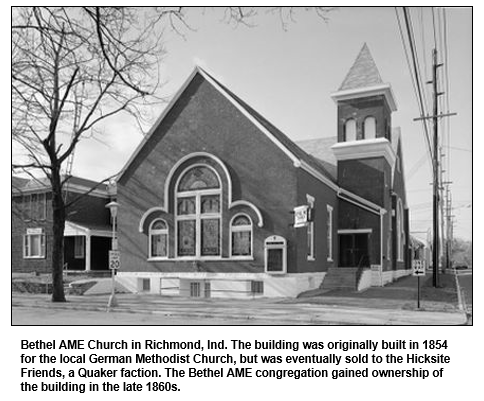 Guest Roadtripper Casey Pfeiffer, historical marker program director at the Indiana Historical Bureau, invites listeners to learn about the Bethel AME Church at 200 S. 6th St. in Richmond, Ind.
Bishop William Paul Quinn, a traveling missionary and preacher, organized the AME congregation in Richmond in 1836. Quinn was instrumental in establishing the African Methodist Episcopal Church in free and slave states prior to the Civil War. In 1844, the AME General Conference elected him its Fourth Bishop.
The building was originally built in 1854 for the local German Methodist Church, but was eventually sold to the Hicksite Friends, a Quaker faction. The Bethel AME congregation gained ownership of the building in the late 1860s. Bethel AME is one of the oldest continually operating African American congregations in the state.
The Indiana Historical Bureau placed a new state historical marker at the church in June of 2018 commemorating Bishop Quinn.
Exploring the landscapes of Indiana history
Nelson Price, host and historian
Molly Head, producer/project manager, (317) 927-9101
Michael Armbruster, associate producer
Cheryl Lamb, administrative manager
Richard Sullivan, senior tech consultant
Pam Fraizer, graphic designer
Garry Chilluffo, special events consultant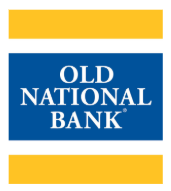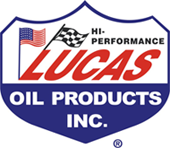 Please tell our sponsors that you appreciate their support!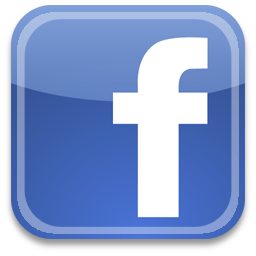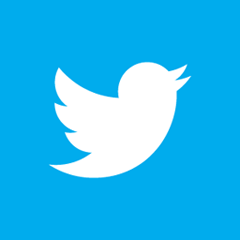 Acknowledgments to Monomedia, Visit Indy, WICR-FM, Fraizer Designs, Heritage Photo & Research Services, Henri Pensis, Aaron Duvall, Chloe Tyson, and many other individuals and organizations. We are independently produced and are self-supporting through organizational sponsorship and through individual contribution at the yellow button on our newsletter or website. For organizational sponsorship, which includes logos, links, and voiced credits in the show, contact Molly Head at (317) 927-9101 or email her at molly@hoosierhistorylive.org. Our media reach continues to grow via podcasting and iTunes.
Thank you!
We'd like to thank the following recent, new and renewal contributors whose donations help make this show possible!
August 10, 2019 - coming up
Indianapolis Indians history with Max Schumacher and Mark Montieth
Has there been an ardent Indianapolis Indians fan since the 1950s who has not known the name Max Schumacher? Often called "Mr. Indianapolis Baseball," Max worked for the minor-league baseball franchise for more than 60 years, in positions ranging from ticket manager all the way up to president.
Not only did he spearhead the effort to build Victory Field in downtown Indy in the mid '90s, he actually began his career by working for Owen Bush, the namesake of historic Bush Stadium, which had been the Indians' home field since 1931.
Now chairman emeritus of the Indians (the franchise is managed by two of his sons), Max has written a book to convey some of the highlights of his long career. In Extra Innings: My Life in Baseball (Blue River Press), Max shares insights about wild promotions, players who passed through the Indians before achieving stardom in the major leagues, and periodic drama in the team's front office.
To explore the mounds of history associated with the Indians - who are currently the Triple-A affiliate of the Pittsburgh Pirates, following years of affiliation with a range of major league teams, including the Cleveland Indians and the Cincinnati Reds - Max will be Nelson's studio guest. So will his Extra Innings co-author, Mark Montieth, the award-winning Indianapolis-based sportswriter.
As a student at Shortridge High School, Max attended Indians games with his lifelong friend Richard Lugar (both were members of the class of '50), who wrote the foreword to Extra Innings before he died in April. After Shortridge, Max played baseball at Butler University for another legendary figure: Tony Hinkle, the three-sport coach who became the namesake of Hinkle Fieldhouse.
Future Hall of Famers who played for the Indians early in their careers included Harmon Killebrew, who was 24 years old in 1958 when, as Max notes in Extra Innings, he had a dismal season in Indy.
If some fans are not aware that Killebrew (who hit more than 570 home runs for the Washington Senators after leaving Indianapolis) ever came up to bat at Bush Stadium, few have forgotten the most popular player in Indians history: charismatic Razor Shines, who spent most of nine seasons with the team during the 1980s and '90s. Invariably introduced over the public address system as "R-r-r-r-r-r-azor Shines," he will be among the notables that Max and Mark will discuss during our show.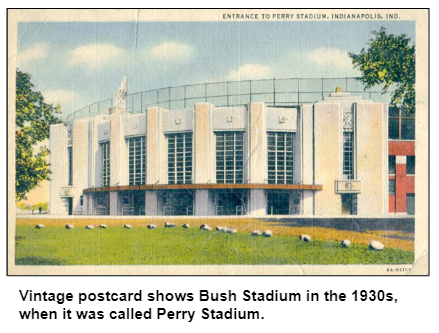 Some Indians history facts:
In 1955, the Indians came close to leaving Indianapolis. The team, which was losing money, was affiliated with the Cleveland Indians then. Max and Mark will explain how the team managed to remain in Indy.
Bush Stadium was nearly slated for demolition after the Indians moved to the newly opened Victory Field at White River State Park in 1996, but then made history by becoming the first former baseball stadium in the country to be converted into residential housing. Historic preservationist John Watson of Core Redevelopment discussed the conversion during a Hoosier History Live show in 2013. Stadium Lofts apartments opened later that year.
Max Schumacher was named a Living Legend by the Indiana Historical Society in 2012.
© 2019 Hoosier History Live. All rights reserved.